Dutch Oven Chili Recipe: Easy Campfire or Kitchen Cooking
Camping as a kid my mom would make a hearty chili in a cast iron Dutch oven over an open flame, it was the perfect comfort food for a chilly evening.
This is an easy recipe for chili that you can cook in a Dutch oven. Dutch ovens are pots with heavy lids that cook food evenly, which is perfect for making chili. Chili is a type of food that is perfect for chilly evenings. It's warm and comforting, and it's also really good for you.
This flavorful chili con carne recipe includes beans, which are a great source of protein, and ground beef, which is a good source of iron. The additional condiments you can add on top of the chili will make a meal that the entire family will be asking you to make frequently.
This recipe is easy to make, and it's really delicious. So, if you're looking for the perfect comfort food to make on a chilly evening, this is the recipe for you.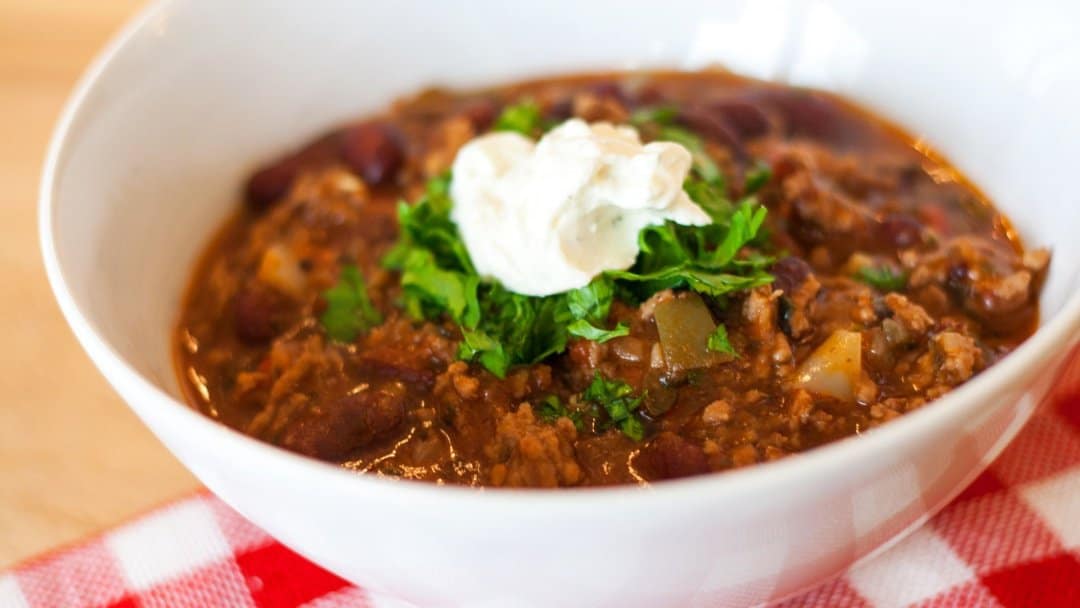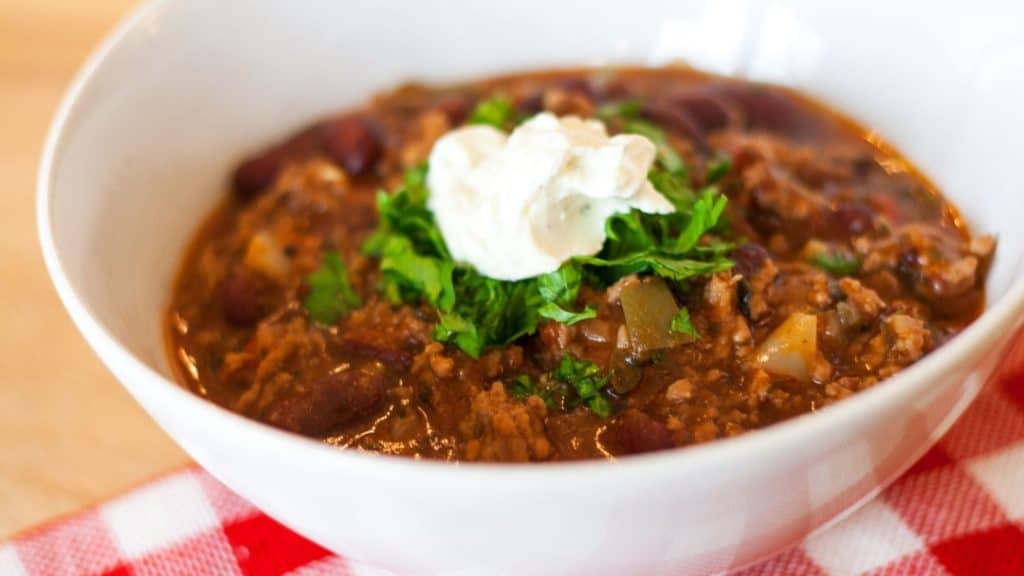 Ingredients Overview
Ground Meat
Lean ground beef is the perfect ingredient for chili because it provides a good source of protein and iron. Diced beef is also suitable for this recipe although it will require long slow cooking to tenderize the meat.
Kidney Beans
The kidney bean is a type of legume that is high in protein, fiber, and antioxidants. Additionally, the kidney bean is a good source of iron, magnesium, and potassium. This makes the kidney bean a perfect ingredient for chili because it provides all of the nutrients that are essential for a healthy meal.
Kidney beans are also low in fat and calories, which makes them a perfect ingredient for those who are trying to lose weight or maintain a healthy weight.
Brown Onion
Brown onion is a sweet onion and gives a lot of flavor to chili, and they're also a good source of antioxidants. Along with being a good source of fiber, they contain folate, vitamin C, vitamin, B6, and potassium.
Garlic
Garlic is flavorsome and used in cultural dishes around the world. It is also a health food that has been used to treat a variety of ailments.
Olive Oil
Olive oil is a healthy fat that is high in antioxidants. It is one of the healthiest oil options available, and it's perfect for cooking.
Jalapeno Peppers
Jalapeno peppers add spice to chili, and they're also a good source of antioxidants. Additionally, jalapeno peppers contain vitamins A, C, and E.
Tomatoes
Tomatoes in chili provide a rich base for the dish as well as a source of lycopene, which is an antioxidant.
Tomato Paste
Tomato paste in chili because it provides a concentrated source of sweetness along with all the vitamin benefits that tomatoes offer.
Beef Broth
Beef broth is a savory ingredient that adds rich flavor to any dish it is also a good source of protein and iron.
Chili Powder
Chili powder is the key ingredient that gives Dutch Oven chili its signature flavor and heat, so it's important not only for taste but also for health benefits. The antioxidants found in chilis are what make them good at protecting our cells!
Cumin
Cumin provides chili with a characteristic flavor. Additionally, cumin is a good source of iron and magnesium.
Oregano
Oregano is a good source of antioxidants and adds a characteristic flavor to the chili.
Salt
The salt in dutch oven chili enhances all of the other ingredients, but it's also a good source of sodium which is an essential electrolyte for the human body.
Black Pepper
Black pepper provides chili with a characteristic flavor and heat. Additionally, black pepper is a good source of antioxidants.
Sour Cream
Sour cream provides a rich and creamy texture while providing calcium and vitamin D.
Rice
A bed of rice is a good source of carbohydrates and provides a filler for the chili and makes extra serves.
Learn how to cook rice in a Dutch oven.
Substitutions
This spicy chili recipe is a hearty and delicious meal that is perfect for a cold winter night. The chili is packed with protein and flavor, and it can easily be made vegetarian or vegan.
Simply substitute the meat for one or more of the following proteins: pinto beans, black beans, white beans, tofu, tempeh, cauliflower, texturized vegetable protein (TVP), edamame, lentils, or split peas. Each of these proteins will add its own unique flavor to the dish, so feel free to experiment until you find your perfect combination.
This Dutch Oven Chili recipe is also highly customizable – you can add or remove any of the ingredients for convenience or suit your taste. Customize your recipe by trying these ingredient exchanges;
beef for ground turkey
green peppers to chipotle peppers to suit your taste
tomato paste for tomato sauce or tomato soup
garlic cloves for garlic powder
onions for onion powder
So whether you like your chili hot or mild, with or without beans, this recipe is sure to please.
Chili Toppings
You are only limited by your imagination the best part is that toppings can transform a dish. Think of some fun ways to transform your chili, here are some suggestions.
Sour cream
Yogurt
Shredded Cheddar Cheese
Chopped red onion
Corriander
Tortilla chips
Avocado
Green onion, sliced
Olives, sliced
Red pepper flakes
Dutch Oven Chili Recipe
Dutch Oven Chili Recipe
Total Time:
1 hour
15 minutes
Ingredients
1 pound of ground beef
1 can red kidney beans, drain and rinse (15.5 ounce)
1 medium brown onion, diced
2-4 jalapeno peppers, finely chopped
2 garlic cloves
1 tbsp olive oil
1 can tomato paste (6 ounces)
1 can of diced tomatoes (20 ounces)
1 cup beef broth
2 tbsp chili powder
1/2 tbsp cumin
1/2 tbsp oregano
1 tsp salt
1/2 to 1 tsp black pepper
Instructions
After heating the olive oil up over medium-high heat add the onions and cook for 2 minutes.
Brown beef and mix with a wooden spoon to avoid sticking to the bottom of the pot of chili.
When browned add the garlic and peppers and saute for an additional minute while stirring.
Add the remaining ingredients kidney beans, tomato paste, diced tomatoes, beef broth, chili powder, cumin, oregano, salt, and black pepper. Combine all ingredients.
Bring the chili to a simmer over medium heat. Then reduce the heat to low, cover, and let it cook for 60 minutes to allow the flavors to meld.
Stir once or twice to ensure the dish does not burn. Avoid lifting the lid too often or your cooking time will increase
Remove from heat and stir in sour cream before serving.
Serve with corn bread or your favorite toppings like grated cheddar cheese, chopped green onions tortilla chips, and enjoy!
Nutrition Information:
Yield:

8
Serving Size:

1
Amount Per Serving:
Calories:

237
Total Fat:

12g
Saturated Fat:

4g
Trans Fat:

0g
Unsaturated Fat:

7g
Cholesterol:

50mg
Sodium:

553mg
Carbohydrates:

13g
Fiber:

4g
Sugar:

4g
Protein:

19g
Nutritional details are calculated from the ingredients used in this recipe. You should calculate nutritional values based on ingredients you have access to.
Storage Instructions
We all know of a lot of dishes that taste better the next day as all the flavors have had time to meld together. This Dutch oven chili is no different! In fact, it's even better the next day.
Simply store leftover chili in an airtight container in the fridge for up to 3 days or in the freezer for up to 2 months. When you're ready to eat, simply reheat on the stove over medium heat until warmed through. Enjoy!
If you like Dutch oven beef chili recipes why not check out some of my favorite Dutch oven Recipes?
Easy Dutch Oven Chili Recipe
This Dutch Oven Chili recipe is a delicious yet hearty meal that is perfect for a cold winter night. The chili is packed with protein and flavor, and it can easily be made vegetarian or vegan.
So whether you like your chili hot or mild, with or without beans, this recipe is sure to please.
Here is a family favorite recipe you might like as well Dutch Oven Beef Stroganoff: One-Pot Recipe
FAQs
Quick answers to some commonly asked questions about Dutch oven chili.
Can I make chili in my cast iron Dutch oven?
Yes, chili lovers, Dutch ovens are perfect for any chili recipe. Their heavy self-basting lids keep the nutritious juices in while thickening the chili at the same time.
Can you cook chili in enameled cast iron?
Yes, you can make chili in enamel Dutch ovens. In fact, many people prefer cooking with enameled pots because they don't have to season them and they're easier to clean.
How long do I cook chili in a Dutch oven?
60 minutes for a quick chili or for best results up to 90 minutes at very low heat for 2 hours. The longer you cook on low heat the better the chili will taste. Make sure you stir occasionally to stop sticking and ensure there is enough liquid in the pot.
If you love comfort food in the cooler months prepare it in one pot here are some of my very favorite slow cooker recipes.
One-Pot Cooking Rocks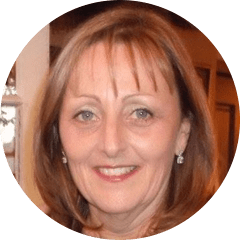 Michelle – Author
Hi, I'm Michelle the founder, owner, author, and editor of OvenSpot. My passion for one-pot cooking commenced when I was working to prepare cafeteria lunches for school students. I am now on a mission to assist you in choosing the cooking pot or appliance you will use every day. As well as in-depth information to assist you in using and caring for your cookware and appliances.
Questions? Reach out to Michelle at michelle@ovenspot.com