Can I Use a Glass Bowl in a Pressure Cooker?
Perhaps you have used a pressure cooker before and wondered if you could use a glass bowl. With high-pressure cookers, you don't have to put food directly into them. You might use a special container for specific cases.
Can I use a glass bowl in a pressure cooker? You can use glass bowls in a pressure cooker, but only tempered glass bowls. Bowls should be marked as oven-safe, dishwasher, and microwave-safe. Pyrex dishes, mason jars, cans, and metal bowls are commonly used in a pressure cooker. Use a rack to ensure bowls are set away from the sides of the cooker.
If you'd like to learn more about putting glass bowls in a pressure cooker, keep reading because we will explore this subject in greater depth.
Quality of the Glass Matters Most
Before you put a glass bowl in the pressure cooker, you should first understand how the quality of the glass makes a difference. Only use glass that can withstand high temperatures.
Tempered glass can withstand temperatures of up to 470 degrees Fahrenheit. Pressure cookers have a maximum temperature of 212 degrees Fahrenheit. In other words, don't worry. Tempered glass is regular glass, but they strengthen it with chemical or thermal treatment.
You still don't want to put a tempered glass bowl in a pressure cooker at a higher temperature, but don't worry about a pressure cooker. Before you use it in a pressure cooker, to avoid problems, you may want to check the instruction manual to see if you can use it there.
What to Beware of with Glass Bowls
You can use a glass bowl in the pressure cooker, but don't put light glass utensils in with it. Sometimes, people have forgotten this, which led to the glass shattering.
Also, never put plastic containers in the pressure cooker because they will melt. Even with tempered glass, you still have a risk that the glass will shatter. They do break from time to time without warning. For someone who doesn't want to take that risk, you can use metal bowls as well.
Other things to beware of with glass bowls include:
Allow the bowl to cool before immersing it in water
Don't place the glass bowl on cold or wet surfaces
Place on a towel, cooling rack, or steam rack to avoid the glass shattering
Don't bump, scratch, or poke it with utensils
Beware of rapid temperature changes with a glass bowl and glass lid because this can cause the bowl to shatter. The pressure inside the pressure cooker won't pose a problem, but the glass will still be vulnerable to thermal shock.
Should You Consider Metal Over Glass Bowls?
A metal pan made from stainless steel has one advantage in that it cooks faster than a glass bowl. If you decide to use a glass bowl, ceramic, or anything glass, add five minutes to the pressure cooker's timer. The extra cooking time is because of how glass acts as a heat absorber, which means that it requires extra time.
How to Tell if Your Glass Bowl Is Safe
To tell if your glass bowl is safe to use in the pressure cooker, check the bottom of the bowl. Glass bowls that you can use in the pressure cooker will have a notation underneath them that says oven-safe glass.
Think about it: Glass canning jars get put into the pressure cooker to can. You have cases where they break from the heat, but it doesn't happen often. They were built to withstand the pressure.
How to Use a Glass Bowl in a Pressure Cooker
You have a few things to understand when you put the glass bowl in a pressure cooker. First, don't place the bowl on the bottom of the pot. Use a steamer insert or wire trivet. Also, if you want to cover the glass bowl, don't seal it. This prevents condensation.
Finally, before you put a glass bowl in a pressure cooker, you should check it each time for hidden cracks. You might tap the bowl lightly with your finger or knuckle.
A cracked bowl will make a different sound from a regular bowl. Usually, it sounds duller than what you might get with a regular glass bowl. All bowls or pans should be placed loosely in the pressure cooker. You might use aluminum foil as a type of lifter.
FAQs
Will a glass explode in a pressure cooker?
The simple answer is that it depends. If a glass bowl is marked oven-safe, it should withstand the high pressure and heat of pressure cooking and will not explode. However, if the bowl is not made to withstand these conditions, then it is likely that it will shatter.
Further, regardless of the oven-safe bowl being marked pressure cooker safe, it cannot be cracked or chipped as the glass bowl is compromised. Then, it is highly unlikely that it will withstand a pressure cooker's high temperatures.
What bowls can be used in a pressure cooker?
There are a few different types of bowls that can be used in a pressure cooker. Instant Pot models have a metal inner pot and are the main pot utilized during the cooking process. The most common type of bowl is made from metal, which is able to withstand the high pressure and heat of the cooker. However, ceramic or oven-tempered glass bowls can also be used as long as they are rated for use in a pressure cooker.
Can you put CorningWare in a pressure cooker?
Corningware is now an official companion to Instant Pot, so the answer is yes, but there are a few things to keep in mind.
First, only use cookware that is specifically designed for use in a pressure cooker.
Second, make sure that the cookware is clean and free of any cracks or chips.
Third, always place the cookware on the cooking rack that comes with the pressure cooker.
Fourth, follow the instructions in your pressure cooker's manual.
By following these simple guidelines, you can safely use CorningWare in a pressure cooker.
What is PIP cooking?
The PIP method is pot-in-pot cooking, which is a method of cooking that involves using a pressure cooker or Instant Pot. This type of cooker uses steam pressure to cook food quickly and evenly. It is an ideal method for cooking tough cuts of meat or large quantities of food. Pot in pot method of cooking can also be used to preserve food, as the sealed environment prevents spoilage.
Some examples of the main dishes that can be made using the pot-in-pot technique are beef stew, chili, and meat cuts. These dishes are all cooked quickly in the pressure cooker, which makes them tender and flavorful. Pot-in-pot cooking is also a great way to make hard-boiled eggs, as they will come out perfectly cooked every time.
Additionally, this cooking method can be used to cook multiple dishes at once, which is convenient for large gatherings or potlucks. Let's not forget desserts that can be prepared in the pressure cooker, such as cakes in a springform pan or cake pan.
Can you put Pyrex glass in a pressure cooker?
Corelle, the manufacturer of the Pyrex glass bowl, does not recommend using their Pyrex bowl in a pressure cooker. On the other hand, Instant Pot advises that a Pyrex glass dish marked as oven safe can be used in their cookers.
The confusion has arisen because the new Pyrex, from the 90s onward, is made from a new soda-lime glass formula that cannot withstand high-temperature changes.
The original company PYREX and glass products were made from a Borosilicate formula that is resistant to thermal shock, making the older PYREX label truly oven safe. If you love your Pyrex, look for the PYREX labeled products in thrift stores or purchase your Pyrex from France, where they still manufacture Borosilicate glass material.
To Finish – Can I Use a Glass Bowl in a Pressure Cooker?
Glass bowls can be used, but you have to use tempered glass. Regular glass will shatter in a pressure cooker. It doesn't have the same protection as tempered glass.
Many times, tempered glass will have a thicker wall to it. That doesn't mean it can't shatter because it can happen, but it has five times the strength of regular glass.
Tempered glass can withstand the compression of 10,000 psi. When this type of glass shatters, you will only see pebbles of its remains. It breaks in style.
One-Pot Cooking Rocks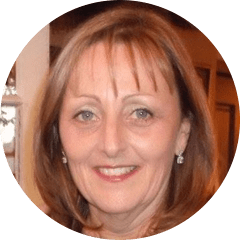 Michelle
Hi, I'm Michelle, the founder, owner, author, and editor of OvenSpot. My passion for one-pot cooking commenced when I was working to prepare cafeteria lunches for school students. I am now on a mission to assist you in choosing the cooking pot or appliance you will use daily. As well as in-depth information to assist you in using and caring for your cookware and appliances.
Questions? Reach out to Michelle at [email protected]