COSORI 6 Qt Premium 8-in-1 Programmable Multi-Cooker
If you are considering buying a Multi-Cooker this mid-size COSORI 6 Qt Premium 8-in-1 Programmable Multi-Cooker is a real contender.
In this article, we will look at the many features and accessories that this cooker arrives with. I will outline the many benefits of owning a cooking appliance such as this Cosori pressure cooker.
Lastly, my final thoughts about if the COSORI 6 Qt Premium 8-in-1 Programmable Multi-Cooker is the one for you.
Disclaimer: As an Amazon Associate I earn from qualifying purchases on my website. If you make a purchase through links from this website, I may get a small share of the sale from Amazon and other similar affiliate programs.
COSORI 6 Qt Premium Programmable Multi-Cooker
Features of the COSORI 6 Qt Multi-Cooker
Custom Smart Control Programs
Upgraded Features
One-Pot with 6 Cooking Functions
Faster Cooking Times
17 Smart Programs
Certified Safety
Extra Essentials
Dimensions 12 inches x 12 inches x 13.25 inches
Weighs just 15 pounds
Cosori Pressure Cooker Manual
If you have landed on this page and know that you already wish to purchase the COSORI 6 Qt Premium 8-in-1 Programmable Multi-Cooker (Pressure Cooker, Rice Cooker, Steamer, Warmer, Etc.), 1000W, Includes Glass Lid, Sealing Ring, and Recipe Book. CLICK HERE to see it for yourself at Amazon.
About this COSORI 6 Qt Premium Multi-Cooker
This Cosori multi-cooker has so many features that make it an outstanding kitchen appliance. So I have decided to break this review down into easy-to-digest sections, so as not to bog you down with words. So let's go…
Custom Smart Control Programs
This third-generation Cosori pressure cooker features 6 new custom smart control programs and steam technology. These result in improved performance and ease of use.
Upgraded Features
An unlock indicator illuminates and alerts you if your pressure cooker is not in the correct locked position.
The Micro limit switch ensures that your lid is sealed and secure. Protecting the cooker and in turn yourself.
The custom cook time feature allows you to program all your favorite recipes for faster preparation and cooking time. You can even adjust your cooking settings after you've already started cooking if required.
Fahrenheit or Celsius readings (F°/C°) This function allows you to choose your preferred reading.
6 different pressure levels, adjustable temperatures, and 2 manual cooking modes.
Now includes Pasta/Boil and Hot Pot programs. With these settings ready to be selected for fast outcomes.
Faster Cooking Times
Advanced steam technology seals in steam to cook up to 70% faster. The Cosori has Eco-friendly efficiency, this user-friendly cooker emits no steam when cooking. This, in turn, provides you with meals that have more nutrients and vitamins locked in.
One-Pot With 6 Cooking Functions
Along with the pressure cooking function, the other non-pressure functions are bake, sauté, brown, boil, steam, slow cook (with high, normal, and low settings), and pressure cook.
Use it as a Slow Cooker, Rice Cooker, Sauté Pan, Yogurt Maker (with a high setting ideal for pasteurizing, and a low setting ideal for glutinous rice), Hot Pot, Steamer, Warmer & Manual Cooker (to select your own pressure and temperature levels).
17 Smart Programs
The 17 pre-programmed options will allow you to do the following Meat/Stew, Poultry, Soup, Beans/Chili, White Rice, Brown Rice, Multigrain, Steam Vegetables, Slow Cook, Yogurt, Pasta/Boil, Steam Potatoes, Hot Pot, Sauté/Brown, Bake, Reheat, Keep Warm.
So Easy to Use
Select your desired cooking function, e.g. 'White Rice' or 'Slow Cook'.
Press 'Cook Time' to set a custom cooking time, or use 'Adjust' to select a preprogrammed cooking time.
Press 'Pressure/Temp' and then use"+' and '-' to adjust the pressure level from 1 to 6 or adjust the temperature range 104-320°F (40-160℃).
Press 'On/Start' to start cooking. The pressure cooker will beep three times when cooking has finished, and it will automatically switch to Keep Warm mode for 6 hours.
Temperature and Pressure Level Settings
It is recommended to cook tender foods at lower pressure, this is achieved by using the following level settings.
Vegetable Level 1, Seafood – Level 2, Poultry – Level 3, Rice – Level 4, Beans – Level 5, Beef – Level 6 Cosori makes it so easy.
Less, Normal, and More Temperature Settings – these 3 temperatures allow you to 'Saute/Brown', 'Slow Cook', 'Hot Pot', and 'Reheat'. Once again too easy.
Cosori Company Designs with Safety in Mind
The COSORI 6 Qt Premium 8-in-1 Programmable Multi-Cooker comes complete with 10 safety mechanisms to ensure safe operation for daily use.
1. Pressure Limiter – ensures pressure is kept within safe operating levels.
2. Lid Lock Safety – prevents the lid from being opened while the cooker is pressurized.
3. Anti-Clog Protection – keeps food particles from blocking the pressure release valve.
4. Lid Position Monitor – this prevents the pressure cooker from operating if the lid is improperly positioned.
5. Micro Limit Switch Protection – works to ensure your lid is sealed and secure.
6. Pressure Auto-Control Guard – always keeps the pressure in a safe range.
7. Electrical Current Monitor – automatically turns off the pressure cooker if the current exceeds safe operational levels.
8. Excessive Pressure Protection – internally releases pressure to avoid hazardous situations.
9. Temperature Controller – ensures food is evenly cooked, but not burned.
10. Excess Temperature Monitor – cuts power to temperature fuse if internal temperature exceeds safety limits.
Certified Safety
You can be safe with the knowledge that this Cosori Multi-Cooker is certified by ETL and FCC, and is FDA approved. So along with the 10 safety mechanisms in place with this Cosori pressure cooker, you have peace of mind when using this kitchen appliance.
Extra Essentials
The package of this Cosori appliance is complete as it includes a recipe book full of delicious meals designed especially for one-pot pressure cooking.
A stainless steel steam rack with handle, tempered glass lid for slow cooking, extra silicone sealing ring, ladle, rice spoon, and measuring cup. Don't forget your Free access to Cosori online recipes.
The Clean Up
The food-grade stainless steel (18/8) inner pot (has a 3-ply bottom), lid, and steam rack are very easy to clean and the pieces are dishwasher safe.
Cosori Warranty
The COSORI 6 Qt Multi-Cooker (Pressure Cooker, Rice Cooker, Steamer, Warmer, Etc.), 1000W, Includes Glass Lid, Sealing Ring, and Recipe Book comes with a 1-year warranty and lifetime customer support from the Cosori Company.
Where Can You Buy this Cosori Multi-Cooker
You can purchase this cooker at Amazon.
When you purchase through Amazon you could well be eligible for FREE Shipping. There is also the gift wrapping option they provide if you would like to buy it as a gift and have it sent directly to the recipient.
If you require some more information about the Cosori 6 Qt Premium 8-in-1 Programmable Multi-Cooker why not go see it at Amazon? Also, check out a couple of the very positive customer reviews click here.
To Finish Cosori 6 Qt Premium 8-In-1 Multi-Cooker
This Cosori presents with a fingerprint-resistant brushed stainless steel housing with black accents that will fit into any kitchen decor.
It has a control panel with a large LED display and so many features for you to enjoy experimenting with new dishes. You can even use this appliance for fondue and get everyone to prepare their own meals at parties…
This kitchen appliance offers you everything that expensive brands offer at a much better price. Therefore, if you are replacing an existing appliance or just looking to try an appliance that offers one-pot cooking why not give this Cosori pressure cooker a further look?
If you haven't decided if a multi-cooker is for you why not check out my article which outlines if, in fact, they are any good?
Recommended Reading
If you want some more information on this Cosori multi-cooker or maybe other Brands of Multi Cookers.
Why not check out my article about Multi-Purpose Cookers?
I also have an article that covers the pressure cooker 6-quart big brother the Cosori pressure cooker 8-qt and an article that covers their little sister the Cosori pressure cooker 2-quart.
Decided that a pressure cooker is not for you? Check out this article that is about what you can use instead of a pressure cooker…
One-Pot Cooking Rocks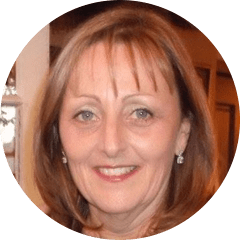 Michelle – Author
Hi, I'm Michelle the founder, owner, author, and editor of OvenSpot. My passion for one-pot cooking commenced when I was working to prepare cafeteria lunches for school students. I am now on a mission to assist you in choosing the cooking pot or appliance you will use every day. As well as in-depth information to assist you in using and caring for your cookware and appliances.
Questions? Reach out to Michelle at [email protected]