Guro 6.3-Quart Red Round Enameled Cast Iron Dutch Oven Review
This Guro 6.3-Quart Red Round Enameled Cast Iron Dutch Oven Review will show you why it's a top-rated product. We will also discuss the pros and cons as well as the key features that make this Dutch oven a standout hit.
We will also give you any negative review issues if there were any reported. All in all, this cast-iron Dutch oven definitely deserves a closer look. Finally, we will share our verdict on this item and give you more information to decide if this product is right for you.
So, let's get into the review, shall we?
Disclaimer: I earn from qualifying purchases on my website as an Amazon Associate. If you purchase through links from this website, I may get a small share of the sale from Amazon and other similar affiliate programs.
Guro 6.3-Quart Red Round Enameled Cast Iron Dutch Oven
Features
• The large 6.3-quart capacity will ensure easy preparation of larger meals
• This Dutch oven provides even distribution of heat as well as possesses superior heat retention compared to other material types
• The Triple enameled coating protects the cookware and prevents sticking and staining
• Compatible gas, electric, ceramic, and induction cooktops
• This product is dishwasher safe
If you want to leave before reading the review here is my quick verdict on the Guro 6.3-Quart Red Round Enameled Cast Iron Dutch Oven.
If we had to immediately decide whether this product is a must buy or not, then we would have to say this Dutch oven is an absolute must buy. Not only is it a large capacity, but you get an extremely versatile piece of cookware that will be both easy to use as well as a breeze to clean.
If you agree and would like to purchase this product straight away, then it can be found at Amazon. CLICK HERE to check out the Guro 6.5-Quart Red Round Enameled Cast Iron Dutch Oven which is one of my top picks.
If you still need more information, simply continue reading our review below.
Review
The Guro 6.3-Quart Red Round Enameled Cast Iron Dutch Oven offers a generous capacity that is sure to feed even the largest hungry family. Since 2007, the Guro Company has been revolutionizing enamel-coated cast-iron cookware and the way we use it.
Their commitment to quality definitely shows in this model with a vibrant triple-layered ceramic coating that resists staining and sticking.
This Dutch oven also provides even heat distribution as well as the ability to retain that heat much longer than other cookware types.
Compatible with all cooktop types such as gas, electric, ceramic, and even induction, this product is incredibly convenient to use. You will also be able to use this item inside a dishwasher, so cleanup is always a snap.
With this enameled cast-iron Dutch oven, you can easily create any recipe you desire thanks to the fact that this product is ideal for slow cooking, baking, roasting, stir-frying, searing, bread baking, and much more. With this quality-made, elegant enameled Dutch oven, the possibilities are endless.
Now that you have some knowledge of this item's features, let's take a closer look at starting with the product pros.
Pros and Cons of the Guro 6.3-Quart Red Round Enameled Cast Iron Dutch Oven
Pros
• Large 6.3-quart capacity makes large meal preparation effortless
• The durable triple-layered nonstick ceramic enamel coating is both beautiful and long-lasting
• The product is very easy to clean
• This Dutch oven is dishwasher safe
• This item is conventional oven safe up to 400 degrees Fahrenheit
Cons
• This item's ceramic coating is fragile and will crack or chip if dropped
Conclusion Guro 6.3-Quart Red Round Enameled Cast Iron Dutch Oven
As you can probably tell by now, we are huge fans of the Guro 6.3-Quart Red Round Enameled Cast Iron Dutch Oven.
First of all, the bold and vibrant design is hard to ignore. It will make a great addition to any kitchen collection, and will definitely turn heads when serving your meals straight from the oven to the table.
The large capacity and the ability to use it on any cooktop type are incredibly convenient as well. Throw in the fact that it is also dishwasher safe and we have got ourselves a real winner here.
Are you looking for a larger cast iron Dutch oven? If so, why not jump over to my review of the Lodge EC7ODod43 Enameled Cast Iron Oval Dutch Oven and see if a larger oven could suit you better?
Want to see this Dutch oven? If so, CLICK HERE and check it out at Amazon and also see what others are saying about this best-selling Dutch oven.
Want to check out the latest information about Dutch ovens and their brands? See them here at the best Dutch ovens available in 2024.
Recommended Reading
I have a couple of articles that might interest you if you want more information on similar Dutch ovens to the Guro Enameled Dutch oven.
One-Pot Cooking Rocks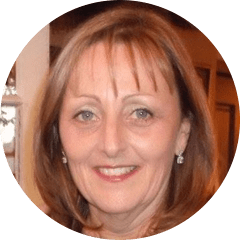 Michelle
Hi, I'm Michelle, the founder, owner, author, and editor of OvenSpot. My passion for one-pot cooking commenced when I was working to prepare cafeteria lunches for school students. I am now on a mission to assist you in choosing the cooking pot or appliance you will use daily. As well as in-depth information to assist you in using and caring for your cookware and appliances.
Questions? Reach out to Michelle at [email protected]