Lodge L8DD3 Cast Iron Double Dutch Oven Review
Do you want to buy a traditional Double Dutch Oven with some of the best features at an affordable price? If the answer is yes, then you need to read this Lodge L8DD3 Cast Iron Double Dutch Oven Review.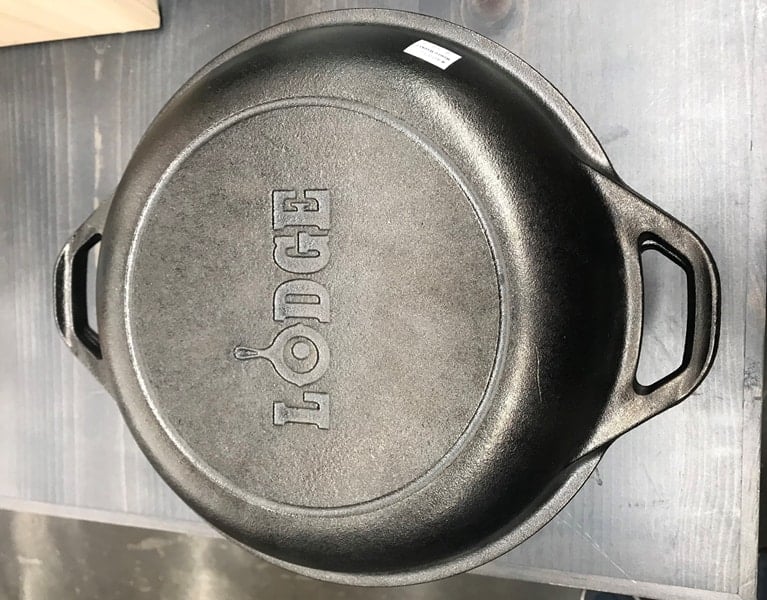 Disclaimer: I earn from qualifying purchases on my website as an Amazon Associate. If you purchase through links from this website, I may get a small share of the sale from Amazon and other similar affiliate programs.
Double Dutch Oven Review
This Lodge cast iron double Dutch oven is one of the most versatile. This is because it sports a deep dual-handle lid.
When either inverted over the Dutch oven itself or placed directly on the heat source, you effectively have two separate cooking appliances.
The lid allows you to prepare so much more food at one time. While cooking in the Dutch oven, you can fry bacon and eggs on the inverted lid. Even prepare cakes, biscuits, or bread rolls.
Vegetables in the Dutch oven and fry your meat source in the inverted lid. Any recipes you would like to prepare can certainly be cooked with these two appliances.
Even though this Dutch oven is pre-seasoned cast iron in design, it will perform well indoors and outdoors. It can be used over any heat source, including inside a traditional conventional oven.
So if you are looking for a truly versatile fast-cooking kitchen appliance, you really can't go wrong with this Dutch oven.
What is a double Dutch oven? It is cast-iron cookware that comes with some developed technologies to offer an improved experience to the users.
It is perfect to meet your unique cooking needs. You can use it on the induction, electric, ceramic, gas, grill, over the campfire as well as in your conventional oven in the kitchen.
It comes with excellent heat retention ability. It has a natural and easy-release finish, making it a good option to prepare healthy, hearty food with the minimum use of oil.
If you are interested in knowing more about the features, you can go through the following Lodge L8DD3 Cast Iron Double Dutch Oven review. The review will focus on the features, benefits, and negative sides.
The Features
It is a 5-quart pre-seasoned oven made of cast-iron material and comes with a skillet cover
It is durable and sturdy
It has integrated side handles on the lid and base for easy and secure transport
The lid is 1.5 inches in depth
Its cover converts to a 10.25-inch skillet
It is oven-safe
The Dutch oven and the lid can withstand temperatures of 500 degrees Fahrenheit
It measures 10-1/4 inches by 13 inches by 5-1/2 inches
If you have landed on this page but already know you want to purchase the Lodge L8DD3 Cast Iron Double Dutch Oven. CLICK HERE to check it out at Amazon.
Why Should You Buy a Double Dutch Oven?
Multiple Functions
It allows the user to make 3 pounds of beef tenderloin and 20 cups of soup. You can also use the domed lid to prepare bacon, eggs, and more. It is an ideal choice for cooking all your favorite flavorsome casseroles.
Versatility
You can use this Lodge Dutch oven nearly everywhere, including outdoors and indoors. You can use it on the gas, induction, ceramic-glass, electric, oven, campfire and in a conventional oven.
It will not restrict your choice. You can use it whenever required to meet your cooking needs.
Sturdy Handle
This Lodge Dutch oven
comes with a very solid material and a sturdy handle to offer a firm grip to the users. These ovens are heavy, and without a proper grip, they could cause a nasty accident. Therefore, it is designed to offer a secure grip. It has side handles on the base and a lid for easy transportation.
Pre-Seasoned
One of the advanced features of this double Dutch oven is that it is pre-seasoned. This creates a nonstick surface and makes it rust-resistant as well.
The Lodge Company sends the cast iron ready to use so you have a non-stick cooking surface. These Dutch ovens need to be seasoned not only to protect the cast iron but also to prevent food from sticking to the cooking area.
I have an in-depth article regarding various oils that can be used for seasoning cast iron. If you are interested, check out 23 seasoning oils.
The Clean Up
As with all pre-seasoned cast iron cooking appliances, the seasoning stops food and liquids from adhering to their surfaces.
So, the only cleaning required is by using a nylon sponge or a nylon scrubbing brush if required. In hot water ONLY!
Dry immediately by hand to prevent rusting of the oven and lid.
Related read CAST IRON Cookware made in the USA
Double Dutch Oven – Pros and Cons
Pros
It is versatile
It is affordable
It is made of the best quality material that ensures the durability of the product
It has excellent heat retention
It offers a secure grip
Proudly made in the United States Of America by the Lodge Company. Who have for over 120 years been casting iron in Pittsburg, Tennessee
Cons
It is heavy – it weighs approximately 12.4 pounds
Hand washing only
It requires maintenance – re-seasoning
Related topic: What Bakeware is Made in the USA
FAQs
Quick answers to some common questions about Lodge double Dutch ovens.
What Is A Double Dutch Oven?
A double Dutch oven is a deep Dutch oven with a deep lid that acts as a skillet.
You must check out my article and all its information regarding double Dutch ovens or the fantastic traditional Dutch oven. Check out the article Double Dutch Oven vs Dutch Oven
Related read Cookware Made in the USA: Manufacturers List
Final Thoughts: Lodge Cast Iron Double Dutch Oven
This Lodge double Dutch oven is one of the best options for an affordable pre-seasoned Dutch oven that gives dual and versatile use.
The product is highly appreciated by customers at Amazon for its durability and price. They find it an ideal option for transportation and cooking inside and outside.
>>>>>If you want to buy this double Dutch oven at Amazon, click CLICK HERE, and you will see the price and also check out the reviews.
There is also a gift-wrapping option if you would like to send a loved one or friend this Dutch oven as a gift.
The Lodge Double Dutch Oven has made the "The Best Dutch Ovens" list. See more about this Dutch oven and the other nine on the list.
If you would like some information about Lodge Dutch Oven Sizes, please go over to my article and check the sizes out.  Check out OvenSpot's in-depth list of Lodge Dutch Oven Sizes.
One-Pot Cooking Rocks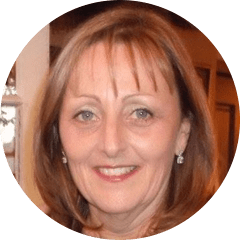 Michelle
Hi, I'm Michelle, the founder, owner, author, and editor of OvenSpot. My passion for one-pot cooking commenced when I was working to prepare cafeteria lunches for school students. I am now on a mission to assist you in choosing the cooking pot or appliance you will use daily. As well as in-depth information to assist you in using and caring for your cookware and appliances.
Questions? Reach out to Michelle at [email protected]