What Bakeware is Made in the USA: Manufacturers List
Baking has been a staple in American culture for centuries. From grandmothers to children, baking is a beloved tradition that brings people together and satisfies their cravings for sweets. But as time goes on, it's become more difficult to find quality bakeware made in America.
Brands of bakeware that are made in the USA include Chicago Metallic, Nordic Ware, USA Pan, American Pan, All-Clad, Anchor Hocking, 360 Cookware, American Kitchen, Lodge, Lloyd Pans, Made-In, Pyrex, and Sur La Table each one offers its own unique set of products and features.
So if you're looking for some new bakeware, and want to purchase USA-made bakeware, glassware, and cookware be sure to check out these options!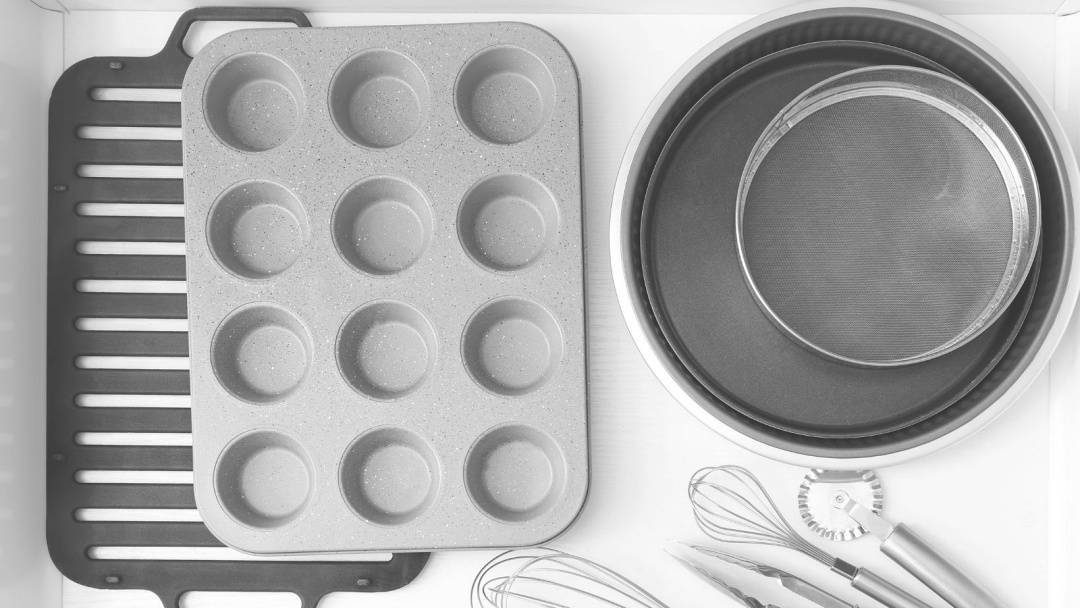 Best Brands of Bakeware Made in the USA
With so many products being outsourced to other countries, Americans are beginning to appreciate the quality and craftsmanship that goes into products made in the USA.
The companies listed below strive to keep as many aspects as possible on home soil when creating the bakeware. From the design, all the way to sourcing materials and following manufacturing practices that are sustainable.
1. Chicago Metallic
Also known as CM Bakeware USA, this company has been around since 1923 using global materials and manufacturing and glazing in the USA.
Offering cookware made from 12, 14, 16,18, and 20 gauge aluminum.
20-gauge 304-grade stainless steel and
22-gauge aluminized steel
CM offers a wide range of products, including cake pans, cookie sheets, muffin tins, bread pans, wire racks, cooling grids, cooling racks …and much more! The most popular items are their non-stick cake pans and cookie sheets. You can trust that these products will hold up through years of baking – they're made to last!
More information can be found on CM Bakeware's website.
2. Nordic Ware
Is a family-owned business, founded by Dave Dalquist, that employs hundreds and is based in St. Paul, Minnesota. Nordic Ware is proud to produce some of the finest bakeware on the market. Committed to their employees and sustainable manufacturing of their cookware along with seventy-five years of history, Nordic Ware started building a new shipping facility in 2021.
Made out of aluminum, this brand has a wide range of products available including sheet pans, loaf pans, bread pans, bundt pans, tube pans, muffin tins …and more! Quality materials and superior craftsmanship make this brand stand out among its competitors. Their most popular items include their Bundt Pans (they even offer Bundt Cake mixes ) and round cake pan sets.
Check out Nordic Ware for more information.
3. USA Pan
USA Pan was founded in 1959 by two brothers John Bundy Sr and Russell T Bundy. They went on to spend five decades and international recognition for servicing the industrial baking industry. In 2009 USA Pan bakeware was introduced with the mission to provide domestic bakers with the same quality bakeware the professionals had access to.
Made in the USA from heavy-gauge aluminized steel and a non-stick silicone coating FDA approved and no PTFE or PFOA.
You can trust that each product will perform well in all conditions thanks to a technique using a fluted surface for airflow and bakeware strength. Their most popular items include baking sheets, mini loaf pans, round cake pans, cupcake pans, muffin pans, pie tart pizza pans along with bakeware sets.
USA Pan also has a range of stoneware that is an excellent choice for baking. The range includes loaf stones, bake stones in various sizes, and pie and pizza stones.
For more bakeware information go to the USA Pan website.
4. American Pan
American Pan is a brand of bakeware that is made in the USA. It offers a wide range of products, including baking pans, cookie sheets, muffin tins, and more.
American Pan is known for its consistent innovation and production of high-quality durable products. Offering various types of pan coatings and release agents to accommodate different baking environments. Its bakeware is sure to last for many years.
Additionally, American Pan's products are made in the USA. Manufacturing plants can be found in Urbana, OH, Crescent, PA, and Humboldt, TN so you can be sure that they meet the highest standards of quality and craftsmanship.
More information at the American Pan website.
5. All-Clad
All-Clad bakeware is made in China.
All-Clad is based in Autin Texas and is a household name for cookware or bakeware that has been considered one of America's finest cookware brands for decades. Founder John Ulam is a renowned metallurgist with patents for metal crafting under his belt.
In 1971 he was inspired and wanted to see what would happen if he combined his metal skills to improve cookware. Soon after a factory was opened in Western Pennsylvania under the company name of All-Clad Metalcrafters.
All-Clad bakeware range comprises baking sheets, cake pans, baking/cooling racks, cookie sheets, and jelly pans in two material types;
D3 Stainless 3-ply bonded ovenware and bakeware – made in China
Pro-Release nonstick bakeware – made in China
All-Clad is known for its premium features and is used by professional chefs worldwide.
Visit this iconic brands website at All-Clad
6. Anchor Hocking
After merging with Hocking Glass and Anchor Cap Corporation the Anchor Hocking Corporation has been one of the largest manufacturers of glassware products in the world since 1937.
Today Anchor Hocking manufactures glass bakeware in the Ohio plant with a second manufacturing plant in Monaca, Pennsylvania. An extensive line of bakeware including cake pans is available in multiple shapes and sizes, loaf pans, cookie sheets, and more! Available at all major retailers nationwide too!
Check out the Anchor Hocking bakeware range on their website.
7. 360 Cookware
360 Cookware also produces cookware a brand that is quickly gaining popularity among American consumers. This brand offers a wide range of quality bakeware products, all of which are made in the USA. Americraft Cookware manufactures this made-to-last bakeware for 360 Cookware in West Bend Wisconsin.
Their most popular items include baking sheets, cake pans, muffin tins, loaf pans, pie pans, bakeware sets, and more. With such a wide variety of products to choose from, you're sure to find the perfect bakeware for your next baking project!
See 360 Cookware's website for an insight into their extensive range.
8. American Kitchen
American Kitchen is a family-based business committed to the design, versatility, and compatibility for use with appliances but most of all nurturing the joy of preparing food and entertaining.
Striving to support the made in America movement their bakeware and cookware are manufactured by Regal Ware, in West Bend Wisconsin, who have been manufacturing for over 100 years. Materials used are sourced globally and the highest grade aluminum and stainless steel for durability and performance. American Kitchen bakeware comes with a 10 Year warranty.
The core of American Kitchen bakeware is made from aluminum for even heat in the base and sides of the bakeware. The rims of the bakeware feature galvanized steel that also helps conduct heat in addition to preserving the pan from rust and possible warping.
This great-looking bakeware's surface is made from a PFOA-free premium non-stick coating. You can expect to find various sizes and shapes of cake pans, baking sheets, jelly roll pans, loaf pans, muffin pans, and complete bakeware sets.
Investigate American Kitchen's large range of bakeware along with the extensive range of cookware.
9. Lodge Cast Iron
Lodge Cast Iron is an iconic and popular brand of American-made bakeware. This company is known for its quality cast iron products, since 1896, which means its bakeware is also built to last.
Casting iron bakeware and cookware currently takes place in two foundries located in South Pittsburg, Tennessee. This company has a long history and is still after decades committed to their employees, as well as eco and social responsibility.
Lodge offers a variety of different bakeware items, including baking pans, bakers skillets, cake pans, pie pans, loaf pans, pizza pans, and more. If you're looking for an all-in-one option, their pre-seasoned cast iron bakeware might be perfect for you!
My article gives you a complete list of where lodge bakeware and cookware are made.
Explore Lodge Cast Iron's website if you are on the fence about making cast iron your bakeware of choice.
My in-depth Lodge Review will give you a clear insight into the Lodge manufacturing company.
10. Lloyd Pans
For over 30 years Lloyd Pans are still manufacturing all of its pans in Spokane Valley Washington. They supply customers around the world by maintaining control over its engineering, craftsmanship, manufacturing, and durability.
Bakeware skillfully formed with 14 gauge aluminum, spun, anodized the coated in the 104,000 square foot property. Supplying its customer's pizza pans, bakeware, and foodservice equipment that requires minimal oiling, 2000+ baking cycle, contains no pollutants or contaminants, is re-coatable, and recyclable, and metal utensils can be used on them.
See more at the Lloyd Pans website
11. Made-In
Made-In's Aluminum sheet pans are made in the USA while their bakeware is made in France, from locally sourced raw materials.
Well-known brand Made-In's metal bakeware offering is a manufactured in the USA sheet pan made from 3004 aluminum. The pan can be baked, roasted with, and suitable for the freezer, Chef Matt Horn assisted in the design process.
Premium heavy-gauge Aluminum
Fully Rimmed
3004 Aluminum
Oven Safe Up to 450F
18 Gauge Thickness
Made-In also offers porcelain bakeware that is currently manufactured in the Loire Valley in France.
Read more about where the Made-In bakeware range and other Made-In cookware is made.
12. Pyrex
Pyrex, since 1915, has been making its glass bakeware in Charleroi, PA. Pyrex was originally owned by Corning Inc but is currently owned by Corelle.
The glass cookware 1915 was manufactured with borosilicate glass, keeping up with technology the glass cookware is currently made of heat-strengthened soda-lime glass.
See more about Pyrex.
13. Sur La Table
Retailers of all things cookware Sur Le Table now have a range of their own. They currently work with USA Pan, in Pittsburg, PA, and have developed high-quality pans. The pans are made from aluminized steel and are coated with a non-stick silicone coating developed for baking pans, they contain no PTFEs or PFOAs.
Check out the Sur La Table Platinum Pro and the Sur La Table Silver Classic Bakeware ranges at their website Sur La Table.
14. Bundy Baking Solutions
Bundy Baking Solutions is a company that specializes in the manufacture of high-quality bakeware products. All of their products are made in the USA, and they offer a wide range of items that are perfect for all kinds of baking needs. From cake pans to muffin tins, Bundy has you covered!
One of the things that make Bundy Baking Solutions stand out is its commitment to quality. All of their products are made from durable materials that can withstand even the most intense baking sessions. Plus, their products are designed to help you achieve perfect results every time. So if you're looking for some new and innovative bakeware products, be sure to check out Bundy!
Bundy Baking Solutions has a smorgasbord of innovative brands under its umbrella; including
American Pan
Chicago Metallic
DuraShield
Pan Glo
Runex
Synova
For more information see Bundy Baking Solutions
Take a deep dive into where all 360 Cookware Collections are made in my article Where is 360 Cookware Made?
Types of Bakeware
There are a variety of different types of bakeware that are made in the USA. Some of the most popular types include cake pans, muffin tins, loaf pans, pie plates, and cookie sheets. Each of these types of bakeware has its own unique set of features and benefits.
For example, cake pans are typically made from heavy-gauge aluminum, which ensures even heat distribution and prevents the formation of hot spots. Muffin tins, on the other hand, have deep cups that help to produce taller muffins with nice, domed tops. So, if you're looking for some new bakeware, be sure to check out the options that are made in America!
Definition of Made in the USA

100% Made in the USA – made from materials sourced in the USA. Manufacturing and assembly are carried out in the USA.

Made in the USA – made from globally and/or locally sourced materials. Manufacturing, and/or assembly are carried out in the USA.
What is Bakeware Made of?
Bakeware is typically made from a variety of materials, including aluminum, stainless steel, silicon, and glass. Each of these materials has its own unique set of benefits and drawbacks.
Aluminum is a lightweight metal that is known for its excellent heat conductivity. This makes it a great material for bakeware, as it ensures even heat distribution and prevents the formation of hot spots. Aluminum is also relatively affordable and non-reactive, making it a popular choice for bakeware.
Stainless steel is another popular material for bakeware. It is durable and corrosion-resistant, making it a good choice for products that will be used in the oven. However, stainless steel is relatively heavy compared to other materials, making it a poor choice for bakeware that needs to be moved around.
See Stainless Steel Cookware Made in the USA my list of brands currently manufactured on home soil.
Silicon is a flexible material that is often used to make flexible bakeware, such as cookie sheets and muffin pans. Like aluminum, it is good at conducting heat evenly. However, it has the added benefit of being non-reactive.
Cast iron bakeware is one of the most popular types of bakeware available on the market today. This type of bakeware is made from heavy-duty cast iron, which makes it extremely durable and heat-resistant. Cast iron bakeware is also known for its even heating properties, which ensures that your baked goods will come out perfectly every time.
If you're looking for some high-quality cast iron bakeware, be sure to check out the offerings from brands that manufacture their cookware in the USA.
See Cast Iron Made in the USA my list of brands currently manufactured on home soil.
Glass is another popular option for bakeware – especially when it comes to pan sets that include cake pans and bread pans. Glass conducts heat evenly, which ensures even baking. However, it is a brittle type of material, so it must be used with care to avoid shattering.
Importance of Buying American-Made Products
When you buy products that are made in America, you're supporting the American economy. Not only does this help create jobs in America, but it also helps keep money in the country. Plus, American-made products tend to be of higher quality and last longer than imported products.
So next time you're shopping, try to buy products that are made in America. You'll be doing your part to help the economy and get a product that's built to last.
Learn what cookware is actually made in the USA in my in-depth article Cookware Made in the USA: Manufacturers List
How to Choose the Best Brand of Bakeware made in the USA
When it comes to choosing the right brand of bakeware, there are a few things to keep in mind.
Decide what type of bakeware you need. There are all sorts of different types of bakeware, from cake pans to loaf pans to pie dishes. Once you know what type of bakeware you need, you can start looking at brands.
Another thing to consider is the price. Some brands of bakeware are more expensive than others. But, just because a brand is more expensive doesn't mean that it's necessarily better quality. Research the differences between materials and how these affect your baking outcomes.
In your brand research, you will also come across how brand manufactures their products, some brands like Lodge have won numerous awards for outstanding manufacturing processes. This should matter to you also.
Finally, think about the features that are important to you. Some brands come with non-stick coatings, which makes it easier to lift out food after baking. Some brands come with lids so that you can store your bakeware in the refrigerator or freezer. Other brands offer different types of handles and designs. If you're working on a limited budget, focus on getting pieces that will serve your needs and fit within your price range.
FAQ's
Quick answers to frequently asked questions regarding made-in-the-USA bakeware.
Who makes Rachael Ray cookware?
Meyer Corporation makes Cucina hard anodized cookware with the Rachael Ray brand.
Is Wilton bakeware made in the USA?
Wilton bakeware is made in China.
Where is Cuisinart made?
Cuisinart is made in various places around the world including China and France. Read the full breakdown of where Cuisinart products are made.
Final Thoughts Bakeware Made in the USA
Choosing your brand of bakeware can be a difficult task. It's important to consider what type of cookware you need, as well as how much money you're willing to spend and the features that are most important to you. After carefully considering these factors, we recommend Lodge for those who want high-quality products made in America at an affordable price point.
Why not only can you bake indoors and outdoors with seasoned cast iron you can use the exact same cookware to prepare any other dish. The company offers a huge range of size and shape options so there is something for everyone!
Happy Baking!
One-Pot Cooking Rocks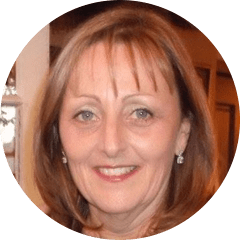 Michelle – Author
Hi, I'm Michelle the founder, owner, author, and editor of OvenSpot. My passion for one-pot cooking commenced when I was working to prepare cafeteria lunches for school students. I am now on a mission to assist you in choosing the cooking pot or appliance you will use every day. As well as in-depth information to assist you in using and caring for your cookware and appliances.
Questions? Reach out to Michelle at [email protected]