Cookware Made in the USA: What Brands Manufacture USA Made
It can be hard to find what cookware is made in the USA by American companies but not for long. To assist you in identifying the origin of cookware I have created a list of brands that make cookware here in America.
Along with a list of where the components and materials used to manufacture the American-made product are sourced.
Brands of cookware currently made in the USA include the manufacturers of cast iron cookware Lodge, Lancaster, Stargazer, and Butter Pat. Stainless steel cookware Solidteknics, Regal Ware, USA Pan, 360 Cookware. Clad cookware All-Clad, Made-In, 1919. Non-stick cookware Nordic, Lloyd Pans. Glass cookware Anchor Hocking, Pyrex.
Manufacturers of cast iron, stainless steel, aluminum, and other types of cookware and bakeware are fighting to keep their labor costs down.
Along with the high price of manufacturing job, production, and materials they source on home soil. Iconic brands that professional chefs use like All-Clad, Lodge, and Made-In are forging ahead and inspiring others to keep production in the USA.
See the current and frequently updated list of cookware brands that are manufacturing their cookware and bakeware in the USA.
Disclaimer: As an Amazon Associate I earn from qualifying purchases on my website. If you make a purchase through links from this website, I may get a small share of the sale from Amazon and other similar affiliate programs.
Why It Is Important to Know Where Your Cookware Is Made
It is important to know where your cookware is manufactured because the materials used in the manufacturing process may vary depending on where the cookware is made. For example, Aluminum-containing cookware may vary in quality.
Some USA cookware contains an aluminum core with what is known as 5-ply construction which is actually layers of the durable material stainless steel that will not corrode or produce oxide. Other aluminum cookware (like some vintage collectible pieces) contains an unprotected aluminum core which allows oxidation to take place and creates discoloration.
Why Buying American-Made Cookware and Products is Important
The ability to own cookware that is manufactured in the USA allows you to enjoy the following benefits over purchasing internationally.
Peace of mind knowing that your cookware has been manufactured to high design specifications
Cookware manufacturers use products made with high-quality materials and strict manufacturing standards can be more expensive than other cookware made from cheaper materials
High-quality cookware is the best option because it is durable and will last for a long time, so if cared for using manufacturers' instructions the original higher price will soon be forgotten
Strengthen the economy so we can keep producing high-quality products in the USA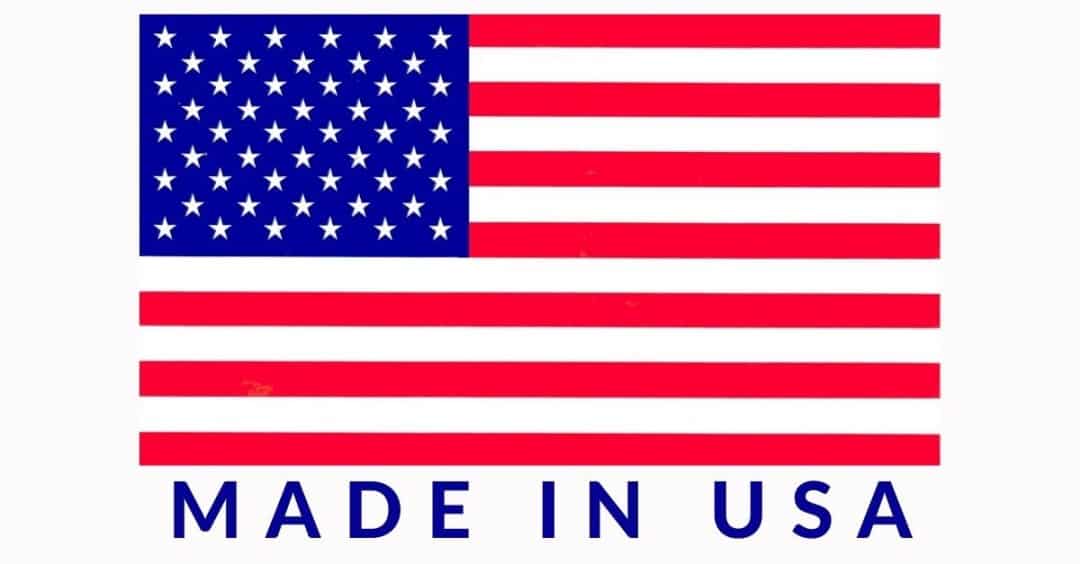 How to Identify Where Your Cookware Is Made
Ideally, cookware should be stamped with at the very least the brand name. You will note in the image below Lodge Cast Iron makes its cookware identifiable. They achieve this by ensuring the Lodge brand name and where it is made are clearly identifiable on the underside of the pan.
Secondly, the identification code and size of the individual piece are also included. Lastly, on the underside of the piece's handle engraved is the year the company commenced manufacture as well as their US patent number.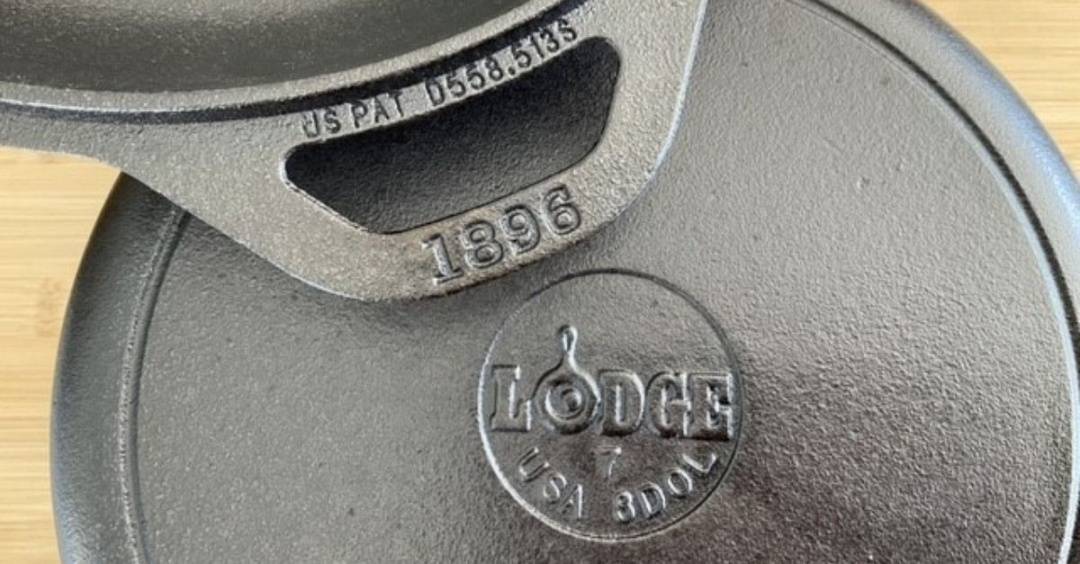 You can ask the manufacturer, check the box, or sometimes you may be able to tell by the weight of the product. Generally speaking, heavier pieces are more likely to be made from cast iron and will last longer than lighter pieces that are more likely to be manufactured with aluminum or other metals.
If it isn't clear, you can always call their customer service number and ask them where they manufacture their cookware. Sometimes this information can be found on their website.
Best Cookware Made in the USA
Here is a list of American-made cookware brands that manufacture their cookware in the United States.
These made in America products include cookware that is made from cast iron, stainless steel, aluminum, ceramic, nonstick, clad, silicon, glass, and other materials we cook in every day.
Brand Reference Table of Cookware Made in the USA
Cast Iron Cookware Manufactured in the USA
Cast iron cookware is cookware made from a very dense material called cast iron which allows it to heat slowly and evenly. This type of cookware can be used on the stovetop, oven, and campfires it is ideal for dishes such as stews, chili, and cornbread.
Cast iron cookware is usually preseasoned with oil, which helps to create a non-stick surface. Over time, this seasoning will build up and make the cookware even more non-stick.
There are many BENEFITS to using cast iron cookware. Some of these pros are that they are heavy-duty, durable, easy to clean up and retain heat well. Two cons are that cast iron cookware is heavy and must be seasoned in order to prevent rust.
Borough Furnace
Is currently the only manufacturer in the USA producing "Enameled Cast Iron Cookware".
Borough Furnace commenced cookware manufacturing in 2011 at Finger Lakes New York, USA. They carry out all the design and manufacture as well as distribute seasoned (Kosher certified – Flaxseed Oil) cast iron skillets, Dutch ovens, and oven-to-table bakeware.
Borough Furnace encompasses all aspects of classic high-heat cookware design and is currently the only manufacturer in the United States making enameled cast iron cookware.
Field Company cast iron is made in the USA.
Field Company's headquarters is in New York City, while production/operations are carried out in Indiana, Illinois, and Wisconsin.
The Field Company has been manufacturing cast iron cookware since Stephen and Chris Muscarella, brothers, founded their company. Field Company produces heirloom quality cast iron cookware after discovering a love for 1930s vintage cast iron pans which they inherited.
The Field Company's cast iron is light and smooth compared to many brands. It also manages to keep prices lower than other manufacturers in this space. An added bonus is a two-layer grapeseed oil pre-seasoning applied before it leaves the factory floor.
They offer a variety of skillet and fry pan sizes and styles, and Dutch ovens can be found at Field Company.
Seasoning is a must for cast iron cookware learn about what the best oil for seasoning cast iron is.
Finex is a company and its cast iron pots and pans are made in the US. The company is based in Portland, Oregon, and was founded in 2012 by Mike Whitehead and Ron Khormaei, and funded by a Kickstarter campaign.
Finex provides quality, hand-cast, and pre-seasoned products to consumers. Finex products offer outstanding heat transfer and can be used with any cooking surface, stovetop, or oven use.
In 2019 Finex was purchased by Lodge Cast Iron, although Finex will continue as a stand-alone brand all employees are now part of a larger cast iron manufacturing team.
For more information please visit Finex USA
Recommended reading my in-depth Finex Dutch Oven Review
Lancaster Cast Iron Cookware was co-founded in 2018 in Lancaster, PA by Mark Longenecker and Brandon Moore. Their inspiration is bringing people together by preparing food in high-quality cookware.
The Lancaster product range currently consists of seasoned cast iron skillets, leather cast iron skillet handle covers, and pot holders, along with other premium leather accessories. Lancaster also offers a wide range of specialty items including serving and cutting boards, Amish-made wooden utensils, and cast iron seasoning.
Lancaster Cast Iron uses both traditional sand casting techniques with modern investment casting.
There are five steps involved when manufacturing Lancaster cast iron cookware which are;
sand-cast,
finish sanding,
stock removal, or rough machining with a machine lathe to bring the piece to its approximate final dimensions,
polishing, and waxing,
then finally packaging
Lancaster Cast Iron provides cookware that is cast in everyday sizes to offer a wide range of cooking options. The cookware products are designed with generous handles and textured exteriors which allow for easy handling when cooking on the stovetop or in the oven.
Lancaster Cast Iron manufactures their cast iron cookware to be heavy duty but also features enameled pieces that are lighter weight while still being able to tolerate high temperatures while maintaining their finish through years of use.
Lancaster Cast Iron provided OvenSpot with this exciting announcement about new USA made products coming soon.

"Lancaster Cast Iron is so excited to be recognized for our products that are made in the USA. Our passion at Lancaster Cast Iron is to promote quality time spent in the kitchen and around the table with the ones you love. We're committed to offering only the highest quality products and we are actively working towards releasing new products very soon!"

Lancaster Cast Iron
>>>>>Read about this young and exciting innovative manufacturing company's products and its history at the Lancaster Cast Iron website.
Lodge Cast Iron has been in the business of manufacturing cast-iron cookware for more than 100 years. Lodge Cast Iron is headquartered in South Pittsburg, Tennessee, and still makes its iconic 10-inch Dutch oven by hand at its original foundry.
Along with the renowned Lodge skillet Lodge also manufactures camp stoves, grill pans, kettles, fry pans and other kitchen products like carbon steel cookware. Our article gives you a complete list of where lodge cookware is made.
Are all Lodge made in the USA? Unfortunately no, Lodge's seasoned cast iron range is manufactured in the USA. Its enameled cast iron cookware and other products are made in China and other offshore sites. Lodge's internationally manufactured products are made following Lodge's strict guidelines.
Examples of iron cast cookware manufactured by Lodge Manufacturing can be found at Lodge Cast Iron or at Amazon.
Must read my Lodge Cast Iron Review the in-depth article covers both seasoned and enameled Lodge cast iron cookware.
Nest Homeware
Nest Homeware is an American company that creates handmade natural-style cast iron cookware. Their cookware made in the USA produces high-quality, hand-poured, seasoned cast-iron cookware. Nest products are made in small batches to ensure quality and attention to detail.
Nest uses a special blend of organic flaxseed oil, which is applied to the cookware and heated under high pressure. This allows the oil to penetrate deeply into the cast iron so it becomes naturally nonstick.
They use no chemicals or PTFE in the production process, so you can be assured that your food will never come in contact with anything but 100% pure cast iron.
See more information about Nest Cookware at their website.
Stargazer Cast Iron
Stargazer Cast Iron is a great company that provides the finest quality cast iron cookware to its customers. They have been in business since 2015 by founder Peter Huntley and provide quality workmanship and customer service.
The production cycle of a cast-iron piece at Stargazer looks like this:
Casting – Wisconsin
Machining – Ohio
Smoothing surface with micro texturing – Pennsylvania
Seasoning – Pennsylvania
Fulfillment – Pennsylvania
Stargazer Cast Iron will make sure every product meets its high standards all while trying to leave a small environmental footprint. Remaining sustainable in production, sourcing raw materials, recycling molds, and keeping the price to a minimum before providing it to you, the customer!
Smithey Ironware was founded by Isaac Morton in 2015. Before any thoughts of designing and manufacturing cast iron products entered Morton's head he studied and restored cast iron cookware from the 19th century.
Smithey's has a long history of restoring and subsequently using modern technology to manufacture cast iron products.
In 2018, Smithey Ironware partnered with Robert Thomas a blacksmith, and the pair is honing their skills in carbon-steel cookware.
Since 2019 the company has operated out of a North Charleston Navy Yard, South Carolina, and continues to design and craft its iron cookware in the USA. Producing cookware that is smooth to the touch and designed with the chef in mind.
Butter Pat Cast iron
Butter Pat cookware is designed and cast in Alexandria, Virginia by founder Dennis Powell. The hand-cast pans in various shapes and sizes have a highly polished finish that is suitable for all stovetops including induction and campfires.
This cast iron is created to order and 41 people carry out the various steps to make this cookware to be a durable product for all your cooking needs! With faith in their products, Butter Pat Industries offers a 100-Year Warranty.
Read more about Butter Pat Polished Cast Iron at Butter Pat Industries.
Appalachian Cast Iron Co.
Manufactured in the USA using local materials.
Johnson City, TN, is where the idea for the Great American Waffle Iron was born. It took many years for veteran Tony Hester to complete the design and manufacture of the intricate piece of cast iron cookware that also has moving parts.
Casting takes place in Alabama, the USA using iron ore and recycled metal. Springs are produced in North Carolina.
Each piece is tested for safety, and the first cleanup of each piece is carried out at the foundry. Finishing touches of polishing and seasoning are carried out at the facility in Tennessee.
Along with the waffle iron you can expect to find skillets with extraordinary patterns on the external surface.
See more about this company at Appalachian Cast Iron Co
As you can see American-made cast iron cookware is within reach of home chefs read more about CAST-IRON Cookware Made in the USA
Stainless Steel Cookware Made in the USA
Stainless steel cookware offers a number of benefits and drawbacks. Stainless steel is resistant to corrosion, meaning the cookware will last longer than cookware made from materials such as Teflon or aluminum. Like cast iron and carbon steel stainless steel cookware is compatible with induction hobs.
The durability of stainless steel cookware means it won't get marked and scratched as other metals might, but it means it can be heavy and hard to handle. It's dishwasher-safe but if you want your cookware in top shapes wash it by hand.
Another downside is that stainless steel doesn't conduct heat well, so you'll need to adjust your cooking method accordingly: use a lower flame and add oil for searing meat. Stainless Steel Discoloration: Why, Prevention, Fix
The brands listed below produce some of the best stainless steel cookware made universally.
Heritage Steel Cookware is one of the few cookware lines that are made in the USA. Almost all Heritage Steel cookware is made in the USA using domestically sourced materials.
Heritage Steel Cookware has been manufactured in Clarksville, TN for more than 40 years, with some employees still employed after 20 years of service. The high-quality stainless steel cookware features titanium-strengthened stainless steel, 439 no 400 like other manufacturers, that is PFOA-free.
The cookware line is branded as "Heritage" because it is made from a solid piece of metal, which makes Heritage Steel Cookware stronger and more durable. This also applies to their frying pan and its stay-cool handle.
Heritage Steel Cookware has a lifetime warranty check it out for yourself.
>>>>>Read more about why even heating is produced using three layers of aluminum at the Heritage Steel website.
This company has been able to produce high-quality stainless steel cookware, multi-ply cookware, and gravity-cast aluminum cookware since 1911 from their West Bend, WI location. They have a variety of cookware available, including pots and pans, saucepans as well as a variety of sizes as well as a number of styles.
Regal Ware products are manufactured for various brand names and sold through various mediums. Brands include American Kitchen, Saladmaster®, Kitchen Fair®, Lifetime®, Classica®, and Royal Queen®.
Check out Regal Ware products, products, brands, and their 100 years of manufacturing history.
Solidteknics is a company that was founded by Mark J. Henry is also a development engineer. It specializes in the production of cookware products that are manufactured from high-quality American ferritic stainless steel.
American-made steel pans from Solidteknics have been made with one goal in mind to meet the different needs of users from all over the world. The products have been designed in a way that allows them to be both aesthetically pleasing and functional.
The features of this innovative cookware include solid stainless steel, stainless steel lids, ergonomic handles, no joins, screws, and rivets, highly conductive, compatible with any heat source campfire, gas, ceramic, halogen, electric, induction, and of course campfires.
Significantly lighter than a cast iron equivalent, already seasoned, and has a multi-lifetime warranty (will not break or crack).
All Solidteknics products come with a lifetime warranty for added assurance and peace of mind.
Read more about this sleek stainless steel at the Solidteknics website.
Although 360 Cookware is American made manufacturer's products in the USA materials used are sourced domestically as well as other globally sourced materials.
What is 360 Cookware? 360 Cookware is free of any non-stick coating that can harm including PTFE. It is sustainable heirloom-quality cookware that can be used on any stovetop. The cookware has a 360˚ non-stick surface that allows it to quickly release food from the pan for healthier eating along with sturdy handles.
To Quote 360 Cookware 360 Cookware also uses words to operate the planet's most sustainable cookware factory. Zero, Zero, and Zero.

360 Cookware has ZERO EPA Permits, uses ZERO Toxic Chemicals, and creates ZERO Landfill Contributions.
Read more about this innovative manufacturer at 360 Cookware
Take a deep dive into where all 360 Cookware Collections are made in my article Where is 360 Cookware Made?
USA Pan is an American company in Pittsburg, Pennsylvania and although USA Pan assembles their products in the USA materials used are imported. The company was a family owned business founded in 1959 by brothers John Bundy Sr. and Russell T. Bundy and still produces cookware and bakeware.
USA Pan 5-ply stainless cookware is made from heavy-gauge aluminized steel, that provides heat distribution, added strength, and durability.
Read more about USA Pan as well as their USA Pan bakeware collection called VISION and detailed information about their warranties.
Lifetime Cookware
The Lifetime Cookware company started being manufactured in the USA in 1909. In 1956, the production of Lifetime cookware products was handed to Reynolds Metal Aluminum Company in West Bend, WI and they continue to manufacture their product line today.
Lifetime pots and pans are heat efficient, promote healthy cooking, and are easy to clean, made from stainless steel covered in a "12-Layer Solar Cap".
The Lifetime Cookware range includes cooking pots, frying pans, Dutch ovens, griddles, electric cookware, bakeware, and accessories.
See more at Lifetime Cookware a direct-selling website.
Learn what brands are actually making their cookware locally in this article: STAINLESS STEEL Cookware Made in the USA.
Aluminum Cookware Manufactured in the USA
Aluminum cookware is made of aluminum and aluminum alloy. Alloys in aluminum cookware can vary from copper, nickel, and silicon.
Aluminum cookware also has a number of benefits that make it a popular choice for many homes. It's lightweight, easy to clean, and affordable. In addition, it doesn't get hot when cooking food which reduces the chances of getting burnt.
Since 1947, Eagleware has been an American company that manufactures high-quality cookware exclusively in the USA including Eagleware® and other Alegacy brand products.
Everything Eagleware manufactures undergoes rigorous quality control at their factory, located along with their corporate headquarters in Rancho Dominguez, California.
Commercial-grade products are made from heavy gauge dent-resistant 3004 aluminum. Pans have a satin finish, steel handles with three rivets made of alloy, and an insulated grip that fits tightly to each handle.
Their most popular kitchen utensils include bakeware, saute pans, saucepans, roasting pans, and roasting racks. Eagleware also offers many other products in commercial and residential kitchens.
Read more about Eagleware at their website.
Although Tramontina manufactures various products in the USA materials used are sourced domestically as well as globally.
The founder of the company, Mr. Tramontina, established his business in Sao Paulo in 1958. After 21 years he moved the company to the city of Indaiatuba. There are now six factories in Brazil, with five located in Sao Paulo state, that produce cookware products under the Tramontina brand. Currently, Tramontina has more than 300 products available in its lineup.
The company was purchased by the Barry Callebaut Group in the year 2003 to create a North American presence for this brand of cookware. Their headquarters are currently located in Cedar Park, Texas. This branch of the company includes three U.S.-based manufacturing facilities that produce several lines of cookware under the Tramontina name.
One facility is located in New Berlin, WI; another plant can be found near El Paso, TX; and finally, one factory is situated right here in Cedar Park, TX. Each location has various product lines produced to meet consumer needs but all are made with superior-grade materials and meet or exceed USDA standards for safety and quality.
See more about Tramontina the company and the brand.
Clad Cookware Manufactured in the USA
Clad cookware or bonded cookware is made in the US by many companies. Stainless steel-clad cookware is made to resist warping and sticking by using layers of stainless steel. The thick aluminum or copper on the bottom of the cookware heats up quickly and evenly.
This creates a very even heat distribution on the bottom of the pan. The surgical-grade stainless steel will not be changed by acidic foods like tomatoes, lemons, or oranges because it does not react with these things.
The cladding or layer on this type of cookware is made to stay strong, even after years of use. This type of cookware is super easy to clean since it is dishwasher-safe and Chemical Resistant (CR). These types of pans are also easier to handle due to their lightweight and high resistance to heat.
Cookware pieces usually include frying pans and saucepans and come in several different sizes. Additional pieces might include large stock pots, braziers, lasagna trays, and even a 10-piece cookware set. Lids may be included to complete the cooking process and keep food warm.
1919 cookware is made in the USA using domestically sourced components and materials.
1919 Cookware was originally designed after World War I. The idea behind the company was to produce high-quality cookware. The cookware is produced in America and is used every day all around the world.
The cookware is made out of aluminum. The shape and design of the pans are very efficient for cooking, this is because of the material used, how it's shaped, and the thickness of the aluminum.
Saucepans, sauté pans, skillets, stockpots, and cookware sets currently make up the core of the 1919 Cookware collection. New products will continue to be added to diversify the collection.
Learn more about this innovative cookware concept at Regalware.
All-Clad cookware is made in the USA using domestically sourced components and materials. All-Clad bakeware, knives, appliances, and accessories are made in China.
All-Clad is best known for its All-Clad Collection of stainless steel pots and pans and high-quality craftsmanship. They were initially founded in 1971 to produce aluminum cookware that was bonded with a magnetic stainless steel exterior layer.
The company also produces non-stick cookware and has extended it into other cookware, bakeware, kitchen electronics, tools, and accessories.
The company's headquarters are based in Canonsburg, Pennsylvania. There are other locations in the United States. All-Clad products are also sold in Canada, Europe, and Asia. They can be found in various department stores too.
All-Clad Collection is made from a solid disk of metal that is placed between sheets of stainless steel which are then pressed together under high pressure. The sheeting process leaves one side rough and pitted while the other has a smooth surface from being pressed against a polished die.
After several stages of polishing have been completed, the pan's exterior is buffed to a bright finish with a fine abrasive wheel, producing what is called a satin finish. This is one of the company's signature finishes and is on all All-Clad lines, be they stainless steel (the best known and first), Copper Core, or Multi-Ply Clad.
The inside surface of the pans is left unfinished since it does not come into contact with food during cooking; this allows for better browning. In addition to their almost legendary cooking performance and comfortable stainless steel handles, All-Clad pans are prized by some users for being easy to clean, as food does not tend to stick to them.
The interiors of most All-Clad pans feature a nonstick coating called "Tri-Ply Stainless" which contains a mix of copper, nickel, and stainless steel that has been bonded together using heat under great pressure. It is polished to a fine finish to increase the amount of available surface area for cooking.
Read more about this iconic brand on the All-Clad website.
Made-In cookware is manufactured in the USA, Italy, and France. Stainless steel and nonstick cookware are made in Wisconsin and Tennessee. Carbon steel, copper, and enameled cast iron cookware made in France. Knives, and bakeware in France. Dinnerware in England. Wooden Products are made in Hungary and their universal lid is made in China.
Made-in Cookware is a manufacturer, based in Austin, Texas, of quality cookware including stainless clad, carbon steel, and copper. Also bakeware, knives, tabletop, and accessories. Made-In partners with quality manufacturers in the US and across the globe to bring up the best in cookware, bakeware, dinnerware, and kitchen accessories.
Made-in Cookware has the right-sized pots and pans for every type of dish as well as a stainless steel cookware set to complete your kitchen.
Made-in is confident that its products will last in your kitchen for years to come. Their products are tested throughout their life cycle by experienced professionals in order to create the best product on the market.
The company prides itself on being able to provide you with high-quality products at an affordable price while providing excellent customer service any time you require it.
Besides their stainless steel offerings, the Made In brand provides 5-ply non-stick cookware, previously manufactured in the USA but now made overseas in Italy. They also feature blue carbon steel and copper cookware, both crafted in France.
You can feel comfortable knowing that Made-In Cookware only uses top-of-the-line materials when building your cooking items since we want them to last a lifetime!
For more information about Made-in cookware visit their website.
Ameriware Professional Cookware
Ameriware Professional manufactures products in the USA but the materials used are sourced domestically as well as globally.
Ameriware is a line of professional quality, NSF Certified (the standard requirement for all commercial cookware) that is dishwasher-safe cookware manufactured in Wisconsin, USA.
Ameriware uses a new 3-layer system that is internally reinforced with ceramic and titanium. It's said to be more durable than any other nonstick product, which means it lasts longer!
They offer complete sets of pots and pans for all cooking needs, as well as lids and a 25-year warranty.
Although Viking Professional manufactures products in the USA materials used are sourced domestically as well as globally.
Serving the food service industry for 40 years, Viking Culinary Products is a leading Serving the food service industry for 40 years, Viking Culinary Products has the leading clad metal crafters manufacturing their quality equipment and supplies.
In their mission to provide superior products with unmatched service, they offer a complete range of tabletop cooking equipment, refrigerated cases, ovens, ranges, refrigeration systems and so much more. Viking Culinary Products is a trusted leader in the industry with its high standards of design and manufacturing.
Viking's clad stainless steel cookware consists of five layers including stainless steel, aluminum, and magnetic stainless steel suitable for induction.
Viking Professional Cookware offers various materials including stainless steel, hard anodized and non-stick, durable sets of pots and pans made with heavy-duty materials. They are made to withstand the toughest cooking situations while lasting for years. Their range includes pans, pots, Dutch ovens, traditional frypans, sauté pans, saucepans, and stockpots.
Take a deep dive into where all Viking Culinary products are made in my article where is Viking Cookware made.
You can learn more at the Viking Professional Cookware website
Non-Stick or Ceramic Cookware Manufactured in the USA
Nonstick Cookware and non-stick bakeware are cookware that has a coating of Teflon or DuPont Titanium. A coating is just a thin layer that is applied to the surface of an object. It does not require coats of oil, butter, or other fats to ensure food does not stick to the pan. Because you don't need as much oil, there are fewer calories and less fat intake. It also saves time so if you're looking for a quick meal so non-stick cookware may be worth considering!
Although LloydPans manufactures products in the USA materials used are sourced domestically as well as globally.
LloydPans is located in Spokane Valley, Washington they manufacture as well as design for customers worldwide. For over 30 years they have been forming metal for high-quality pizza pans, bakeware, and food service equipment they spin, anodize, and coat their products for durability.
Learn more at the Lloydpans website
The majority of Nordic Ware products are made in the United States using high-quality materials. All products that are not made with cast aluminum, like Bundt pans and muffin tins, are manufactured domestically.
Nordic Ware is a manufacturer that produces cookware in the USA. The company has a wide variety of products, including baking pans, Bundt pans, roasters, and skillets. Nordic Ware is a family-owned company, in Minneapolis, Minnesota that was founded in 1946.
>>>>>Nordic Ware offers many sizes and shapes of bakeware. Visit Nordic Ware at their Amazon store.
Related read Ceramic Cookware vs Stainless Steel Cookware
Waterless Cookware
Waterless cookware is a type of cookware that does not require any water for cooking. Recognised as vapour cooking, the food is cooked in the juices from the food itself. This type of cookware is said to seal in the flavors and nutrients of the food, making it a healthier option. It can also save time and energy, as no heat is wasted heating up water.
Kitchen Craft waterless cookware is made from domestic materials in West Bend Wisconsin.
Kitchen Craft Cookware is a company that specializes in the manufacture of high-quality cookware. The brand was started in 1906 by two farmer brothers, and it has since become one of the leading brands in the industry. The company's products are made from the finest materials and are backed by a lifetime warranty, so you can be sure that you're getting the best possible quality.
Read more about Kitchen Craft and their products
BelKraft Cookware Brand
Belkraft waterless cookware is made from imported materials in Clarksville, Tennessee
Belkraft was a company in Eastern Ontario, Canada that produced Vacumatic Waterless cookware from 1965. Now an international company that offers a try-before-you-buy option.
Differences Between Waterless Cookware & Vacumatic Waterless Cookware
Waterless cookware is a system of slowly steaming (100oCelsius or 212oFahrenheit) your vegetables without boiling out the flavor and color.
Vacumatic cookware means cooking in a vacuum vapor. The boiling point is only (74oC or 165oF) enabling retention of all of the vitamins, nutrients, minerals, natural color, and taste.
The company's cookware is made from quality product 19/9 315-T surgical stainless steel among others, which makes it durable and non-stick. Belkraft also claims that their cookware could reduce the amount of time that it took to cook food by up to 70% thereby saving on electricity as well.
Belkaft products are built to last and offer an awesome warranty so check that out.
Great reading if you are interested in this unique way of cooking: What is Waterless Cookware: A Complete Guide
Glass Cookware
Glass cookware is a type of cookware that is made from glass. It is a popular choice because it is non-stick, meaning that it does not require any oils or fats to be cooked with, and it is also oven-safe.
Glass cookware can be found in a variety of different colors and styles, making it a popular choice for those who want something that looks good as well as performs well.
A common style of glass cookware is made from tempered glass. Tempered glass is a very strong and durable type of glass that has been heat-treated to make it resistant to breaking, shattering, or cracking.
It can be used in ovens at temperatures up to 450 degrees Fahrenheit. In addition, it is safe for the dishwasher and microwave, although care must be taken when microwaving food in tempered-glass containers because they can get hot quickly.
Glass cookware is affordable and easy to clean if handled correctly.
Selected Pyrex is made from domestic and global materials in Charleroi, Pennsylvania.
100-year-old iconic cookware brand Pyrex is glassware and bakeware made from borosilicate glass. It was born in Corning, NY, and manufactured by Corning Incorporated. It is currently being manufactured in Charleroi, PA, un the Corelle Brand, whose company is based in Rosemont, IL.
The brand name Pyrex is short for "PYROELECTRIC EXCITABLE glass", which the company has used in its trademarked advertising slogans.
Check out Pyrex Home for more information
After merging with Hocking Glass and Anchor Cap Corporation the Anchor Hocking Corporation has been one of the largest manufacturers of glassware products in the world since 1937.
Today Anchor Hocking manufactures glass bakeware in the Ohio plant with a second manufacturing plant in Monaca, Pennsylvania.
The glass bakeware you can expect to find includes cake pans which are in multiple shapes and sizes, loaf pans, cookie sheets, and more!
Check out the glass range at Anchor Hocking.
Copper Cookware
Copper cookware has been used for centuries and it's still one of the most sought-after metals in today's market. Copper is a natural conductor, making it great for cooking meats because such metal helps to evenly distribute heat.
There are other benefits too: Copper can be recycled, so it doesn't need to be continually mined from the earth; copper is nonporous and anti-bacterial which makes for healthier food. Copper cookware is also stylish and it's made to last for generations.
Brooklyn Copper Cookware
Brooklyn Copper cookware is made in the USA
Brooklyn Copper Cookware, founded by Mac Kohler, is a company that makes high-quality copper cookware from 40 to 75 percent recycled copper milled to their specifications. The unrecycled component is smelted and milled in the USA. 32 pairs of skilled hands of coppersmiths, tinsmiths, and ironsmiths can touch a piece of cookware during almost 11 hours of build time.
Their products are made with the highest standards in mind and are constructed of a 99.93% toughened pure copper exterior, heavy laboratory grade pure 99.99% tin lining, and a cast-iron handle. The cookware has NO lacquer finish to allow for expanding and contracting copper and iron the rivets are made of copper.
Cookware types you can expect to find from this brand are saucepans, rondeaus, casseroles, stockpots, and flat covers.
Copper cookware can be restored as it is renewable, so the lifetime of this cookware is infinite.
Read more about Brooklyn Copper warranties on their website.
Non-Stick Cookware Made in the USA
While ceramic coatings are popular for nonstick purposes, it's important to note that the term "ceramic" in cookware can refer to pots and pans made entirely of ceramic or metal pots and pans that are coated with a ceramic nonstick layer. Here are some brands and lines of ceramic cookware made in the USA:
Xtrema Cookware: This brand specializes in 100% ceramic cookware. Their products are metal-free and non-toxic. The company emphasizes the durability, versatility, and health benefits of its pure ceramic products.
GreenPan: While GreenPan is a Belgian company, certain lines of their ceramic nonstick cookware are produced in the USA. It's always a good idea to check the specific product details to determine its origin.
Lodge: Known primarily for its cast iron products, Lodge has also ventured into ceramic-coated cast iron products. While the company is based in the USA and manufactures many of its products there, you should always check the specific item to determine where it's made.
American Kitchen Cookware: This brand offers premium stainless steel cookware, and while not purely ceramic, some of its products feature a nonstick surface that might have ceramic elements.
DuraGreen by Ceramcor: This is another line from Ceramcor, similar to Xtrema. The products are made in the USA and boast a ceramic nonstick surface.
When looking for USA-made products, always check the product description or packaging. Manufacturing locations can change, and not every product line from a particular brand might be made in the USA.
What Is Cookware?
Cookware is a term used to describe the pots and pans that we use in our kitchens. The type of cookware you choose can affect your cooking experience. It's important to know what you're looking for when selecting new cookware, which will depend on your cooking habits and how much time you spend in the kitchen.
There are many different materials that make up cookware, so it's important to do some research before making a purchase decision. For example, if you plan on using induction stovetops or have certain dietary restrictions such as gluten-free or veganism, then stainless steel would be a great option.
It conducts heat very well with its metal surface and doesn't contain any harmful chemicals like Teflon coating.
If you're looking for something that is more budget-friendly, aluminum pots and pans are also a good choice. This type of cookware heats up quickly but doesn't always last as long as other types.
If you are cooking on an induction stovetop, this style should not be used because it's made from copper or any alloy. You would need to purchase stainless steel pans or cast iron cookware in order to use them safely with your induction stovetop.
Related read Does Cast-Iron Work on an Induction Cooktop?
What is Bakeware?
Bakeware is lightweight kitchenware used for various types of baking. It includes ovenware, cake pans, pie pans, loaf pans, and more. Bakeware is typically made of metal including aluminum, anodized, cast iron, ceramic, glass, or clay.
The proper type of bakeware is a necessity when baking. Using the wrong bakeware can affect a recipe's outcome and its overall taste.
Metal bakeware conducts heat evenly across surfaces and provides an attractive appearance. Some types are nonreactive, which means they won't react with acidic ingredients.
Some metal bakeware is treated with a nonstick coating, which usually makes clean-up quick and easy. However, metal can warp when heated at extreme temperatures.
Metal bakeware must be handled carefully to avoid dropping or bumping it against the stove top or other things since this will damage the pan's surface.
Related read What Bakeware is Made in the USA?
What is Heirloom Quality Cookware?
"Heirloom quality" refers to items that are made with such high quality and durability that they can be passed down from one generation to the next. When this term is applied to cookware, it means that the pots, pans, or other cooking vessels are built to last for decades, if not longer. Here's what typically characterizes heirloom quality cookware:
Durability: This cookware is made from materials that resist wear and tear. They won't easily warp, chip, or degrade, even with regular use.
Timeless Design: Often, heirloom quality items have classic designs that won't go out of style, ensuring they remain aesthetically appealing through multiple generations.
Functionality: These pieces are not just decorative; they're designed for actual cooking and do their job exceptionally well.
Craftsmanship: Heirloom quality cookware typically showcases superior craftsmanship. This might mean hand-finished details, artisan techniques, or other markers of a carefully made product.
Materials: The materials used are of high quality. This might mean thick, heavy-duty stainless steel, cast iron, copper, or other durable materials that stand the test of time.
Maintenance: While they are built to last, maintaining heirloom quality cookware properly is essential. For instance, cast iron needs to be seasoned regularly, and copper might require polishing.
Some examples of cookware often considered to be of heirloom quality include:
Cast Iron Skillets (like those from Lodge or Le Creuset): With proper care, they can last for generations.
Copper Pots and Pans: These are known for their excellent heat conductivity and, with proper care, can last a very long time.
High-quality Stainless Steel Cookware: Brands like All-Clad produce multi-layered stainless steel pots and pans that are known for their durability.
It's worth noting that "heirloom quality" doesn't always mean the item will be indestructible. Instead, it's about lasting value, both in terms of functionality and sentiment. Proper care is key to ensuring these items can be passed down through generations.
FAQs
Quick answers to commonly asked questions about cookware made in the USA.
Are Cuisinart pans made in the USA?
Cuisinart is not made in the USA. Cuisinart products are made in China, including its cookware and appliances. Cuisinart French Classic cookware is made in France.
Who makes Rachael Ray cookware?
The Meyer Corporation makes Rachael Ray Cucina hard-anodized cookware.
Cast iron Dutch ovens made in the USA?
Borough Furnace, The Field Company, Finex, Lancaster, Lodge, Nest Homeware, Smithey Ironware, and Stargazer make Dutch ovens, skillets, pots, pans as well as cast iron utensils and accessories.
Is Farberware made in the USA?
In 1977 Farberware stopped manufacturing its pots in the USA.
Are Calphalon products made in the USA?
When you are looking for Calphalon products, aluminum cookware is manufactured in Toledo, Ohio (anywhere from 30 to 100%). While their cast iron stainless steel items come from China. Manufactured internationally are Calphalon utensils, bakeware, and various kitchen tools.
Is Tramontina made in the USA?
No, Tramontina is made in Brazil, Italy, and China with some pieces being assembled in the USA. Read my in-depth article listing where Tramontina is made.
Where is Le Creuset made?
Le Creuset cast-iron cookware is manufactured in the brand's foundry in Fresnoy-le-Grand while other cookware and products are manufactured all over the world, including in the United States, Portugal, and China.
Where is Staub cookware made?
Staub cast iron cookware is manufactured in France. Staub ceramics and other products are made in China.
Two of the leading manufacturers of cast-iron cookware in the world go head to head in my article: Staub vs Le Creuset: Comparison of Two Top Brands
Final Thoughts: Made in USA
Home cooks are not interested in top picks or best sellers! Their best choice is a high performance, easy maintenance, and American made cookware, and ideally prefer to purchase from cookware companies that offer positive customer reviews, a lifetime guarantee, and free shipping.
In the ever-changing landscape of cookware, it can be difficult to know where cookware is made let alone the best quality of products and where they are sourced from.
So whether you're looking for durable nonstick pans or heavy-duty stainless steel pots and pans, there's a good chance that one of these brands in this USA review has exactly what you need.
If you, like me, want to support companies that use the highest quality sustainably sourced products along with complying with sustainable manufacturing practices check out brands that are made in America.
One-Pot Cooking Rocks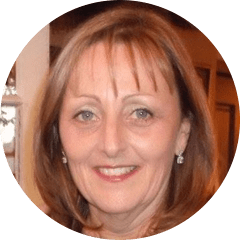 Michelle – Author
Hi, I'm Michelle the founder, owner, author, and editor of OvenSpot. My passion for one-pot cooking commenced when I was working to prepare cafeteria lunches for school students. I am now on a mission to assist you in choosing the cooking pot or appliance you will use every day. As well as in-depth information to assist you in using and caring for your cookware and appliances.
Questions? Reach out to Michelle at [email protected]