Advantages and Disadvantages of Cast Iron Cookware
Cast iron is an alloy metal with more than 2 percent carbon. While the exact alloy composition varies, cast iron cookware is made in two basic forms: bare cast iron and enameled cast iron. The former is exclusively cast iron. The latter has an enamel glaze coating on one or two sides. So what are the advantages and disadvantages of cast iron?
Cast iron cookware is long-lasting, stays hot, is naturally non-stick, affordable, and retains heat longer than any other cookware. However, not all foods can be cooked with cast iron, it's heavy, and the cookware does require maintenance, known as seasoning. Failure to properly care for cast iron leads to rust.
Gone are the days where cast iron had a smooth, satiny finish. The streamlined modern production eliminated the polishing step out of vintage production methods. Thus, well-cared-for vintage cast iron is treasured by chef-enthusiasts. Nonetheless, while modern cast iron has a slightly pebbly texture, its versatility makes it a kitchen favorite.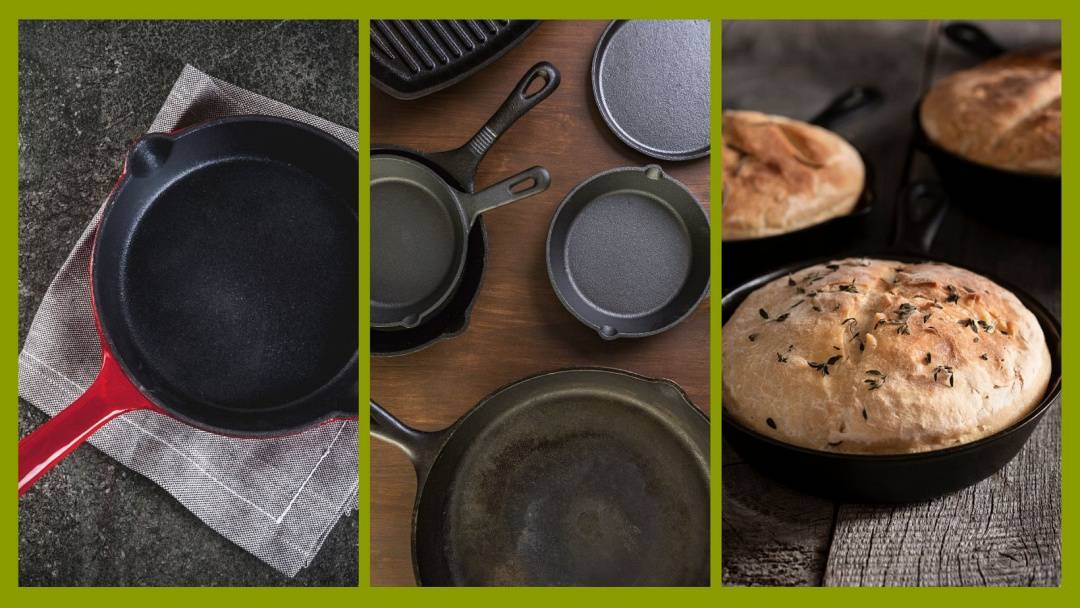 8 Advantages of Cast Iron
Cast iron cookware was invented by the Chinese back in the 6th century BC but didn't really take off in Europe until after the 1500s. Then, thanks to the sand-casting method by Abraham Darby in the early 1700s, cast iron cookware boomed.
Chefs have long loved cast iron, but it is making its way back to household kitchens as health concerns have grown over other no-stick cooking materials. While the safety of other cookware materials is highly debated, there are some undeniable benefits to using cast iron.
1. Cast Iron Is Heavy
The sturdy weight of cast iron not only makes it durable and long-lasting but adds versatility to frying pans. Many prefer to pound their chicken flat with nothing more than a cast iron pan.
2. Cast Iron Stays Hot
Cooks debate whether cast iron distributes heat evenly. But all agree that cast iron retains heat beautifully. When it gets hot, it stays hot.
Cast iron also has a high emissivity, meaning heat radiates beyond the surface. This is a huge advantage when roasting meat or vegetables and making thicker fry-ups, such as hash browns.
Related read Cast iron temperature guide
3. Cast Iron Is Naturally Non-Stick
Cast iron that is seasoned correctly is naturally non-stick. However, to be non-stick, the pan must be hot before adding the food. For example, adding scrambled egg batter to a cool pan and allowing it to sit as the pan slowly heats up is going to be a sticky situation.
Seasoning is a process that provides protection to the cast iron and makes the cookware easier to use. Chefs fiercely debate seasoning methods, but it generally involves a process of heating the pan and oiling it.
Even cast iron that comes pre-seasoned should be seasoned before first use. This is because a well-cared-for cast iron cookware will become increasingly non-stick.
4. Cast Iron Is Oven Safe
Cast iron cookware is oven safe. A dish can easily be transferred from the stovetop to an oven, and the cookware will not melt or warp. In fact, cast iron can withstand higher heat than most other cookware materials can tolerate.
Related read How to use cast iron in a conventional oven
5. Cast Iron Travels Well
Cast iron can easily transition from your kitchen to the open campfire. You can place the cookware on a rack or hang it from a stick and let the flames lick it. Or you can stick it straight into the coals. Cast iron doesn't care.
Related read Best Dutch ovens for Camping
6. Cast Iron Adds Iron to Meals
Cast iron transfers some iron into the foods being cooked in it. Some doctors even tell patients with low-iron levels to cook with cast iron.
However, while it is true that iron does transfer to food, the quantity of iron depends on the age of the pan, how it has been seasoned, and the food being cooked in it. Thus, cooking in cast iron is not the solution to fixing low-iron levels. But then again, every little bit helps.
7. Cast Iron Sears and Fries to Perfection
Thanks to cast iron cookware being able to withstand high heat, retain it, and radiate it out, it is often the preferred choice when cooks need to sear meat or fry it. This is also why cast iron is such a popular material for woks.
8. Cast Iron Is Long-Lasting
Cast iron that is well cared for can last for ages. Some families pass it down for generations. There are also people that believe vintage cast iron is superior to cookware too modern. For example, Griswold is a well sought after vintage brand, and quality pieces have fetched hundreds to thousands at auctions.
9. Cast Iron is Affordable
It is possible for cast iron cookware to last a lifetime. Iron cast skillets, whole cast iron dutch ovens, wok sets, and grill pans are all great ways to save money because they can last for generations.
The initial cost of cast iron cookware is much lower than other kitchen options. This means that outlay costs can be recovered quickly, making cast-iron pots and even enameled cast-iron the best choice when shopping on a budget.
10. Cast Iron Cookware Safety
It's important to note that cooking in cast-iron cookware has some benefits over other types of pots, pans, or skillets too. There are no chemicals added during production so there are few health risks. Plus you won't find any PFCs (polytetrafluoroethylene) in cast-iron cookware.
PFCs are a class of chemicals that were once used to make non-stick coatings for pans and skillets, but which have been linked with some very serious health risks. These days cast iron is coated with an enamel glaze instead, which means you can still enjoy easy clean-up and stick-free cooking without any added chemical risks.
Related read Enameled Cast Iron Cookware the Pros and Cons
4 Disadvantages of Cast Iron
While we all love cooking with our favorite cast iron cookware, there are some disadvantages to using it.
1. Cast Iron Is Heavy
The weight of cast iron is a significant disadvantage for some cooks, especially those who have disabilities that create issues with muscle tone and grip strength.
The weight of cast iron also prevents backpackers from using it, despite how well it functions over an open fire or flame stove.
2. Cast Iron Can Rust
Cast iron can and will rust if not looked after. While rusty cast iron can be resurfaced and re-seasoned, it takes a lot of work. For some people, the upkeep is too much of a bother.
Related read How to stop cast iron from rusting
3. Cast Iron May Change the Flavor of Acid Foods
Many cooks feel that cast iron changes the flavor of acid foods, such as tomatoes, leaving behind a metallic taste. This is due to the amount of iron transferred to these foods.
There are others that say if this is happening that the cast iron has not been seasoned correctly.
Regardless of who is correct, the following foods are unpopular to cook in cast iron:
Tomato-based sauces and soups
Frying tomatoes
Lemon or other citrus sauces
Wine-braised meats
Also note, that cast iron has a tendency to retain some flavor of what is cooked in it. Thus, it is best to have separate pans for your sweet and savory.
Related read What to avoid cooking in cast iron
4. Cast Iron Is Hot
When cast iron gets hot, it is hot. All of it. You can't touch heated cast iron with a bare hand. A pot holder must be used while cooking. Some attach a cork top to pot lids with wire to make handling easier during the cooking process.
Related read How hot cast iron get?
How To Season Cast Iron Cookware
Chefs and cooks have long debated the methods of seasoning cast iron. For example, some believe soap should never touch a cast iron. Others maintain scrubbing it harshly is wrong. Thus, our general advice is not universal. However, it is one of the more popular methods.
Step 1: Clean Your Cast Iron
Clean the pan (even if new and pre-seasoned) with hot soapy water, giving it a good scrub.
Step 2: Dry Your Cast Iron Real Good
As in, make sure all the moisture is gone. All of it.
Step 3: Rub, Buff, and Oil Your Cast Iron
Rub and buff it all over with a neutral-flavored high-smoke point oil. Grapeseed Oil and Flaxseed oil are oil blends that modern cast iron manufacturers are now seasoning their cast iron cookware with.
Other recommended oils include canola, sunflower, corn, soybean, and rice bran. Avocado and Sesame oil are not neutral flavor oils.
Olive oil is not a high smoke point oil so while it is great for cooking with cast iron, it is not a preferred oil for seasoning.
While you can technically use neutral-flavored coconut oil, it is at the lower end of acceptable smoke points and probably not the best choice. But you can use it if you don't have anything better.
Related read What is the Best Oil for Seasoning Cast Iron?
Step 4: Bake Your Cast Iron
Yes, really, you stick it in the oven upside down at a nice 375 F (190C) and bake it for 60 min.
You might want to put something underneath the rack holding the pan to catch any excess oil drips.
Step 5: Cool Your Cast Iron
Just turn the oven, crack the door, and let it slowly cool inside.
Step 6: Storing Cast Iron
Cast iron should be stored away from humidity to protect the surface from rust and corrosion. Check out my list of the best ways to store cast iron cookware.
Finally, the pros of cast iron far outway any cons, and is an excellent material for cooking, but there are some disadvantages to using it. One of the major disadvantages to cast iron cookware is that it can be heavy and difficult for people to lift.
The weight also makes moving the iron difficult because you cannot carry cast iron without a potholder or oven mitt.
Cast iron pans can rust if they aren't properly cared for and seasoned correctly, so make sure you know how to do this before you purchase one!
You should also avoid cooking foods high in acidity like tomatoes when using cast iron because many feel that this will change the flavor of these foods (though others disagree).
If any of these disadvantages seem like a problem to you, then it might be best for you to look into buying another type of cookware.
One-Pot Cooking Rocks