23 Advantages and Disadvantages of Cast Iron Cookware
Cast iron is an alloy metal with more than 2 percent carbon. While the exact alloy composition varies, this cookware is made in two basic forms: bare cast iron and enameled cast iron. The former is regular cast iron. The latter has an enamel glaze coating on one or two sides. So what are the advantages and disadvantages of cast iron?
Cast iron cookware is long-lasting, stays hot, is naturally non-stick, affordable, and retains heat longer than any other cookware. However, not all foods can be cooked in a cast iron pot, it's heavy, and the cookware does require maintenance, known as seasoning. Failure to properly care for cast iron leads to rust.
Gone are the days when iron had a smooth, satiny finish. The streamlined modern production eliminated the polishing step out of vintage production methods. Thus, well-cared-for vintage cast iron is treasured by chef-enthusiasts. Nonetheless, while modern cast iron's surface has a slightly pebbly texture, its versatility makes cooking in iron a kitchen favorite.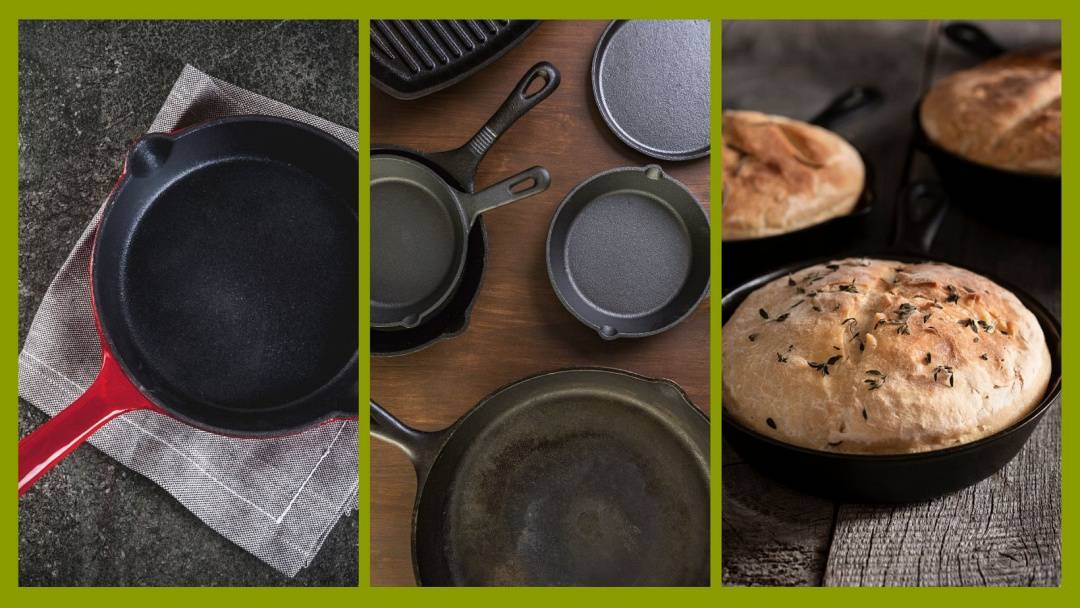 Disclaimer: I earn from qualifying purchases on my website as an Amazon Associate. If you purchase through links from this website, I may get a small share of the sale from Amazon and other similar affiliate programs.
Pros and Cons of Cast Iron Cookware
Quick reference table listing the pros and cons of cast iron cookware.
| Pros | Cons |
| --- | --- |
| Use on all cooktops, induction & oven safe | Heavy |
| Extreme heat tolerance | Rough finish (cheap) |
| Excellent heat retention | Heats slowly |
| Versatile | Integrated handles & knobs are hot |
| Durable | Seasoning required |
| Nonstick (when seasoning maintained) | Rust if not dried or seasoned |
| Easy to clean (cannot ruin the iron's surface) | Can crack with sudden temperature changes |
| Safe cookware (no dangerous coatings) | |
| Infinite lifetime | |
| Affordable | |
What is Cast Iron Cookware?
An alloy material bare cast iron cookware is made from 98% iron and 2% carbon content. The pots, pans, skillets, and Dutch ovens are made as a single piece through a casting process where the iron is melted in furnaces that reach temperatures of 2,800°F. The molten iron mixture containing metal scraps, steel, and pig iron is then poured into molds.
Once cooled, the metal is trimmed, finished, cleaned, and then the cookware is "seasoned" or coated with oil and heated again. This forms a naturally nonstick surface on the cookware that improves with use.
Cast iron pans have been used for centuries and are a popular choice among home cooks, professional chefs, and those who enjoy outdoor cast iron cooking.
The main advantages of cast iron are that it is durable, once heated cooks evenly, and can be used on a variety of cooking surfaces, including stovetops, ovens, and grills.
Iron cookware does require some special care and cleaning, but with a little practice, it is easy to use and maintain.
Cooking with cast iron cookware is a great option for those who want to avoid using non-stick cookware, as it is a healthier option and will not release harmful chemicals into your food.
My article What Is Cast Iron Cookware and Why Is It So Popular? takes a deep dive into the history of iron cookware, and the materials used today in iron pots and pans.
What Are the Benefits of Cast Iron
Cast iron cookware was invented by the Chinese back in the 6th century BC but didn't really take off in Europe until after the 1500s. Then, thanks to the sand-casting method by Abraham Darby in the early 1700s, cast iron cookware boomed.
Chefs have long loved the cast iron skillet, and it is making its way back to household kitchens as health concerns have grown over other non-stick cooking materials. While the safety of other cookware materials is highly debated, there are some undeniable benefits to using cast iron pans.
1. Pro and Con: Weight
In this instance, the sturdy weight of cast iron cookware is a PRO and a CON. As not only does the weight make it durable, long-lasting, and suitable for camp cooking but adds versatility to Dutch ovens, frying, pots, and pans. Then there is the weight there is no getting around it cast iron is heavy.
2. Pro: Design
Shapes, sizes, and of course uses are many and varied. Frying pans, skillets, griddles, saucepans, kettles, ovens, and more.
All have thick bases, thick walls, heavy lids, and generous handles for maneuvering.
3. Pro: Versatile
Seasoned cast iron pans are perfect for sautéing, searing, and simmering. They're also ideal for braising, roasting, and baking. Everything from bacon and eggs to bread and desserts there is literally nothing you can cook in cast iron.
4. Pro: Heat Source Compatibility
Seasoned cast iron pots and pans can be used over campfires and sitting in hot coals and on any type of stovetop from gas to electric. The iron content in this cookware makes it induction ready. Cast iron cookware with integrated handles is oven safe and can be used under the broiler.
5. Pro: High-Temperature Tolerance
Cast iron can easily withstand high temperatures of 1500°F, they were designed for open flame cooking. Be mindful that seasoning will be affected after it reaches 800°F. The best practice is to season cast iron lightly after every use.
Cooks debate whether cast iron distributes heat evenly and so-called hot spots while cooking. But all agree that cast iron retains heat beautifully. When it gets hot, it stays hot.
Cast iron also has a high emissivity, meaning heat radiates beyond the surface. This is a huge advantage when roasting meat or vegetables and making thicker fry-ups, such as hash browns.
Get your downloadable FREE briquette placement and cast iron temperature guide.
6. Pro: Naturally Non-Stick
A skillet that is seasoned correctly is naturally nonstick. However, to be non-stick, the pan must be hot before adding the food. For example, adding scrambled egg batter to a cold pan and allowing it to sit as the pan slowly heats up should be avoided as it is going to be a sticky situation.
Seasoning is a process that provides protection to the cast iron and makes the cookware easier to use. Chefs fiercely debate seasoning methods, but it generally involves a process of heating the pan and oiling it.
Even cast iron that comes pre-seasoned should be seasoned before first use. This is because well-cared-for cast iron cookware will become increasingly non-stick.
7. Pro: Oven Safe
Cast iron cookware is oven-safe thanks to its integrated cast iron handles. The handles are cast in one piece with the pot or pan and baked at the same time.
A pan can easily be transferred from the stovetop to an oven, and the cookware will not melt or warp. In fact, cast iron can withstand higher heat than most other cookware materials can tolerate. Learn more about using your cast iron cookware in this article on how to use cast iron in a conventional oven.
8. Pro: Durable
Cast iron cookware is incredibly durable, and with proper care, can last for generations. The naturally non-stick surface of a seasoned cast iron pan is virtually impervious to knife and other scratches and wear, and the even heat distribution and retention of cast iron mean that your food will cook evenly every time.
9. Pro: Travels Well
Cast iron can easily transition from your kitchen to the open campfire. You can place the cookware on a rack or hang it from a stick and let the flames lick it. Or you can stick it straight into the coals. Cast iron doesn't care.
Before purchase, one should be mindful of the weight of cast iron especially if you are backpacking and carrying your cookware. This article has insight into the best type of cast iron cookware for campers.
10. Pro: Cast Iron Skillet Sears and Fries to Perfection
A cast iron skillet can withstand high heat, retain it, and radiate it out, it is often the preferred choice when cooks need to sear meat or fry it. This is also why it makes cast iron such a popular material for Woks.
11. Pro: Cleaning
Cleaning cast iron can be difficult, but cast iron is the only cookware that you truly cannot ruin. If burnt debris is an issue use a metal scraper or a chainmail scrubber and scrub that pot all you want until clean.
Reseason and your pot will be in normal working order, other burnt pots can be cleaned but they will never look new and restored like seasoned cast iron will.
12. Pro: Cooking Safety
It's important to note that cooking in cast-iron cookware has some benefits over other types of pots, pans, or skillets too. There are no chemicals added during production so there are few health risks. Plus you won't find any PFCs (polytetrafluoroethylene) in cast-iron cookware.
PFCs are a class of chemicals that were once used to make non-stick coatings for pans and skillets, but which have been linked with some very serious health risks.
These days cast iron is coated with an enamel glaze instead, which means you can still enjoy easy clean-up and stick-free cooking without any added chemical risks.
My article deep dives into Enameled Cast Iron Cookware and its Pros and Cons.
13. Pro: Adds Iron to Cooking
Cast iron transfers some iron into the foods being cooked in it. Some doctors even tell patients with low-iron levels to cook with cast iron.
However, while it is true that iron does transfer to food, the quantity of iron depends on the age of the pan, how it has been seasoned, and the food being cooked in it. Thus, cooking in cast iron is not the solution to fixing low-iron levels. But then again, every little bit helps.
14. Pro: Unlimited Lifetime
Cast iron that is well cared for can last for a long time. Some families pass it down for generations. There are also people that believe vintage cast iron is superior to cookware too modern. For example, Griswold is a well-sought-after vintage brand, and quality pieces have fetched hundreds to thousands at auctions.
15. Pro: Affordable
It is possible for cast iron cookware to last a lifetime. Cast iron skillets, whole cast iron ovens, wok sets, and grill pans are great ways to save money because they can last for generations.
The initial cost of cast iron cookware is much lower than other kitchen options. This means that outlay costs can be recovered quickly, making cast-iron pots and even enameled cast-iron the best choice when shopping on a budget.
The cast iron pricing table below compares the prices of some of the most popular seasoned cast iron Dutch ovens we can purchase today.
Brand
Size
Quarts
Approximate
Cost
Comments
Latest Price
Amazon
ExcelSteel Dutch Oven
6
$40.00
Seasoned legless camp Dutch oven with wire handle and loop lid-lifter.
Latest
Price
Camp Chef Camp Dutch Oven
6
$60.00
Seasoned camp Dutch oven with legs, loop lid lifter, and legs on the lid to utilize the lid of another piece of cookware. The oven has a handy wire handle for hanging cookware over a campfire.
Latest
Price
Lodge Double Dutch Oven
6
$80.00
Made in the USA the seasoned cast-iron Dutch oven has a bonus deep lid that inverts to be another piece of cookware. Generous integrated handles on both sides of the oven and lid are a great safety feature. This Dutch oven is great for Dutch oven bread
Latest
Price
Bruntmor Pre-Seasoned Dutch Oven
6
$80.00
Flat-bottomed cast iron oven with wire handle. Loop lid handle, variations include camp Dutch ovens with legs
Latest
Price
Finex Dutch Oven
5
$350.00
Handcrafted in the USA, these are heirloom cast iron ovens, preseasoned with flaxseed oil, wire spring handles, pouring spouts, luxury…
Latest
Price
My article How Much do Dutch Ovens Cost: Material & Price Comparison gives an in-depth look into cast iron cookware materials and their prices.
What Are the Disadvantages of Cast Iron Cookware
While we all love cooking with our favorite cast iron cookware, there are some disadvantages to using it. The main disadvantages of cast iron are: It's heavier than other cookware and takes longer to heat. In seasoned cast iron, you should avoid boiling water and using acidic foods. Bare cast iron cookware needs maintenance in the form of re-seasoning.
Let's check them out in depth:
16. Con: Slow to Heat
The con is that cast iron is thick and made from iron it is a lot slower to heat up than cookware made from clad stainless steel or aluminum.
In fact, it could take 3 1/2 minutes to reach your desired cooking temperature compared to a clad stainless steel skillet at just under 2 minutes. Taking the comparison further a good quality nonstick fry pan can reach your desired temperature in just 1 1/5 minutes.
The pro is that once it heats up the heat retention is second to none. So if you need a quick meal cast iron is probably not the answer unless you are searing a steak. In this instance, there is no other cookware that will cook steak, with flavor, better.
17. Con: Heavy
The weight of cast iron is a significant disadvantage for some cooks, especially those who have disabilities that create issues with muscle tone and grip strength.
The weight of cast iron also prevents backpackers from using it, despite how well it functions over an open fire or flame stove.
How much does a cast iron skillet weigh? The most popular size skillet is 12 inches. Made from cast iron you can expect a weight of around 8 pounds. An alternative skillet made from clad stainless steel is approximately 3 pounds. While an aluminum alternative will weigh just 1 1/2 pounds.
How much does a Dutch oven weigh? Cast iron is heavy Dutch ovens are even heavier with their heavy tight fitting lid. With many sizes and shapes the weight varies between a 1-quart weighing around 4.5 pounds all the way up to a 20-quart coming in at a whopping 36 pounds or more.
18. Con: Kitchen Use With Care
While seasoned cast iron can be used on all heat sources you should be aware that the rough, ridged, or notched base of cast iron cookware can damage cooking surfaces and countertops.
19. Con: Rust
Cast iron can and will rust if not looked after. While rusty cast iron can be resurfaced and re-seasoned, it takes a lot of work. For some people, the upkeep is too much of a bother. Learn how easy is it to stop cast iron from rusting.
20. Con: Bare Cast Iron is Reactive
Many cooks feel that cast iron changes the flavor of acidic foods, such as tomatoes, leaving behind a metallic taste. This is due to the amount of iron transferred to these foods.
There are others that say if this is happening that the cast iron has not been seasoned correctly.
Regardless of who is correct, the following foods are unpopular to cook in cast iron:
Tomato-based sauces and soups
Frying tomatoes
Lemon or other citrus sauces
Wine-braised meats
Also note, that cast iron has a tendency to retain some flavor of what is cooked in it. Thus, it is best to have separate pans for your sweet and savory. Related read what to avoid cooking in cast iron
21. Con: Extremely Hot
When cast iron gets hot, it is hot. All of it including the handles. You can't touch heated cast iron with a bare hand. A pot holder (trivet) and oven mitts must be used while cooking. Some attach a cork top to pot lids with wire to make handling easier during the cooking process.
https://ovenspot.com/best-oven-mitts-for-cast-iron/I use extreme heat-resistant oven mitts that are long, almost up to my elbow to protect my hands and forearms. Especially when using a cast iron camp oven or skillet on an open fire. These are the heat-resistant gloves I use BBQ Gloves,17IN 932℉ Heat Resistant.
These shorter gloves I use in the kitchen with my cast iron cookware over my gas stove BBQ Gloves Heat Resistant 1,472℉ Extreme. I chose this pair because they have more dexterity for use in the kitchen environment.
Pro Tip: Purchase cookware with a helper handle on the opposite side of the regular handles. It makes it so much easier to transport your cookware around using two handles.
Learn about cast iron temperatures and how hot cast iron can get.
22. Con: Sticking
Food sticking to cast iron is a common complaint. Regular use, correct cleaning procedures, and cast iron seasoning as soon as your food starts to stick will alleviate this problem.
Pro-tip: heat cast iron up with oil or required liquid before adding ingredients to prevent sticking.
All cookware even "non-stick cookware" will have food stick to its surface if used incorrectly or non-maintained.
23. Con: Maintenance – Includes Seasoning
Although modern cast iron is usually pre-seasoned before leaving the factory for the best results it should be seasoned before its first use.
No matter how tough cast iron is the cleaning, cooking (reactive foods), scraping, and general ware and tare will break down the cookware surface. Making the release of food difficult.
Carry out the process below at least twice a year.
How To Season Cast Iron Skillet, Grill, or Oven
Chefs and cooks have long debated the methods of seasoning cast iron. For example, some believe soap should never touch cast iron. Others maintain scrubbing it harshly is wrong. Thus, our general advice is not universal. However, it is one of the more popular methods.
Step 1: Clean Your Cast Iron
Clean the pan (even if new and pre-seasoned) with hot soapy water, giving it a good scrub.
Step 2: Dry Your Cast Iron Real Good
As in, make sure all the moisture is gone. All of it.
Step 3: Rub, Buff, and Oil Your Cast Iron
Use a paper towel to rub and buff the entire pan with a small amount of oil, a neutral-flavored high-smoke point oil. Grapeseed Oil and Flaxseed oil are oil blends that modern cast iron manufacturers are now seasoning their pans with.
Other recommended oils include vegetable oils like canola, sunflower, corn, soybean, and rice bran. Avocado and Sesame oil are not neutral flavor oils.
Olive oil is not a high smoke point oil so while it is great for cooking with cast iron, it is not a preferred oil for seasoning.
While you can technically use neutral-flavored coconut oil, it is at the lower end of acceptable smoke points and probably not the best choice. But you can use it if you don't have anything better.
Learn about the Best Oil for Seasoning Cast Iron.
Step 4: Bake Your Cast Iron
Yes, really, you stick it in the oven upside down at a nice 375 F (190C) and bake it for 60 minutes.
You might want to put something underneath the rack holding the pan to catch any excess oil drips.
Step 5: Cool Your Cast Iron
Just turn the oven, crack the door, and let it slowly cool inside. Repeat the process if necessary.
Step 6: Storing Cast Iron
Pans should be stored away from humidity to protect the surface from rust and corrosion. Check out my list of the best ways to store cast iron cookware.
FAQs
Is a cast iron pan worth it?
Are cast iron pans a good investment for your kitchen? If you plan on frying, braising, roasting, or slow-cooking often then it's definitely worth the small cost. Cast iron is incredibly durable and will certainly withstand years of use in your cooking adventures!
Why is cast iron so cheap?
The materials iron and carbon are the foundation of cast iron cookware and are inexpensive compared to other metal materials. Budget-friendly options are made on a production line and are not finished well. More expensive cast iron cookware will undergo more steps during production to achieve a luxury finish.
Is it healthy to cook in cast iron?
Cast iron has been a trusted kitchen companion for centuries. For the general population cast iron pans are one of the safest types of cookware to cook with.
But cast iron pans may not be the best choice if you are genetically at risk of developing an overload of iron. Be sure to learn more about how these popular cooking surfaces could impact your health before use!
Related reading: Is cast iron safe for cooking? and Is enameled cast iron safe to use?
Wrapping Up: Pros and Cons of Cast Iron Cookware
The pros of using a cast iron pan vs other types of nonstick pans far outway any cons, and are an excellent material for cooking. If you are looking to purchase products made on home soil look no further than cast iron manufacturers Lodge Manufacturing.
They have honed their cast iron casting and finishing skills in America for more than a century. Today their seasoned cast iron cookware is still made in the USA.
Remember that there are some disadvantages to using it. One of the major disadvantages to cast iron cookware is that it can be heavy and difficult for people to lift.
The weight also makes moving the iron difficult because you cannot carry cast iron without a potholder or oven mitt.
Cast iron pans can rust if they aren't properly cared for and seasoned correctly, so make sure you know how to do this before you purchase one!
You should also avoid cooking foods high in acidity like tomatoes when using cast iron because many feel that this will change the flavor of these foods (though others disagree).
If any of these disadvantages seem like a problem to you, then it might be best for you to look into buying another type of cookware.
Other Cookware Options
Le Creuset cast iron cookware with the benefits of enamel coating
Aluminum cookware
Stainless steel cookware
Carbon steel cookware
Copper cookware
One-Pot Cooking Rocks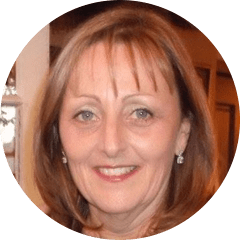 Michelle
Hi, I'm Michelle, the founder, owner, author, and editor of OvenSpot. My passion for one-pot cooking commenced when I was working to prepare cafeteria lunches for school students. I am now on a mission to assist you in choosing the cooking pot or appliance you will use daily. As well as in-depth information to assist you in using and caring for your cookware and appliances.
Questions? Reach out to Michelle at [email protected]