Can You Use Pans on a Grill? Do's and Don'ts Guide
Grilling is a beloved pastime for many, but have you ever considered using pans on your grill? This versatile cooking method offers unique possibilities for your favorite recipes. In fact, it's entirely possible to use certain pans on a grill, provided you take precautions and choose the right materials.
Yes, you can put pans on the grill. For best results, use cast iron or heavy-duty grill-safe pans. On a gas grill, maintain a consistent temperature and monitor closely. Ensure the pan has no plastic components that can melt. Using a pan can add versatility to your grilling, but always exercise caution and check manufacturer guidelines.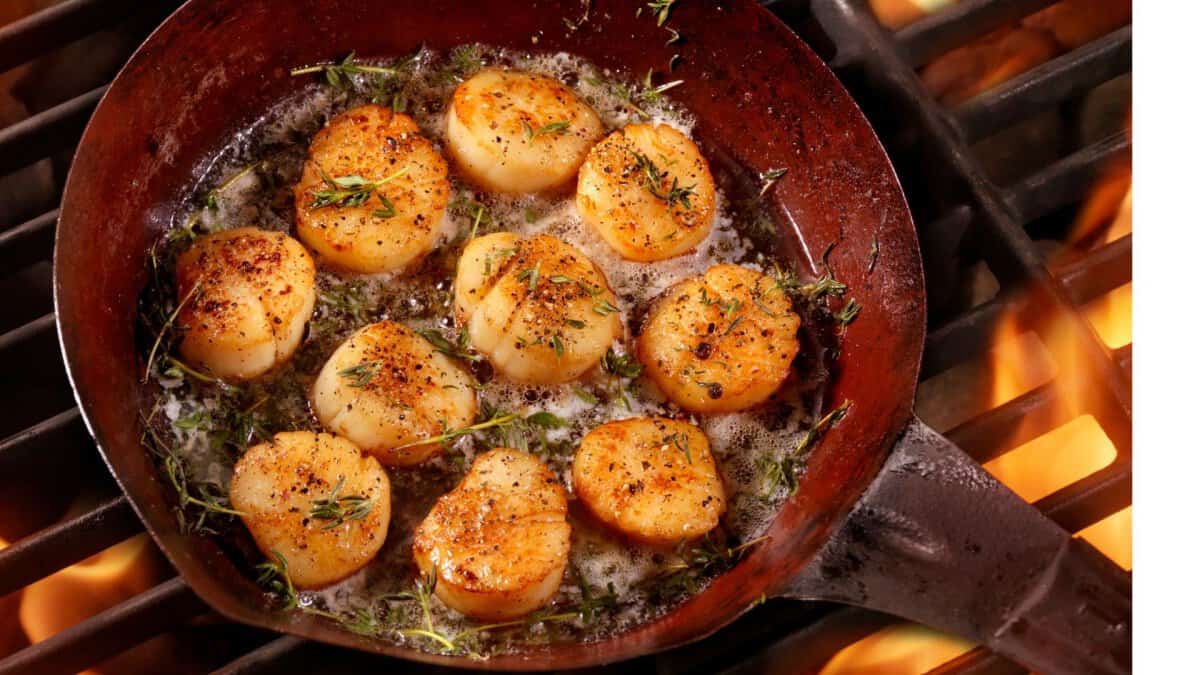 Combining your grill with a suitable pan allows you to control temperatures, cook various dishes simultaneously, and even achieve the coveted smoky flavor you crave.
There are, specific types of pans that work better on grills. By understanding the limitations and advantages of each pan material, you can wisely choose your grilling gear and impress your family or guests.
Why Grill With Pans
Grilling with pans can elevate your outdoor cooking experience to a new level.
When you use a pan on a grill, you can cook a variety of foods that wouldn't be possible with just the cooking on the grill.
Pans offer an even and controlled cooking surface, allowing you to prepare food and create delicious meals with ease.
Using a pan on your grill can be especially helpful when cooking delicate foods like fish.
Cooking fish directly on the grill can lead to sticking and breaking apart, but using a cast-iron skillet allows it to cook more evenly and stay intact.
Plus, you can still achieve those highly desirable grill marks on your food without the worry of it falling apart or slipping through the grill grate.
One of the benefits of using pans while grilling is the ability to create a variety of dishes without the need to move back and forth between your indoor kitchen and outdoor grill.
You can sauté vegetables or cook sauces to accompany your main dish, all while keeping the flavor and essence of grilling intact. This versatility makes it easier to prepare complex meals for your friends and family while enjoying the outdoor cooking experience.
Pans can help you achieve better heat distribution, especially high temperature cooking, when using oven-safe pans made mostly of metal.
The even heat distribution ensures your food cooks evenly, reducing the chances of burning or undercooking.
Be cautious though; avoid using pans that aren't oven-safe or made from materials that can't withstand the high temperatures of the grill.
Choosing the Right Pans for Grilling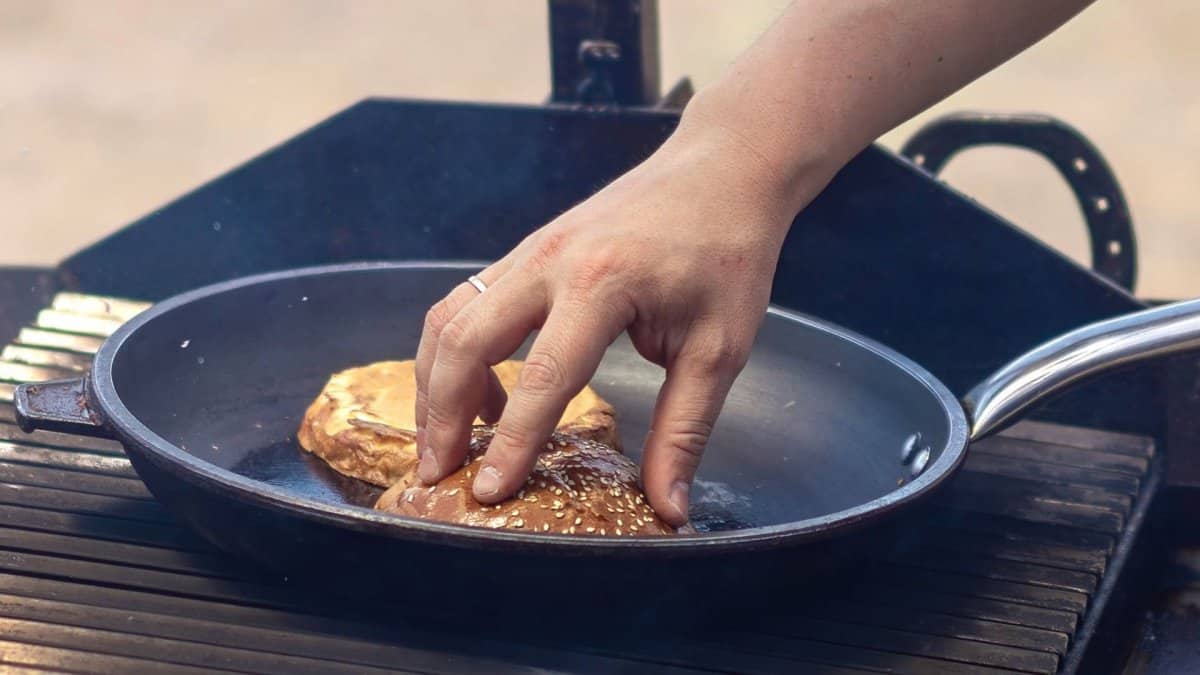 When it comes to grilling, using the right type of pan is crucial to ensure your food cooks evenly and safely. In this section, we will discuss the factors you should consider when choosing pans for grilling.
Factors to Consider: Material of Pan
The material of the pan plays a crucial role in determining its suitability for use on a grill. Some pans can withstand high temperatures, while others can get damaged or become unsafe when exposed to extreme temperatures or the intense heat of a grill.
Cast Iron Pans: These are a great choice for grilling because they can handle high temperatures and their even heat distribution ensures perfectly cooked food. Examples include cast iron skillets, Dutch ovens, and grill pans.

Stainless Steel Pans: Uncoated stainless steel frying pans, especially those with metal handles, are a good choice for grilling. Ensure to choose a stainless steel pan with no plastic parts, as plastic can melt under extreme heat.

Enameled Cast Iron Pans: Similar to regular cast iron pans, enameled cast iron pans like Dutch ovens are safe to use on a grill. They offer the same benefits as cast iron pans but with a lower risk of rust and require less maintenance.

Carbon Steel Pans: A carbon steel pan has similar cooking capabilities as cast iron it can be placed on a grill or an open campfire.

Copper Pans: While copper pans provide even heat distribution, they are not the best choice for grilling. High temperatures can cause copper to react with food, imparting a metallic taste, and may potentially damage the pan.

Non-stick Pans: Pans with non-stick coatings should never be used on a grill. The high heat can damage the coating and release toxic fumes, posing a health risk.

Glass Pans: It is not recommended to use glass pans on a grill as they are not designed to withstand high temperatures and may crack or shatter.
When choosing a pan for grilling, prioritize materials like cast iron, stainless steel, and enameled cast iron. Always avoid non-stick, glass, and plastic components, and opt for pans with metal handles for safe and convenient handling.
Types of Grills for Pan Use
When it comes to using pans on a grill, it's essential to understand the types of grills and the best types of pans to use. When selecting a pan to use on your grill, consider your grill type (gas or charcoal) and the type of food you'll be cooking.
Cast Iron Pan
Cast iron skillets are an excellent option when cooking on a gas grill or a charcoal grill. These pans are versatile and can handle high heat, making them perfect for use on the grill. Cast iron skillets retain heat evenly and create a beautiful sear on your food. For example, a double Dutch oven set can be an excellent choice for using your cast iron skillet on a gas grill.
Grill Pans with Raised Ridges
Grill pans with raised ridges are designed to mimic the outdoor grilling experience. They have a unique design that allows the food to cook while leaving grill marks behind. This type of pan can work well on both gas grills and charcoal grills. The Finex Cast Iron Grill Pan is an excellent example of such a grill pan.
Stainless Steel Pan
Stainless steel pans can also be used on a gas or charcoal grill. These pans are durable and can handle high heat without warping or degrading. Make sure that the good stainless steel pan you use has a thick base for even heat distribution. When using a stainless steel pan on the grill, it's also essential to preheat the pan and use olive oil beforehand to prevent sticking.
Carbon Steel Pans
Carbon steel pans, much like cast iron, are durable and can withstand high temperatures, making them a good choice for use on the grill. Before using a carbon steel pan on the grill, ensure it's properly seasoned. This not only builds a non-stick surface but also protects the pan from rusting.
Baking Pans
Yes, you can use baking pans on the grill. Choose oven safe pans made of cast iron or stainless steel. These materials can withstand the high temperatures of a grill. Avoid using aluminum foil or pans, with plastic handles or non-stick coatings that aren't grill-safe.
Non-Stick Pans
Non-stick pans are generally not recommended for use on the grill. The high heat of a grill can damage the heat-sensitive coatings on non-stick pans, making them unsuitable for grilling.
If you must use a non-stick pan on your grill, opt for a ceramic non-stick pan like the GreenPan Chatham Ceramic Nonstick Round Grill Pan. These ceramic pans can withstand higher temperatures than traditional non-stick pans without damaging their coating.
Pans You Should NOT Use on a Grill
Teflon Coated Pans
You should avoid using Teflon coated pans on a grill. Teflon, a type of non-stick coating, is sensitive to high temperatures. Grilling typically involves high heat, which can damage the coating and release toxic fumes. Stick to grill-safe cookware instead.
Thin Metal Pans
Thin metal pans, such as aluminum or low-quality, thin stainless steel pans, can warp or become misshapen when used on a grill due to the intense heat. This not only affects the pan's performance but can also create an uneven cooking surface. Instead, opt for thicker, heavy-duty pans that can withstand high temperatures.
Ceramic or Glass Cookware
Ceramic or glass cookware can be risky when it comes to grilling. While certain high-quality ceramic materials may be able to withstand high heat, cheaper options may crack or shatter under intense temperatures. To be on the safe side, it's best to steer clear of using ceramic cookware or glass cookware on the grill.
Plastic-Handled Pans
Plastic handles and grills don't mix well. When exposed to high heat, plastic handles can become soft or even melt, making the pan difficult and dangerous to handle. Look for pans with metal or heat-resistant handles instead.
Antique or Heirloom Pans
While it might be tempting to show off a beautiful antique or heirloom pan on the grill, it's not the best idea. Older cookware may not be built to withstand modern grilling temperatures, and you risk damaging a valuable item. Save your precious pans for safer cooking methods indoors.
Safe Practice for Using Pans on Grills
When you want to cook food using pans on a grill, it's essential to understand the safe practices involved. Remember, the high heat of a grill might not be suitable for cooking food in all types of pans, so select the appropriate one for the task.
First things first, know that you can use cast iron skillets and grill-safe pans specifically designed for use on grills. Cast iron can withstand high temperatures and is perfect for grilling.
Avoid using non-stick pans or pans designed for low to moderate heat, as they can get damaged or warp in the intense heat of a grill.
Before placing the pan on the grill, ensure it's clean and free from any debris. If you're using a grate, cleaning it will also be necessary to prevent any transfer of unwanted flavors or residues to your pan and food. When handling hot pans on grills, always use heat-resistant gloves to avoid burns.
For even heat distribution across the surface of the pan, consider an empty pan and preheating it on the grill before adding your ingredients. It's essential to monitor the heat closely when using pans on grills.
A direct flame from a charcoal grill can cause damage to your pans and food, so try to maintain indirect heat at medium-high heat.
With pots and pans that are safe for both grills and ovens, be sure to check their heat resistance capacity. Some pans may shatter on the grill if they're not built to handle the heat. Therefore, always opt for cookware rated for high-temperature use.
Common Mistakes to Avoid
When grilling, here are some common mistakes to avoid to ensure your grilled food is cooked well and safely.
One major mistake is using a grill, particularly a small one, in your house or garage. Grills release carbon monoxide, a colorless and odorless gas that can be deadly.
Another common mistake is using the wrong type of frying pan, on your grill. Although some grills and grill pans are made with stainless steel, using a stainless steel frying pan on your grill can damage the pan.
It's equally important to maintain proper grill hygiene. Make it a habit to clean your grill every time you use it since charred debris can create unpleasant flavors and contribute to flare-ups.
Speaking of flare-ups, avoid letting flames touch your food, as it can lead to sooty and unpleasant-tasting deposits.
Make sure to have fuel, heat source, energy, and oxygen available to control direct heat from the fire and ensure even heating throughout your grilling experience.
Cast Iron Skillet on a Gas Grill or Charcoal Grill
Here are some cooking tips tailored for each type of grill:
Gas Grill
Even Heating: Gas grills generally offer more consistent and adjustable heat compared to charcoal grills. When using a pan, aim for a medium to medium-high heat setting for most dishes to prevent burning.
Preheating is Key: Always preheat the grill with the lid closed before placing the pan on the grates. This ensures that the pan heats up evenly.
Cast Iron Advantage: Cast iron pans are ideal because they retain heat well, leading to a nice sear on your food. If you're using cast iron, ensure it's seasoned well to prevent sticking.
Lid Down for Oven Effect: If you're looking to cook something a bit more slowly or bake on the grill, close the lid to trap heat and create an oven-like environment.
Use a Thermometer: When cooking dishes that need a precise temperature, using an oven thermometer inside the grill can help monitor the heat.
Charcoal Grill
Two-Zone Fire: Set up your charcoal for a two-zone fire. Place coals on one half of the grill and leave the other half without coals. This allows you to have both a direct high-heat zone and an indirect lower-heat zone. Place your pan over the side that best suits your cooking needs.
Heat Management: Since you can't easily adjust the heat on a charcoal grill, control heat by increasing or reducing the amount of charcoal, spreading the coals out, or stacking them closer together.
Lid Ventilation: Use the vents on the lid to regulate airflow and control temperature. Open vents will increase the heat, while closed vents will reduce it.
Watch for Hotspots: Charcoal grills can have uneven heating. Occasionally rotate your pan to ensure even cooking.
Choose the Right Pan: A thicker, heavy-duty pan is generally better for charcoal grilling, as it can withstand high heat and distribute it more evenly.
Ash Management: Ensure ashes are not blocking the vents at the bottom of the grill. Blocked vents can smother the fire and reduce heat.
Smoking: If you want to add a smoky flavor to your dish, throw a few wood chips on the charcoal. The smoke will flavor foods cooked in the pan.
Wrapping Up: Can You Use Pans on a Grill?
To sum it up, there are plenty of creative ways to use pans on your grill. Just remember to use pans that can withstand the high temperatures, and avoid non-stick pans. Now go ahead and explore different dishes to enhance your grilling experience.
One-Pot Cooking Rocks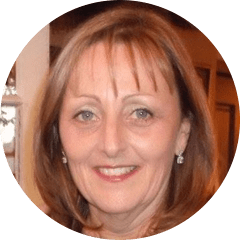 Michelle – Author
Hi, I'm Michelle the founder, owner, author, and editor of OvenSpot. My passion for one-pot cooking commenced when I was working to prepare cafeteria lunches for school students. I am now on a mission to assist you in choosing the cooking pot or appliance you will use every day. As well as in-depth information to assist you in using and caring for your cookware and appliances.
Questions? Reach out to Michelle at [email protected]