Hard Anodized vs Ceramic Cookware (A Complete Guide)
Health concerns around cookware are a hot topic, with new heroes appearing from time to time, only later to be touted as the new villains. Why does this landscape change so often? What are the key differences between hard anodized and ceramic cookware?
Hard anodized aluminum cookware is durable and hardy. It can be used for professional cooking at high heat and holds very low health risks. Ceramic-coated cookware is better suited to family cooking with lower heat. It is a little less durable but is esthetically pleasing with low health risk.
No manufacturer sets out with the intent of causing illness, but as evidence mounts, so does research. New innovations preserve health as well as improve the cooking experience and convenience. Let us explore hard-anodized aluminum and Ceramic coated cookware in this light.
Disclaimer: As an Amazon Associate I earn from qualifying purchases on my website. If you make a purchase through links from this website, I may get a small share of the sale from Amazon and other similar affiliate programs.
There is not a straightforward answer when considering what cookware to buy. There is much that can be said about both hard anodized aluminum cookware and ceramic-coated cookware. The final answer rests with personal choice and purpose for the cookware.
Hard Anodized vs Ceramic Cookware Comparison Table
Use this quick reference comparison chart to compare the main difference between these cookware types.
Hard-Anodized Aluminum Cookware
Ceramic Non-Stick
Cookware
Core Material
Hard-anodized aluminum
Aluminum, hard-anodized aluminum, stainless steel
Exterior Coating
Hard-anodized aluminum
SiO2 (silica dioxide)
High-temperature cooking
Withstand High Heat
Lower heat
Heat conductivity
Good
Very Good
Heat distribution
Good
Not as good
Heat retention
Good
Good
Induction Compatible
Yes
Maybe
(must have iron/steel in the base)
Non-Stick Properties
Food release provided seasoning is in-tact
Food release is good
Resilience
More resilient
Surface breaks down quicker
Weight (10″ Pan)
3.5 lbs
2.6 lbs
Durability (lifespan)
3-5 years
1-2 years
Healthiest
Less healthy
Healthier
Cleaning
Hand wash
Hand wash
Cookware Choices
Limited
Large variety
Colors Interior
Gray or black interior
Large variety
Colors Exterior
Variety
Variety
Lifetime
Long-lasting 5 years
1 to 3 years
Price
Expensive
Cheaper
Professional chefs choice
Yes
No
Hard-Anodized vs Ceramic Cookware Comparison Table
What is Hard-Anodized Cookware
Hard-anodized cookware is made from aluminum which is then coated in a non-stick oxide layer to ensure no contact between the aluminum cookware and food. This anodized layer is both hard and durable, reducing any chance of contamination through exposure to aluminum.
What is Ceramic Coated Cookware
When discussing ceramic cookware, one needs to distinguish between 100% ceramic cookware (made from clay also known as earthenware) and ceramic-coated nonstick cookware.
The type we are talking about in this article is ceramic-coated nonstick cookware.
What most people do not realize is that ceramic cookware is most often also made from aluminum. A ceramic coating is relatively hard, but it can crack or chip under certain conditions, allowing for possible contamination.
Then there is the hard anodized nonstick ceramic cookware. Technology innovatively meshes materials we have on hand that are tried and true and bring us more options every day.
Example 1 – Nonstick Ceramic Coated Aluminum Cookware
Example 1: is a GreenLife Pro Ceramic Nonstick Aluminum Skillet it's core aluminum. Its interior has a nonstick ceramic coating that is free of PFAS, PFOA, lead, and cadmium. Can be used on all stovetops but not induction the stainless steel handles and rivets make it oven safe up to 600°F.
Example 2 – Nonstick Ceramic Coated Hard Anodized Cookware
Example 2: is a GreenPan Paris Pro Hard Anodized Ceramic Nonstick Fry Pan its body and core are hard anodized aluminum. Its interior has a Thermolon nonstick ceramic coating that can withstand metal utensils. To finish a quality build it has stainless steel handles and rivets making it oven and broiler safe up to 600°F.
Materials Used in Producing Anodized and Ceramic Cookware
Aluminum is an excellent material to use for cookware based on how well it conducts heat. It is also lightweight and recyclable. It fell out of favor for use in cookware due to its health risks. Aluminum is a neurotoxin linked to diseases of the central nervous system such as Alzheimer's disease and ALS.
Since medicine found this link, many people have tried to avoid using aluminum in cookware altogether. Science has, however, allowed new production techniques to make it a safe cooking option again.
Coating the aluminum makes it possible to use it for its excellent heat distribution qualities without direct contact that can cause leaching into the cooked product.
Materials and Methods Used to Coat the Cookware
If both products have aluminum as the base material, it seems then that we should be looking at the coating to differentiate between the health risks of each.
The coating and the method used to coat the cookware differ and lend each type of different cookware-specific characteristics.
Hard-Anodized
With anodized cookware, an electrochemical process is used to bond an oxide layer to the aluminum pot. This layer is tough and makes anodized cookware stronger than stainless steel.
Hard anodized cookware is durable and able to withstand cooking at high to very high temperatures. It does not readily chip or scratch.
Ceramic Coated
Ceramic cookware has a layer of material such as silica dioxide bonded to the cookware at a very high temperature by firing. This forms a smooth glass-like surface for this type of cookware.
The ceramic layer needs more care when used to avoid chipping and cannot withstand very high temperatures. Chipped surfaces allow the leaching of the base substance into the food.
Substances like lead and cadmium are sometimes used in the glaze when the ceramic coating is fired in the kiln. The release of such chemicals is a risk if the coating layer is damaged.
Tip: Research the labels, materials of the cores and the coatings, and where the cookware is made… You are looking for PFOA and PTFE chemical-free cookware.
Which Product Is Safer, Hard Anodized, or Ceramic Coated?
Many factors should be considered when answering this question. There is a lot of research done on all these factors, yet there is no straightforward answer.
Some of the factors that affect the safety of use include:
Materials used in producing the cookware
Materials and methods used to coat the cookware
At what temperature do you cook?
What utensils do you use when cooking?
Acidic foods ruin the nonstick surface
The method used to clean your cookware
At What Temperature Do You Cook?
As a rule, nutrition is best preserved when we use medium heat for cooking. Aside from searing a steak or stir-fried dishes, most household cooking can be done in the medium range.
Hard-Anodized
Industrial kitchens and professional chefs tend to cook at higher temperatures. Hard anodized cookware is favored in this type of cooking environment. It can function in high heat with no ill effects.
Tip: No cookware is really non-stick use some healthy oil or other liquid when frying, searing sauteing, or browning. It will also protect the surface of your cookware and make the cleanup easier.
Ceramic Coated
Ceramic cookware is ideally suited to a medium-heat style of cooking. Even though it can withstand higher heat, it is not advised. Applying extreme heat and then cold could lead to damage which could render your cookware useless.
What Utensils You Use When Cooking
As exposing the base material of your cookware can increase the risk of leaching and contamination, it is essential to reduce this exposure.
Hard-Anodized
The anodized coating is scratch and chip-resistant. As such, metal utensils are fine for use. The coating does not easily get scratched, which would cause it to lose its stick-resistant nature.
Ceramic Coated
The use of metal utensils is definitely not advised for ceramic cookware. It can easily take on scratches. It could also cause chipping under certain conditions. Silicone or wooden utensils is best recommended for ceramic cookware.
Method Used to Clean Your Cookware
Dishwashers are convenient, but some items just should not be washed in them. Pots and pans fall in this category as a general rule.
Hard-Anodized
Hard anodized is easy to wash and clean due to its smooth, stick-resistant nature. Scorched food can be removed with a nylon brush or nylon scrub pad. More stubborn residue can be soaked with regular dishwashing detergent and hot water.
Anodized cookware is easy to clean and seldom requires more than mild liquid soap and a soft sponge. Most manufacturers indicate that hard anodized cookware is dishwasher safe. To ensure the longevity of the coating, it is still not advised.
Ceramic Coated
Ceramic cookware has a smooth surface, and food should generally wash off easily with only mild liquid dish soap and a soft sponge. It is essential always to allow your ceramic cookware to cool down before washing it, as this type of cookware does not respond well to sudden or extreme changes in temperature.
If the cookware was used at high heat or incorrect cooking utensils have been used, scratches can develop on the surface. This would cause food to stick more and make washing harder. Over time the surface can discolor and draw into the coating.
Unless there are deep cracks or chips, the cookware should still be functional. Never wash ceramic cookware in a dishwasher. The harsher chemicals will break down the coating sooner.
Safety of Hard Anodized vs Ceramic Cookware
Production regulations and guidelines are in place to protect consumers from the many known dangers associated with both types of cookware.
This is best regulated in the United States and European Union countries. If your cookware is produced in one of these countries, it is safe to assume all guidelines were followed.
If you are uncertain of the country of production, additional concerns could arise. Both types of cookware could have Teflon or other non-stick coatings. This could add chemicals like PTFE and PFOA to the list of concerns and increase the possibility of exposure to lead and cadmium used in glazes.
It is best to do your homework regarding the manufacturer and check all ingredients used as best you can before you invest.
Pros and Cons of Hard Anodized Cookware
Use these quick reference charts to compare the cookware advantages and cookware disadvantages of both.
| Pros | Cons |
| --- | --- |
| Durable | Doesn't like high heat |
| Heat conductive | Heavy |
| Scratch-resistant | Stains easily |
| Versatile | Quality varies |
| Healthy cooking | Not dishwasher safe |
| No metal leaching | 3-5 Year limited lifespan |
| Relatively low maintenance | |
| Stackable | |
Pros and Cons Hard Anodized Cookware Table
Pros and Cons of Ceramic Cookware
| Pros | Cons |
| --- | --- |
| Non-toxic | Durability |
| Eco friendly | Temperature control may be difficult for cooking |
| Non-stick | It may not be induction safe |
| High temperature resistant | It may not be oven safe (check handles lids and knobs) |
| Non-reactive surface | Surfaces are not scratch resistant |
| Versatile | Not dishwasher safe |
| Healthy cooking | Can be more expensive than other cookware |
| Lightweight | Use due diligence – make sure cookware meets FDA standards |
| Easy clean | 1-2 year limited lifetime |
| Low maintenance | |
| Decor compatible | |
Pros and Cons Ceramic Cookware Table
Tip: Do yourself and your loved ones a favor – do not use any cookware that is damaged in any way. Throw it away and invest in a new piece for you and your health…
Which is Better Hard Anodized or Nonstick?
Hard anodized aluminum is treated at high temperatures to make it safer before any coating is added which makes it very rust and warp resistant as well as durable and heat reactive. It is overall a lot safer if any coatings break down but your food is likely to stick.
If you are considering cookware made from other materials this is an informative read: Granite vs Ceramic Cookware
FAQ's
What is better aluminum or ceramic?
Hard anodized aluminum is treated at high temperatures to make it safer before any coating is added which makes it very durable and heat reactive. Ceramic cookware is not as durable as hard anodized but cookware may be safe providing it ticks all the FDA approval boxes.
Is hard anodized cookware worth it?
In general hard anodized cookware is safer than untreated aluminum cookware. It is reasonably non-stick compared to other pots and pans. It conducts heat well and is versatile, durable, and easier to maintain than most cookware. Manufacture, materials, and quality all play a part in how well any cookware performs.
When should I replace my non-stick pan?
Nonstick pans need replacing as soon as the cooking surface becomes scratched, flaking, or pitted. Learn how long non-stick pans last and when to replace non-stick pans.
Wrapping Up: Hard Anodized vs Ceramic Nonstick
To finish after reading this article, you should have a better understanding of the differences and pros and cons of ceramic and hard anodized cookware.
You'll also know what to look for in each type so that you can make an informed decision about which material is best for your needs. I hope I've been able to help clear up some confusion on this topic!
One-Pot Cooking Rocks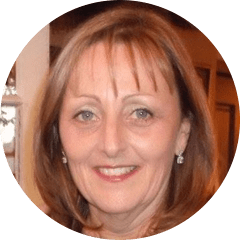 Michelle – Author
Hi, I'm Michelle the founder, owner, author, and editor of OvenSpot. My passion for one-pot cooking commenced when I was working to prepare cafeteria lunches for school students. I am now on a mission to assist you in choosing the cooking pot or appliance you will use every day. As well as in-depth information to assist you in using and caring for your cookware and appliances.
Questions? Reach out to Michelle at [email protected]