Skillet, Frying Pan and Sauté Pan: What's the Difference
As laypeople and everyday cooks, we often refer to cookware items using item names interchangeably. This can cause much confusion. The confusion of terms may be due to where we live, and regional terminology or the distinction between items is vague. Understanding the difference in functionality and features of cookware can help one choose the correct name accurately.
Skillets have sloping sides that are higher than a frypan. Frypans are shallower than a skillet, have sloping sides, and are lightweight. Both have wide rims with smaller base sizes. Sauté pans have a flat base with upright sides, an additional helper handle, and a lid.
By definition, a pan is: "a metal container used for cooking food in." This definition is very wide, and therefore a distinction is needed. How we differentiate between a skillet, a frying pan, and a sauté pan depends on the function and the shape of these three different "pans."
Disclaimer: As an Amazon Associate I earn from qualifying purchases on my website. If you make a purchase through links from this website, I may get a small share of the sale from Amazon and other similar affiliate programs.
Shape Differences Between Skillets, Fry Pans, and Sauté Pans.
The differences between a sauté pan and a frying pan can be seen at a glance once you know what to look for. Telling the differences between a frying pan and a skillet are a bit trickier. Many believe that there is no difference between these two pans.
Some believe the distinction between the two is merely based on the material used to produce a pan. As such, a cast-iron pan is often called a skillet rather than a cast-iron frypan. A little more digging can reveal a third option as a distinction.
Characteristics of a Skillet?
A skillet or French skillet has the following shape characteristics:
Wider time than the base
Steep slanted sides
Medium depth
Limited size range
A single long handle
Light to medium weight
A true skillet has a combination of features from both the frying pan and the sauté pan. The sides, though also sloped, meet the base at a sharper angle. The sides are also deeper, making it more versatile. As the skillet can hold more volume, it can be used for a wider variety of cooking techniques.
Related read Cast Iron Cookware Made in the USA
Characteristics of a Fry Pan
A frying pan has the following shape characteristics:
Wider rim than the base
Sloped or rounded sides
Shallow
Wide size range
Lightweight
Single long handle
A frying pan has rounded or sloping sides that are shallow. The lighter weight allows for ease of flipping food, and it is ideal for searing, browning, and frying. The wider rim to base design allows for good evaporation of liquids for these types of cooking techniques.
Related read Stainless Steel Cookware Made in the USA
Characteristics of a Sauté Pan
A sauté pan has the following shape characteristics:
Rim and base are similar in size
Straight sides
Deep
Heavy
Long handle and usually additional helper handle
Has a lid
Size is measured in volume or a diameter
A sauté pan has a base and rim size that is equal. This allows for a larger cooking area but does not allow liquids to escape as readily. Upright sides result in higher liquid retention and, as such, are better suited for cooking techniques that require more liquid.
Higher sides ensure fewer spills, and the addition of the helper handle on many of these pans makes lifting and moving easier. Added weight due to the bigger base limits the ease with which one can flip and toss foods in a sauté pan.
Which Pan Type Is Best Suited to Each Cooking Style?
A quick web search lists the following cooking styles as the techniques most widely and most often used to prepare meals:
| | | |
| --- | --- | --- |
| Baking | Blanching | Braising |
| Broiling | Frying | Grilling |
| Poaching | Roasting | Simmering |
| Steaming | Stewing | |
Pan and stove-top cooking is not suited to all of these cooking styles. Where applicable, let's explore which pan is best suited to each style.
Best Cooking Styles for Skillets
Skillets are versatile in the range of cooking styles they are suited to, combining features from frying pans and sauté pans.
Sharply inclined sides allow for quick evaporation of fluids during the cooking process. Skillets are an excellent choice for most forms of frying like stir-frying, pan-frying, and sautéing. The medium-high sides allow for some liquid use while cooking, so braising is an option if your skillet comes with a lid.
The slanted sides allow ease of access for spatulas, making a skillet a great choice of the pan to use when preparing dishes like eggs, omelets, and frittatas.
Best Cooking Styles for Fry Pans
As the name indicates, frying is the forte for this type of pan. Deep frying is the exception here, though. The lighter weight allows for ease of maneuvering to shake and flip food with ease. It can be used to brown off food when braising, but not for the rest of the braising process.
The ability to combine high heat and allow steam to escape fast makes it ideal for stir-fried dishes, searing meat, or shallow frying food. Lower sloping sides do not restrict access and movement of utensils, making it a go-to for egg dishes and frittatas.
Best Cooking Styles For Sauté Pans
Sauté pans are incredibly versatile and can be used for almost all stove-top cooking that is needed. Of course, saute pans can be used to sear a steak or cook stir fry, but you will need to allow for enough space in the pan to ensure that steam can escape.
The sauté pan really comes into its own when cooking dishes that need to retain as much of its natural juices. It shines when used for braising, simmering, poaching, deep-frying, and even stewing.
Despite being named a sauté pan, it takes a lot more skill and strength to sauté food in a sauté pan due to the upright sides and the fact that it is generally heavier than a frying pan or skillet.
How to Choose the Correct Size Pan
Sauté pans are measured differently from frying pans and skillets. For example, on a 12-inch pan, the measurement refers to the size measured from rim to rim. With skillets and frying pans, the cooking surface is as much as 30% smaller. A 12-inch pan typically has a cooking surface that is roughly 10 inches.
A sauté pan, having straight sides, has the same size cooking surface as the rim size. An additional difference with sauté pans is that they could be sized according to the volume of liquid they could hold. Sauté pans can then be sized in inches or quarts.
Related read Skillet Sizes: What's Your Perfect Size?
Which Type of Pan Is Best To Buy?
The quick answer to this question is; There is no one best pan. Which pan is the best will depend on what dish you are cooking, how many people you are cooking for and the type of cooking style needed. Each of these tree pan types can shine in certain areas but also fall short in others.
Related read How to Choose an Enameled Cast Iron Skillet
Is a cast iron skillet better than a frying pan?
A cast-iron skillet generates enough heat to sear a steak without it sticking to the surface due to the natural non-stick seasoned surface. Although a frying pan can get hot enough to sear a steak generous amount of oil is required to be able to pull that steak off the surface again as it is not nonstick.
Can you use a regular pan like a skillet?
No, and Yes, the non-stick seasoned surface of cast iron allows you to use a very hot surface to fry, sear, brown, and saute ingredients without sticking. Regular pans are not non-stick you will have to use oil so you will not get the same sealed result you would with cast iron.
Why use a skillet over a frying pan?
Cast iron skillets can be heated up with no oil, due to their seasoned exterior, before you add your meat or other ingredients. Frying pans, oil, or liquid in the base of the pan while heating up or the pan will discolor and become warped. Not to mention the fact that your food will stick to the surface of the frying pan.
Related read Clean Burnt Grease From Frying Pan (Inside and Outside)
Best frying pan material?
Cast iron, stainless steel, ceramic, enamel! Frying pans are made from many materials each offering the chef different benefits. Cast iron gets very hot but heats up slowly and is heavy. Stainless steel is light and heats up fast is perfect for searing and is easier to control heat. Enamel usually coats a metal and all have different properties.
Related read What Is The Safest Cookware?
Wrapping it up!
A skillet is a versatile pan that can be used for all stove-top cooking. The skillet's slanted sides allow ease of access for spatulas, making it the perfect pan to use when preparing dishes like eggs, omelets, and frittatas.
Frying pans are best suited for deep frying or searing meat because they have lighter weight which makes them easier to maneuver than skillets or saute pans.
Sauté pans shine in certain areas but also fall short in others so it depends on what dish you're cooking and how many people you're cooking for as well as the type of cooking style needed!
Click here to check out some of the best skillets, frying pans, and sauté pans…
One-Pot Cooking Rocks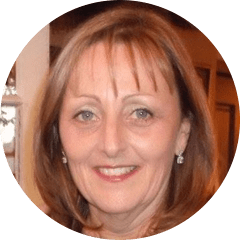 Michelle – Author
Hi, I'm Michelle the founder, owner, author, and editor of OvenSpot. My passion for one-pot cooking commenced when I was working to prepare cafeteria lunches for school students. I am now on a mission to assist you in choosing the cooking pot or appliance you will use every day. As well as in-depth information to assist you in using and caring for your cookware and appliances.
Questions? Reach out to Michelle at michelle@ovenspot.com