How to Choose an Enameled Cast Iron Skillet
When finding a suitable skillet, it's tough to beat picking something made from cast iron. Solid and durable, capable of holding and distributing heat evenly, and about as versatile as a pan can be, there's a lot to fall in love with when it comes to cast iron.
Unfortunately, traditional cast iron is not without its drawbacks, either.
Heavy and expensive, these pans also have to be babied when you clean and care for them – especially if you want them to last as long as possible (which is forever when properly maintained).
But that's where enameled cast iron skillet comes into play! Offering all the benefits of cast iron and many other benefits, enameled cast-iron skillets are a game-changer in the kitchen.
Here's my detailed guide to help you find the perfect enamel option in the future.
Disclaimer: I earn from qualifying purchases on my website as an Amazon Associate. If you purchase through links from this website, I may get a small share of the sale from Amazon and other similar affiliate programs.
What are Enameled Cast Iron Skillets?
Before we get into the nuts and bolts of what you should be looking for to get the best enameled cast iron skillet, it's important to cover what exactly enameled cast iron is.
Unlike traditional cast iron pans that are essentially "raw iron" with a thin layer of seasoning, enameled pans are a lot more durable, resilient, and nonstick right out of the box.
The enamel coating applied to these pans is usually made of powdered glass mixed with clay and some water. Pigments are added into the mix to produce gorgeous and vibrant colors most of the time, but the end goal is to create a second hardened – and super slick – surface on these pans.
If you've ever seen cast iron pans or skillets that look like they had been dipped in hardened paint, the odds are good. You've come across enameled cookware already!
Is Enameled Cast Iron Safe to Cook With?
Today's modern enameled cast iron cookware is much safer than it used to be.
High-quality enamel materials are used these days, free from lead cadmium and other potentially toxic substances that used to work their way into enamel materials of the past.
Some of today's low-quality enamel cookware (especially cookware made in factories overseas) may still contain these dangerous toxins, though.
This is why it is so hugely important to invest only in high-quality pieces, searching for the best enameled cast iron skillet money can buy rather than just any old thing you pick off the shelf or pull out of a big-box retailer.
Stick to high-quality options, and you'll never have to worry about whether or not these skillets are safe to cook with.
In my article Is Enameled Cast Iron Cookware Safe to Use? You will find all the answers about enamel cookware safety!
What Cooks Best in Enameled Pans? What Struggles?
The beautiful thing about enameled cookware (especially enameled cast iron) is that you can cook almost anything with these pans without any ill effects.
It would take months and months of regular seasoning (and we are talking daily usage, even) to build up enough "nonstick" layers of seasoning to even think about cooking eggs in a traditional cast-iron skillet.
With an enameled skillet, you crack eggs right out of the box – directly into your new pan!
Anything you would have cooked in a cast iron pan can be cooked in your new skillet, too. We are talking steaks and poultry, seafood and vegetable dishes; the sky really is the limit.
The only thing you'll want to stay away from and cook sparingly is more acidic ingredients.
Tomatoes and citrus can be splashed into your new skillet every now and again, but this might not be the best pan to reach for when you're making a Sunday gravy or grandma's secret sauce recipe – and it's definitely not the pan to use when reducing citrus down to create a glaze, either.
The acid in those ingredients will work to eat away at the enamel, eventually breaking it down, compromising it, and destroying the effectiveness of your pan altogether.
The protection against these acidic ingredients with enameled cast iron cookware is greater than "raw" cast iron cookware. But you'll still be biting into the longevity of your enameled pans if this is all you cook in your new skillet.
Of course, we talk about What Not to Cook in Cast Iron! Read my cheeky article that deep dives into what we should and shouldn't cook on cast iron and how to do it anyway!!!
What to Look for in Enamel Cast Iron Skillets
Now that we have sorted all of that, it's time to dig through everything you should be looking for in the best enamel cast iron skillet options on the market today!
Size
The first thing you want to look for in a new cast iron enameled skillet is the actual size of the skillet itself.
One of the beautiful things about cast iron cookware is the numerical sizing breakdown. Cast iron pans are given a number between 2 and 20 to designate the size, and the sizes are pretty much standardized across the board.
A #2 in one brand will be the same size as a #2 in another (for the most part), and you'll know precisely what you are getting into.
Most people find the best and most versatile sized cast iron skillet is between a #6 and a #8, though you could go a little bit bigger and a little smaller and not sacrifice all that much.
Shoot for a #7, though, and you'll have a great general-purpose cookware in your new skillet that can handle pretty much anything you throw at it!
A #7 will measure about 9 7/8 inches in diameter and have about 2 inches of depth to work with. The most popular-sized skillets are 8 inches to 12 inches.
Follow these general guidelines to choose a skillet that is the right size for your needs:
A 6-inch skillet is considered a small skillet and is suitable for single-serve dishes
An 8-inch skillet is considered medium and is suitable for one
a 10-inch skillet cooks meals for two people and is the most versatile size of all skillet sizes.
A 12-inch, which is considered a large skillet, will prepare meals for up to four people comfortably.
In this article Cast Iron Skillet Sizes, you will find the answers about skillet sizes and how to choose the right size for your cooking needs.
Weight
Weight is going to vary from one manufacturer to another, even when it comes to the same size skillet across both brands.
You're going to want something that is reasonably heavy (that means the cast iron is solid and will retain and distribute heat well), but not something so heavy that you dread reaching for it every time you need to cook up the dish.
Look for something that you can move with one hand reliably, and that still has a bit of heft to it.
Pro Tip: Look for skillets with "helper" handles on the opposite of the skillets handle.
Enamel Thickness
As a general rule of thumb, you should be looking for a cast iron enameled layer to be at least 3 mm thick, and that's at the rock-bottom minimum you should accept.
A little bit thicker than that is never a bad thing – up to maybe 5 mm or so – but you don't need to go crazy with enameling, either.
The thicker the enamel, the more durable the protection (to be sure), but the heavier your new skillet will be to wield.
Stick to enamel between 3 mm and 5 mm thick, and you'll be ready.
Design and Construction
Along with a quality cast iron core and virtuous enamel layers of cast iron, the skillet handle should be generous enough to fit mitted hands for safe transport.
Handles should also be integrated. What does integrated mean? The handles should be cast simultaneously as the pot, skillet, pan, or Dutch oven. Lid knobs should be stainless steel so they are oven safe up to 500°F.
Check out this article about replacement oven-safe knobs for cast iron cookware.
Heat Sources
Unlike seasoned cast iron enamel cast iron, cookware has its limitations.
Heat Distribution
One of the coolest things about today's modern infrared thermometer technology is that it lets us "see" how well different pans distribute heat these days.
Almost every company making enameled cast iron cookware today provides a heat map, too.
This gives you a good idea of how well heat is distributed across these skillets, how well heat is held and maintained, and how much easier it is to cook with these kinds of pans – especially since you don't have to worry about hotspots anymore.
Even heat distribution is a big piece of the puzzle!
Brand Reputation
There are some amazing brands in the cast iron world making fantastic pieces of top-notch cookware, and others are making horrible pieces of cookware that you shouldn't waste any of your hard-earned money on.
The most reputable brands in the business – we are talking about your top-of-the-line stuff from modern companies like Le Creuset Staub and iconic companies like Lodge Manufacturing – will never disappoint you.
You'll know when you buy the best enameled cast iron skillet from those top-of-the-line companies that it will be the last enameled cast iron skillet you ever need.
It should last a lifetime and then some!
In my article Best Enameled Cast Iron Cookware Brands! I deep dive into enameled cast iron cookware and what the brands, including their manufacturing history, on the market today compare.
Price
Finally, the best enameled cast iron skillet doesn't break your bank account into tiny pieces – but it's probably not going to be the cheapest skillet on the market.
A little bit of research and due diligence should help you zero in on a real top-quality piece of cookware here that won't set you back a small fortune but that will still deliver the results and benefits of cast iron that has been enameled you are looking for.
Expect to spend a little more than budget prices if you want to get your hands on the best enameled cast iron skillet around.
Pros & Cons of Enamel Cast Iron
This quick reference table breaks down the great benefits and some cons that could be a deal-breaker as to whether you choose enamel cast iron cookware.
| PROS | CONS |
| --- | --- |
| They don't rust easily if quality enamel is used to coat the cast iron core | Heavier than other types of cookware |
| Offers different methods of cooking | Not non-stick – does require oil to prevent sticking |
| A smooth surface is convenient and comfortable to clean | Not as durable as a regular cast iron pan |
| Vibrant colors, sizes, and shapes | Can't tolerate the high temperatures of seasoned cast iron. Medium temperatures work the best |
| Use on all kitchen stovetops including induction. Oven safe providing accessories (knobs are oven safe up to 500°F) | Can't be used with all heat sources (a campfire or open fire) |
| Easy cleanup and maintenance (no seasoning required) | You can wash in a dishwasher (I wouldn't) it breaks down the enamel |
| Enamel is safe by stopping iron from leaching into your food | Prone to chips and cracks from heat fluctuations, incorrect utensil use (no metal), and incorrect cleaning practices |
| Quality brands are heirloom pieces and will be handed down through generations with care | Price quality brands can be expensive |
3 of the Best Enameled Cast Iron Skillets
Le Creuset Staub and Lodge cast iron are well-known brands in the cast iron community. Each brand's range targets a slightly different user.
Let me explain, Le Creuset is what I consider luxury cookware. Do I prepare Italian pasta sauce in my gorgeous Le Creuset?
HELL, NO, that family favorite is prepared in my Staub with its black interior that I cannot ruin with acidic tomato sauce. My Signature Le Creuset cooks my Dutch oven bread and stays unstained after preparing Chicken Provençal.
My Lodge enameled deep skillet with a matching deep lid is used on my gas burners for everyday use for everything from bacon, eggs, and scones on the inverted lid on another burner to boned meats over a gas burner sitting on a trivet.
These iconic brands have one major thing in common they have all been perfecting the art of casting iron for one hundred years or more.
Staub Matt Black Skillet
Price Range $180
Staubs matt black may look like a seasoned cast iron skillet but it is enamel cast iron. This color pan is perfect for those who want to retain the look of sturdy rustic seasoned cast iron cookware with the benefits of enameled cast iron.
Features
Lodge Enamel Cast Iron Skillet
Price Range $80
Lodge has been an iconic name in cast iron cookware since commencing casting iron in 1896. Producing both seasoned and enamel cast iron cookware in all shapes and sizes.
Features
Pros & Cons of Le Creuset Enameled Cast Iron
| The most expensive in this cookware class | Le Creuset – CONS |
| --- | --- |
| Made in France in 1925, by a renowned brand | Most expensive in this cookware class |
| Retains heat for even cooking and optimum moisture | Con of all cast iron cookware, slow to heat up |
| Generous handles for safety and to combat the fully laden weight | Con of all cast iron cookware, heavier than other materials |
| Generous interchangeable Le Creuset replacement knobs that are oven safe | The light interior may discolor without the correct cleanup after every meal |
| Use on all heat sources cooktops, ceramic, electric, induction, gas as well as oven safe up to 500°F | |
| Cleanup is easier than other brands | |
| The largest variety of shapes, sizes, and colors than any other cast iron enamel coated brand | |
| With care, these heirloom pieces will be handed down through the generations | |
| Limited Lifetime Warranty | |
Le Creuset Pros and Cons Table
Read more about Staub and Le Creuset Enameled Cast Iron!
Pros & Cons of Staub Enameled Cast Iron
| Staub – PROS | Staub – CONS |
| --- | --- |
| Decades of building durable high-quality cookware | Expensive, less than Le Creuset marginally |
| The Interior black enamel finish is great for high-temperature cooking and also hides staining of the interior surface, use the correct utensils to protect the surface is still required | Casting is thicker and therefore, heavier than most cookware also takes longer to heat up |
| Cookware shapes and sizes for most needs | Handles on the sides of Cocottes are rectangle and could be a little wider for larger hands |
| The Staub lid is heavy, flat for a great seal, and has basting spikes | |
| Approximately 10 core colors | |
| Made in France | |
| Lifetime Warranty | |
Staub Enameled Cookware
Pros and Cons List
Read this in-depth article about Lodge Cast Iron (Enameled and Seasoned)
Pros & Cons of Lodge Enameled Cast Iron
| Lodge – PROS | Lodge – CONS |
| --- | --- |
| Stainless Steel Knobs | A purchaser advised that the inside enamel was wearing and food starting to stick |
| Large Loop Handles | Purchasers have advised of chipping |
| 12 colors across the enamel cookware range | Heavier than other brands |
| Cheaper than Le Creuset and Staub | Made in China |
Lodges' Enameled Cookware
Pros and Cons List
How America's Test Kitchen Chooses Enameled Cast Iron Skillets
This short video explains the differences in quality between different brands of enameled cast iron skillets.
Closing Thoughts: Choose an Enameled Cast Iron Skillet
Ultimately, as long as you zero in on the tips and tricks I highlighted above, you won't have any trouble finding your new cast iron cookware.
Run through the key factors mentioned a moment ago before you make your purchasing decision, and you'll fall head over heels in love with a picture-perfect piece of cast iron cookware faster than you thought possible.
Good luck!
One-Pot Cooking Rocks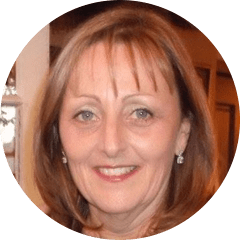 Michelle
Hi, I'm Michelle, the founder, owner, author, and editor of OvenSpot. My passion for one-pot cooking commenced when I was working to prepare cafeteria lunches for school students. I am now on a mission to assist you in choosing the cooking pot or appliance you will use daily. As well as in-depth information to assist you in using and caring for your cookware and appliances.
Questions? Reach out to Michelle at [email protected]