Le Creuset Skillet Review: Signature Cast Iron 2023
When it comes to enameled cast iron cookware one brand stands apart from all others – Le Creuset.
This French cookware manufacturer has been manufacturing high-quality cast iron with enamel coating for almost 100 years now. Trusted by professional chefs and home cooks alike, many of these pieces become heirlooms handed down from one generation to the next.
A Le Creuset skillet isn't just well-made, though – the colorful enamel is as beautiful as it is functional.
Disclaimer: As an Amazon Associate I earn from qualifying purchases on my website. If you make a purchase through links from this website, I may get a small share of the sale from Amazon and other similar affiliate programs.
If you're looking to learn more about Le Creuset skillets, why I use one, along everything that makes them so spectacular, you'll want to read the rest of this detailed review
Le Creuset Brand History
Steeped in history, the Le Creuset cast-iron cookware company was founded in 1925 by a pair of Belgian cast-iron experts looking to sell their cookware to high-end French chefs and restaurants.
Embraced by the culinary community in France right away, the company first rolled out its "French Oven" design in the now iconic flame orange colorway. It wasn't long, though, until Le Creuset skillets (and other pieces such as enameled cast iron Dutch ovens or the French oven) were available for sale, too.
One of the most impressive things about Le Creuset skillets is that almost nothing has changed about them from day one.
These skillets are still made using the traditional casting and enameling process the founders established. They are even still made in the same French foundries!
These are very special pieces of cookware anyone would be proud to have in their kitchen.
Le Creuset Enameled Cast Iron Skillet Overview
This in-depth overview will reveal why this is one of the best cast-iron skillets available today.
Construction & Finish
The age-old casting approach leveraged by Le Creuset continues to produce impeccable pieces of cast-iron cookware.
All Le Creuset skillets come from the original foundry outside Fresnoy-Le-Grand in France. Each piece will move through multiple stages of the sand casting process, with 15 different carefully trained craftspeople monitoring the process along the way.
After the iron being used is superheated to 1500°C and poured into a sand cast, it's allowed to cool completely before the mold is broken apart. From there, craftspeople at Le Creuset hand check each individual piece – sanding, scraping, and shaping each piece before it gets shot blasted smooth and then enameled.
The end result is superior construction, fit, and finish compared to any mass-produced regular cast iron pans on the planet.
It's a big part of why so many of these pieces are gifted as heirlooms. It's also why the secondary market for vintage Le Creuset pieces is so active.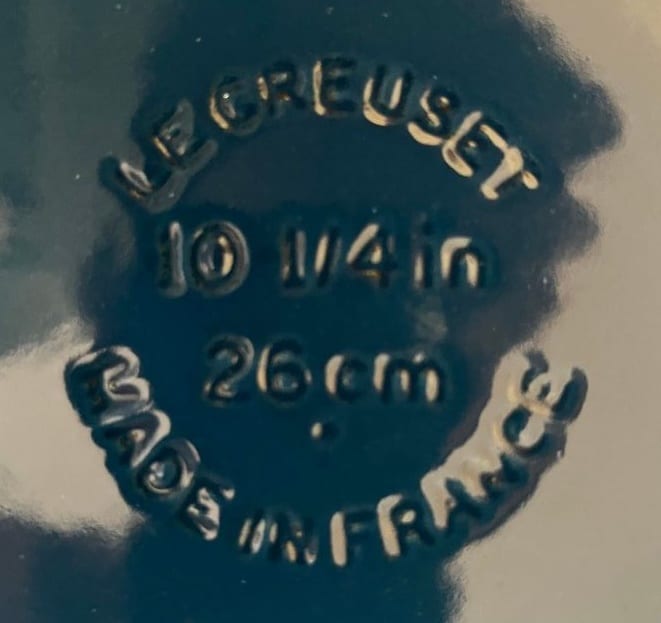 If you are interested in vintage or discontinued Le Creuset products you must read my article 'how to tell a fake Le Creuset'
Design
Le Creuset cast-iron skillet stands apart, even at a glance. The skillet has an ergonomic short handle and a large helper handle on the opposite side for a good grip and safe maneuvering. The good news is that the shorter handle means that even a 10-inch cast-iron skillet will fit in a small conventional oven.
The beautiful enamel all Le Creuset cast-iron goes through separates these skillets from any other option on the market. Different colors have been introduced on a regular basis, but many of the classic pastel colors – including the original flame color – continue to be on offer.
And while the enamel gives Le Creuset skillets a distinct look, this design choice also has a lot of functionality.
The enameling protects the cast iron from rust, assists with superior heat retention creates a more uniform surface, and helps make an already very durable material even more so. On top of that, the enamel formula added to Le Creuset skillets helps make them nonstick without requiring any special seasoning like bare cast iron.
It's a perfect blend of form and function.
Sizes & Dimensions
This cast-iron pan is available in 4 different sizes;
| Size Inches | Size Cms | Capacity | Dimension | Weight |
| --- | --- | --- | --- | --- |
| 6 1/3 inch | 16 cm | 1/2-quart | 11.9 x 10.4 x 2.3 inches | 3.2 lbs |
| 9 inch | 23 cm | 1 3/8-quart | 15.31 x 10.51 x 1.57 inches | 4.25 lbs |
| 10 1/4 inch | 26 cm | 1 3/4-quart | 13 x 14.8 x 3 inches | 6.0 lbs |
| 11 3/4 inch | 30 cm | 2 3/8-quart | 13.5 x 18.8 x 1.9 inches | 6.8 lbs |
Le Creuset Signature Cast Iron Skillet Sizes
Learn how to choose the perfect skillet size for your needs How to Choose an Enamel Cast Iron Skillet
Colors
The interior is a durable black satin enamel that provides a smooth cooking surface and no seasoning required.
The exterior color range, as with all Le Creuset cast iron pieces the color range is unrivaled. Skillets come in 19 decor colors ensuring that there is a choice for everyone who is considering this significant investment.
Cerise
Flame
Caribbean
Marseille
Indigo
Oyster
Meringue
White
Nectar
Sea Salt
Fig
Archant
Deep Teal
Agave
Cool Mint
Cayenne
Azure
Cambray
Olive
Keep up to date with the latest colors in the Le Creuset Color Guide: 2022
Performance & Cooking Capabilities
You will be frying, searing, sauteing, and baking in this skillet as the heat retention and heat capacity capabilities of the Le Creuset skillet are what you would expect from high-end cast iron.
Yes, a Le Creuset skillet is going to take a little longer to get up to temperature compared to thin nonstick pans like stainless steel cookware.
Once a Le Creuset skillet hits your target temperature, though, it's going to retain those temperatures – even off heat – and distribute the heat that you are cooking with much more evenly across the surface of the skillet itself.
You don't have to worry about hotspots. You don't have to worry about wild temperature changes while cooking. Instead, you'll enjoy using a piece of cookware that is consistent and reliable.
On top of that, Le Creuset skillets are versatile cookware companions in the kitchen, too.
The enameled surface of these cast-iron skillets gives you the best of all worlds. You get the heat retention and distribution properties of thick cast iron, but you also get the nonstick benefits from the enamel.
You'll be able to cook everything from scrambled eggs to roasted chicken breasts and a great sear on your favorite cut of steak in a Le Creuset skillet! EGGS you say? Find out how to cook eggs, successfully, on an enamel cast iron surface.
Learn more about luxury enamel cast iron cookware and heat retention in my article that compares the two top brands of cast iron enameled Dutch ovens and cookware Le Creuset vs Staub.
Durability
Cast-iron skillets (when taken care of) are as durable a piece of cookware as there is. Le Creuset, though, improves upon this standard of durability by adding (at least) three layers of enamel as well.
Each layer of enamel adds a little more protection, and a little more durability, and extends the usability of this cookware. The enamel is so much more than an aesthetic choice.
Enamel protects the heart of these skillets – the cast iron – and guarantees they'll be able to be used reliably in the kitchen for decades.
The interior surface is finished with a black satin enamel that eliminates the need for the traditional seasoning and maintenance of raw cast iron. Specially formulated for higher surface temperature cooking, the enamel develops a natural patina over time making it virtually nonstick and easy to clean.

Le Creuset
Cleanup & Maintenance
Though most cast-iron cookware manufacturers recommend handwashing and staying away from the dishwasher, Le Creuset says otherwise.
Yes, right on the box of a new Le Creuset skillet (and all their other enameled cookware, for that matter) is a sticker telling you owners that they can confidently put their cookware in the dishwasher.
This all (once again) has to do with the triple layer – at a minimum – of enameling applied to each piece of Le Creuset cookware. You don't have to worry about rust and you don't have to worry about ruining seasoning when you have an enameled skillet to work with
Of course, not everyone has a dishwasher that will accommodate a big, heavy cast-iron skillet like the options from Le Creuset.
In that case, good old-fashioned handwashing is required.
Give the pan enough time to cool down and then you can soak it in warm water. Gently release anything still stuck on the surface of the pan with a scrubbing brush. Use one safe for use with enameled cast iron, of course. You don't want to damage the enamel.
After that, a quick dip in warm soapy water and then a rinse in cooler water is all that's needed to get your cookware clean. Dry the cast iron with a paper towel and you are all set.
Le Creuset has formulated its own range of cast iron enamel cleaning products! In my article learn more about how to clean and care for Le Creuset the right way!
Price
It's challenging to review Le Creuset cast-iron skillets without mentioning how expensive they can be.
There's no getting around it, though. This is a premium French brand with a nearly 100-year heritage of making incredible (and always in demand) enameled cast-iron cookware.
The price tag is steeper than "raw" cast-iron skillets you can purchase for $20 or so. Significantly steeper, at that.
As of the middle of 2022, it's not uncommon for six-inch Le Creuset skillets to start at around $120. 11-inch and 12-inch skillets command more than $200, and larger skillets are even more expensive than that.
Is the value you get from a Le Creuset worth it, though?
While that's an individual judgment call, there's a reason why this company sells so many pieces of expensive cast-iron cookware year after year – and has for nearly 100 years.
Many people that purchase Le Creuset skillets understand they are buying a premium product. On top of that, they have expectations for this product to last decades if not generations.
It's tough to imagine bargain-priced raw cast iron lasting as long without a lot of careful maintenance and routine cleaning.
In that way, there's a lot of value in a Le Creuset skillet.
You know it's going to last a lifetime (and then some).
On top of all of that, the enameled surface of a Le Creuset makes it even more versatile a piece of cast-iron cookware than traditional cast-iron skillets.
These pans are nonstick straight away, don't require special seasoning approaches, and can be cleaned with dish detergent and water without fear of destroying the pan along the way.
There's a lot of value in the convenience of using this cookware, too.
Check out what cast iron cookware the professional chefs are using!
Why is Le Creuset so Expensive?
Brand reputation, the highest quality materials, finely honed manufacturing processes that are still practiced by skilled artisans today, and a longer warranty than most other brands are just some of the reasons why Le Creuset is more expensive than other cookware brands.
Take a deep dive with me into why Le Creuset is so expensive and whether is it worth the investment.
Le Creuset Skillet Pros & Cons Table
| Le Creuset Skillet | Pros | Cons |
| --- | --- | --- |
| Where is Le Creuset Made | Made in France from a brand that has honed its cast-iron pouring and finishing skills for almost 100 years from the highest quality materials | |
| Design | Thick walls, flat base, pour spouts | |
| Colors | 19 decor colors | No problem with discoloration with the dark interior |
| Performance | Le Creuset's enamel is non-reactive when used with medium heat the enamel exterior provides excellent heat retention | Use of metal utensils should not be used to avoid chipping and cracking of the enamels interior |
| Durability | A specially formulated, satin matte black skillet interior builds a natural patina with use making it non stick | |
| Heat Source | Hob-to-oven versatility from the grill, electric hob, ceramic glass cooktop, gas hob, and induction hob to the oven. Oven safe up to 500°F | Avoid the outdoor grill |
| Handle | Ergonomic short handle and helper handle both for use with oven mitts | Some would prefer a long handle |
| Knobs | Interchangeable ergonomic knobs oven safe up to 500°F | The phenolic knob withstands heat up to 350 degrees F |
| Weight | Lighter than other brands. 10 1/4 inch skillet weighs just 6.30 lbs | |
| Cleaning | Clean-up is easy, and dishwasher safe, although hand washing is recommended | |
| Maintenance | No seasoning is required, a patina will build up over time on the matte black interior of the skillet | Like all cast iron enamel cookware is prone to thermal shock if faced with extreme heat variations |
| Storage | | Store enameled cast iron with care. Do not stack without a sufficient barrier like a pot and pan divider or the enamel may become chipped |
| Warranty | Limited lifetime warranty | |
| Price | | Expensive |
Le Creuset Skillet Pros and Cons Chart
Related: Enameled Cast Iron Cookware: The Pros and Cons
Alternatives to Le Creuset Enameled Cast Iron Cookware
Le Creuset only has one real competitor in this luxury class of cookware and that is the other French cast iron enamel cookware manufacturer Staub. Staub has been producing enamel cast iron since 1974 then in 2008 Zwilling J.A. Henckels took over the reins.
The affordable Lodge skillet from Lodge Manufacturing is also a contender. Brand awareness longevity with cast iron manufacturing experience that commenced in 1896, by its founder Joseph Lodge, in Pennsylvania USA.
The alternative to Le Creuset's table below outlines the differences in these three top products along with the approximate price differences. My article Alternatives to Le Creuset covers the best Le Creuset alternatives in-depth.
Staub Matt Black Skillet
Price Range $180
Staubs matt black may look like a seasoned cast iron skillet but it is enamel cast iron. This color pan is perfect for those who want to retain the look of sturdy rustic seasoned cast iron cookware with the benefits of enameled cast iron.
Features
Lodge Enamel Cast Iron Skillet
Price Range $80
Lodge has been an iconic name in cast iron cookware since commencing casting iron in 1896. Producing both seasoned and enamel cast iron cookware in all shapes and sizes.
Features
Wrapping Up: Le Creuset Signature Skillet Review
Le Creuset skillets are some of the most in-demand pieces of cookware on the planet for a couple of reasons.
For one, these skillets are beautiful – especially compared to more run-of-the-mill cast-iron pieces.
The enamel is thick, durable, and strong. The colors chosen by Le Creuset are always bold and beautiful, too – with new colors (and old favorites) rotated in and out yearly.
Secondly, these skillets deliver a reliable and consistent level of performance in the kitchen.
You know they heat a little slower but when they reach temperature they're going to heat evenly and maintain temperatures more consistently, too.
Third, these skillets are a true "buy it for life" kind of purchase.
With just a little bit of care and consideration, Le Creuset skillets will last your lifetime, the lifetime of your children, and even the lifetime of their children, too.
Yes, these skillets (the rest of the Le Creuset product lineup) are expensive. But the value you get – not just from the years of utility, but also because of the consistency of the cooking performance every time you use them – makes these a smart purchase.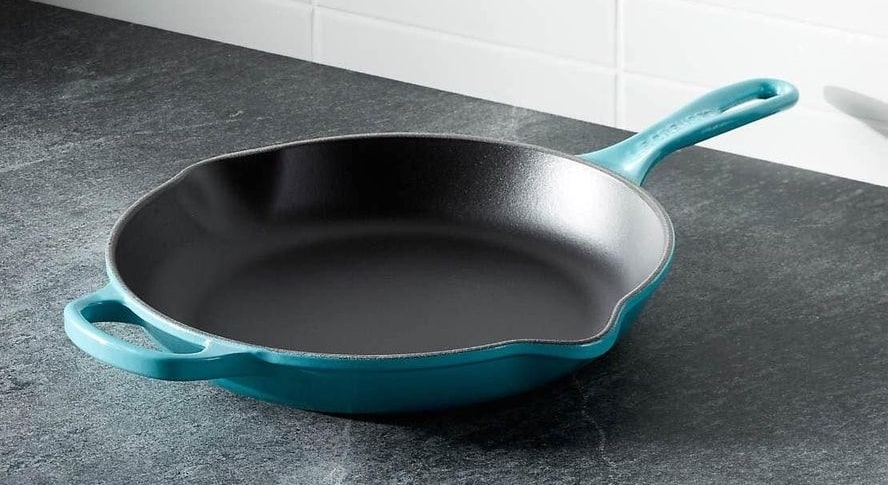 A reminder of the pros and cons of the Le Creuset enameled cast-iron skillet:
Pros
Universally praised the design, quality, fit, and finish
Beautiful enameled surface available in a rainbow of colors
Heats evenly and consistently
Can go from the stovetop to inside the oven and back again with no ill effects
100% dishwasher safe
Legitimately built to last several lifetimes
Cons
Very heavy, even compared to traditional cast-iron skillets
The skillet handle can be a little bit short, making the skillet slightly unbalanced for some
Some skillets in this line are a bit shallow, making pan roasting more of a challenge
These skillets are expensive
From an avid every day Le Creuset cast iron cookware user you will not be disappointed if you consider adding a Le Creuset skillet to your pantry today.
Further Reading!
One-Pot Cooking Rocks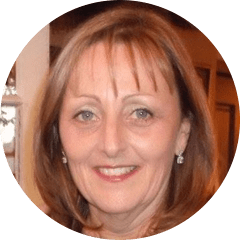 Michelle – Author
Hi, I'm Michelle the founder, owner, author, and editor of OvenSpot. My passion for one-pot cooking commenced when I was working to prepare cafeteria lunches for school students. I am now on a mission to assist you in choosing the cooking pot or appliance you will use every day. As well as in-depth information to assist you in using and caring for your cookware and appliances.
Questions? Reach out to Michelle at [email protected]