Cast Iron Skillet vs Griddle 'What is the Difference?'
Cast iron skillets are a popular kitchen tool for good reason – they're versatile and durable. But if you're looking for an even better cooking experience, a griddle may be the answer. Cast iron skillet vs griddle what is the difference?
Skillets have a flat surface, and rounded high sides can be used on all heat sources including the oven. Skillets can sear meat, fry, bake, slow cook, and roast. A griddle is a ridged or flat surfaced pan either square or rectangle-shaped with low sides. Prepare foods like pancakes, waffles, french toast, and quesadillas.
It's worth noting that there are several kinds of griddles, but in this article, we're mostly going to focus on ridged griddles that are designed to be used on the top of your stove, like skillets.
Let's take a closer look.
Disclaimer: I earn from qualifying purchases on my website as an Amazon Associate. If you purchase through links from this website, I may get a small share of the sale from Amazon and other similar affiliate programs.
What Are Cast Iron Skillets?
A cast-iron skillet looks like a frying pan, and they are extremely versatile pieces of kitchen equipment. Most households own a skillet, and you can use them for a whole range of tasks. They are great for cooking fried chicken and steak, and you can also use them for frying eggs, tortillas, lasagna, pan pizza, and biscuits and scones. Let's not forget Dutch baby pancakes, S'mores, crepes, and oats.
Most skillets have a fairly deep lip on the side, meaning that you can use them for many different tasks, and you can add lots of vegetables to them without the vegetables spilling over the edges. It can be difficult to slip a spatula under the things you make in a skillet because the edges are deep, but many people do use them for cooking things like eggs, hash browns, and pancakes.
Because the base of the skillet is flat, any oil that is in the pan will remain in contact with your food, and you'll get greasier food overall as a result. Some skillets are designed to be non-stick pans so that you can cook food without oil (or with minimal amounts of oil) in them.
As the name suggests, a cast iron skillet will be made of cast iron, and it is usually quite heavy. They can range in size, but most are between 8 inches and 14 inches, as these sizes are both useful and lightweight enough to be lifted easily.
Another advantage that skillets offer is the fact that the edges will help to prevent grease from getting splattered around your kitchen. When you cook in a skillet, at least some of the fat that spits from the pan will be trapped by the sides of the skillet, and therefore will not end up on your walls or kitchen surfaces.
You can also place a splatter guard over a skillet easily because it will rest on the sides and will not touch the contents of the pan. This is a great way to minimize the grease in your kitchen, especially if you cook a lot of fatty meats at high temperatures, and so end up with lots of spitting oil.
A final advantage that the skillet has over the griddle is that many skillets can be placed in the oven, as the panhandle is integrated and made from cast iron. You can make sauces as the edges of the skillet are high, and grease and other liquids shouldn't spill out into the oven. Many chefs cook on the stove initially and then transfer the whole skillet into the oven for further cooking.
Griddles are not generally intended to be used in ovens, and their low sides make them unsuitable for this sort of cookery.
What Are Griddles?
A griddle is also a cast iron pan, although other material options are available too. Rather than being round, they tend to be rectangular or oval, providing a large cooking surface. They are made up of ridges, and if you cook meat on them, you'll find that these ridges leave sear or grill marks, as an outdoor grill would.
The ridges help to ensure that your meat and vegetables are not sitting in fat while they cook. They can make your food less greasy, as you can drain off any excess fat while cooking if necessary. Like all cast iron cookware, a griddle does not have a non-stick surface and requires seasoning to prevent sticking.
That means you shouldn't need to add fats during the cooking process, so you can go for very low-fat cooking options when using a griddle plate.
Griddles have very little lip around the edges, meaning that they aren't suitable for cooking large quantities of vegetables. However, you can sear vegetables in them, and they generally have a larger surface area than a skillet does.
It's also easier to get a spatula under the edges of whatever you are cooking because there isn't a pan edge to get in the way. You may find that this means you can more easily turn foods over when you need to.
Some people prefer to cook whole foods on a griddle for this reason, like hot dogs and steaks. If you are going to cook eggs on your griddle, bear in mind that the ridges will stop the bottoms from being flat.
Of course, the ridged surface of a griddle makes it unsuitable for cooking pancakes, although some people do use griddles to create makeshift waffles. The ridges are slightly similar to those in a waffle maker and will create pockets in the batter.
It is also worth noting that you can't use splatter guards with most griddles, so you are more likely to end up with a mess on your stovetop. The sides are too low to catch grease in any significant way, and a splatter guard would rest on the meat or vegetables. It's therefore rarely possible to use these guards when cooking with a griddle.
You may find that a griddle makes more mess in your kitchen overall, but they do cook well, and make it easier to sear fatty meat. They are often a little harder to clean than a skillet because the ridges make it harder to scrub them.
Which Should I Choose?
If you are struggling to choose between a skillet and a griddle, you should think about what kind of foods you tend to cook. If you do a lot of shallow frying, a skillet is likely to be your best option. If you are looking to get a sear on some meat and minimize the amount of fat that you consume, a griddle may be preferable.
On the other hand, if you want to cook juicy, fatty steaks and you'd rather the fat stay around the meat and be cooked with it, a skillet is usually the preferable choice.
A lot of people like to use a griddle because it offers additional surface area, which skillets may lack because of their sloped sides. Griddles are often larger, so you can cook more food directly against the heat. Skillets will hold more, but the food tends to be piled up, so it will not sear as well.
A lot of people find that griddles provide them with a smokier, richer taste than skillets, perhaps because more of the food is in contact with the heat. Both pans can get very hot, but if you're focused on flavor, a griddle may be a better option.
The solution that most people opt for is to have both available. They use skillets for more kinds of cooking, including making omelets, frying eggs, sauteing vegetables, and cooking meat. Griddles can then be used to create a really good sear on meat, or when you want to cook large quantities of food at once.
A final factor that you will probably need to consider is the price, and skillets are usually cheaper than griddles. They are generally easier to find, lower in cost, and have more size options. If you're on a tight budget, consider getting a skillet, and saving up for a griddle later.
This article deep dives into Cast Iron Skillet Sizes and how to pick the size you need.
Cast Iron Skillet & Cast Iron Griddle Comparison Chart
We have already ascertained that the main difference between a skillet and a griddle is the surface. This comparison chart will help you quickly reference other differences.
Why Are Some Griddles Flat?
Some griddles have a smooth surface instead of a ridged one, they are known as griddle plates and this makes them much closer to skillets. The fat will stay around the meat when cooking, and you will not get the dark sear marks on the underside of meat and vegetables.
These iron grill pans are still square or rectangular and they lack the high sides that a skillet has. But the flat bottom offers the advantage of a large surface area and even cooking, but you might prefer a ridged griddle nonetheless.
Other griddles to consider are the electric griddle and the reversible cast iron griddle with both a flat cooking surface and grill grates on the griddle top.
Why Are Some Skillets Ridged?
There are, surprisingly, some skillets that have ridges at the bottom, but it's worth noting that a lot of people do not call these skillets. They are frequently referred to as griddle pans, and they are a sort of hybrid version of both pans.
They offer some of the top advantages of both kinds of pans, with the searing ability of a griddle and the high sides to keep liquids in the pan. Fat will collect at the bottom, away from the meat, and you can put them in the oven if you choose to.
A lot of people prefer these pans to either the griddle or the skillet because they offer the best of both worlds.
Read more about cast iron cookware in Skillet vs Frying Pan: What's the Difference?
Reversible Griddle Pans
Another hybrid is a cast-iron griddle that is reversible, so has both a flat surface and a ridged surface. The smooth side can be used for griddling pancakes, eggs, and bacon, while the ridged side is perfect for grilling burgers, chicken, and steaks.
Recommended reading: Cast Iron Skillet vs Nonstick Pan: Best Pans for You?
Conclusion: Cast Iron Skillet vs Griddle
A cast iron skillet has a lot in common with a griddle but is different in terms of its size and shape. Skillets are usually smaller and deeper, with flat bases, while a cast iron griddle pan is ridged, rectangular, and used for searing meats and vegetables. Knowing the differences will help home cooks like you choose the right tool for the job!
One-Pot Cooking Rocks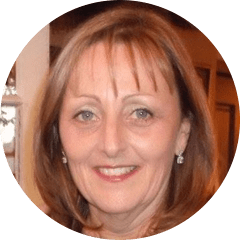 Michelle
Hi, I'm Michelle, the founder, owner, author, and editor of OvenSpot. My passion for one-pot cooking commenced when I was working to prepare cafeteria lunches for school students. I am now on a mission to assist you in choosing the cooking pot or appliance you will use daily. As well as in-depth information to assist you in using and caring for your cookware and appliances.
Questions? Reach out to Michelle at [email protected]