Wok vs Frying Pan: What Is the Difference
While both a wok and a frying pan are designed to be used on top of the stove, there's a world of difference between the two, their capabilities, and how they should be used by chefs and home cooks alike.
A wok has steeper walls and a rounded bottom and works just as well for quickly frying and sautéing things with high heat as it does deep frying. A frying pan, on the other hand, is designed almost exclusively for exactly that – frying and sautéing – and universally has a flat bottom to sit on your stovetop.
Now, there are obviously a whole bunch of other differences between wok options and frying pans.
We dig a lot deeper into these differences, the pros and cons of each option, and when you'd want to use either tool in the kitchen to make the most of its special properties.
Let's jump right in!
Wok vs Frying Pan – Breaking Down Your Options
Woks: 101
The wok is traditionally used in Chinese cooking, but (like so much else from this amazing culture) has now spread around the world and is used to prepare all different kinds of dishes – including those that have no Asian heritage at all.
The term wok literally means "cooking pot" in Cantonese, giving you a better idea of just how utilitarian and versatile this piece of cooking equipment really is.
Traditionally made from thin and lightweight materials (today's best wok options are made from carbon steel), a long handle keeps hands and arms away from heat and spitting oils.
Most woks have a rounded bottom and can sit comfortably on any heating element when using a wok ring on gas stoves. A traditional wok is designed to be used with incredibly high heat sources – heat sources significantly higher than what most people have at home.
You can get a flat-bottom Wok to work on traditional Western appliances like an electric stove or induction stoves. Many of them are excellent and share a lot of the same other benefits that woks bring to the table.
More on that in just a moment, though.
These cooking tools are super light, have fantastic heat retention, are almost foolishly versatile, and are the only cooking tool out there that can produce the legendary Wok Hay (breath of the wok) that imparts unique flavors to things you cook quickly in it.
Frying Pans: 101
Frying pans are maybe the most universally used pan in Western kitchens – and for good reason!
Flat bottomed, with slightly sloping or flared outsides that are very short, these pans are designed to cook food quickly (but just not quite as quickly as you can with a wok).
Frying pans can be used for searing, sautéing, and (if the walls are tall enough) some very shallow frying. You can use them to make everything from eggs to pasta and everything in between.
Available in a variety of materials (from triple-ply stainless steel metals to copper, aluminum, nonstick, and even cast-iron or carbon steel), it's not hard to find a frying pan engineered to suit your needs.
It also helps that frying pans are available in different sizes. Tiny little frying pans (the kind you could cook a single egg in) have a place in kitchens just the same way that gigantic almost super frying pans do.
The French in particular love to use frying pans and their culinary culture is a big part of why so many people see them as standard fare in Western kitchens today.
Wok Pros and Cons
The advantages that a wok brings to the table are numerous. We are talking about things like:
The sides of the wok are sloping with high walls that food can be tossed against (creating different cooking temperatures across the pan)
Excellent heat retention, making stirfry dishes possible
Seasoning a carbon steel wok produces a foolishly slick surface, better than any commercial nonstick option
Very lightweight, can be found in flat bottomed and round bottom configurations to work on most stoves
High heat and nonstick surface allow you to use a lot less cooking oil than you might have otherwise, producing healthier meals
At the same time, there are certainly some downsides to using a wok as well:
You can't "set and forget" ingredients cooking inside of a wok. They will burn the second you take your eyes off of them
Carbon steel woks require a bit of babying and maintenance to keep the finish fresh or they will rust
You'll have to build up a layer of seasoning on your carbon steel wok to turn it into a nonstick surface
Cooking anything acidic in a seasoned wok will almost always require re-seasoning
Frying Pan Pros and Cons
Frying pan advantages are pretty numerous, too:
Lighter weight than cast-iron skillets, frying pans are just as durable and often a whole lot easier to use, clean, and maintain
Carbon steel frying pans can get ripping hot, perfect for searing meat and crisping vegetables
Solid heat retention across the board, heats up relatively quickly
Can maintain sky-high temperatures, can be exposed to sky-high temperatures as well – up to 1200°F
Handle stays cool even when the rest of the pan heats up
On the other hand, there are some negatives to using a frying pan:
Nonstick frying pans will need to be seasoned to build up that layer of the non-stick surface
Frying pans with a commercial nonstick surface cannot be exposed to high heat or the surface will start to peel and poison food
No high sloping sides make it difficult to deep fry or to toss and manipulate food the way you can in a walk
Not quite as lightweight or as easy to manipulate with one hand as a wok is
When to Use a Wok
You want to reach for your wok when high searing heats are necessary, but you're working with smaller ingredients (bite-sized ingredients) that you aren't going to have to cook for very long.
A lot of Asian dishes, a lot of Indian dishes, and a lot of "fusion" dishes can be made almost exclusively with a wok. These dishes regularly call for smaller-sized ingredients that can be quickly cooked, set aside, and then all added back in together for a gentle reheat inside of the wok.
Deep frying is super simple with a wok as well.
All you have to do is set it on the burner, flip that burner too high, add your frying material (lard, oil, etc.), and then let the wok get everything up to temperature. Because the walls are so high you can deep fry effectively without worrying about the oil spilling over.
On top of that, the thin nature of a wok gives you a lot of control over the temperature of your cooking oil.
If things get too hot, back off on the heat and the oil will immediately start to drop in temperature. If (after dunking ingredients into the oil) the temperature begins to drop, kick up a little more heat on the burner and you'll notice the oil begins to respond immediately.
Not bad, right?
Want to know the differences between skillets and frying pans? My article Skillet vs Frying Pan answers all your questions.
When to Use a Frying Pan
Frying pans are helpful when you're looking for higher heat cooking that needs to go on longer than it could in a wok.
Larger protein ingredients (whole pieces of pork, chicken, and steak) can be seared and then quickly pan flashed in a frying pan in a way that's almost impossible to do with a wok. The same is true of vegetables and other larger ingredients.
Frying pans also make flipping different dishes really simple and straightforward thanks to the smaller and gently sloped walls. Pancakes in a frying pan are a lot easier to pull off than pancakes in a carbon steel wok, that's for sure.
Learning what cookware professional chefs use can help you decide the correct shaped carbon steel pan for your needs. You can also find out why a professional chef would choose a cast iron wok or a cast-iron skillet over other cookware materials.
Learn the differences between these types of pans in my article: cast iron vs carbon steel pans
FAQs
Can I use a Frying Pan Instead of a Wok?
Can a frying pan replace a wok? If you have a frying pan known also as a sauté pan you may be able to use it as a wok. Although a saute pan is still a shallow pan the sides are slightly higher and straighter than a frying pan. Therefore it can be used as a stir-fry pan.
Is wok cooking healthy?
Over time the cooking surface of a wok builds up its own non-stick coating. This means that less oil is required during the cooking process making a wok pan a good choice when maintaining your health.
What is the benefit of using a wok?
A wok has a larger capacity, is lightweight, made from durable material with excellent heat distribution, and over time builds up natural nonstick properties. Modern Woks only require a small amount of oil making it an ideal choice for supporting healthier cooking choices.
Can you cook anything in a wok?
You can stir-fry meats and vegetables, cook rice and noodles, and even create steamed dishes. If the bottom of the wok is flat it can also cook dishes for which other pans like a traditional frying pan or saute pan are usually chosen. Including eggs, pancakes, biscuits, soup, fajitas, chili, deep-frying, steaming, and more.
Don't be confused about saute pans and frying pans any longer learn the differences between Saute Pan vs Frying Pan
Closing Thoughts Wok vs Frying Pan
At the end of the day, choosing between a wok and a frying pan is always going to come down to what you're cooking and how you're hoping to prepare those ingredients.
For Asian cuisine, a stir fry pan is required if you need almost unbelievably high heat – but just a flash of it for stir-fry dishes – you're probably going to want to reach for your carbon steel wok more often than not.
The same is true if you're looking to do a little bit of deep-frying.
If, on the other hand, you just need to get a seer on a large piece of protein, want to "pan flash" some asparagus, or need to caramelize onions you're going to be reaching for the frying pan with a flat base more often than not.
When you get right down to it, it's not a bad idea to have both of these essentials in your kitchen ready to rock and roll whenever you need to pull one out.
This gives you all the flexibility you need to pull off different dishes to perfection, never having to worry about having all the ingredients you need but fighting your kitchen tools every step of the way just to get the results you're after.
The best high quality carbon steel wok and a top-notch frying pan aren't going to break your bank account, either.
Snap both up when outfitting your kitchen. You'll be glad you did!
One-Pot Cooking Rocks
Ever wonder what to do with old frying pans? This article What to Do With Old Frying Pans No Trash Can Required has some great ideas…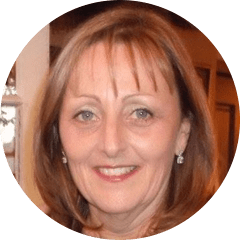 Michelle – Author
Hi, I'm Michelle the founder, owner, and editor of OvenSpot. My passion for one-pot cooking commenced when I was working to prepare cafeteria lunches for school students. I am now on a mission to assist you in choosing the cooking pot or appliance you will use every day.
Questions? Reach out to Michelle at michelle@ovenspot.com