Does a Carbon Steel Pan Work on Induction Cooktops?
When it comes to cooking, we often hear about different types of cookware that promise better results and more convenience. Among these various materials, carbon steel is a popular choice for its durability, heat distribution, and versatility. But does carbon steel work on induction?
All carbon steel pans are induction compatible. Like cast iron carbon steel can withstand high temperatures it is versatile and durable with the benefit of being lightweight.
But let's dive deeper into this topic to see if it's really true!
Disclaimer: As an Amazon Associate I earn from qualifying purchases on my website. If you make a purchase through links from this website, I may get a small share of the sale from Amazon and other similar affiliate programs.
What is Induction Cooking?
Induction cooking is a type of cooking technology that uses magnetic fields to heat up your cookware. Unlike traditional gas or electric cooking methods, induction cooking only heats up the cookware and not the surrounding air.
This means that it is much more energy-efficient and can help you save money on your energy bills. The technology behind induction cooking involves a process called electromagnetic induction.
When you turn on an induction cooktop, an electromagnetic current flows through a coil of copper wire beneath the surface of the cooktop. This creates a magnetic field which then induces an electrical current in any ferromagnetic material (like iron) placed on top of it.
How It Works
When you place your carbon steel pan on top of an induction burner, the magnetic field created by the burner induces an electric current in the pan's metal. This current creates heat which then cooks your food. The heat generated by this process is instant and highly responsive to changes in temperature, making it ideal for precision cooking.
One major advantage of induction cooking is that it heats up quickly and can boil water faster than gas or electric stovetops. Added bonus is that there are no flames or coils involved in the heating process, it's also much safer than other methods.
One downside to using an induction cooktop is that not all types of cookware will work with this technology – only those made from ferromagnetic materials such as cast iron or stainless steel will work properly.
What is Carbon Steel?
Carbon steel is a popular material for cookware due to its durability and ability to retain heat. It is a type of steel that contains carbon as the main interstitial alloying component and small amounts of other alloying elements.
The carbon content varies between 0.02% and 2.11% by weight, making it one of the most versatile materials used in various industries, including the culinary world.
Definition of Carbon Steel
The term "carbon steel" refers to a family of metals that contain varying amounts of carbon, which affects their strength and hardness. It is composed mostly of iron but also contains other elements such as manganese, silicon, sulfur, and phosphorus in trace amounts.
Carbon steel can be classified into three main categories: low-carbon or mild steel (with less than 0.3% carbon content), medium-carbon steel (with 0.3-0.6% carbon content), and high-carbon steel (with over 0.6% carbon content). The higher the percentage of carbon in the steel, the harder it becomes.
Properties of Carbon Steel
Carbon steel is known for its excellent strength-to-weight ratio, making it ideal for use in various kitchen tools like knives and pans. Because of its high tensile strength, it can withstand heavy use without warping or breaking down quickly.
Another property that makes carbon steel popular among chefs is its ability to retain heat efficiently when cooking food compared to other materials like aluminum or copper cookware.
This means that meals cooked using carbon steel pans will stay hot longer while on the table compared to those cooked with other types. Because it's relatively inexpensive compared to other cookware materials such as stainless steel or copper pots and pans sets, many people prefer to use this type if they're looking for an affordable option.
This does not mean that the quality of carbon steel is low – in fact, it's quite the opposite. Carbon steel cookware that is properly maintained can last for a very long time, making it a great investment for anyone who loves cooking or those just starting out in the kitchen.
Does Carbon Steel Work on Induction Cooktops?
Induction cooking technology uses a magnetic field to heat up the cookware, which in turn heats up the food. This method of cooking is very efficient and fast.
It can save you a lot of time and energy compared to traditional gas or electric cooktops. However, not all types of cookware are compatible with induction cooking.
There are several factors that determine whether or not a piece of cookware will work on an induction cooktop. First and foremost, it needs to have a magnetic bottom.
This is because the magnetic field generated by the cooktop only interacts with magnetic materials, like iron or steel. So, if your pan doesn't have a magnetic bottom, it won't work on an induction cooktop.
It's also relatively lightweight compared to cast iron, making it easier to handle in the kitchen. So, can you use carbon steel on an induction cooktop?
The short answer is yes but with some caveats. As mentioned earlier, carbon steel needs to have a magnetic bottom in order to work on induction cooktops.
Most carbon steel pans don't have this feature built-in by default. Some manufacturers offer carbon steel pans with an added layer of magnetizable material at the base so that they can be used with induction cooking technology.
Factors That Affect Compatibility Between Carbon Steel and Induction
When choosing carbon steel pans for use on an induction cooktop there are several factors that impact their compatibility:
Thickness
Thicker bottoms (greater than 5mm) on carbon steel pans can hinder the effectiveness of induction cooking, so it's best to choose a pan with a thinner bottom.
Flatness
The pan should have a completely flat bottom to ensure proper contact with the cooktop.
Size
The size of your carbon steel pan should match the size of your induction burner. If it's too small, the energy from the burner may not distribute evenly across the surface.
Quality
Like any other cookware, high-quality carbon steel pans will work better on induction cooktops than cheaper models as they are less likely to warp or damage over time.
Advantages and Disadvantages of Using Carbon Steel Cookware on Induction
Pros of using Carbon Steel on an Induction Cooktop
Carbon steel is a great choice for induction cooking because it is durable, lightweight, and heats up quickly.
Compared to other types of cookware, carbon steel can transfer heat more efficiently due to its ability to rapidly conduct heat throughout the entire pan.
Carbon steel also has a naturally non-stick surface when properly seasoned or coated with oil.
This makes it perfect for searing and browning meats, as well as cooking other dishes that require high temperatures.
Carbon steel pans have a lower thermal mass than cast iron or stainless steel, which means they will cool down faster once removed from the heat source.
It is lightweight yet sturdy enough for heavy-duty tasks such as searing meats or frying vegetables.
In short, carbon steel seems like an ideal match for induction cooking given its magnetic properties and heating abilities.
Cons of using Carbon Steel on an Induction Cooktop
There are some downsides to using carbon steel on induction cooktops.
One drawback is that not all carbon steel pans are compatible with induction cooking surfaces. The pan must be made with ferromagnetic materials for the electromagnetic field in the cooktop to function properly.
Another disadvantage is that carbon steel pans are prone to rusting if not properly maintained or seasoned regularly. This can shorten their lifespan and make them unusable over time.
Comparison with Other Types of Cookware
When compared to other types of cookware, such as cast iron or stainless steel, carbon steel has both advantages and disadvantages.
Cast iron is more versatile than carbon steel because it can be used on any type of stove including gas stoves and open flames without any compatibility issues.
It also has a heavier weight which makes it harder to handle when stirring or flipping food in the pan.
Stainless steel cookware is known for its durability but may not offer the same level of heating capability as carbon steel due to its lower thermal conductivity.
Carbon steel is a great option for those who want efficient heating and lightweight durability in their cookware, but it is important to consider the factors of compatibility and maintenance when purchasing.
How to Choose the Right Carbon Steel Cookware for Induction Cooking
Choosing the right carbon steel cookware is essential if you want to have an excellent cooking experience on your induction cooktop. Here are some factors to consider:
Thickness: The thickness of the carbon steel pan or pot is crucial for even heat distribution. Choose a thickness between 2mm and 3mm.
Flat Bottom: Look for carbon steel cookware with a flat bottom that can sit flush with the induction cooktop. A wok with a rounded base will not work efficiently, to use a wok on induction purchase a flat-based wok. This will ensure efficient contact between the cookware and the cooking surface.
Shape and Size: Choose a shape and size that complements your cooking style or needs while keeping in mind that larger pans require more heating power.
Handle and Fittings: Make sure the handle, helper handle, screws, and rivets are safe for oven use. It is handy when your pot or pan can be transferred from the stovetop to the oven.
Tips for maintaining your carbon steel cookware
Seasoning
Before using your new carbon steel pan, season it by rubbing oil on it and heating it over medium heat until a thin layer of oil is formed.
Cleaning
It is best to clean your carbon steel cookware immediately after use while still warm, using hot water and mild soap if necessary, then dry thoroughly with a towel.
Storing
To prevent rusting, store your carbon steel pan in a dry place away from moisture; if stored properly, it can last for decades.
Final Thoughts: Using a Carbon Steel Pan on an Induction Cooktop
While some types of carbon steel are compatible with induction cooking technology, others are not due to their lack of magnetic properties.
If you enjoy cooking with carbon steel and want to use it on an induction stove, make sure to check for its magnetic properties before purchasing or using it on your cooktop.
Overall, using carbon steel on an induction stove can provide numerous benefits such as efficient heating and even heat distribution but also comes with potential drawbacks like increased weight and rust formation.
Nevertheless, if you choose the right type of carbon steel pan or pot that is compatible with your stove's technology and maintain it properly over time, you can enjoy delicious meals cooked perfectly every time!
One-Pot Cooking Rocks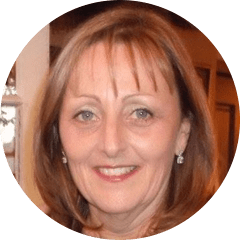 Michelle – Author
Hi, I'm Michelle the founder, owner, author, and editor of OvenSpot. My passion for one-pot cooking commenced when I was working to prepare cafeteria lunches for school students. I am now on a mission to assist you in choosing the cooking pot or appliance you will use every day. As well as in-depth information to assist you in using and caring for your cookware and appliances.
Questions? Reach out to Michelle at [email protected]