Can You Preheat an Enameled Dutch Oven?
Enameled Dutch ovens, combining cast iron's heat efficiency with easy-to-clean enamel, are invaluable kitchen assets. But can you preheat an enameled Dutch oven?
Yes, you can preheat an enameled cast iron Dutch oven. It's safe and often recommended for better browning and heat retention. You can add avoid damage to your enameled cast iron cookware by using oil or butter and heating it up at low heat.
Properly preheating them is key for optimal cooking results and longevity let's get some more tips for retaining heat and protecting a cast iron Dutch oven.
What is a Dutch Oven
An enameled cast iron Dutch oven is a versatile piece of cookware that you can use for a variety of cooking tasks.
The main feature that sets it apart from a traditional cast iron Dutch oven is the enamel coating on the inside and outside of the pot.
This coating is typically made of a layer of either porcelain enamel or ceramic, which gives it a smooth and non-stick surface.
One of the benefits of using an enameled Dutch oven is that it doesn't require seasoning like a regular cast iron skillet or pot.
Cleaning is easier and you don't have to worry about maintaining a seasoned surface, making it easier to clean and maintain.
The enameled surface is less prone to rust, thanks to the coating, ensuring your Dutch oven will look great even after years of use.
Apart from that, enameled cast iron Dutch ovens have similar features to their non-enameled counterparts.
They are excellent heat conductors, which allows for even cooking and better temperature control when simmering or braising.
These pots have tight-fitting lids that trap moisture and heat, resulting in tender and flavorful dishes.
A few notable points to keep in mind when using your enameled Dutch oven include:
Due to their enamel coating, avoid using metal utensils as they might scratch the surface. Instead, opt for silicone or wooden utensils to preserve the enamel.
As a rule of thumb, do not preheat an empty enameled Dutch oven, as it may cause the enamel to crack or damage the pot permanently source.
Thick oven mitts are a must-have when cooking with this type of cookware the heat and weight are a safety hazard.
A Dutch oven trivet on the countertop is also very handy when moving the cookware around the kitchen.
Most enameled Dutch ovens can withstand temperatures up to 400°F, but always check the manufacturer's guidelines for specific temperature limitations.
Why Preheat an Enameled Dutch Oven
Preheating your enameled cast iron Dutch oven is an important step for consistent cooking results.
By allowing the oven to reach the desired temperature before adding your ingredients, you can ensure a more even heat distribution and prevent hot spots.
This is especially crucial when searing meat, sautéing vegetables, or baking dishes that require precise temperature control.
Remember to never preheat an empty enamel Dutch oven, as it can cause the enamel to crack and damage the stove or pot.
To avoid this issue, always add some butter or oil to the pan before turning on the heat.
When you preheat a Dutch oven it also helps create a non-stick surface, making it easier to cook delicate foods like fish or eggs without the risk of sticking.
The heat allows the oil to form a barrier between the food and the pan's surface, resulting in a smooth cooking experience.
Taking the time to preheat your enameled Dutch oven also saves you energy and time in the long run.
With a well-preheated oven, your food will start cooking immediately upon contact with the hot surface, reducing the overall cooking time needed.
Steps to Preheat an Enameled Dutch Oven
In this section, we will go through the essential steps to preheat your enamel Dutch oven and bake bread in it properly.
Selecting the Right Temperature
When preheating your enameled Dutch oven, it's important to choose the appropriate temperature for the recipe you're following.
Most Dutch ovens can handle heat in excess of up to 400°F knobs and handles should also be able to withstand high heat.
Always refer to the specific guidelines provided by the manufacturer to avoid damaging your pot.
Preparing the Oven for Preheating
Before preheating your enameled pans or Dutch oven, ensure that you never preheat it empty. The risk of enamel cracking and separating, from the raw, cast iron cookware it covers is high.
Instead, add some butter or oil to the bottom of the pan, as this will help protect the rest of the enamel from potential damage.
Also, keep in mind that you should be careful to avoid placing a cold or room-temperature Dutch oven in a hot oven or on a hot stovetop.
Placing and Timing Your Dutch Oven
Now, it's time to put your Dutch oven in the oven properly. If your bread recipe requires a preheated Dutch oven, you can place the oiled or buttered Dutch oven in the cold oven.
Let it preheat along with the oven itself this will avoid thermal shock, which could damage the enamel.
Keep an eye on the Dutch oven as the oven reaches the desired temperature to ensure it's preheating evenly.
The preheating time might vary depending on your oven, but once it reaches the suggested temperature, you're ready to cook with your perfectly preheated enameled Dutch oven!
Using Preheated Enameled Dutch Ovens
Enameled Dutch ovens are incredibly versatile and excellent for a variety of cooking techniques.
Cooking Techniques
When you bake using enameled Dutch ovens, you will often need to preheat them.
Remember to add some oil or butter to the bottom of the pan before preheating. This allows for even heat distribution and prevents the enamel from overheating.
Some bread recipes may call for baking bread in a cold Dutch oven. In this case, place the pot with nearly fully risen dough into a cold oven.
Set the oven to the required baking temperature, and let the pot and dough heat up together. This technique can lead to excellent results in bread baking.
Safety Tips
Remember to follow these safety guidelines when preheating and using enameled Dutch ovens:
Do not preheat an empty Dutch oven.
Add oil or butter to the pan before preheating.
Avoid preheating on high heat, as it can cause the enamel to crack.
Monitor the temperature carefully; most enameled Dutch ovens are oven-safe up to 400°F.
Do not place a cold or room temperature Dutch oven in a hot oven or on a hot stovetop.
Cleaning and Maintenance
Taking proper care of your enameled Dutch oven ensures that it stays in good working condition and lasts for a long time. Here's how to clean and maintain your enameled Dutch oven effectively:
Cool: let your Dutch oven cool down slowly after cooking. Do not immerse it in cold water or clean it while it's still hot, as sudden temperature changes may cause the enamel to melt or crack.
Clean: clean your Dutch oven, gently wash it with warm soapy water and a soft sponge. The enameled interior should be relatively easy to clean, as it's practically nonstick. Avoid using abrasive cleaners or metal scrubbers, as they can damage the enamel.
If you come across stubborn, stuck-on food, follow these steps:
Fill the pot with a small amount of water and simmer it to loosen the food particles. Make sure you allow the pot to cool down before moving on.
Use a plastic scraper to remove the stuck-on food.
Wash the pot again with warm soapy water and a soft sponge.
If your enamel Dutch oven still has burnt-on bits, you can try a baking soda solution. Boil four cups of water with two heaping tablespoons of baking soda.
Simmer it for a minute or two, then turn off the heat and cover the pot. Let it sit for 15 minutes before draining the liquid and scraping off any residue with a plastic scraper. Finally, wash the pot with soap and water.
Don't struggle with the interior of your enamel cookware check out my tutorial for cleaning enamel cast iron.
For regular maintenance, you should also:
Store your Dutch oven with the lid slightly ajar to allow for proper air circulation, preventing the development of rust or any unpleasant odors.
Periodically inspect the pot for any chips or cracks in the enamel. If these are present, avoid using the Dutch oven until they are repaired.
Check out my proven suggestions for storing cast iron safely.
Should You Put an Empty Dutch Oven in the Oven
Yes, you can put an empty Dutch oven in the oven. It's often recommended to do so as part of the preheating process, especially when baking Dutch oven bread. When you preheat the Dutch oven, you can create a steamy environment when you add your dough, which can help to create a nice crust.
You should always be careful when handling a hot Dutch oven. Also, if your Dutch oven has any plastic components, such as knobs or handles, you should check the manufacturer's guidelines to ensure that it's safe to put in the oven.
When baking bread in a Dutch oven consider cast iron cookware from reputable brands. A Le Creuset Dutch oven or Staub Cocotte can withstand high heat thanks to its metal knobs.
FAQs
Do you preheat the lid of a Dutch oven?
Yes, you should preheat the lid of the Dutch oven along with the pot itself. The lid helps to trap heat and moisture inside the Dutch oven. When baking bread, the preheated lid helps to create a steamy environment that promotes a good oven spring and helps to develop a crispy crust.
Can you preheat Le Creuset in the oven?
Yes, Le Creuset Dutch ovens are oven safe up to 500°F including their metal oven safe knob.
What is the best size Dutch oven for bread?
A Dutch oven between four and six quarts will cook bread leaving enough room for the dough to rise and expand while the steam circulates around it.
Wrapping Up: To Preheat or Not to Preheat Cast Iron?
In conclusion, caring for your enameled Dutch oven involves key practices:
Avoid preheating your Dutch oven when empty; this could lead to enamel damage.
Add butter or oil before preheating to safeguard the enamel.
Monitor temperature settings; Lodge brand suggests medium heat for searing.
Never heat an empty or covered Dutch oven to extend its lifespan.
Always add cooking oil before turning on the heat, maintaining a moderate temperature during cooking.
Stick to these tips and not only will your enameled Dutch oven last longer, but it'll keep looking great too. Plus, it'll help you whip up tasty meals for years on end.
Your Dutch oven is more than a pot, it's a trusty sidekick in your kitchen adventures!
One-Pot Cooking Rocks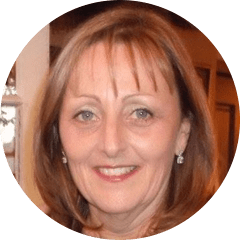 Michelle – Author
Hi, I'm Michelle the founder, owner, author, and editor of OvenSpot. My passion for one-pot cooking commenced when I was working to prepare cafeteria lunches for school students. I am now on a mission to assist you in choosing the cooking pot or appliance you will use every day. As well as in-depth information to assist you in using and caring for your cookware and appliances.
Questions? Reach out to Michelle at [email protected]