What is an Enamel Dutch Oven?
You have heard about seasoned cast iron Dutch ovens that have been around for hundreds of years and are used while camping. But what is an enamel Dutch oven?
An enamel cast iron Dutch oven is a cooking pot with a thick base and walls and a heavy tight-fitting lid with a core of cast iron. Cast iron is coated with layers of virtuous enamel and baked at high temperatures to adhere to the cast iron. Dutch ovens can also be made from ceramic or steel coated in layers of enamel.
The enamel Dutch oven is a must-have in any kitchen. This heavy pot will last for many years and can be used to cook anything from soups, stews, and roasts, to baking bread and desserts.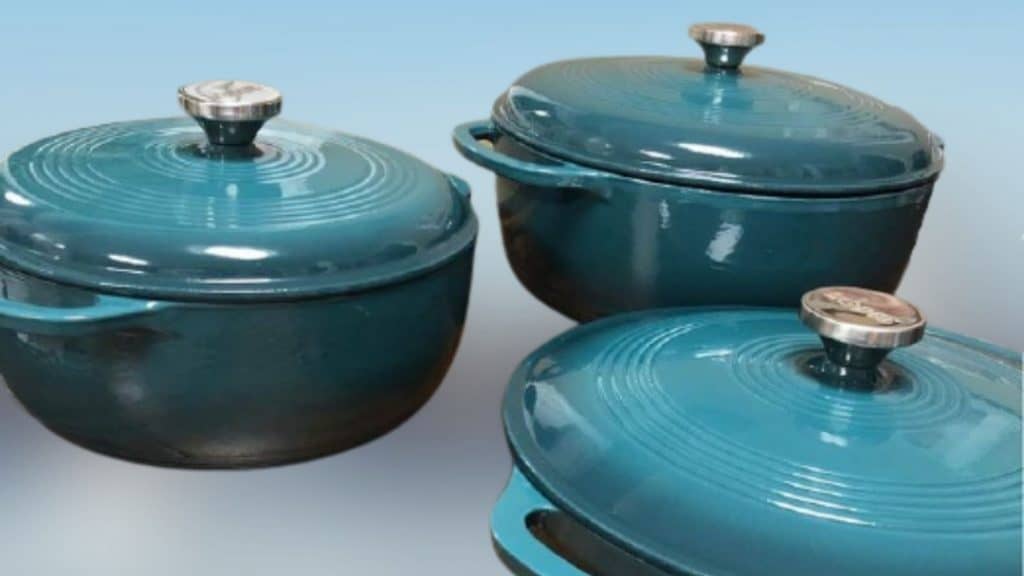 Enameled Cast Iron Dutch Ovens
Enamel cast-iron Dutch ovens are beautiful-looking cookware that is versatile and efficient.
Design and Materials
Enamel Dutch oven designs are based on the seasoned Dutch oven that has been in use over a campfire for hundreds of years.
Thick bases, sides, and integrated heavy-duty handles wide enough for mitted hands for handling hot cast iron. Lids are thick and heavy and for best moisture retention should be tight fitting.
The underside of some Dutch oven lids is smooth others have basting spikes on them allowing all the goodness to drip back into the dish evenly. The Staub has spikes on the underside of its cast-iron lids.
The materials used to make an enameled Dutch oven are heavy gauge steel for the core. The exterior consists of layers of porcelain enamel that have been baked on. Lid knobs need to be able to withstand high temperatures before using them inside a conventional oven.
Sizes, Shapes, and Colors
Enamel Dutch ovens come in a variety of sizes to suit your cooking needs – from as little as a 1-quart that can be used for single-serve dishes all the way up to 12+ quarts!
There is an ideal size to prepare small or large meals and can be used indoors on all stovetops and in conventional ovens. Being made from iron they are naturally "induction ready".
Shapes vary round ovens fit perfectly on stovetops while the oval shape fits in the oven and is perfect for large cuts or boned meat, lasagna, bread, and desserts.
Brands have various color ranges Le Creuset has the largest color range (approx 15 core colors) with many limited edition colors and sometimes shapes dropped occasionally.
Related read Le Creuset Color Guide
Versatility and Durability
Another great feature of these enamel cast iron Dutch ovens is that, unlike most other cast iron, it does not need to be seasoned before first use as with a traditional cast iron pot, making it easy for those who have never used cast iron cookware before.
Enameled cast-iron Dutch ovens can also go from kitchen stove or oven to tabletop as they provide an attractive cooking pot as well as a serving dish. The many enamel colors available provide a stylish accent to your table décor and enhance the appearance of every type of food.
They're extremely versatile, too! Use an enameled cast-iron Dutch oven on the stovetop, in the oven, to bake pies, biscuits, and cakes, make stews, and fondue. You can even cook pizza in these pots! These ovens are also popular among bakers who use them for bread, quiche, and all types of pastries.
These cast-iron cooking pots really come into their own when used for slow cooking and simmering, there is no other cooking pot that can self baste like a heavy-lidded Dutch oven making them a must-have in any kitchen.
Cleaning and Maintenance
Cleaning is made easy with an enamel's shiny smoother surface, although most manufacturers say you can use them in a dishwasher, by hand using soapy water is the best practice. Tough marks or slight staining can also be removed with a little elbow grease.
Cleaning and caring for enameled cast iron cookware the correct way…
Care should be taken as the porcelain coating can be susceptible to cracking or chipping when exposed to drastic changes in temperature. You should also avoid using metal cooking utensils and stacking pots on top of it while storing.
Uses for Enamel Dutch Ovens
Here is a list featuring how versatile enamel cast-iron Dutch ovens are, don't just save them for slow cooking – use your cooking pot every day…
They are great for simmering soups and stocks
Roasting meats, poultry, potatoes, root vegetables, seafood
Great for baking loaves of bread and cakes
Makes amazing Dutch oven brownies in just under 60 minutes
Can be used as a mini-oven for heating snacks
Heating large dinners, e.g., turkeys, hams, sausages
Browning meat before cooking – one-pot cooking at its finest
Desserts, e.g., baked apples, pears stuffed with dried fruit and nuts, cobblers
Toasting seeds and spices
Making casseroles that require browning/baking of the cheese topping (to avoid having to use two appliances)
As a second oven for entertaining (e.g., holiday meals)
For roasting meats, poultry, seafood, and root vegetables that may not fit into your normal oven/roaster; e.g., turkey breast, leg of lamb, pork loin roast, etc.
Making homemade broth from leftover roast chicken carcasses, beef bones, or vegetable trimmings
Useful cooking pan for whole chickens or roasts on a stovetop if you have only one oven at home
Pre-cooking ingredients before adding to slow cooker or crockpot – sauteing onions, garlic, etc. before adding to slow cooker allow the flavors to be released more quickly
Cooking whole lasagna noodles or casseroles that don't fit into conventional ovens/roasters
Heating up milk for hot chocolate or cocoa
Deep frying foods – particularly useful if you have limited space for a deep fryer and do not want to buy more equipment just for occasional cooking needs e.g., fish, chips, chicken onion rings, etc.
Making homemade yogurt without having to purchase another appliance (e.g., tabletop appliance, yogurt maker)
Warming up leftovers or takeout
As your primary oven for certain types of cooking tasks – baking cookies, pastries, cakes; roasting meats; browning pot roast; heating casseroles…
Making pizzas at home without having to purchase an expensive appliance just for occasional use (e.g., tabletop pizza machine, pizza oven)
Serving meals like lasagna and baked ziti when entertaining overnight guests – using skillet and pot covers can help serve and keep dishes warm while entertaining your overnight guests
For car camping/RVing where there is no space available for a regular oven/stovetop combination
As a smoker of cold smoking cheeses, fish, meats, nuts
Serving cool dishes like salads or drinks like punches
For heating large pots of water for use in cleaning tasks e.g., mopping floors, washing windows, cleaning bathrooms, washing dishes…
Enamel Cast Iron Cookware Prices, Sales, Locations, and Clearances
Are Dutch Ovens Safe?
Enamel Dutch ovens are a healthy and safe way to cook all types of foods. Unlike bare cast iron, enameled cast-iron pots won't react with your food. You can make dishes like tomato sauce without worrying about adverse reactions from acids.
Can You Put An Enamel Dutch Oven in the Oven?
Enamel Dutch ovens are oven safe, ensuring handles and lid knobs can withstand high oven temperatures. Enamel Dutch ovens are compatible with electric, glass top stoves, gas, and by their iron makeup is induction ready.
Related read "Dutch oven temperatures"
Are Enameled Dutch Ovens Non-Stick
No, although the shiny surface appears non-stick oil or liquid still needs to be used before adding ingredients. The main reason enamel Dutch ovens react by sticking is because of how hot the pans can get. Heat up with low to medium heat, add oil and ingredients and increase the heat if required.
Check out my article which is full of tips to stop your food from sticking to your enamel cast iron cookware.
Best Enameled Cast Iron Dutch Ovens
What kind of Dutch oven is best? If you are looking to purchase a new enameled Dutch oven or simply upgrade your existing cookware, there are many choices on the market from brands such as Le Creuset, Staub, and Lodge just to name a few. You can find some great deals online at Amazon or eBay as well as other online merchants that carry this type of equipment. Here is a list of five of the best enameled cast iron Dutch ovens around today.
If you're looking for something with a vintage look and feel, try going straight to an antique store where you will be certain to find beautiful ovens! There is nothing quite like holding an item in your hand that has stood the test of time.
Differences Between Seasoned and Enameled Cast Iron
Unlike seasoned Dutch ovens, they are not designed to be used on a campfire. The enamel coating makes these pots easy to care for, as well as resistant to rust the enamel is non-porous which makes it non-reactive, it helps keep the surface non-stick and protects the surface from staining. Enamel Dutch ovens are easier to clean and maintain because raw cast iron needs to be seasoned to prevent rust, and corrosion and to maintain the natural non-stick cooking surface.
Seasoned Dutch ovens have served many purposes over the years. Primarily used in Europe centuries ago, they were adopted by America's founding fathers so that pioneers could cook meals along their journey westward across the continent.
Historically significant recipes like Mountain Man stew required Dutch ovens to prepare them properly due to their heat retention abilities. Today, they are a staple in any kitchen of a serious home cook or professional chef who regularly prepares large meals to serve many people.
FAQ's
Quick answers to some frequently asked questions about enamel cast iron Dutch ovens.
Why is Le Creuset so expensive?
Enameled cast iron Le Creuset pieces are handmade from high-quality materials. Since 1925, the brand Le Creuset has been honing the craftsmanship and workmanship skills that produce cookware pieces that have a lifetime guarantee.
Check out my in-depth article Why is Le Creuset so expensive
What size Dutch oven is good for baking bread?
5-quart to 7-quart is the best size Dutch oven for baking a standard loaf of bread. The depth of the Dutch oven should also be considered. As the dough will undergo the "spring" or second rise once the steam hits the dough. Leaving at least an inch or two between the dough and the sides prevents sticking.
Check out this article about "what size Dutch oven is good for baking bread"
What is the most popular size Dutch oven?
5-quart to 7-quart Dutch ovens will provide a meal for four. It is not uncommon to have second serves or leftovers for the freezer. 5 to 6-quart Dutch ovens are the biggest sellers as they are the perfect size for a family of 4.
Want to know more deep dive into my article about "what the most popular size Dutch oven is"
Can you bake sourdough bread in a Dutch oven?
Cast iron Dutch ovens are perfect for baking sourdough bread because of the steam that is generated on the inside. This steam emulates a baker's oven and helps the bread to rise.
The article "can you bake sourdough bread in a Dutch oven" explains why Dutch ovens are perfect for making sourdough bread in an enameled Dutch oven.
Finally, what is an enamel Dutch oven? Enameled Dutch ovens are perfect for the beginner or the most seasoned of home cooks. They're an investment that can be passed down from generation to generation like seasoned cast iron pots!
Recommended reading this article explains the differences between Cast Iron and Enamel Cast Iron in greater detail
One-Pot Cooking Rocks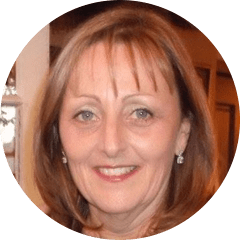 Michelle – Author
Hi, I'm Michelle the founder, owner, author, and editor of OvenSpot. My passion for one-pot cooking commenced when I was working to prepare cafeteria lunches for school students. I am now on a mission to assist you in choosing the cooking pot or appliance you will use every day. As well as in-depth information to assist you in using and caring for your cookware and appliances.
Questions? Reach out to Michelle at michelle@ovenspot.com