Can You Use a Dutch Oven as a Slow Cooker? 5 Helpful Tips
When I hear the words "slow-cooked," I automatically think of hearty, warm-filling meals with soft, easy-to-eat ingredients that require little effort to consume. There are many ways these meals can be prepared in traditional pots and electrically powered stand-alone appliances. I often see the question, "can you substitute a Dutch oven for a slow cooker"? My answer is always very loud and clear.
Yes, you can use a Dutch oven as a slow cooker. That is because these world-renowned kitchen appliances can prepare and cook the same recipe in much the same way. The main difference is the heat source used, how fast the food can be cooked, and the fact that you cannot sear in a slow cooker.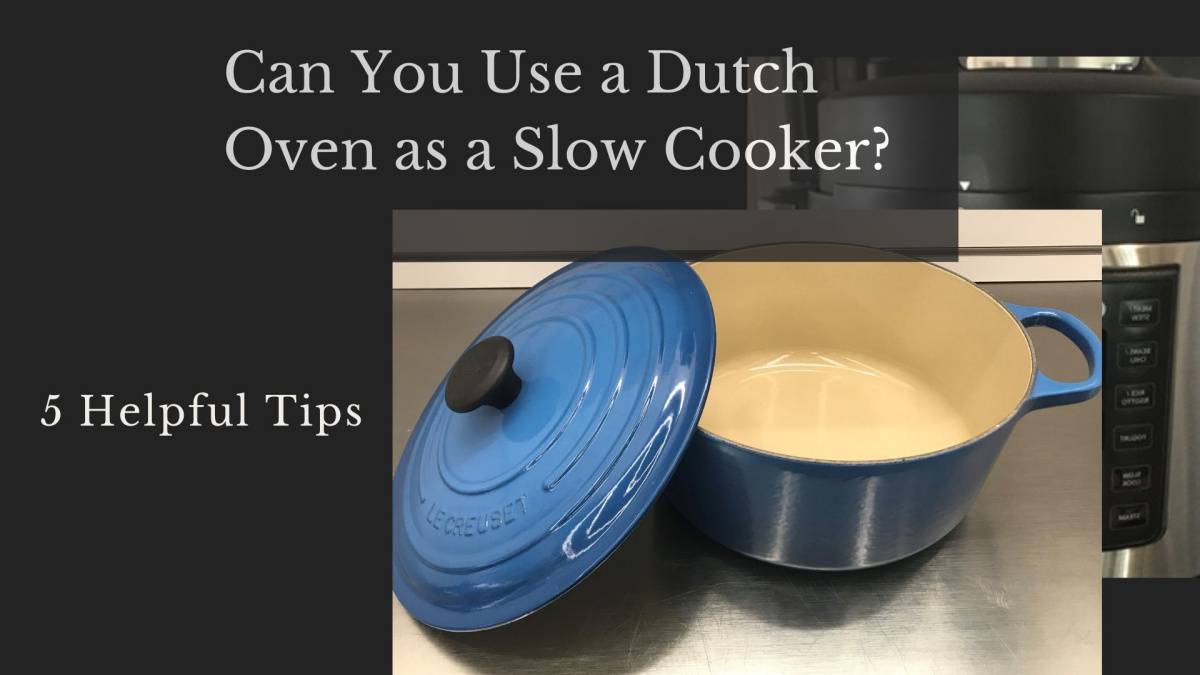 Disclaimer: I earn from qualifying purchases on my website as an Amazon Associate. If you purchase through links from this website, I may get a small share of the sale from Amazon and other similar affiliate programs.
What Is The Difference Between a Slow Cooker and A Dutch Oven?
A slow cooker or crockpot has a built-in heat source that is enclosed in the outer casing of the appliance. In basic models, there are usually 3 settings low cook, high cook, and keep warm. It has a removable pot inside where the dish is cooked.
The Dutch oven is more versatile as it can be used on many different heat sources and in a conventional oven. You will also be able to prepare a meal in one pot. The cast iron stays hot after cooking, so the dish will keep warm for some time before serving.
Let's look closer at the differences between a Dutch oven and a slow cooker, as well as the advantages and disadvantages of both cooking appliances.
SCROLL DOWN FOR THE LIVE TASTE TEST – Same recipe, two different cookers
Slow Cookers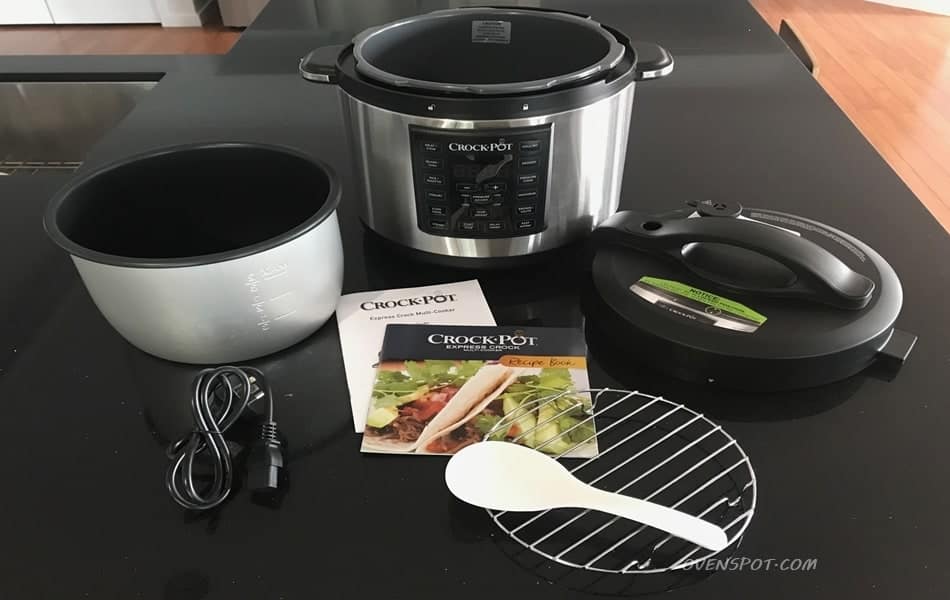 Slow cooker recipes require less liquid than other types of cooking methods. So, when converting recipes to a slow cooker, you would probably need to reduce the amount of liquid required.
Capacity
Slow cookers usually have around a 7-quart capacity. This size will feed a family of 4 with leftovers or many people if there are other accompaniments such as vegetables, potatoes, or rice.
Reduction
Due to the slow cooking method inside a slow cooker, the liquid does not reduce as much as it should for most dishes.
To reduce the liquid, you can place the contents of the slow cooker into a suitable pot and slowly reduce it on the stovetop. If your slow cooker insert can be used on a cooktop, use it on the cooktop for reduction.
Alternatively, you can add a thickening agent to turn the slow cooker too high and let the juice thicken like gravy. Remember to stir occasionally.
When reduction has occurred, you can return the insert to the slow cooker and utilize the "keep warm" feature.
General Use
Slow cookers are handy because they operate via a power cord, and they can be plugged in anywhere there is an outlet. Take them to work, RV's, and holidays, and you will always be able to prepare a home-cooked meal.
Storage
Quite awkward and bulky to store, and if you do put them at the back of the cupboard or pantry, you will not use them as much as you probably should.
Dutch Ovens
If you are converting a slow cooker recipe to use it in a Dutch oven, you will need to make certain there is enough liquid as the Dutch oven becomes much hotter and uses steam to cook its food.
Capacity
Along with their versatility to prepare many different types of meals, Dutch ovens are available in a large range of sizes and shapes, from 1 quart to more than 13 quarts.
There are also two types of Dutch ovens. The traditional raw cast iron is ideal for campfires, and the enamel-coated cast-iron Dutch oven is designed for everyday kitchen use.
Reduction
The reduction of liquids occurs automatically inside a Dutch oven.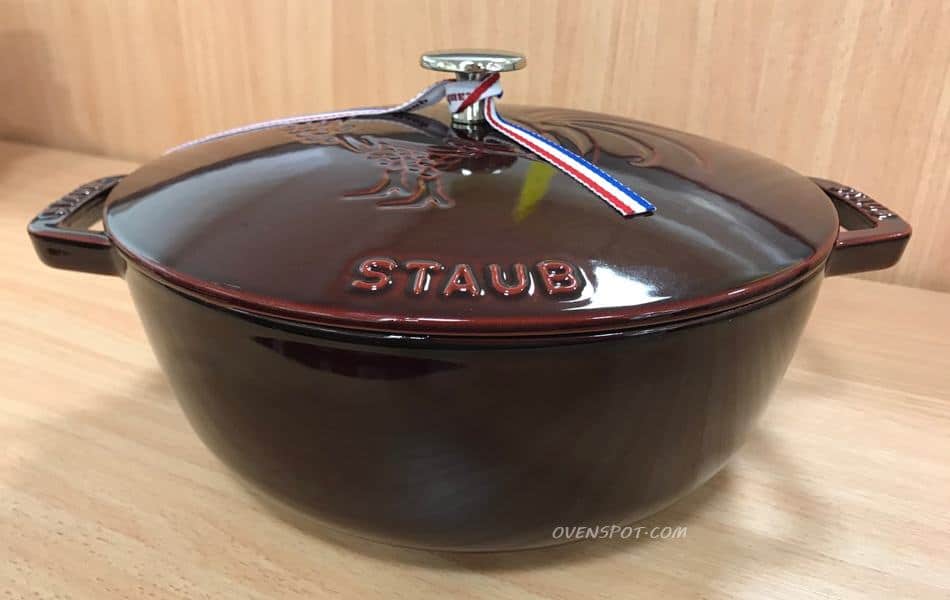 General Use
The various shapes and sizes available make preparing any meal easy. If you have more than one Dutch oven, you can prepare a meal and either an accompaniment or dessert in the other.
Storage
Handwashing and drying thoroughly is required with Dutch ovens so they do not rust. They can then be stored stacked in your pot and pan cupboard or inside your conventional oven, ready for the next use.
Check out this article I wrote with great tips about the storage of cast iron.
Dutch Oven vs Slow Cooker Comparison Chart
A convenient quick breakdown of the differences between Dutch ovens and slow cookers or crackpots.
| Electrical appliances and cords should be checked regularly, and elements kept free of debris | Cast Iron | Slow Cookers & Crock Pots |
| --- | --- | --- |
| Material Construction | Raw cast iron = 98% iron and 2% carbon. Also, cast iron with a virtuous enameled coating | Metal casing with stoneware or cast aluminum insert |
| Design | Dutch ovens, French ovens, and Cocotte sturdy cooking pots with heavy lids for use on most heat sources | Generally, it is a lightweight electrical casing. Insert heavier with a vented glass lid. Manual, digital, programmed, and wifi slow cookers are available |
| Shapes | Round and oval | Round, oval, rectangle, and square |
| Sizes | 1-quart to a very large 14-quart Dutch oven in both seasoned and enameled cast iron | A mini slow cooker at 1 quart to a large slow cooker at 10 quart |
| Finish | Raw seasoned cast iron or a large range of shiny colored enamel coatings over raw cast iron with light or dark interiors | Limited colors or stainless steel outside with plastic contrasting trim; most lids are glass with a steam release vent |
| Heat Source | Seasoned Dutch ovens are suitable for all heat sources indoors and outdoors. Enamel Dutch ovens can be used naturally induction ready, ceramic, glass stovetop, gas, electric, or in the oven | Requires an electrical outlet and should be sitting on a flat, non-combustible countertop |
| Temperature | Temperatures up to 500 °F depending upon the cookware quality and design (knobs and handles should be oven safe) | Cooks slowly at a low temperature, generally between 170 and 280 degrees F, over several hours |
| Heat Retention | High | Low |
| Versatility | Slow cook, brown, sear, stew, boil, braise, and fry | Slow cook, braise, some units sear and sauté |
| Performance | Tight-fitting heavy lids promote the ultimate self-basting feature that results in a reduction in thick sauces and rich flavors | Slow cookers can achieve the fall of the bone types of dishes they are designed for. Unfortunately, due to the cookers' condensation, they cannot reduce liquids. |
| Everyday Use | Easy-to-use one-pot cooking that should not be left unattended | An easy-to-use appliance. A timer is used to cook your dish. It will then revert to keep warm setting |
| Durability | Seasoned cast iron will last your lifetime and beyond. Enamel cast iron is not so long. | Inserts are not everlasting. An electrical appliance will last as long as it lasts. An electrical component may be required. |
| Clean Up | Seasoned cast iron wash by hand only. Enameled cast-iron Dutch ovens are dishwasher safe, but hand washing is advised | Some parts are dishwasher safe, hand washing is preferred |
| Maintenance | Season before first use, season regularly. Enamel Dutch oven seasoning is not required | Electrical appliances and cords should be checked regularly, and elements kept free of debris |
| CONS | Maintenance required, heavy, high-end brands expensive | Electrical appliances and cords should be checked regularly, and elements kept free of debris |
| Storage | Relatively compact Dutch ovens can be stored in cupboards and ovens with care | Slow cookers can be cumbersome to store |
| Price | Prices start at approximately $20 | Prices start at approximately $20 |
Comparing Dutch Oven vs Slow Cooker & Crock Pot
5 Helpful Tips for Using a Dutch Oven as a Slow Cooker
The recipes we like to prepare using the slow cook method, whether in a slow cooker or other cooking pot, are prepared similarly.
Slow Cooking Steps
sauteing, braising, searing, or browning
adding other ingredients followed by the required liquid
bringing the pot to a simmer
simmering until cooked
then reducing or thickening the liquid
Tip 1 – Dutch Ovens and Convenient Heat Sources
Enamel cast-iron Dutch ovens can be used on various cooktops, like gas, electric, ceramic, glass, and induction, and in a conventional oven.
Traditional uncoated cast-iron pots can also be used over coals, briquettes, and open flames.
The heat source you choose depends upon the type of Dutch oven you are using as well as the dishes you want to prepare.
Tip 2 – Dutch Oven One Pot Cooking
This is my absolute favorite thing about Dutch oven cooking. The truth is you can cook a meal inside one pot.
Including traditional dishes like chicken and dumplings, chicken caciatore, beef stew, lamb shanks in red wine, and pot roast.
Carry out the slow-cook steps above, and you are done…
Tip 3 – Dutch Oven Sizes
Owning a couple of different sized Dutch ovens is tip number 3.
Larger size ovens for big hearty meals and many mouths to feed. Or large meals and plenty of leftovers.
Medium or smaller ovens are good for use in coordination with your large oven. Prepare rice (see my awesome recipe here), potatoes, pasta, desserts, or even baked bread to go with a stew or casserole.
Dutch Oven Sizes – This article dives into the various sizes, capacities, and shapes of Dutch ovens.
Tip 4 – Dutch Oven – Sealing Food
Due to the material (cast iron) that a Dutch oven is made from, sauteing, braising, searing, or browning is quick and easy.
Just remember that the thick bottom of a cast-iron pot is hot hot hot and will cause food to stick if there is not enough oil in it or you are not moving the food around while sauteing so food does not get the chance to stick.
Tip 5 – Leftovers
If there are any leftovers and your Dutch oven is an enameled one, just let the oven cool, then put it in the refrigerator for storage.
To reheat, pull the oven out of the refrigerator, allow it to cool to room temperature, and reheat your leftovers at very low heat. Be sure to add a little liquid if required; this will avoid sticking.
Live Taste Test – 1 Recipe – 2 Different Cookers
Dutch Oven and Slow Cooker Temperature Conversion Table
Use the easy-to-navigate conversion table below. With a little practice, you will know how to convert any recipe…
| Food Type | Dutch Oven | Slow Cooker | Slow Cooker |
| --- | --- | --- | --- |
| | 325° F | Low | High |
| Chicken | 1 to 1 1/2 hours | 4 hours | 2 hours |
| Meat (Cubed) | 2 to 3 hours | 4 to 6 hours | 2 to 3 hours |
| Shanks | 3 to 4 hours | 8 hours | 4+ hours |
| Meat – (Large Cuts) | 3 to 4 hours | 8 hours | 4+ hours |
| Beans (Raw Soaked) | 1 to 2 hours | 4 to 6 hours | 2 to 3 hours |
| Root Vegetables (Large 3-inch chunks) | 1 to 1 1/2 hours | 4 hours | 2 hours |
What Can Be Cooked in A Dutch Oven?
Any food can be cooked in a Dutch oven. This is because you can slow cook, saute, braise, sear, seal, brown, fry, roast, boil, and steam.
The list below will stimulate your desire to prepare a great meal in a Dutch oven.
Breakfast – oats, eggs, omelets, bacon, scones, biscuits
Lunch – soups, stews, casseroles
Dinner – meat dishes, pot roast, pizza, pasta, risotto
Dessert – upside-down cakes, cobblers
Snacks – smores, popcorn, muffins, cakes
Dutch Oven Slow Cooker Recipes
You can find the ultimate slow cooker recipes for your Dutch oven in these Dutch oven cookbooks.
Can You Braise in a Slow Cooker?
The simple answer to this is yes! The inner pot of the slow cooker is removable and can be used on the heat source you have available.
For example, some inner pots of slower cookers are ceramic, and you definitely cannot put those on gas, electric, or another type of cook or stovetop. They are designed to be inside an oven and not to be heated up quickly, or they will crack.
You would prepare lasagne, pies, casseroles, stews, roasts, desserts, and baking. Any dish does not require being heated up on a cooktop to saute or braise, then adding cold ingredients and changing to a hot surface again.
Another type of inner pot or slow cooker made today is aluminum and other composite materials that do not perform well when changing from one high heat source to another.
I have written an article that goes into great detail about Dutch ovens and other cooking appliances that should or should not be used on an electric stovetop.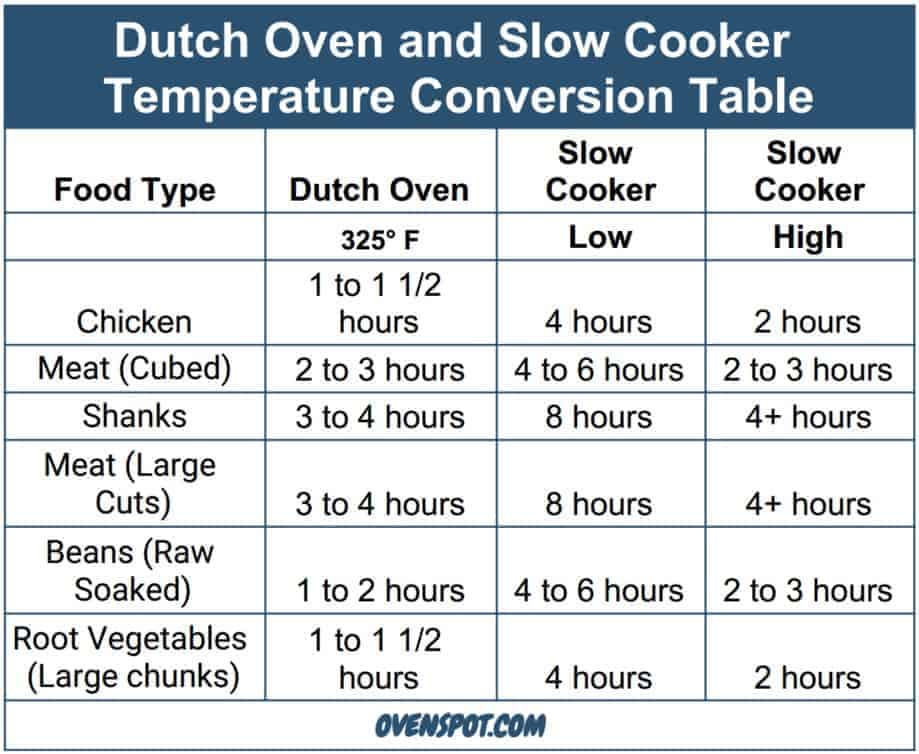 Recommended Reading
Can You Use a Dutch Oven as a Slow Cooker? – Final Thoughts
You are probably thinking the owner of this website will say that Dutch ovens are the best choice of cooking appliance to use.
Truthfully, I own both, actually a couple of each.
As you can see, the Dutch oven is a substitute for a slow cooker and vice versa.
You can prepare the same dishes in both appliances, with the only exception being that the insert of the slow cooker needs to be able to be used on various heat sources.
I like to use the slow cooker when I am organized and have all the ingredients ready to pop in and start the low cooking early in the day.
When I am not organized, I will always use my Dutch oven. It is always on hand as it lives in the conventional oven. My slow cooker lives at the back of the cupboard.
If you were to tell me that you wanted either a slow cooker or a Dutch oven and you wanted advice on which one to purchase.
If you like to prepare a variety of dishes regularly that require more than slow cooking, I would advise you to purchase a Dutch oven. It is more versatile; therefore, you would utilize it more than a slow cooker.
One-Pot Cooking Rocks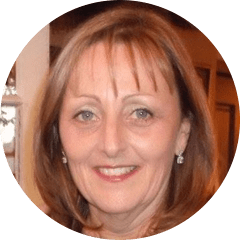 Michelle
Hi, I'm Michelle, the founder, owner, author, and editor of OvenSpot. My passion for one-pot cooking commenced when I was working to prepare cafeteria lunches for school students. I am now on a mission to assist you in choosing the cooking pot or appliance you will use daily. As well as in-depth information to assist you in using and caring for your cookware and appliances.
Questions? Reach out to Michelle at [email protected]