The Difference Between a Crockpot and a Slow Cooker
The confusion around the differences between these three cookers Crock-Pot, slow cooker, and more recently Instant Pot still swirls around in our minds today. Here are the differences between a Crock-Pot, a slow cooker, and an Instant Pot.
A crockpot is a brand of slow cooker the biggest difference is the name and the heat distribution. Crockpot casing heats from the base and sides to heat the insert called a crock. Whereas the heat of a slow cooker comes from its base. A crockpot is a brand that produces a slow cooker other brands produce slow cookers.
Disclaimer: As an Amazon Associate I earn from qualifying purchases on my website. If you make a purchase through links from this website, I may get a small share of the sale from Amazon and other similar affiliate programs.
What Is the Difference Between a Crockpot and a Slow Cooker
After reading the short explanation above my head is still reeling. In short, both slow cooker models can prepare both crock-pot recipes and slow cooker recipes. Using a low temperature, the moist heat tenderizes tough cuts of meat over an extended period of time.
The result is that home cooks dream of a hands-off hot meal prepared in a convenient way. Here is a more in-depth explanation.
What Is a Crock Pot
Crock-Pot is a brand that produces slow cookers (that produce heat from all sides of the outer casing). Crock-Pot also makes other types of cooking appliances and cookware.
Crock-Pot was released to the world in the 1970s. Crock-Pot is synonymous with slow cooking – the set-and-forget way of cooking really took the world by storm.
And why not one-pot meal preparation is awesome…
Looking back at the casings of these cooking pots you will recognize a real sense of nostalgia.
Crock-Pot more recently has tried its hand at multi-purpose cookers. These combination cookers are taking the world by storm now.
The ability to own one cooking pot that replaces up to 7 or more pots and electrical appliances.
Magic so along with their long-standing Brand name I am certain that Crock-pot will keep up with food preparation trends.
It is already in their history – 50 years and counting…
There are other brands that produce crockpots Kitchen Aide and Hamilton just to name two.
What Is a Slow Cooker
A slow cooker is an electric appliance that slow cooks with its heat coming from the base of the outer casing – there are many brands of slow cookers.
Just to name a few Crock-Pot, Kitchen Aide, Cuisineart, Proctor Silex, and Hamilton Beach.
Crock-Pot slow cookers, as well as other basic models of slow cookers, offer four settings on/off, low slow cook, high slow cook, and keep-warm.
Newer models of slow cookers – which could be produced by any BRAND NAME.
Although are still dedicated slow cookers often come with more digital controls.
These controls offer the ability to sear, sauté, and brown before the slow cooking process begins.
Also convenient delayed start and finish times, programmed cooking times and the list goes on.
Instant Pot
Instant Pot is a brand – which produces electric pressure cookers that carry out multiple functions of various appliances in one machine. But is predominately used as a pressure cooker.
Multi-Purpose Cookers
These electrical appliances are a type of slow cooker but also replace many kitchen appliances and cooking pots, including the rice cooker and Dutch oven.
Multi-cookers allow you to use many varieties of cooking styles. Along with the bonus of room storage room in your kitchen when you give away your unused cooking appliances.
You can read more about multi-cooker in my articles Multi-Purpose Cookers and Are Multi-Purpose Cookers Any Good?
Differences Between a Crock-Pot and a Slow Cooker
Although the word Crock-Pot is a widely used term to describe slow cooking there are differences between a Crock-Pot and other slow cookers.
| Crock-Pot | Slow Cooker |
| --- | --- |
| Heating elements are on the bottom of the pot as well as wrapped around the sides | The heating element is at the bottom of the housing |
| Bowl is made from porcelain or ceramic insert – both materials lend themselves to slow gentle heating | Bowls are these days made from metal – this pot sits on top of the bottom element plate |
| The bowl is firm fitting inside the outside casing and the lid should fit well so the moisture stays within the pot while the slow cooking process is underway | Slow cookers heat up slower than a crockpot due to less radiant heat around the inner cooking pot |
| Low to high temperatures of 200 degrees Fahrenheit to 300 degrees Fahrenheit are used with a keep-warm function when the cooking cycle time is reached | It takes longer for a slow cooker to heat the food through and can cause sticking |
| The best results for slow cooking in a crock pot are the low and slow cycle | Ideally, throughout the cooking process, a quick stir will alleviate this – there goes the "set and forget" theory |
| | It is recommended that meat be cut into small pieces so any bacteria can be killed off early in the cooking process |
Citation: USDA – Food Safety Information – Downloadable PDF
2 Examples of Crock-Pots That Are Slow Cookers
Crockpots come in a variety of sizes. Cook at a safe temperature for long periods of time with a low setting and a higher temperature setting to cut the cooking time. The following 2 crockpots with stoneware inserts hold the Crock-Pot brand name.
Crock-Pot Wifi Enabled Slow Cooker, 6-Quart
This Crock-Pot is a smart Wi-Fi-Enabled WeMo 6-quart slow cooker. It uses the WeMo Application which allows you to adjust cook time and temperature remotely as well as using the controls traditionally on the Crock-Pot itself.
What you need to get started is the WeMo App which is free to install on any Apple smart device with iOS7 or higher. Alternatively, an Android smart device with 4.0 or higher and a Wi-Fi router and internet connection.
The Crock-Pot itself is constructed of a stoneware insert and a glass lid which are dishwasher safe.
The stainless steel outside casing is a sleek oval design with a cool-touch handle and lid handle. The dimensions of the Crock-Pot are 17.4 inches x 9.6 inches x 13.9 inches and weighs 14.9 pounds.
The size of this Crock-Pot slow cooker is large enough for a pot roast and large cuts of meat, it feeds seven or more people. This slow cooker also comes with cord storage.
For more information on check out my full review of the Crock-Pot SCCPWM600-V2 Wemo Smart Wifi-Enabled Slow Cooker, 6-Quart, Stainless Steel.
Crock-Pot 6-Quart Cook & Carry Slow Cooker
This Crock Pot can literally do as its name suggests. You can cook in it and then you can carry it to where the party is. As it sports a locking lid that has a gasket that gives a secure seal you won't have any spillage issues. It is so versatile and the first two things that come to mind are.
1. You can either prepare all the ingredients in the crockpot then transport it to where you want to eat then let it do the cooking. OR;
2. Two you can prepare and slow cook your meal in the crockpot then take the prepared meal to where you want to eat.
This 6-quart crockpot can serve more than seven people. Your family and guests can be served straight from the stylish removable oval stoneware insert.
Without the lid, the slow cookers' removable crockery insert can be used in a conventional oven up to 400 degrees Fahrenheit. It can also be used safely in the microwave oven without a lid.
The Crock-Pot 6-Quart Programmable Cook & Carry Slow Cooker with Digital Timer can be programmed for cooking anywhere from 30 minutes to 20 hours. After the cooking time has been completed the crockpot will automatically shift to the warm setting. Allowing you to sit down to eat when you are ready to do so.
Cleaning up this crockpot is easy and simple. Allow the slow cooker to cool down before cleaning. Don't forget to unplug! Then you can either use soapy hot water to clean both the stoneware and the lid.
Alternatively, these crockpots' stoneware and lid are dishwasher safe. Then simply wipe out the metal base with a soft cloth and soapy water.
The dimensions of the crockpot are 9.4 inches x 15.1 inches x 14.8 inches and it weighs 14.8 pounds.
This is a great-looking cooking appliance that has a polished stainless steel exterior. Complete with black accents you will not need to hide this cookware in your pantry it will look great on your kitchen counter ready for your next meal.
For more information about the Crock-Pot 6-Quart Cook & Carry, Slow Cooker with Digital Timer why not go over and check out my full article by clicking here.
2 Brands of Slow Cookers That Are Crock Pots
You will note that both of these crockpot/slow cookers have a ceramic/stoneware insert.
Hamilton Beach Slow Cooker, 7-Quart
This large 7-quart slow cooker is large enough to prepare a 6-pound chicken or a 4-pound roast. This really is one-pot cooking with a slow cooker that can prepare complete meals. There is also a wrap-around heating element for even heating the porcelain pot.
The slow cooker is totally programmable with times ranging from 30 minutes to 18 hours, which is a long period of time. There are low, high, and warm heat settings, after cooking it automatically reverts to the warm setting. The timer also has a countdown feature so you know how long there is to go for cooking the meal.
The dimensions of this 7-quart slow cooker are 11.7 inches x 17.6 inches x 9.9 inches and it weighs 12.3 pounds. The removable stoneware pot and glass lid are totally dishwashable. The brushed stainless steel casing can be wiped out "once cool" with a soft cloth and warm soapy water.
This 7-quart slow cooker is definitely worth a closer look, so click the link below for an in-depth review.
For more information about this Hamilton Beach slow cooker why not go over and check out my full article?
KitchenAid 6-Quart Slow Cooker With Standard Lid
This KitchenAid slow cooker is a large oval slow cooker that will cook your large roasts but can easily prepare smaller meals if required. It has a black stoneware insert with a glass lid and the stainless steel casing has black trim features.
This slow cooker presents a large illuminated digital display and easy to read control panel. This allows you to set your Low, Medium, High, or Keep Warm temperature settings.
It is where you will also set your cooking times with the programmer which gives you up to 24 hours of programmable time in 30-minute increments.
When cooking time is finished the slow cooker automatically transfers to the auto-keep-warm setting for up to four hours.
This is a great-looking slow cooker with many practical functions to explore. This good-looking appliance will be a feature of any kitchen.
CLICK IMAGE ABOVE to see this KitchenAid cooker, its price, and purchaser reviews for yourself at Amazon.
Should I Buy a Crockpot or Slow Cooker?
A crock pot as we have discovered can reach low or high cooking temperatures quicker due to the elements surrounding the cooking pot insert. It is perfect for all types of recipes including meat on the bone and rich sauce dishes.
Whereas the slow cookers heating element is on the bottom of the pot – it heats up slower. It can cause some sticking, the dish probably needs stirring throughout the cooking time to avoid this.
The slow cooker is suited better to liquidy recipes like soups, stews, and casseroles.
If you only want one slow cooker I would go for the crock-pot. It offers a more well-rounded choice of recipes you can prepare and achieve success 99% of the time.
Related read Can Crock-Pots go in the Oven
Can You Use a Crock-Pot Instead of a Slow Cooker
Yes, you can. Recipes, ingredients, and cook times are virtually the same for both types of electrical appliances.
What Do I Use a Crockpot or a Slow Cooker?
Well, you probably already know that I am going to say both. In fact, all three – have to throw in my multi-function cooker. Incidentally, all three are the Crock-Pot brand.
The crock-pot that I use for any slow cooker recipe, but predominately a meaty dish with rich sauces.
My slow cooker really is the best for stews, casseroles, and soups. Because the pieces are cut into bits size pieces and there is plenty of liquid to alleviate the sticking and burning issue. Cooking these low and slow for best results.
What's the Difference Between Instant and Crockpot?
An Instant Pot is a multi-purpose cooker. Pressure cooking is this cooker's main function saving much time tenderizing cheaper cuts of meat in family favorite dishes like beef stew.
There are many key differences and other cooking methods include slow cooking can also carry out various functions, at low heat using a metal pot insert, like other electrical appliances. Yogurt making, rice cooking, and keeping dishes warm included.
You can get a similar outcome with your recipes when you use an electric pressure cooker in a much less amount of time. It is a great option if you are short on time as a high temperature is used and the pressure cooking method softens the food.
Preparing a whole chicken at a high setting in a traditional slow cooker can also be achieved in a pressure cooker.
See an Instant Pot at Amazon
A crock-pot is a slow cooker that allows you to cook in different ways with low/high and keep-warm settings so you can cook tough meat over a long time.
The brand Crock-Pot also has its own version of the multi-purpose cooker (I have one) that carries out similar functions to the Instant Pot. See the Crock-Pot Express at Amazon.
Best Slow Cookers (2022)
To Finish Difference Between Crockpot and Slow Cookers
I hope you have now a better understanding of the differences between crockpots and slow cookers.
Take the above information move forward and use the appliance that best suits your needs.
One-Pot Cooking Rocks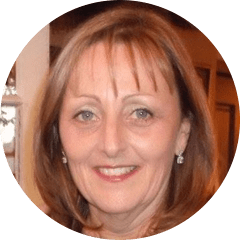 Michelle – Author
Hi, I'm Michelle the founder, owner, and editor of OvenSpot. My passion for one-pot cooking commenced when I was working to prepare cafeteria lunches for school students. I am now on a mission to assist you in choosing the cooking pot or appliance you will use every day.
Questions? Reach out to Michelle at michelle@ovenspot.com