Slow Cooking: How Slow Cookers Work
Many amateur and pro chefs see slow cookers as a must-have appliance in the kitchen. They offer a great way to cook delicious meals and aren't too difficult to use. But exactly how do these pots work?
Slow cookers create heat towards their base, and this gets transferred up the sides. The food inside gets heated as a result and cooked over a slow period. You can choose the most appropriate temperature and let your food cook for hours until it's soft and well-prepared.
You can adapt many recipes to work just as well in a slow cooker. If you enjoy using slow cookers and always wanted to know how they work, stay tuned. We'll dive into what makes a slow cooker works the way it does and why it's so efficient.
Disclaimer: As an Amazon Associate I earn from qualifying purchases on my website. If you make a purchase through links from this website, I may get a small share of the sale from Amazon and other similar affiliate programs.
What Is the Purpose of a Slow Cooker?
Slow cookers make our cooking lives a little bit easier and less hurried and stressful. You can leave your cooking unattended with a slow cooker for long periods, and the food won't burn to a crisp.
Before we can truly understand how slow cookers work, we need to know their components.
Slow Cooker Components
All slow cookers have the same basic design. They consist of three main parts, which are the base, the vessel, and the lid.
The base is where the heating element is and is attached to a liner, offering a temperature control panel or knob, feet, and handles.
The liner is a metal insert that was melded onto the inside of the slow cooker base, so the electrical parts between the base and liner cannot be accessed. It is here that you will find heater bands if you were curious about what's inside your slow cooker.
The bands conduct heat around your slow cooker's bottom, which then gets transferred to the cooking vessel and rises against the sides. A small gap between the base and liner allows sufficient airflow to prevent overheating.
The cooking vessel is the part in which you place the food you want to cook. Usually, it is made of heavy stoneware that can retain the built-up heat. Your slow cooker may, or may not, have clips that hold the lid firmly in place for safety purposes.
Whether or not it is clipped in place, the lid, or cover, is essential. Without it, your slow cooker won't be able to reach the temperatures you need. Some lids also have probe holes to allow steam to escape.
How Slow Cookers Work
Now, we can get to the point and discuss how slow cookers do the magic they do.
The slow cooker creates heat that is focused on the base of the pot. This heat doesn't stay there or get lost – it goes up the sides of the vessel (where your food is, remember?). As the heat makes its way up the sides, it will start to cook the food.
You control how fast or slow the food gets cooked by adjusting the temperature.
When you choose a low temperature, your slow cooker only creates that amount of heat. As a result, the food gets exposed to less heat and takes longer to cook. With higher temperatures selected, the slow cooker gets hotter, and the food inside cooks faster.
Related topic What are Slow Cookers and how can they benefit you?
It is as simple as that – low heat makes the cooking process slower. This method lets the food simmer for longer, so it soaks up more flavor. Cooking meat in a slow cooker also helps you make your meat a lot softer and less chewy.
Of course, this can depend on the meat type and recipe, so don't expect fall-off-the-bone meat all the time.
Must-read article about slow cooking and how slow cookers work
Can I Convert Normal Recipes to Work in a Slow Cooker?
Although it can be tempting to convert all your recipes to work in a slow cooker, it's not advisable. If a recipe calls for high temperatures, such as what is needed when frying food in oil, you can't use a slow cooker.
A recipe that requires you to use the oven to dry food will also not work well with a slow cooker. On that note, any recipe that asks you for low and slow cooking will usually work well in a slow cooker.
Take note, though, that you can't cook all recipes at the same temperatures and for the same amounts of time. Dips and sauces, for example, need to be cooked in the slow cooker at a high setting for one or two hours.
You should cook large, tough cuts of meat and roast them for six to seven hours at a low setting.
For the most part, you will find that slow cooker-friendly recipes will require you to use them in a medium setting. Soups and stews are a prime example – you should not cook these dishes too slowly or too fast.
Learn about slow cooker times and get your free conversion download in the article Slow Cooker Conversion Times.
Golden Rules for Using a Slow Cooker
Use fresh vegetables for the best results. If you use frozen or canned vegetables, you will end up with overcooked meals because they take less time to cook.
Carrots, onions, garlic, and potatoes must be washed and cut into uniform pieces. Place them at the bottom of your pot when cooking.
Liquids can't evaporate in a slow cooker, so use half the amount of liquid your recipe needs unless you're cooking beans, rice, or pasta.
If you are cooking pasta and other tender food such as peas, asparagus, or squash, add it to your slow cooker in the last 50 to 60 minutes of cooking. Doing this will avoid overcooking your food, and you won't have to suffer the heartache of mushy meals.
When cooking with ground beef, make sure it is browned and drained before adding it to the slow cooker. Make sure that you remove all and any grease.
If you plan to add dairy products such as sour cream, milk, or cheese, only do so toward the end of cooking. If you don't, the recipe will likely not turn out as planned.
You must add fish, scallops, shrimp, and other seafood during the last 15 to 30 minutes of cooking. That way, the food will have the kind of tasty consistency you want.
A related read that deep dives into how easy it is to use a Proctor Silex low cooker
Is Your Slow Cooker Energy-Efficient?
People appreciate slow cookers for more than just the mouth-watering meals they can deliver. These pots are also an excellent way to save time and electricity.
You save time because you can do other tasks or meal preparations while leaving your food to cook. As for electricity, well, a slow cooker is a star in this department.
Although it depends on your slow cooker's size, you can expect that it uses between 50 and 300 watts on average. Even if you leave it on for a long time, that is not a lot of power.
An electric oven can draw between 2,000 and 5,000 watts, with an average electric stove wattage standing somewhere close to 3,000 watts.
The reason for this difference? Slow cookers retain heat and don't require as much to get the food inside cooked. As such, they don't need as much energy to get the job done.
Learn the financial benefits of using a slow cooker: Slow Cookers: Energy Efficient or Not?
Final Thoughts: How Slow Cookers Work
Whether you want to save energy or make melt-in-your-mouth delicious recipes, a slow cooker is a good investment. Now that you know how slow cookers work, you can research recipes and surprise your loved ones with food bound to improve their day!
A great read about how slow cookers can benefit your health is the OvenSpot article: are slow cookers healthy?
One-Pot Cooking Rocks
Sources: Hamilton Beach & Direct Energy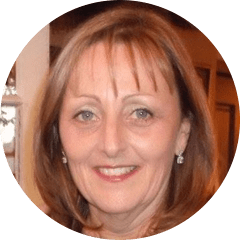 Michelle – Author
Hi, I'm Michelle the founder, owner, author, and editor of OvenSpot. My passion for one-pot cooking commenced when I was working to prepare cafeteria lunches for school students. I am now on a mission to assist you in choosing the cooking pot or appliance you will use every day. As well as in-depth information to assist you in using and caring for your cookware and appliances.
Questions? Reach out to Michelle at michelle@ovenspot.com