How to Convert Slow Cooker Times (Printable Download)
Slow cookers make cooking stews and casseroles very easy and convenient since they don't need to be watched at all times. Recipes made for slow cookers can be converted to work either on a stovetop or in an oven without much fuss. But how can you convert slow cooker recipes for stovetop or oven cooking?
Convert slow cooker times by these guidelines: 1.5-2.5 hours on high and 4-6 hours on low is equal to 15-30 minutes in an oven, 2-3 hours on high and 6-8 hours on low is 35-45 minutes in an oven, and 4-6 hours on high or 8-12 hours on low is 50 minutes to 3 hours in an oven.
Disclaimer: As an Amazon Associate I earn from qualifying purchases on my website. If you make a purchase through links from this website, I may get a small share of the sale from Amazon and other similar affiliate programs.
In this article, we will discuss:
The temperature differences between slow cookers and ovens.
A guide to converting cooking times.
How to check the temperature to ensure your food is cooked correctly and safe to eat.
Understanding the Temperature Difference Between Ovens, Stoves, and Slow Cookers
To accurately convert the cooking times between your slow cooker and your oven or stove, you need to know the difference between the temperatures at which they cook your food. Slow cookers use moisture and semi-hot temperatures to gradually and evenly cooked meals. Ovens and stoves accelerate the process, so converting a recipe can be challenging.
Follow these suggestions for the best results:
Slow cookers cook food at one of two different temperatures: around 195°F (88°C) on the low setting, and roughly 300°F (149°C) on the high setting.
Ovens can be set to any almost temperature you desire and are the most versatile compared to a stovetop. Oven temperatures usually range from 200 to 500°F (90-260°C), while Neapolitan pizza ovens can reach up to 905°F (485°C).
Stovetops can also be set to various heat settings and have a simmering temperature of around 209°F (98°C). As you move to a higher setting, stoves can reach temperatures of anywhere between 225°F (107°C) on low and 650°F (343°C) on high.
Each appliance will differ, but these are the general temperatures that you can expect from the three different cooking devices. Remember, many slow cookers don't show their temperatures. They'll have low, medium, and high settings. Contact the manufacturer or review the provided user's manual to determine the exact temperature for each selection.
Slow cookers allow food to soak up spices, vegetables, broths, and more. Reaching the desired temperature and timing makes a world of difference. With that in mind, let's take a look at how you can convert your recipes to cook delicious food with any of these three appliances.
Use This Conversion Guide for Slow Cooker Times
Since the temperatures and available cooking settings on the appliances vary greatly, it can be challenging to create an accurate conversion formula that works every time. However, there are some general guidelines you can use to convert your cook times between these appliances.
First, let's compare a slow cooker's cooking times on the high setting with the low setting. If you like using your slow cooker to cook your foods but don't have enough time to cook a dish on the low setting, you can convert the times and use the high setting instead. Heating meals in a slow cooker for too much time can dry the food, so ensure you're following the recommendations.
Below is a slow cooker time chart comparing the cook times of a slow cooker on low and high settings.
Slow Cooker Cooking Times: Low to High-Temperature Conversion Chart
| Low Setting | High Setting |
| --- | --- |
| 7 hours | 3 hours |
| 8 hours | 4 hours |
| 9 hours | 5 hours |
| 10 hours | 6 hours |
| 11 hours | 7 hours |
| 12 hours | 8 hours |
Slow Cooker & Crockpot Temperature Settings Low to High
Meat Slow Cooking Times Table
Next, let's take a look at the meats usually cooked in a slow cooker and their cooking times, both on a high and low setting.
Meat Cut and Weight
Cook Time on Low
Cook Time on High
Beef Brisket Slow Cooking Time
(3 – 4 lbs or 1.4-1.8 kg)
8 – 10 hours
N/A
Beef Roast Slow Cooking Time
(3 – 4 lbs or 1.4-1.8 kg)
8 hours
5 3/4 hours
Chicken Breast Slow Cooking Time
(1 lb or 450g)
6 – 7 hours
3 – 4 hours
Corn Beef and Cabbage
6 – 10 hours
4 – 5 hours
Fish Slow Cooking Time
(2 lbs or 907g)
3 1/2 hours
1 1/2 hours
Meat Loaf
8 – 9 hours
4 – 5 hours
Pork Roast Slow Cooking Time
(6 – 7 lbs or 2.7 – 3.2 kg)
9 1/2 hours
7 1/3 hours
Poultry Slow Cooking Time
(6 lbs or 2.7 kg)
7 1/2 hours
6 1/4 hours
Ribs
6 – 7 hours
3 – 4 hours
Stew Slow Cooking Time
(3 lbs or 1.4 kg)
6 hours
4 3/4 hours
Swiss Steak
8 – 10 hours
N/A
Meat Slow Cooking Times
Compare the above to the following chart with approximate cooking time conversions from a slow cooker (including high and low settings) to an oven or stovetop at roughly 350°F (180°C).
Conversion Table for Slow Cooking and Traditional Cooking Times
| Slow Cooker on Low Setting 200°F | Slow Cooker on High Setting 300°F | Conventional Oven or Stovetop Slow Cooking |
| --- | --- | --- |
| 4 – 6 hours | 1 1/2 – 2 1/2 hours | 15 – 30 minutes |
| 6 – 8 hours | 2 – 3 hours | 35 – 45 minutes |
| 8 – 12 hours | 4 – 6 hours | 50 minutes to 3 hours |
Conversion Table for Slow Cooking and Traditional Cooking Times
Each food is different, and there will always be some exceptions, as different meat cuts have different cooking specifications. These cuts will cook best if you braise them in a covered pot at roughly 325°F (160°C).
You can braise chicken breasts on the stove for 1 ½ hours instead of 2 hours in a slow cooker.
Cubed meats will have roughly the same cooking time in an oven as in a slow cooker.
Larger meat cuts can be cooked for 3-4 hours in the oven instead of 4 hours on high or 8 hours on low in a slow cooker. Increase the oven or slow cooker time per pound of meat cooked.
Finally, it is essential to remember that slow cookers do not lose much moisture throughout their cooking time, whereas cooking in an oven or on the stove does.
Therefore, when converting a slow cooker recipe to an oven or stovetop, you should add ½ to 1 cup of liquid. Conversely, when you convert an oven or stovetop recipe to a slow cooker, you would decrease the amount of liquid you add by the same amount.
Learn more about what temperature slow cookers cook at.
How to Ensure Your Food Is Safe To Eat
When cooking meat dishes, it is important to ensure that it is thoroughly cooked to avoid getting sick from any bacteria that may have been on the food prior to cooking or viruses that the animals may have contracted.
A cooking thermometer (like this Kizen Instant Read Meat Thermometer) will let you know that your food is cooked correctly, especially since converting cooking times is never perfectly accurate. It is crucial to not rely solely on your eyes, as it is often difficult to tell when meat is cooked only to rare or medium-rare "doneness." And, because the outer layer of the meat finishes cooking before the inner layer, you'll need a thermometer.
As a general rule of thumb, your meats should reach these temperatures to ensure that they are safe for eating:
Casseroles, their stuffing, leftovers, and poultry should reach 165°F (74°C)
Ground meat should reach 160°F (71°C)
Roasts, chops, and steaks of beef, lamb, pork, or veal should reach 145°F (63°C)
Ensure that your thermometer is at room temperature and cleaned thoroughly before taking any readings; otherwise, the readings may be inaccurate.
Crockpot Conversion Times Printable Chart – Oven to Low to High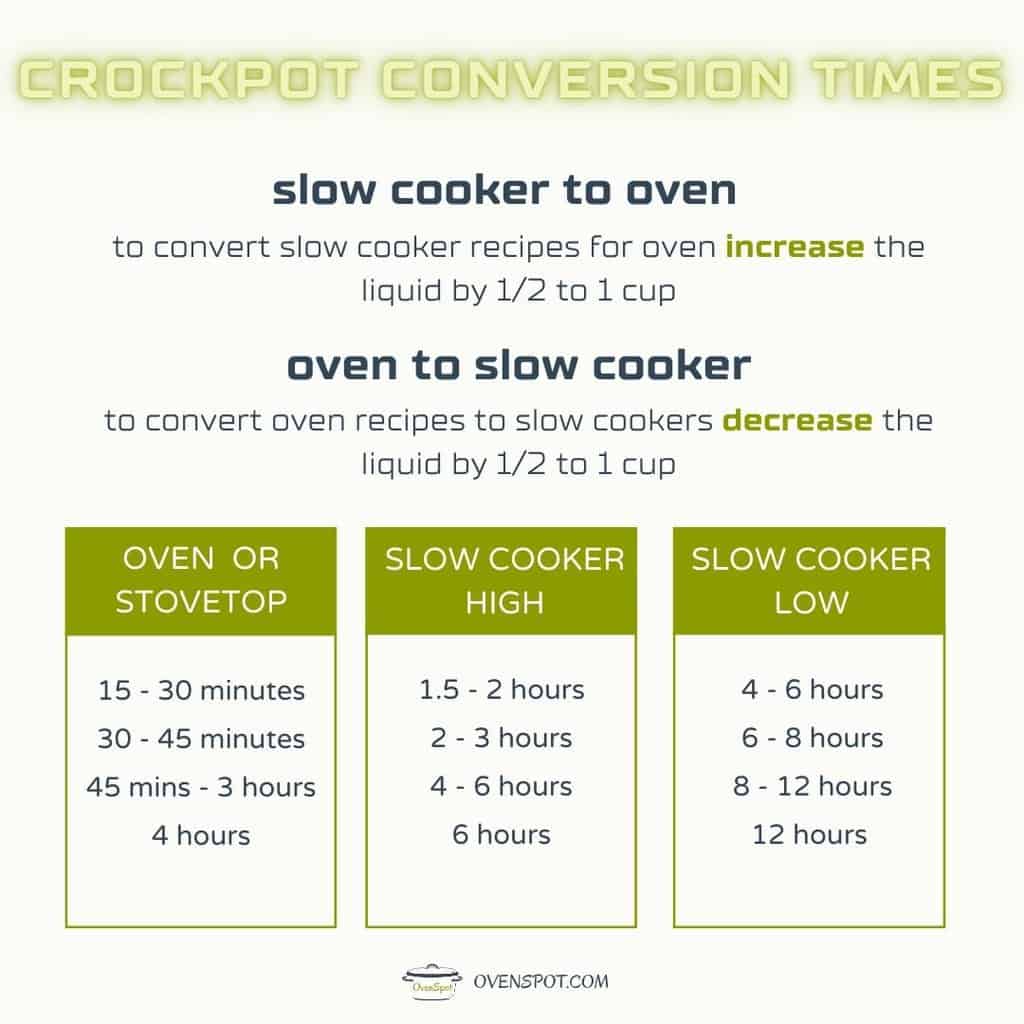 Video Convert Slow Cooker Times
Conclusion – How to Convert Slow-Cooker Times
Cooking food to perfection seems more of a science than an art, and things can get complicated when you convert a recipe that is made for one type of appliance to another. Many recipes are designed specifically for a slow cooker, as the moisture retention and temperature are perfect for tough-to-cook dishes.
Sometimes you don't have the time to use a slow cooker, or you don't own a slow cooker and want to use your oven instead. Hopefully, this article helped you convert a slow cooker recipe to your oven or stovetop. Good luck cooking!
FAQs
8 hours on low in a slow cooker equals how many hours on high?
8 hours on low in a slow cooker convert to 3 hours on high in a slow cooker.
Slow cooker to Crock Pot conversion?
Converting recipes from a slow cooker to a Crock Pot is not necessary as both appliances operate in the same way. They are both slow cookers Crockpot is a brand of a slow cooker. The slow cooker conversion chart below outlines crockpot to oven and stovetop along with crockpot conversion times from low to high and reverse.
Learn What the best way to cook pork in a slow cooker is.
Slow cooker to oven and stove top conversion table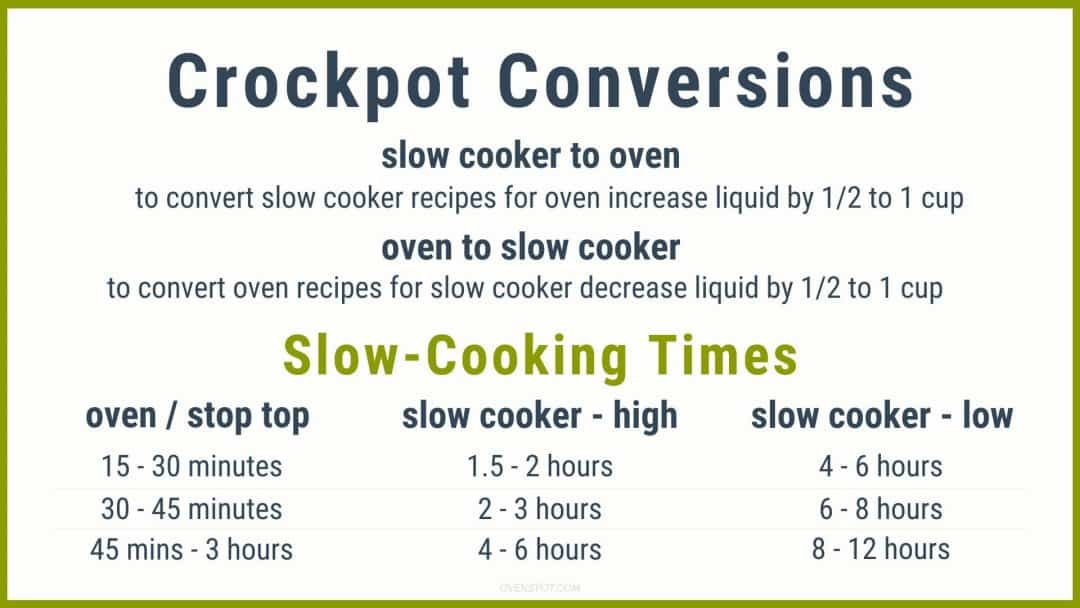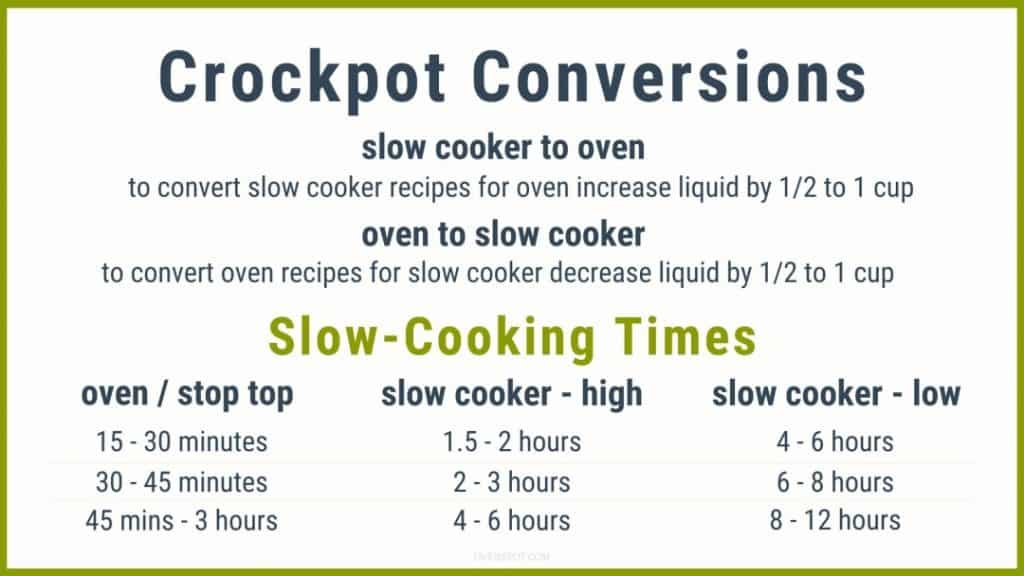 One-Pot Cooking Rocks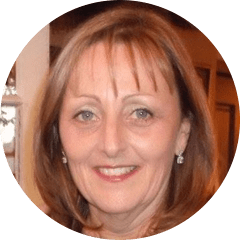 Michelle – Author
Hi, I'm Michelle the founder, owner, author, and editor of OvenSpot. My passion for one-pot cooking commenced when I was working to prepare cafeteria lunches for school students. I am now on a mission to assist you in choosing the cooking pot or appliance you will use every day. As well as in-depth information to assist you in using and caring for your cookware and appliances.
Questions? Reach out to Michelle at michelle@ovenspot.com