Slow Cooker Temperature and Crock Pot Temperatures Guide
Slow cookers have been around for almost an entire century, and are used to cook stews and other foods to perfection. However, several slow cookers have different settings that cook at very different temperatures. This can make preparing crockpot and slow cooker recipes confusing. What range of temperatures do slow cookers have and how can you know which setting to use?
Slow cookers cook between 190-210 ℉ (88℃) on the "low" setting, and 170-300℉ (149℃) on the "high" setting, with a wide range between those temperatures. These temperatures may differ from manufacturer to manufacturer, and you might find a large difference between two separate cookers.
In this article, we will go over the different temperature settings, tips to help you use your slow cooker, and a list of things you shouldn't put in your slow cooker. Now, let's get started!
Slow Cooker Temperatures
Slow cookers are not what they were when first invented, as the technology has advanced since then. While each slow cooker's temperature setting differs, they usually come with a low setting, medium setting, high setting, and warm setting.
These different settings mean that the cooker will cook at three different slow cooker or crock pot temperatures.
At the low setting, the internal low temperature of a slow cooker is usually around 190℉ (88℃), while at the high setting, the slow cooker's high temperature will reach around 300℉ (149℃). The medium temperature will be somewhere between these two temperatures.
The keep-warm setting on a slow cooker is 140 degrees Fahrenheit (74 degrees Celsius). For food safety, this is the minimum temperature required to keep your food at a safe internal temperature for consumption.
Slow cookers and crock pots are designed to cook at a safe temperature so for the best results for the delicious meals you will prepare the best temperature is the one your recipe suggests.
Disclaimer: As an Amazon Associate I earn from qualifying purchases on my website. If you make a purchase through links from this website, I may get a small share of the sale from Amazon and other similar affiliate programs.
Slow Cooker High vs Low Temperature
Is it better to use the low or high setting when using a slow cooker? The only difference between the HIGH and LOW settings on a slow cooker is how long it takes to reach your desired temperature. The LOW setting will take longer, but most recipes can be cooked at either one!
The Crockpot website informs its consumers that "Crockpot™ Slow Cookers reaches a simmer point of about 209°F and stablizies at this temperature whether use the low of high setting.

Crockpot™
Changing Slow Cooker Time From Low To High
It's possible to change the cooking temperature of a slow cooker from a low to a higher temperature. You can turn it up, and make your cook time shorter.
Converting the cooking time is easy – 2 hours on low equals 1 hour on high.
Is It Better to Slow Cook on Low or High?
It is better to slow cook on low to tenderize your meat and ensure root vegetables are soft enough to eat. A low and long slow cooking time also allows ingredients to infuse for deeper richer flavors.
Learn in-depth how slow cookers work before you start preparing your favorite recipes.
Slow Cooker Low to High-Temperature Conversion Table
Converting cooking times between slow cookers low and high and the oven or stovetop has never been so easy. Use this handy table below.
| Low Setting | High Setting |
| --- | --- |
| 7 hours | 3 hours |
| 8 hours | 4 hours |
| 9 hours | 5 hours |
| 10 hours | 6 hours |
| 11 hours | 7 hours |
| 12 hours | 8 hours |
Slow Cooker & Crockpot Temperature Settings Low to High
What Is the Equivalent Oven Temperature for a Slow Cooker?
A slow cooker recipe requiring a cooking time of 8 hours at low temperature should be divided by 4. The recipe can then be cooked in the oven covered for 2 hours at 325 degrees Fahrenheit.
A slow cooker recipe requiring a cooking time of 4 hours at high temperature should be divided by 2. The recipe should be cooked covered in the oven for 2 hours at 325 degrees Fahrenheit.
| Slow Cooker on Low Setting 200°F | Slow Cooker on High Setting 300°F | Conventional Oven or Stovetop Slow Cooking |
| --- | --- | --- |
| 4 – 6 hours | 1 1/2 – 2 1/2 hours | 15 – 30 minutes |
| 6 – 8 hours | 2 – 3 hours | 35 – 45 minutes |
| 8 – 12 hours | 4 – 6 hours | 50 minutes to 3 hours |
Conversion Table for Slow Cooking and Traditional Cooking Times
In my tutorial learn how to convert slow cooker times.
How to Use a Slow Cooker for Perfect Food Every Time
If you've never used a slow cooker, here are some tips to get the best out of it for perfect food every time. Before following these, however, you might want to find a cheap slow cooker cookbook with detailed instructions.
Take your ingredients out of the fridge roughly 20 minutes before you want to cook them, so they come to room temperature.
This keeps your food out of the temperature danger zone and is the safe way to prepare perishable foods that generally require constant refrigeration.
Smaller pieces cook faster, but it's okay to cook whole birds or large pieces of meat like a pot roast. Cook them low and slow for adequate cooking.
Always use recipes that include a liquid. But you don't need a lot of liquid when cooking meat, because the meat will release its own liquid.
Keep the lid on at all times (unless adding ingredients); otherwise, you'll increase the cooking time.
Add all ingredients at the beginning of the cooking time.
Use flour to thicken your sauces, unless you are gluten-free.
Cook food on low as much as possible.
Meat Slow Cooking Times
Meat Cut and Weight
Cook Time on Low
Cook Time on High
Beef Brisket Slow Cooking Time
(3 – 4 lbs or 1.4-1.8 kg)
8 – 10 hours
N/A
Beef Roast Slow Cooking Time
(3 – 4 lbs or 1.4-1.8 kg)
8 hours
5 3/4 hours
Chicken Breast Slow Cooking Time
(1 lb or 450g)
6 – 7 hours
3 – 4 hours
Corn Beef and Cabbage
6 – 10 hours
4 – 5 hours
Fish Slow Cooking Time
(2 lbs or 907g)
3 1/2 hours
1 1/2 hours
Meat Loaf
8 – 9 hours
4 – 5 hours
Pork Roast Slow Cooking Time
(6 – 7 lbs or 2.7 – 3.2 kg)
9 1/2 hours
7 1/3 hours
Poultry Slow Cooking Time
(6 lbs or 2.7 kg)
7 1/2 hours
6 1/4 hours
Ribs
6 – 7 hours
3 – 4 hours
Stew Slow Cooking Time
(3 lbs or 1.4 kg)
6 hours
4 3/4 hours
Swiss Steak
8 – 10 hours
N/A
Meat Slow Cooking Times
Popular Slow Cooker Dishes
| Popular Dishes | Cook Time on Low | Cook Time on High |
| --- | --- | --- |
| Artichokes | 6 – 8 hours | 2 – 4 hours |
| Baked Potato | 8 – 10 hours | 4 – 5 hours |
| Casserole | 4 – 9 hours | 4 – 5 hours |
| Dry Beans | 8 – 10 hours | 5 – 6 hours |
| Pre Soaked Beans | 6 – 8 hours | 3 – 4 hours |
| Rice | 5 – 9 hours | 2 – 3 hours |
| Soup | 6 – 12 hours | 2 – 6 hours |
| Stuffed Peppers | 6 – 8 hours | 3 – 4 hours |
| Vegetables | 2 – 4 hours | N/A |
Meat Slow Cooking Times
Slow Cooker Conversion Times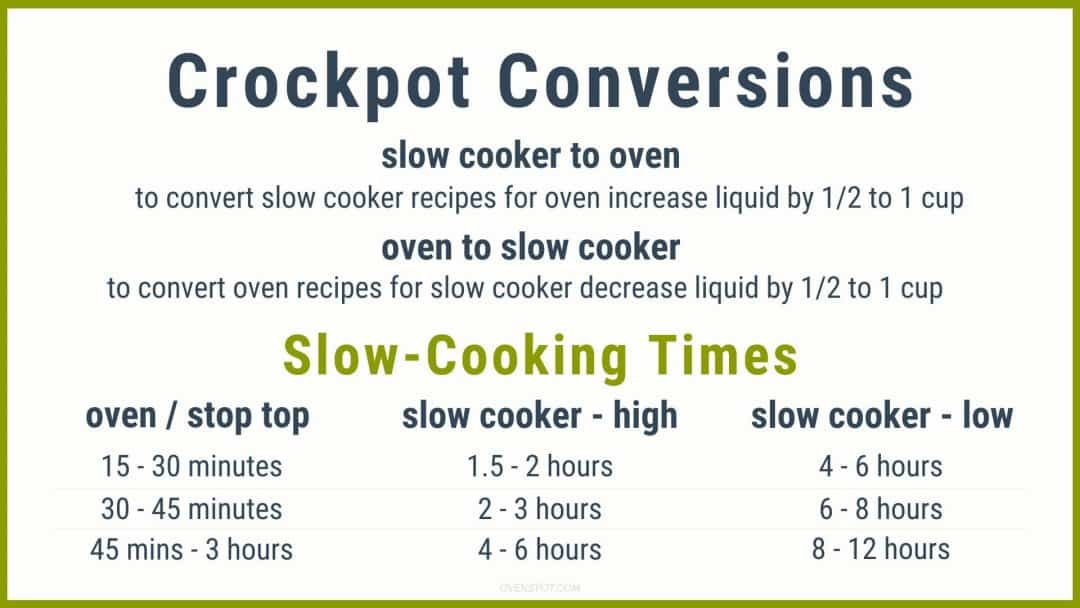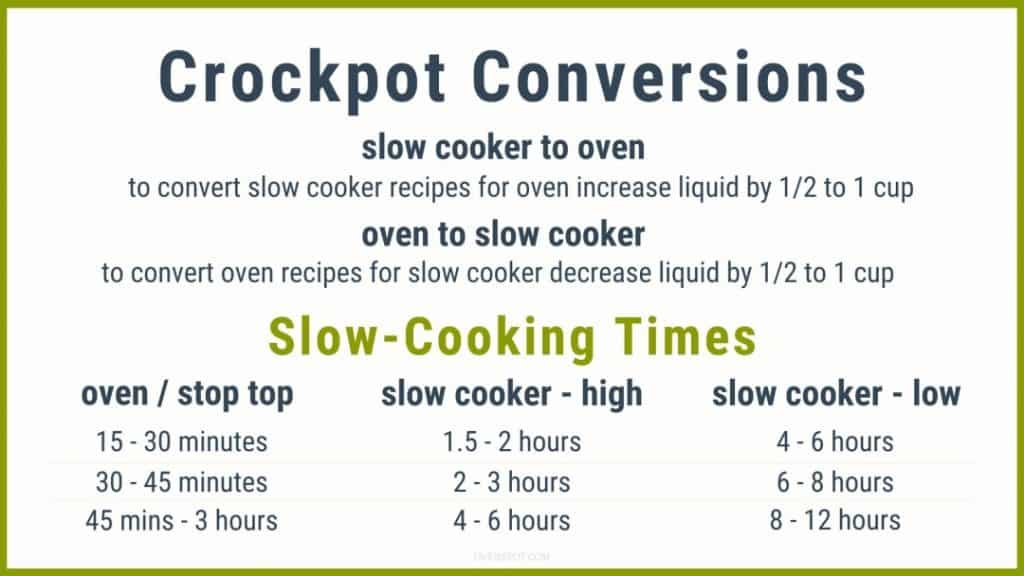 Convert slow cooker times by these guidelines: 1.5-2.5 hours on high and 4-6 hours on low is equal to 15-30 minutes in an oven, 2-3 hours on high and 6-8 hours on low is 35-45 minutes in an oven, and 4-6 hours on high or 8-12 hours on low is 50 minutes to 3 hours in an oven.
How to Ensure Your Food Is Safe To Eat
When preparing meats for consumption, it is necessary to cook them thoroughly in order not to get sick from bacteria or viruses present in the food so ensure you use the recommended cook time.
The best way to avoid food poisoning is to use a food thermometer (like this Kizen Instant Read Meat Thermometer). Then it's not a guessing game with the temperature of the food! With the temperature probe, you'll never again have to worry about undercooked or overcooked meats.
What Can I Use If I Don't Have a Slow Cooker?
You can also use a pressure cooker, glass, ceramic, earthenware, or any other heatproof material for casseroles of course but I think a cast-iron Dutch oven is the best option. After all, it is the original slow cooker.
For slow cooking, in an oven, or on the stovetop you don't need to worry about scorching it and they distribute even heating so your food will cook more evenly too!
Learn about what slow cooker alternatives you can use if you don't have a slow cooker one hand – What can I use Instead of a Slow Cooker or Crockpot
FAQs
What temperature is low on a crock-pot?
A crock pot cooks at a temperature of 190 degrees Fahrenheit (87 degrees Celsius) on the Low setting.
Can I use my oven as a slow cooker?
You use most conventional ovens as slow cookers but you will have to put your recipe in an oven-safe dish. Such as glass, ceramic casseroles, cast-iron Dutch ovens, or other types of Dutch ovens.
Any other cooking pot that is large enough to hold the ingredients and has a lid. Refer to the above table for the correct cooking times. Always remember that low and slow temperatures give the best outcome.
Can you put frozen meat in a slow cooker?
It is not recommended to put frozen meat in a slow cooker. The USDA recommends that you should always thaw meat and poultry before putting it into a slow cooker. Frozen pieces will take longer to reach a safe internal temperature and could possibly result in foodborne illness.
What temperature is low on a slow cooker
At the low setting, the internal temperature of a slow cooker is 190 degrees Fahrenheit (88℃).
Can you reheat food in a slow cooker?
Reheating food in a slow cooker is not recommended. But you can reheat your leftovers in the microwave or stovetop pot and then place them in the cooker cover and set them to the keep warm function.
How do you reheat food in a cooker?
Cooked food can be brought to steaming on the stove or in a microwave oven at 165℉ and then put into a preheated slow cooker to keep hot at 140 degrees Fahrenheit for serving.
What temperature should food be kept warm in a slow cooker or crock pot?
Food should be kept warm in a slow cooker at a temperature of at least 140 degrees Fahrenheit (USDA).
Wrap-Up: What Temperature Do Slow Cookers Cook At
If you've recently purchased a slow cooker or have had one for a while but have never used it, you may have noticed a bit of a learning curve when it comes to using them. I know this article has answered some of the questions you had about your slow cooker, especially the differences between low and high settings.
You have learned that the slow cooking process can take a long time and uses lower temperatures than other cooking methods. The first hour is the most important, as this is when the time it takes the appliance to reach the simmer point.
Slow cooker models vary slightly with different temperature settings, but typically slow cookers operate between 160 degrees Fahrenheit and 210 degrees Fahrenheit. This is the perfect temperature range for tougher cuts of meat and root vegetables. Pork shoulder is a great cut of meat to slow cook, as it becomes incredibly tender and juicy when cooked correctly.
Slow cookers are also great for cooking meals while you're at work. Since they have a long cooking time, you could set up the meal, set it and forget it, and then once you get home, you'll have a home-cooked meal! Nothing beats coming home to wonderful food.
Some crockpot recipes call for the slow cooker to be set on low heat and cook for a long time, you will not achieve the best result on a stove top.
Related read slow cooker alternatives – What can I use Instead of a Slow Cooker or Crockpot
One-Pot Cooking Rocks
Citation: Iowa State University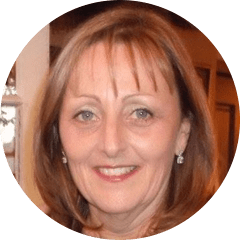 Michelle – Author
Hi, I'm Michelle the founder, owner, author, and editor of OvenSpot. My passion for one-pot cooking commenced when I was working to prepare cafeteria lunches for school students. I am now on a mission to assist you in choosing the cooking pot or appliance you will use every day. As well as in-depth information to assist you in using and caring for your cookware and appliances.
Questions? Reach out to Michelle at [email protected]