Slow Cooker High vs Low: Choosing a Crock Pot Temperature
Many kitchens now cherish slow cookers for their effortless meal-making magic and unmatched convenience. One common question that arises when using these appliances is whether to cook on a high or low setting.
Slow cookers have two main settings: High and Low. "High" cooks food faster, typically in 3-4 hours, while "Low" allows for a slower cook, usually 6-8 hours. Both settings eventually reach the same temperature; the only difference lies in how quickly that temperature is reached. Using "Low" tends to better preserve flavors and tenderness.
The best setting to use also depends on other factors such as the type of dish, the ingredients, and the desired cooking time. Understanding the differences between high and low settings can help us become more adept at utilizing our slow cookers to their full potential.
The main distinction between the two settings lies in the time it takes for the food to reach a simmer point, with the high setting causing it to reach that point more quickly than the low setting. This difference in cooking time not only affects how quickly our meal is ready but can also impact the texture and flavors of the finished dish.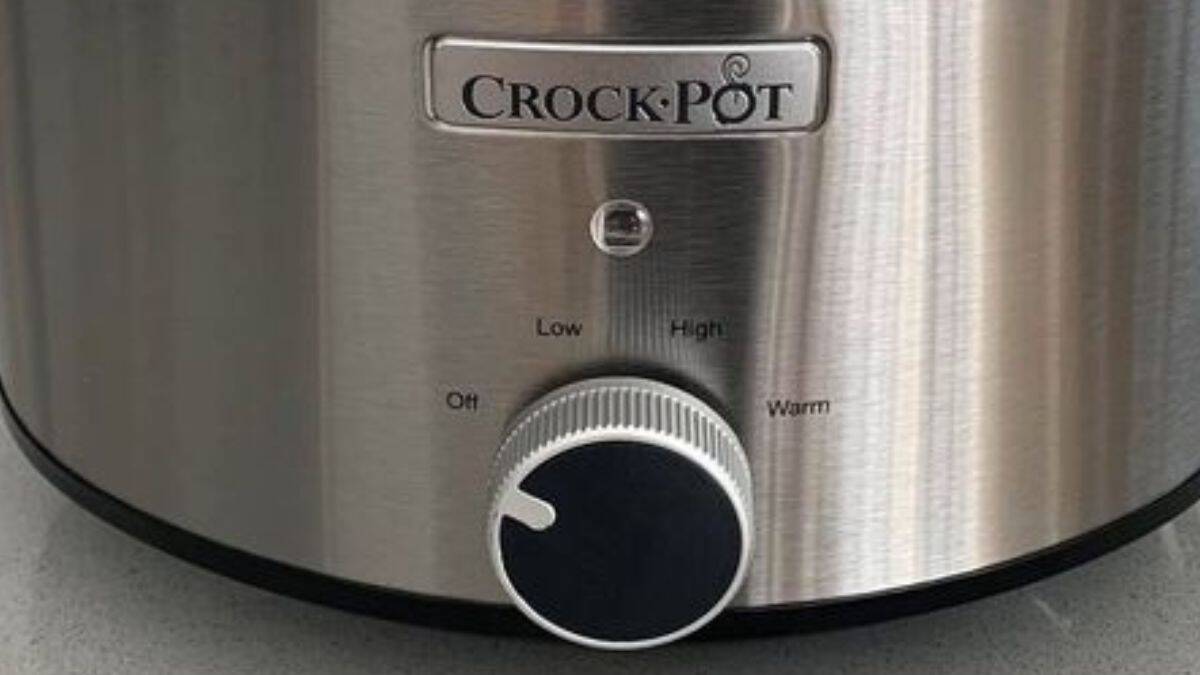 Understanding Slow Cooker High vs Low
To make the most of these appliances, you should understand their settings before your first use basically the low and high options.
Low Setting Details
The low setting on a slow cooker is ideal for dishes that benefit from longer cooking times at lower temperatures. When you use this setting, it takes longer for the slow cooker to reach a simmer, allowing your food to cook more slowly and evenly. This option is perfect for tenderizing meats and developing deeper flavors in your recipes.
Some key points to remember about the low setting:
Takes longer to reach a simmer

Ideal for tenderizing meats and developing flavors

Provides a gentle, even cooking process
High Setting Overview
On the other hand, the high setting on a slow cooker allows you to cook your meals more quickly. This method doesn't provide the same depth of flavor as the low setting, it can be convenient for when you need to prepare a meal in less time. This setting reaches a higher temperature quicker than the slow cooker's low setting, reducing cooking time.
Here are some essential aspects of the high setting:
Cooks food more quickly

Reaches a higher temperature than the low setting

May not develop flavors as much as the low-setting
Impact and Differences Between High and Low Settings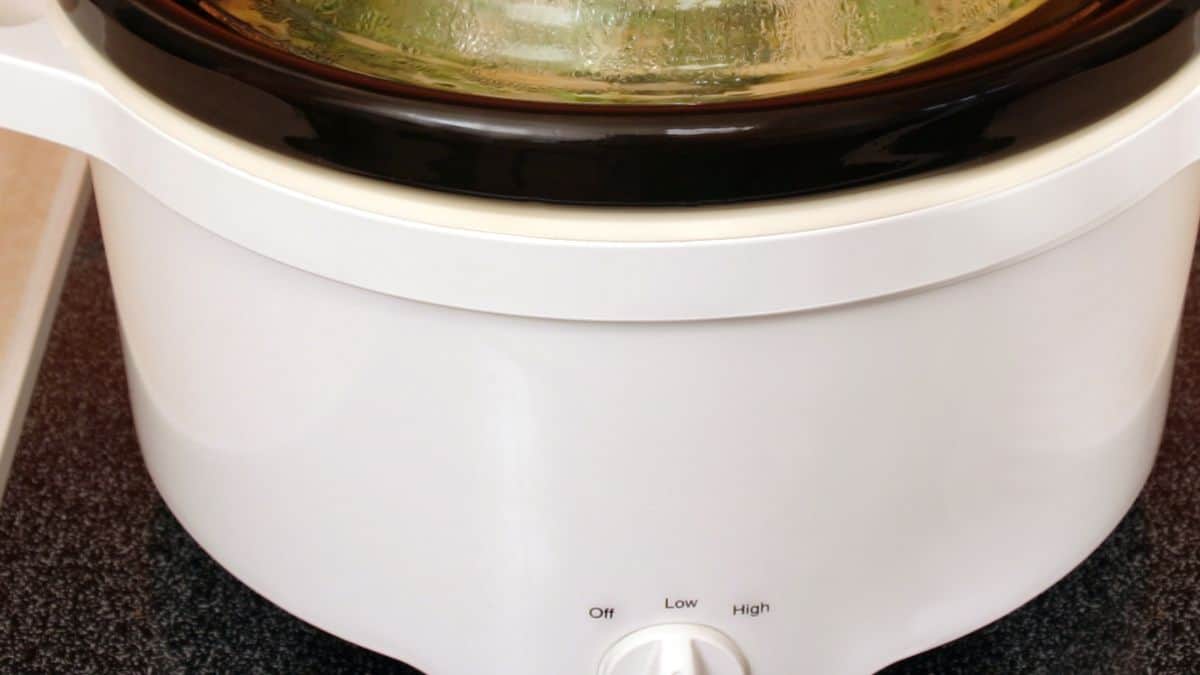 Here are some general guidelines for the duration when using the high-temperature and low-temperature settings of your slow cooker:
High: 4-6 hours
Low: 8-10 hours
Influence on Cooking Time
One of the main differences between the high and low heat settings used on a slow cooker is the cooking time required. High heat reduces the cooking time, allowing food to be cooked more quickly.
Low heat requires a longer cooking time, which can contribute to the development of deeper flavors and, in the case of meats, allows them to soften more. Using low heat is particularly suitable for cooking cheaper, slightly fattier cuts of meat, like chuck roast, beef shin, lamb shanks, or pork shoulder.
Temperature Differentials
While the cooking time differs according to the setting, you might be surprised to learn that the actual temperature reached in a slow cooker is the same for food cooks in both settings.
What sets them apart is the time taken to reach the simmering point, with the low setting taking longer compared to the high setting.
In contrast, the "warm" setting on your slow cooker maintains a lower internal temperature, than the low and high settings.
Slow Cooker Temperatures
Slow cookers can vary by brand and model, but generally, the temperature settings for a typical slow cooker are as follows:
Low: 190°F to 200°F (88°C to 93°C)

High: 300°F to 310°F (149°C to 154°C)

Warm: 145°F to 165°F (63°C to 74°C)
Learn how to convert slow cooker times and pick up your free printable download!
Usage Decisions for High vs. Low on Slow Cookers
Opting When to Cook on Low
When it comes to using our slow cooker, we often choose to cook on low for dishes that require a longer, gentle cooking process.
Cooking on low for several hours, typically 8 to 10, allows flavors to meld, tenderizes meats, and breaks down tougher vegetables. This method is perfect for dishes like pot roast, stews, and chili.
If you opt for the low setting it also helps preserve nutrients in the ingredients since they aren't exposed to high temperatures for a short period.
Choosing When to Cook on High
On the other hand, we opt to cook on high when we're short on time or when cooking dishes that require a faster cooking process.
High heat typically cuts the cooking time in half, usually taking around 4-6 hours to cook food.
This setting works well for recipes such as soups, beans, and dishes containing rice, pasta, seafood, or delicate vegetables.
Keep in mind that cooking on high might not allow the same depth of flavor to develop as with cooking on low, and the texture of some ingredients may turn out differently.
Using Warm Setting
Another feature of a slow cooker is the warm setting. This setting is handy when we want to keep our food warm after it's been cooked on either high or low, and it maintains a lower temperature than both settings.
The warm setting is perfect for buffet-style gatherings, potlucks, or when waiting for family members to arrive home for dinner.
Just remember when to use the warm setting as it is meant to keep food warm, not to continue cooking it, so adjust the temperature range of your cooking time accordingly.
Learn to use the warm setting safely in this article Crockpot on Warm Instead of Low: Slow Cooker Settings Guide.
Effects of High and Low Cooking on Slow Cooking Food
High Cooking Outcomes
When we use the high setting on our slow cooker, food will cook faster, reaching its top temperature in around 3 to 4 hours. This can be a convenient way to cook a meal if we're short on time.
There are some trade-offs to consider. For example, a study found that the high setting resulted in tougher and drier meat in comparison to the low setting.
The quicker cooking time on high might not allow the flavors to develop as deeply or the meat to soften as much.
| Advantages of High Cooking | Disadvantages of High Cooking |
| --- | --- |
| Faster cooking time | Potentially tougher and drier meat |
| Suitable for most ingredients | Less time for flavors to develop |
Low Cooking Results
On the other hand, when we set our slow cooker to the low temperature setting, the food will cook more slowly, typically reaching peak temperature after 6 to 8 hours.
Because of the extended cooking time, low cooking allows the flavors to meld and develop more fully, and the meat has a chance to become more tender and moist.
This is especially beneficial when we are cooking tougher cuts of meat, like chuck roast, beef shin, lamb shanks, or pork shoulder, that benefit the most from slow cooking at a low temperature.
| Advantages of Low Cooking | Disadvantages of Low Cooking |
| --- | --- |
| Tender and moist meat | Longer cooking time |
| Deeper flavor development | Requires more planning ahead |
Slow Cooker Recipes and Settings Preferences
Pot Roast Example
One of the most popular dishes to prepare in a slow cooker is a pot roast. For those new to slow cooking, you might wonder whether it is best to cook it on high or low. We typically recommend cooking a pot roast for around seven to eight hours on low.
Cooking at this lower temperature setting allows the meat to break down and become tender without drying it out. The slow, steady heat helps to retain the moisture and preserve the flavors of the ingredients.
When making a pot roast, it's a good idea to first sear the meat before placing it in the slow cooker. This will create a flavorful crust on the outside while keeping the inside tender and juicy. You can then add your preferred vegetables and seasoning to the slow cooker and let the meal cook on low throughout the day.
Optimal Setting for Longer Cooking Times
For dishes that require lengthy cooking times, we find that cooking on a low setting is generally the best choice. By opting for longer cooking times on low, you can ensure the food is more evenly cooked and absorbs all the flavors in the pot.
This is especially true when working with large cuts of meat or meals that need ample time to tenderize.
For example, if you were to cook a meal on a low setting for about 4 hours in the slow cooker, the flavors would have more time to develop and blend together.
By contrast, if you were to cook the same dish on high for a shorter period of time, the end result may be less savory and tender.
How to Use a Slow Cooker
Here are some tips on how to use a slow cooker efficiently and deliciously.
Follow your recipe and choose the appropriate setting for your dish.
When converting recipe cooking times between high and low settings, you'll generally want to account for 2 hours on low for every 1 hour on high. For example, if your recipe calls for 4 hours on high, you'll need 8 hours for it to cook on the low setting.
Slow cookers don't usually require preheating. Simply add your ingredients and turn the slow cooker on to the desired setting. If you're short on time, you can always opt for the high setting, which can save you several hours of cooking time.
When using a slow cooker, keep in mind that it retains moisture very well. You may need to adjust the liquid content of your recipe accordingly, as less evaporation occurs during the cooking process.
Layer ingredients to optimize the cooking process, with denser items like root vegetables at the bottom of the pot, while more tender ingredients should be closer to the top.
Wrapping Up: Slow Cook High vs Low
The best slow cooker setting depends on both your schedule and your desired outcome. If you have plenty of time and want a dish with optimal tenderness and flavor, set it to low. But if you're short on time, the slow cooker on high setting will still produce a delicious meal for you and your family.
Remember to be mindful of the cooking times and temperature recommendations for each dish to achieve the tastiest results in your most slow cooker recipes.
One-Pot Cooking Rocks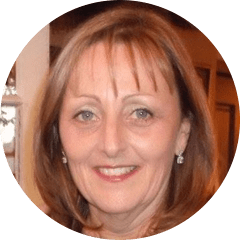 Michelle – Author
Hi, I'm Michelle the founder, owner, author, and editor of OvenSpot. My passion for one-pot cooking commenced when I was working to prepare cafeteria lunches for school students. I am now on a mission to assist you in choosing the cooking pot or appliance you will use every day. As well as in-depth information to assist you in using and caring for your cookware and appliances.
Questions? Reach out to Michelle at [email protected]