How to Choose a Slow Cooker: 9 Must-Have Features
Slow cookers are progressively gaining popularity again over 50 years after hitting the stores in the 1950s.
Why because they cook delicious foods conveniently and at a lower cost, regardless of the type of food you cook in them.
Using cheaper cuts of meat in a slow cooker on low and slow could actually give you a more nutritious and flavorful meal than preparing the same meal in a cooking pot on a stovetop.
How do you actually choose a slow cooker to suit your cooking needs?
The size of the cooker you require is the most important feature to be considered. Followed closely with construction, shape, controls, settings, portability, as well as service and part availability.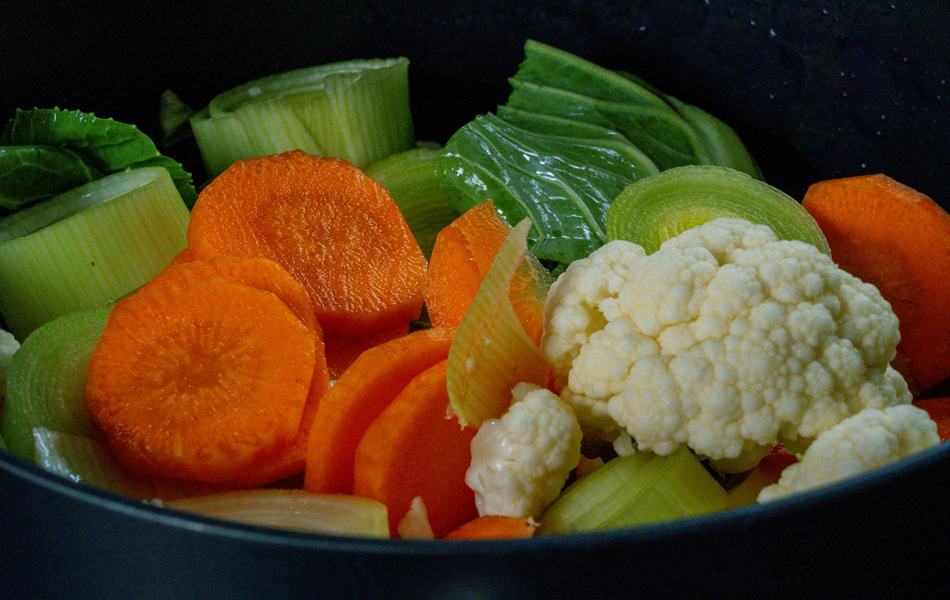 Disclaimer: I earn from qualifying purchases on my website as an Amazon Associate. If you purchase through links from this website, I may get a small share of the sale from Amazon and other similar affiliate programs.
How to Choose a Slow Cooker
What to look for in a slow cooker before purchasing is very important.
In this slow cooker, buyers' guide I have broken it down into the most important things you should consider before choosing your new slow cooker.
These are your budget, the size you require, the types of food you will be preparing, and the settings and accessories you may need.
Secondly, we will look at what you need in the slow cooker itself and what you need to look for to purchase one that suits your meal preparation requirements.
You will also find the answers to some general slow cooker questions here.
What Is a Slow Cooker?
It is an electrical appliance that cooks food safely at low temperatures. What you get at the end of the cooking process is a tender dish full of flavors.
The low and slow cooking process is able to tenderize cheaper cuts of meat so you end up with that fall-of-the-bone type of meat.
The slow cooker can be left safely unattended so it suits busy people who have little time to spend in the kitchen preparing healthy nutritious meals for themselves, their partners, and family.
It is as easy as chopping ingredients browning, placing them all in one pot, and setting the temperature required.
The result is a meal ready for you after a day away from the kitchen.
The best slow cookers are able to tenderize inexpensive cuts of meat, sear, sauté, or caramelize ingredients, eliminating the need for a second piece of cookware.
Make no mistake these cookers are versatile – imagine cooking a roast in the middle of summer.
No way you say too hot to be turning ovens on inside the house.
Well due to the low temperatures these appliances cook at you can prepare a pot roast and other favorites in the slow cooker in the summer.
No hot kitchen when cooking low and slow all while you are out enjoying the warm weather.
Slow cookers are compact cooking appliances that use less energy compared to any other heat source.
They are easy to clean. Most inserts and lids can be placed in a dishwasher. The slow cooker units or casings themselves should be wiped out after every use.
Visual learner? Check out this video on YouTube that explains in-depth how to choose a slow cooker or crockpot!
Difference Between A Slow Cooker and A Crock Pot
Slow Cookers have their electrical element in the base of the casing and it is made and supplied by many brand names including Crock-Pot.
A crockpot is a slow cooker with its electrical elements on the bottom of the pot but also wrapped around the side of the casing. Producing a more even heat source.
The crockpot is also manufactured by many different brands.
The NAME Crock-Pot is a brand name and they manufacture both slow cookers, crockpots, and many other appliances.
I have more about the differences between the Crock-Pot and the slow cooker Check out the article.
What Should I Look for When Buying a Slow Cooker?
This is the part where you identify what your personal requirements are to use a slow cooker effectively.
Your Slow Cooker Budget
Though slow cookers are not as costly compared to other appliances used in almost every kitchen.
You should see how much you are willing to spend when buying them as there is considerable price variation in its lowest and highest models.
Prices range from ten dollars up to a couple of hundred dollars or more for a cooker that does the shopping as well – just kidding…
Sometimes low-end slow cookers perform much better than high-end units.
The main reason for the higher prices of high-end slow cookers is the number of features provided by them.
Various cooking functions, timers, auto functions, fancy controls, glass bowls, etc. but most of these features are not used in daily routine cooking.
So you should choose one which has useable features as unnecessary features also increase the price of your slow cooker.
Another consideration is to pay less for something that gives you all the features you need without the bells and whistles and then replace it if and when it breaks.
I have to say I received a "Tiffany" slow cooker as a wedding gift cost of around $25.

It lasted with regular use at least 17 years – in fact, it outlasted my size requirements as time went on…
Many brands at reasonable prices with great features are available.
Slow Cooker Sizes Matter
The next important thing to be considered while buying the best slow cooker is its size. The size of the slow cooker should be enough to cook an adequate amount of food for all the family members.
Sometimes the actual size of the cooking bowl does not match the size of the cooker claimed on its box. In this situation, you may not be able to feed your entire family if you rely on the size announced by the manufacturer.
If the manufacturer has claimed to provide a 6-liter slow cooker then the actual size of the cooking area will not be more than 4.5 liters.
The ideal size of a slow cooker for 1-2 people is 1.5 to 3.0 liters,
For 3-4 people are 3.0 to 5.0 liters and for 5 and more people it is 5.0 to 6.5 liters.
So you should choose one as per your requirement.
I have found that a general rule of thumb to get the correct capacity is;
The number of mouths to feed plus two. So four family members plus two equals six quarts.
Settings and Accessories
Third and the last thing to be considered while buying the best slow cooker is its settings and looks.
A timer to turn the machine on or off, keep warm settings, and digital controls are some of the features that increase the price of your slow cooker.
But, if you are not going to use them all then you might prefer to buy one with a keep warm feature along with other normal features to reduce its price without compromising its functions.
If you are after true one-pot cooking make sure you choose a slow cooker with a browning/sauteing feature.
The fancy looks of your slow cooker are another feature to be considered at this time so that it can match the decor of your kitchen etc. Some of the low-end cookers are fancier than high-end cookers.
What To Look For When Choosing a Slow Cooker
After you have identified what you personally require in a slow cooker you can now find one to suit your needs.
1. Size of the Slow Cooker
There is no shortage of sizes of slow cookers available. From the very small and portable 1-quart right up to a 22-quart roaster.
So consider the following when choosing your size of cooker.
Size is important because you cannot underfill (overcooked food) the unit or overfill (undercooked food) the unit when cooking as the dish will not be cooked as per your recipe.
When preparing food in a slow cooker to work correctly the inner pot cannot be filled past the 2/3 markings on the pot.
Follow this easy-size guide – 1 pound of meat = 1 quart.
So a 5-pound roast would require a 5-quart capacity slow cooker.
Servings
1 to 3-quart (1 person or a couple)
4 to 5-quart (couple or small family)
6 to 7-quart (families or entertainers)
Make sure you take into consideration where you will be storing the cooker. Keep it where there is easy access to ensure you will use it more.
You may consider that you need more than one size slow cooker. There are options available without purchasing more than one appliance. There is an appliance available that has interchangeable cooking inserts.
See the slow cooker size guide.

What size slow cookers for families.
2. Shape and Style of the Slow Cooker
We have all seen the traditional round shape of a slow cooker which is great for stews, casseroles, etc.
There are also rectangular and oval-shaped cookers that prepare meat on the bone, chickens, roasts, ribs, ham, etc.
Also note that a rectangle or oval cooker will fit into spaces, countertops, and cupboards, leaving more room around it than a cooker that is round.
Stainless steel and black cookers look good and are easy to clean. There are also décor colors as well as patterns available.
When choosing shape, style, and color you should also consider whether you require a lockable lid. This makes your cooker portable avoiding spillages so you can take it on the road to parties, barbeques, and potluck events.
3. Construction of the Slow Cooker
Check on heat-up and cool-down times – the faster the better on low or high settings – helps prevent bacteria.
Rectangular or oval slow cookers – space-efficient.
Sleek, easy-clean designs also prevent bacteria and food from getting stuck in cracks, etc.
Stainless steel can appear dirtier than other colors and will need a little more care to look great.
4. Slow Cooker Inserts
The insert is where you place the ingredients to be slow-cooked. Then it gets placed inside the casing for cooking.
Crocks – Ceramic or Stoneware
These are perfect for heat retention once the cooker is at its cooking temperature. They are heavy, cook evenly, and are easy to clean.
Metal Inserts
A metal insert can often be found in cookers that have a sauteing feature. They are lighter, allow you to truly prepare a meal all in one pot or appliance, and are easy to clean.
There are others still that are made from non-stick material. Some of these inserts can be placed on a cooktop, in the oven, microwave, and freezer.
Don't forget the ease of transport and safety when lifting the insert from the casing. Make sure your unit has reasonable size handles to lift the whole unit including the insert If transport is required.
Also, take a look at the insert itself and make sure there is some type of handle or lip built in to lift it safely out of the casing.
You should make certain that the cooking pot can be removed for serving/cleaning and is not part of the whole electrical unit.
5. Temperature Controls and Features
When you start looking at slow cookers one of the first decisions you will be faced with is manual cookers or programmable cookers.
Here is the difference between manual and programmable slow cookers.
Manual Slow Cookers
The timer usually has 4 settings on/off, low, high, and warm. You will be required to turn the knob to the setting you require.
So you will need to be available at the end of the cooking time to either switch to the keep warm mode or be ready to serve the meal. It is usually advised that these cookers are not left unattended.
This manual feature usually means that these are the types of cookers that will cost less than their programmable counterpart.
If your cooking style only requires manual type operation why waste money on features you do not need?
Programmable Slow Cookers
Programmable cookers are able to be pre-set to begin cooking at a specific time and for a specific number of hours.
They will then revert to the keep-warm mode. Usually, no more than 4 hours is recommended or your meal could be ruined.
If you intend to leave your cooker while it is in cooking mode this is the slow cooker you require.
There are even new models available that use "ALEXA" and other types of technology to operate them.
This is invaluable if you are a regular slow cooker who is not around your cooker.
If technology modern appliances are your style you might for not much more of a financial outlay consider a multi-cooker.
These units offer the traditional slow cook functions they can cook rice as well as replace many other appliances in your kitchen.
Want to know more about multi-purpose cookers check out my two articles on what are multi-cookers and multi-purpose cookers.
Further technology on some slow cookers today is in the form of temperature probes. The thermometer tests the food for the correct cooking temperature.
6. Slow Cooker Control Panel
Lighting and accessible control panels on cookers make use more pleasurable, safer (on/off), and easier to clean.
7. Slow Cooker Lids
Good slow cookers will always have clear, snug-fitting lids, either of glass or plastic. Clear lids are necessary for you to be able to check on what's cooking without having to remove the cover.
Loose lids release steam, which slows down the cooking process and will allow food to splash onto your countertop.
8. Slow Cooker Accessories
There are some accessories that you will have in your kitchen already that you should consider using.
Plastic, wooden, or silicon utensils will save your cooker insert from damage.
A Cutting board placed underneath the cooker will prevent damage to your cooktops – if the unit gets hot.
If you hate cleaning you could consider using slow cooker liners – available for most size cookers.
If it is a game-changer make sure you can get liners in the cooker size you wish to purchase.
Cooking Tip: You can actually put 2 slow cooker liners in a slow cooker and prepare two different dishes at one time – might need a large slow cooker for that!!!
9. Slow Cooker Spare Parts
A quick online inquiry of the brand, make and model of cooker you are considering should reveal if spare parts are available.
Let's face it accidents happen. Inserts and lids can crack or be dropped and broken.
If you cannot replace these your slow cooker cannot be used anymore.
Downloadable Slow Cooker Size Guide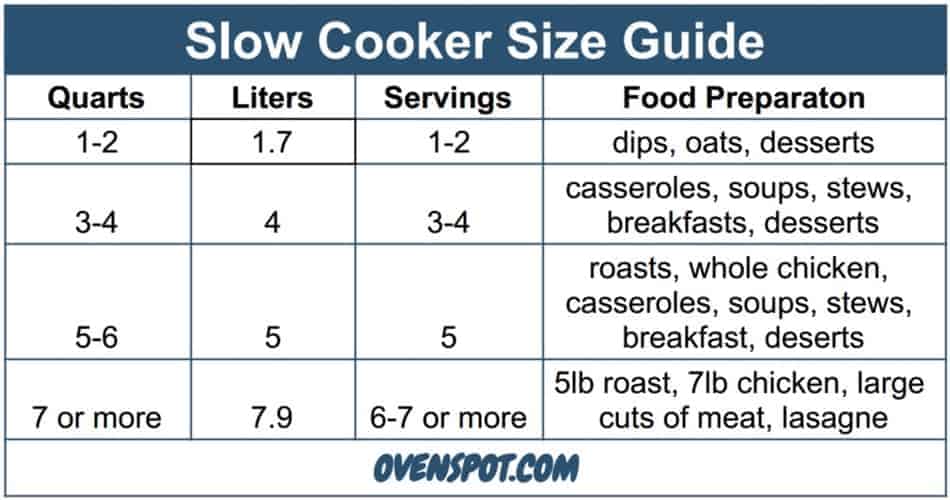 Quick Start – Using A Slow Cooker
If you need a little more help to get over the line and make a decision about purchasing a slow cooker you need to know how easy this appliance is to use.
What Can You Cook in a Slow Cooker?
It depends on what sizes, shapes, and models you own but you can prepare all the usual stews and casseroles.
Consider some of these as well;
Chicken – whole, moist breasts, thighs, pulled chicken
Beef – slow-cooked brisket, beef short ribs, and chuck steak with rich sauces of any nationality or spice it up
Lamb – lamb chunks made into curries, lamb shanks, legs, or shoulders.
Pork – fatty belly, shoulder, or loin – pulled pork
Vegetables – prepared the same as any meat dish – layer up to create a lasagne.
Dessert – Puddings, cinnamon scrolls, brownies, cakes, cheesecake, and peach cobbler – the list is endless.
Preparation
It is all about the preparation all ingredients need to be cut, weighed, and measured before cooking can commence.
Browning
Browning would need to be carried out in a separate pan as the traditional slow cooker will not heat up quickly enough or at a high enough temperature to achieve this.
If you purchase a cooker that has the browning component built-in you can do it all in one pot.
Layering
After browning, if the recipe calls for it, the largest pieces, of root vegetables, and meat on the bone, go on the bottom of the pot and layer up accordingly.
Lastly, liquids and other ingredients are added.
Temperature
Select either low and slow or high cook control – add the lid and the cooking process has started.
While cooking please avoid taking the lid off the cooker as you lose heat and it will affect the cooking time.
Store leftovers as soon as possible. Do not leave it in the slow cooker to cool down – this will help you avoid bacteria.
FAQs
What size slow cooker for a whole chicken?
A whole roaster chicken will fit comfortably in a 6-quart slow cooker. If space is an issue and you feel that a 6-quart slow cooker is too large you can use it as small as a 4-quart cooker. All you have to do to make the chicken is to cut the chicken into pieces. You will have plenty of room if the carcass is removed as well.
Is a 3.5-liter slow cooker big enough?
A 3.5-liter slow cooker equals approximately equal to a 3-quart slow cooker. This size would suit 2-3 people at most for simple dishes. If you are considering cuts of meat something larger or alternatively an oval shape would be a better choice.
6-quart slow cooker too big?
A 6-quart slow cooker is great for large pieces of meat, chicken, and even lamb shanks. If you are preparing meals for 1, 2, or even 3 people I would suggest purchasing a smaller slow cooker.
When preparing dishes such as casseroles or stews the level of the ingredients including the liquid needs to come up to 1/2 or 3/4 of the cooker for the dish to cook as per the recipe.
A 4-quart to a 5-quart round slow cooker is the one I would be looking at. It will also give you more room on your benchtops and inside your kitchen cupboards.
The one I have is a KitchenAid 4-quart cooker and it looks awesome on my kitchen workbench go see it on Amazon here…
Is It Better to Cook on a Low or High Slow Cooker?
Depending upon what the recipe calls for you should consider this;
Low Temperature – will give the meat falling off the bone type of tenderness.
High Temperature – your meat will still be tender but firmer.
To Finish – How to Choose a Slow Cooker
You should consider all the tips discussed in this write-up to make a wise decision when choosing a slow cooker from a nearby store or any online store.
Though you can find various types of slow cookers on the market the difference in the price between the cheapest and the highest models can be 3-4 times more.
You should also visit Amazon to compare their prices and buy the best slow cooker at the right price.
One-Pot Cooking Rocks
Recommended Reading
Learn how to use the popular Proctor Silex slow cooker.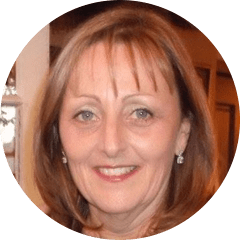 Michelle
Hi, I'm Michelle, the founder, owner, author, and editor of OvenSpot. My passion for one-pot cooking commenced when I was working to prepare cafeteria lunches for school students. I am now on a mission to assist you in choosing the cooking pot or appliance you will use daily. As well as in-depth information to assist you in using and caring for your cookware and appliances.
Questions? Reach out to Michelle at [email protected]