Crock Pot Wattage: How Many Watts Does a Crock Pot Use
Understanding the wattage of a crock pot not only helps in estimating its energy consumption but also its impact on your electricity bill. Here's everything you need to know.
The wattage of a crock pot can vary depending on its size and heat settings. On average, these appliances use around 70 to 250 watts. Smaller models may use as little as 70 watts on a low setting, while larger models can reach up to 250 or 300 watts on high settings.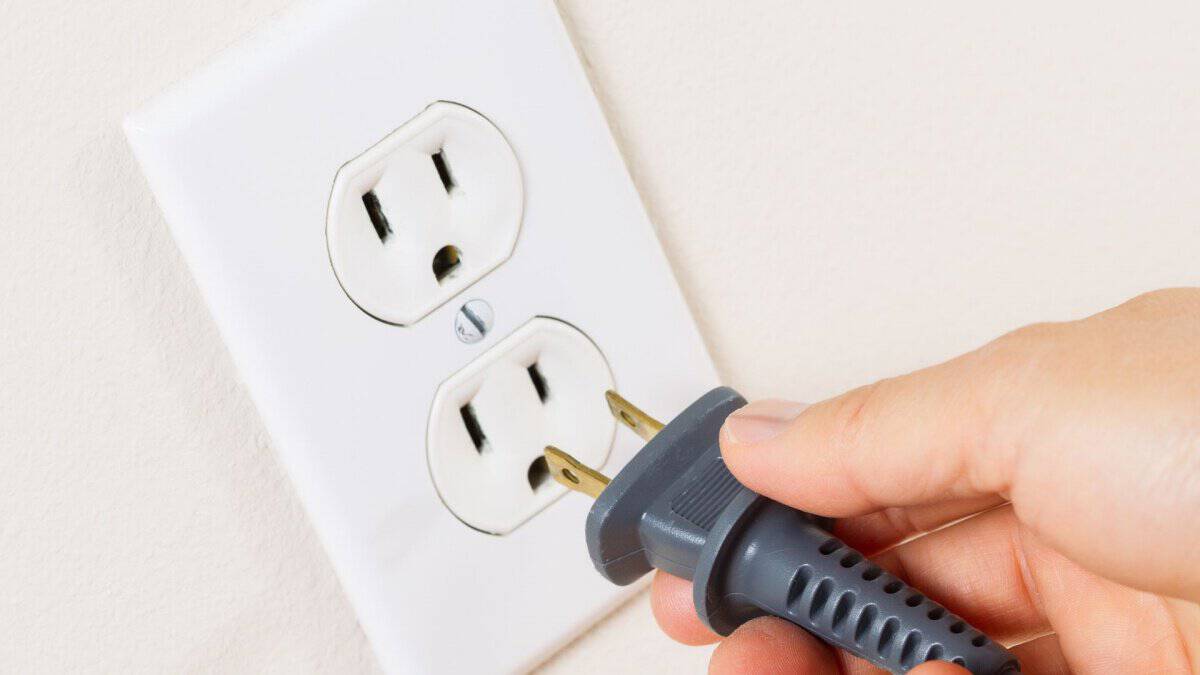 How Many Watts Does a Crockpot Use?
Crock pots are a popular kitchen appliance for slow cooking delicious and healthy meals. You might be curious about how much electricity they consume when in use. Let's dive into the details of crock pot wattage.
The wattage of a crock pot varies depending on its size and model. On average, crock pots use between 70 to 300 watts. A smaller crock pot, such as a 1.5-quart model, typically consumes around 80 watts, while a larger one, like an 8-quart crock pot, may use up to 320 watts.
It's important to note that different heat settings will affect the crock pot power consumption. Keep in mind, that using a lower setting might save you energy.
For example, a 3-quart crock pot running on high consumes less than 150 watts, while a 6-quart model on the same setting uses over 250 watts.
To give you a better understanding, here's a brief breakdown of crock pot sizes and their average wattage:
1.5-quart crock pot: 80 watts
3-quart crock pot: 70 to 150 watts
6-quart crock pot: 180 to over 250 watts
8-quart crock pot: 320 watts
Watts Usage by a Crock Pot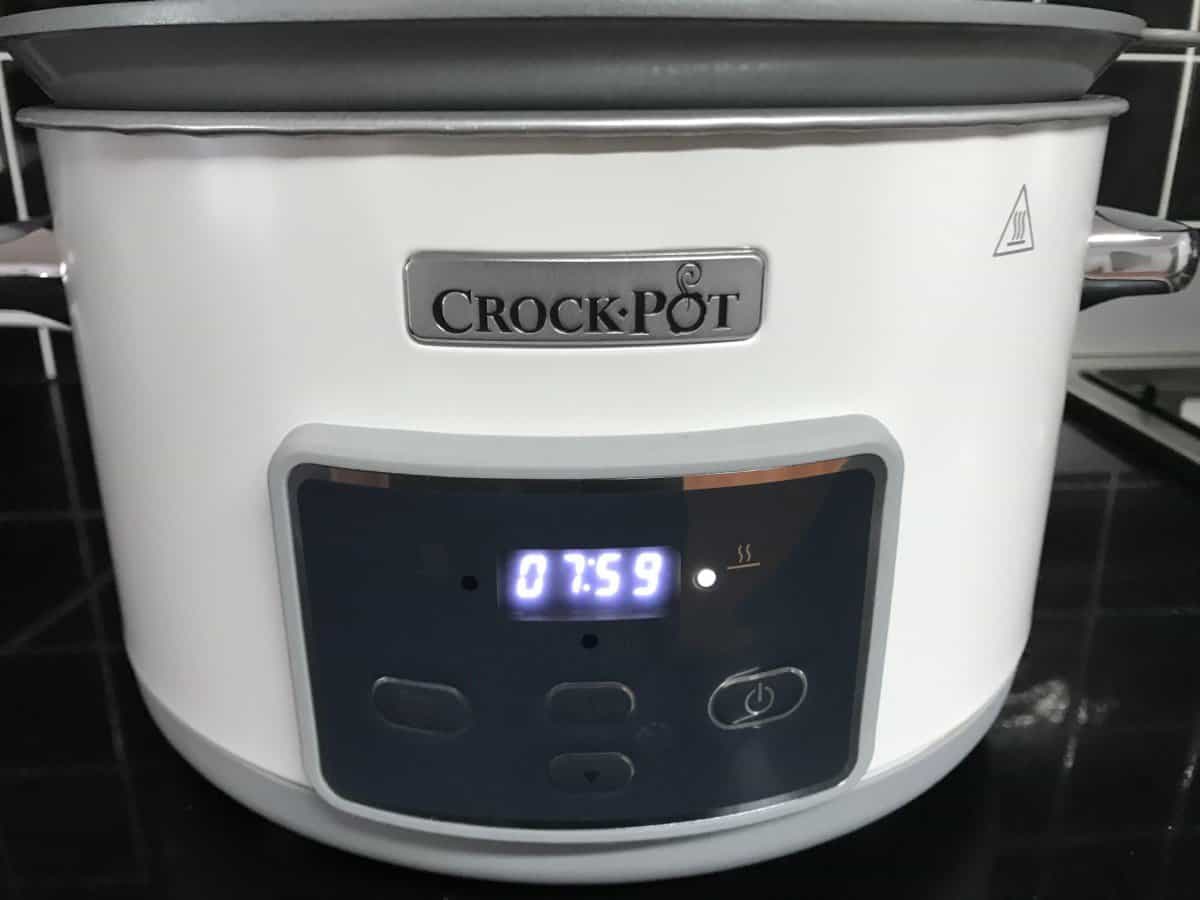 You may be wondering how many watts a crock pot uses. Well, crock pot wattage varies depending on the size, model, and temperature settings.
On average, a crock pot uses 70-250 watts of power. Let's dig a little deeper into the specifics of crock pot wattage usage.
When you set your crock pot to a low temperature the settings are around 70 watts, although the wattage ranges from 70 to around 150 watts between appliances.
This lower setting is perfect for slow-cooking your meals for extended periods without using too much energy.
In contrast, at high settings, your crock pot can use anywhere between 150 and 210 watts of electricity. This higher wattage allows for faster cooking times while still being energy-efficient.
The size of your crock pot also impacts the wattage usage. Smaller models generally use less power than larger ones.
| Brand | Approximate Size Range (Quarts) | Approximate Wattage Range |
| --- | --- | --- |
| Crock-Pot (the brand) | 2 – 7 quarts | 70 – 270 watts |
| Hamilton Beach | 3 – 8 quarts | 90 – 300 watts |
| KitchenAid | 4 – 6 quarts | 100 – 280 watts |
| Black + Decker | 4 – 7 quarts | 70 – 260 watts |
| Instant Pot (slow cooker function) | 3 – 8 quarts | 80 – 300 watts |
| Breville | 4 – 7 quarts | 180 – 330 watts |
| West Bend | 3 – 6 quarts | 70 – 250 watts |
Slow Cooker Brands: Quarts Sizes and Watts
Comparison With Other Appliances
To give you a better idea of energy consumption, you can compare crock pot wattage to other common household appliances:
Crockpot: 70-250 watts
Air Fryer: 1400-1700 watts
Toaster Oven: 600-1200 watts
Electric Cooktop: 2000-5000
Oven: 1000-5000 watts
Microwave Oven: 600-1200 watts
Refrigerator: 100-800 watts
Dishwasher: 1200-1500 (without heated dry)
As you can see these appliances are relatively energy-efficient compared to other kitchen appliances.
Wattage and Its Impact on Cooking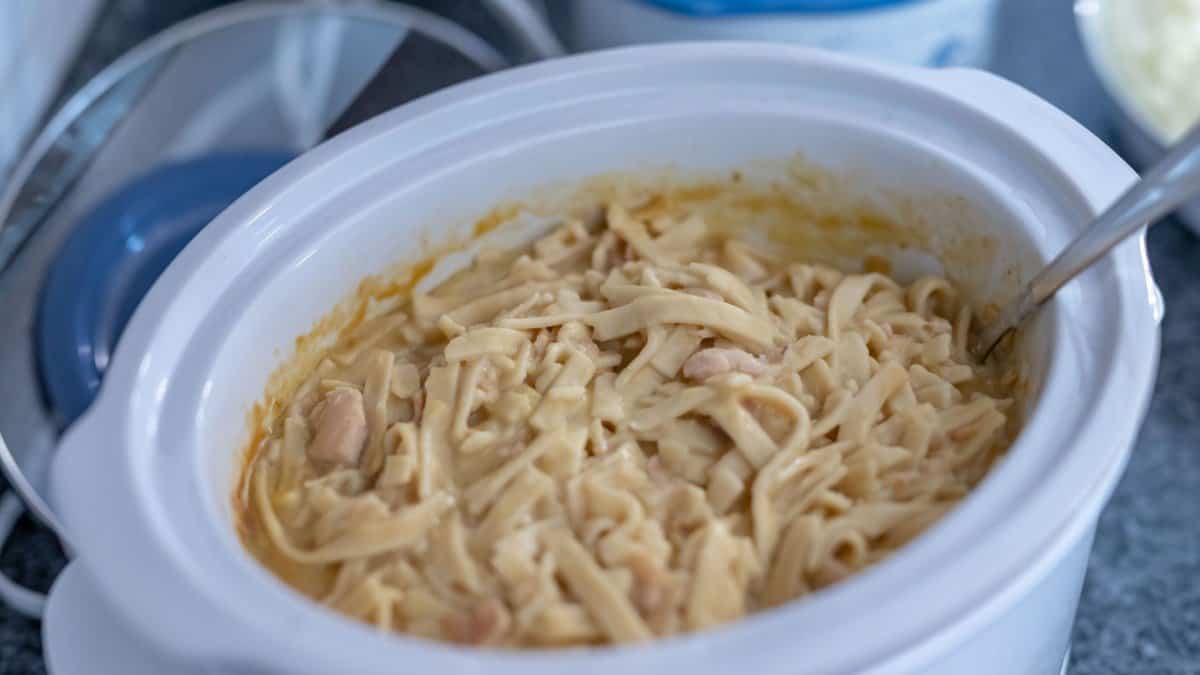 Watts are units that measure the rate of energy transfer or conversion, which makes them an essential factor when determining an appliance's energy use.
Firstly, it's important to recognize that watts are a unit of power, which allows you to observe just how much power or energy your appliance requires. Simply put, the higher the wattage, the more power an appliance consumes.
Wattage varies depending on factors such as the size, model, and heat settings. It's common to see cookers with wattage between 70 to 300 watts on average.
In terms of operating your crock pot, we need to consider the different settings available. Higher settings will generally consume more watts, while lower settings use less power.
By understanding the relationship between settings and wattage, you can optimize your energy usage without compromising on the cooking performance of your favorite crock pot recipes.
When comparing appliances or deciding whether to upgrade, it's useful to examine wattage as a key parameter.
Lower-wattage crockpots are more energy-efficient, especially for cooking meat over extended periods, making them ideal for budget-conscious consumers.
Maximizing Your Crock Pots Efficiency
Here are some essential insights about crock pot use that will help you get the most out of your appliance while keeping energy consumption in mind.
First, it's important to know how many watts your crock pot uses. On average, a crock pot consumes around 70-250 watts of power, depending on the setting you use.
The lower the setting, the less wattage it consumes. So, when you're planning to use your crock pot, consider the power consumption based on your desired cooking time and temperature.
Secondly, be mindful of the temperature settings. A crock pot usually has three settings: low, medium, and high. When using the low setting, your crock pot consumes about 70 watts, while the high setting consumes around 250 watts.
The medium setting typically uses about 150 watts of power. Adjust the temperature according to the recipe and the same amount of time you have available, keeping in mind the power consumption.
Another tip for efficient crock pot use is batch cooking. Since a crock pot can come in different sizes, choose the appropriate size based on your family's needs or the number of portions you'd like to prepare.
Cooking larger portions at once can help you save money, time, and energy, as you won't need to reheat the food multiple times.
Lastly, don't forget to keep an eye on the cooking time. A slow cooker is designed to cook food slowly, allowing the flavors to meld together and create delicious, tender dishes.
Comparing Crock Pot with Instant Pot
When it comes to slow cooker wattage usage, you might want to know the difference between a Crock Pot and an Instant Pot. A Crock Pot, which is a type of slow cooker, generally uses lower wattage than an Instant Pot, which is a versatile multicooker that functions as both a pressure cooker and a slow cooker.
On average, a Crock Pot uses around 175 watts. You'll find that the lowest settings are typically around 70 watts, while the highest settings can go up to 250 watts. This low wattage makes the Crock Pot energy-efficient for cooking meals over a long period.
In contrast, the Instant Pot consumes more power due to its multiple other cooking methods and functions, including pressure cooking, rice cooking, and sautéing. The wattage consumption of an Instant Pot can vary depending on the model and cooking mode, but expect it to be significantly higher than a Crock Pot.
Another difference between a Crock Pot and an Instant Pot is the cooking process itself. The Crock-Pot works by slowly cooking your food at a consistent, low heat, allowing the flavors to meld together over time. This results in tender, flavorful dishes that take about eight hours to cook‌.
On the other hand, the Instant Pot relies on pressure cooking for much of its efficiency. This cooking method uses steam and high pressure to cook your food quickly, which can be a great time-saver if you need a meal prepared in a hurry. Although, you can also use the slow cooker function on your Instant Pot if you prefer to cook your food with a slower, gentler heat.
In terms of their inner pot, the Instant Pot usually comes with a stainless steel inner pot, while most Crock Pots have a ceramic or stoneware pot. These materials contribute to the differences in heat distribution and retention and absorb heat between the two appliances.
Energy Consumption: Crock Pot vs Slow Cooker
When it comes to energy consumption, crock pots and slow cookers offer some advantages over other kitchen appliances. You may be wondering which of these two popular cooking devices uses less energy and is more energy-efficient.
A typical crock pot has a wattage range of 70 to 250 watts, depending on the make, model, and heat settings. This is relatively low in comparison to other cooking appliances. For example, a small slow cooker uses around 108 watts of power, while a larger model can use up to 210 watts of power.
One significant benefit of using a slow cooker is that it uses less electricity overall. Since a slow cooker operates slow heating and at a lower heat for an extended period, it generally uses less energy than appliances that require higher heat. This means that using a slow cooker for your meals can save you money on your energy bills.
Apart from being energy-efficient, both a crock pot and a slow cooker provide the added benefit of convenience. You can prepare your meal in advance, set the cooking time, and let the appliance do the work of meal prep for you.
Slow Cookers Power Consumption: Impact on Electricity Bills
For those conscious about their energy bills, understanding the electricity consumption of a crock pot can be enlightening.
Crock Pot electricity usage varies depending on the size of the appliance and how much electricity is used. For example, a small 1.5-quart Crock Pot uses only 80 watts, while a standard 6-quart Crock Pot uses 180 watts and a large 8-quart Crock Pot uses 320 watts. Keep in mind that these figures are for when the slow cookers are operating at their full power.
| Duration | Energy Consumption (kWh) | Cost |
| --- | --- | --- |
| 1 hour | 0.150 kWh | $0.018 |
| 4 hours | 0.600 kWh | $0.072 |
| 8 hours | 1.200 kWh | $0.144 |
Running time, Energy Consumption, and cost of running a Crock Pot
Now, let's put these numbers into context. Using the example of a 6-quart Crock Pot, which uses 180 watts of power, imagine that you run it for 8 hours.
That would be a total consumption of 1.44 kWh (kilowatt-hours) for a single use (180 watts × 8 hours = 1,440 watt-hours = 1.44 kWh).
To calculate the cost of using your Crock Pot, you can simply multiply its energy consumption by the cost of electricity in your area.
For instance, if the cost of electricity in your area is $0.12 per kWh, the math would look like this:
1.44 kWh × $0.12 = $0.17.
In this example, using a 6-quart Crock Pot for 8 hours would only add around $0.17 cents per use to your electricity bill.
While it's true that traditional cooking methods, such as using the stove or oven, may use more electricity, slow cookers can offer you a way to use less electricity while still enjoying delicious, home-cooked meals.
This reduction in electricity usage can help you lower your electricity bill over time and save energy too. Remember these figures are approximate and can vary based on the specific model and brand of Crock Pot you own.
How Many Amps Does a Crock Pot Use
A crock pot's amperage can vary based on its wattage and the voltage of the electrical system it's plugged into. In the U.S., the voltage for most household outlets is approximately 120 volts.
When evaluating the energy consumption of any appliance, we often consider its power rating, typically given in watts (W) or kilowatts (kW). However, understanding the amount of electricity it uses over time, usually measured in kilowatt-hours (kWh), can give a clearer picture of its efficiency and cost on your electricity bill.
To determine the amps used by a crock pot, you can use Ohm's Law:
Most slow cookers can range in wattage from around 70 watts for small ones to up to 300 watts (or more) for larger ones. Therefore, the amps they use can vary.
For specific crock pot slow cookers, you'd need to know their exact wattage and divide that by the voltage of your outlet to get the amperage. Always refer to the manufacturer's specifications or the appliance's label for accurate information.
Using Crock Pots in a Different Setting
If you're planning to use a crock pot in your RV, you can easily do so without any worries! Just make sure that you have a power inverter that can handle the wattage of your crock pot.
A crockpot shouldn't put too much strain on your RV's electrical system, allowing you to enjoy delicious slow-cooked meals on the go!
What Size Inverter Do I Need to Run a Crock Pot
To determine the size of the inverter needed to run a crock pot, you'll want to consider both the continuous and the startup power requirements of the crock pot.
Determine the Wattage of the Crock Pot: This is usually listed on the bottom or back of the appliance or in the user manual. Let's say, for the sake of this example, your crock pot uses 200 watts.
Add a Buffer: Although a crock pot's startup surge isn't significant, it's generally a good practice to get an inverter that can handle at least 20-25% more than your appliance's rated wattage. This ensures that the inverter won't be strained, providing longevity to both the inverter and the appliance.
Example: Buffered Wattage = 200 watts + 0.25 × 200 watts = 250 watts
Inverter Size: Based on the above calculations, a 250-watt inverter would be sufficient. However, inverters come in common sizes such as 150 watts, 300 watts, 500 watts, etc. In this case, a 300-watt inverter would be ideal.
Understanding Power Phases in Home Appliances
When discussing the energy consumption of household appliances like crock pots, it's essential to note the type of electrical phase they operate on.
Most home appliances, including crock pots, function on a single-phase power system. This means they have one live wire delivering current to the appliance.
Single-Phase Power: This is the standard electrical system in most homes. It's characterized by a single sinusoidal voltage wave. Crock pots and many other home appliances use single-phase power, which is typically sufficient for their operational needs.
Three-Phase Power: This type of power system has three sinusoidal voltage waves, typically 120 degrees out of phase with one another. It's more common in industrial settings or in large commercial buildings, as it's efficient for running heavy-duty machinery. It's rare for household appliances like crock pots to require three-phase power.
Wrapping Up: How Many Watts Does a Crock Pot Use
Overall, crock pots are an energy-efficient method for cooking, allowing you to enjoy delicious meals without using much electricity or worrying too much about the impact on your electricity bill.
A crock pot typically uses between 70 to 250 watts, depending on its size and heat settings
Energy consumption is influenced by both the wattage and the duration of use
Comparing a crock pot's energy usage to other appliances can help you better understand its impact on your electricity bill
One-Pot Cooking Rocks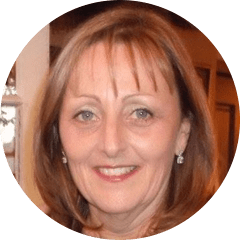 Michelle – Author
Hi, I'm Michelle the founder, owner, author, and editor of OvenSpot. My passion for one-pot cooking commenced when I was working to prepare cafeteria lunches for school students. I am now on a mission to assist you in choosing the cooking pot or appliance you will use every day. As well as in-depth information to assist you in using and caring for your cookware and appliances.
Questions? Reach out to Michelle at [email protected]