Instant Pot vs Pressure Cooker vs Air Fryer
With the release of so many high-temperature kitchen appliances to consumers, perhaps you have wondered what the difference is between a pressure cooker and an air fryer. Pressure cookers prepare food in half the time as other cooking methods, which makes you wonder if you can accelerate the process of frying food.
Pressure cookers and air fryers are two different methods for cooking food using two very different types of heat. So, what are the main differences between a pressure cooker, instant pots, and air fryers?
Pressure cookers use pressurized steam to speed up the process by boiling water at a higher temperature, which cooks your meals faster than regular cooking. An air fryer cooks foods using hot blasts of super-heated air from below to produce a crispy exterior finish without any oil needed!
If you'd like to learn more about pressure frying your foods, keep reading because we will explore how the pressure cooker fries foods versus how the air fryer does it.
Disclaimer: I earn from qualifying purchases on my website as an Amazon Associate. If you purchase through links from this website, I may get a small share of the sale from Amazon and other similar affiliate programs.
Key Differences Between Pressure Cooking and Air Frying
Let's say that you decided to sauté chicken in the pressure cooker. You can still coat your chicken in batter and fry it, but several differences exist.
You must brown your chicken before putting it in the pressure cooker since it can't do this by itself. Browning the chicken makes it more delicious while giving it more flavor. 
On the other hand, air frying will have a much different result from pressure cooking. You don't need to brown the chicken, and the moisture and flavor remain in the chicken.
Using the air fryer will take longer. On average, you can expect it to take up to 23 minutes to cook chicken in the air fryer.
In contrast with the pressure cooker, you can sauté chicken in the pressure cooker for six to nine minutes at 15 PSI. Pressure-cooking chicken takes half the time, but you don't get the same result as air frying. This method doesn't make sense if you want the best-fried chicken. Pressure cookers simply weren't made for this purpose.
In terms of cost, they both have the same price range between $50 to $250. You do get a longer lifespan out of pressure cookers. The average pressure cooker lasts five years. Meanwhile, air fryers only last two to three years, depending on the model.
Comparison Chart: Pressure Cooker, Instant Pot vs Air Fryer Pros and Cons
| | Pressure Cooker Stovetop & Electric | Air Fryer |
| --- | --- | --- |
| Design | Both stovetop and electric models are available | Electric-only |
| Convenience | Stovetop pressure cookers can be used on all hobs including gas and induction. Electric pressure cookers socket | Air fryers require a wall socket |
| Capacity | By design, a pressure cooker can cook a larger quantity of food than a similar-sized air fryer. Large appliances require adequate counter space | Fewer quantities of food can be prepared if using a similar capacity as a pressure cooker. Consider counter space before purchasing a large air fryer |
| Hands Off Cooking | No, you should be somewhere in the vicinity while you pressure cook. You will learn the noises a pressure cooker makes. If in the area you can remove heat to avoid disaster. | No, definitely do not leave the house while your air fryer is on. Keep an eye on the air fryer to avoid disasters |
| Performance | Cooks quickly, but pressurizing and de-pressurizing time needs to be added to the overall cook time | Cooks quickly but food should be monitored to avoid overcooking, drying out, and burning |
| Energy Efficiency | Similar to the air fryer. More energy efficient than most appliances | Similar to the pressure cooker. More energy efficient than most appliances |
| Durability | Stovetop pressure cookers are extremely durable due to their metal bodies. They could last decades if seals and gaskets are maintained and replaced when required. The jury is still out on electric pressure cookers they have not been in production long enough | The jury is still out on air fryers they have not been in production long enough |
| Cleaning | Easy to clean stovetop pressure cooker and electric pressure cooker insert. Wipe out the casing of electric pressure with warm water | Clean inserts with a nylon scrubber in hot soapy water. Wipe the whole casing inside and out with soapy water then wipe with a clean damp cloth |
| Care & Maintenance | If pressure cookers are not cleaned correctly and seals and gaskets are maintained accidents may happen | Ensure there is no fat build-up anywhere in the unit, accidents may happen |
| Healthy | Yes, fast-pressure steaming helps retain nutrients in food and they do not escape during cooking. Minimal extra oil required | Yes, less oil is used for shallow frying or deep frying |
| Storage | Stovetop pressure cookers are easier to store. Electric pressure cookers compact to large: when purchasing large consider space for storage | Compact to large: when purchasing large consider space for storage |
| Price | Affordable to premium prices | Affordable to premium prices |
Pressure Cooker and Instant Pot vs Air Fryer Comparison Table
Pressure Cooker vs Air Fryers (Instant Pot and an Air Fryer)
What is a Pressure Cooker & How Does a Pressure Cooker Work
A pressure cooker is a kitchen appliance used to cook food under high pressure. It consists of a pot with a special lid that seals in order to build up steam, which increases the internal pressure and allows the temperature to rise above the boiling point. This makes it possible to cook foods much more quickly than with traditional methods.
Many different types of food can be cooked in a pressure cooker, including meats, vegetables, grains, and soups. It is also a convenient way to make rice since it produces perfectly cooked grains every time without having to worry about burning them.
Additionally, pressure cookers are often used for different purposes such as sterilizing, canning, or preparing baby food, as they are a safe and gentle way to cook delicate ingredients. A pressure cooker can be a valuable addition to any kitchen and is a great way to prepare healthy and delicious meals in a hurry.
What Can You Cook in a Pressure Cooker?
Almost anything you can cook in a pot or pan! Soups, sauces, beans. The cooking experience is the same as your normal cooking but it cooks in less time and more evenly. Pressure cookers are a great way to make food for one or two people without having to make a large batch. That means fewer dishes!
What is an Air Fryer?
An air fryer is a small appliance that cooks food like a convection oven by circulating hot air around it. The hot air also causes the food to be crispy on the outside while staying moist and juicy on the inside.
The fryer is often shaped like a cube with a heating element on the bottom and a fan on the top. The fan circulates the hot air around the food, cooking it evenly.
Air fryers are popular because they are efficient and healthy. They cook food quickly and without using any oil, so they are a good option for people who are looking to reduce their fat intake. Air fryers also don't produce the greasy smoke often associated with frying food.
Air fryers come in a variety of sizes, so it is important to choose one that is the appropriate size for your needs. There are also a variety of different air fryers on the market, so it is important to do your research about the best air fryers before purchasing one.
What Can You Cook in an Air Fryer?
You can cook all types of healthier food in air fryers. Food requiring a crispy texture such as chicken wings, chicken nuggets, fish, potatoes, sweet potatoes, French fries, and onion rings.
You can also make desserts like doughnuts and cake pops. Air fryers are a great way to cook food without using a lot of oil or butter. They are also a great way to cook food quickly.
What is an Instant Pot?
An Instant Pot is an electric pressure cooker, but also an electric multifunctional cooker. Air fryers offer various cooking options and can be used as a slow cooker, rice cooker, or porridge maker among other things.
The Instant Pot also has a sauté function, so it can act as a regular pot. The Instant Pot model is very popular because of its efficiency and the number of functions it serves using the programmed LCD screen.
What can you cook in an Instant Pot?
There are a number of things that can be cooked in an Instant Pot. Healthy foods, rice, potatoes, macaroni, and cheese are all popular dishes that can be made with the basic models of this stainless steel cooker.
The Instant Pot can also be used to make desserts, such as cheesecake and pumpkin pie. In addition, it can be used to slow cook meat and vegetables at high speeds.
There are a number of Instant Pot recipes that can be found online due to their ease of use and the huge following this brand has gained.
Pressure Cooker or Air Fryer
Are we totally going to forget our conventional oven? Maybe there are brands of multi-pressure cookers on the market today that are both pressure cookers and air fryers.
Using smart programs, the Instant Pot Duo Crisp and the Ninja Foodi are two such brands. A large variety of foods are cooked in this cooking pot as they are interchangeable.
Frying Food in the Pressure Cooker
Can you pressure fry in a pressure cooker? The average pressure cooker can sauté in oil when done manually. Electric pressure cookers have a sauté feature built right in. If you want to deep-fry your foods, you need to buy a deep fryer since pressure cookers can't deep-fry foods.
Further, unfortunately, most pressure cookers without extra features can't pressure fry foods. They can't reach the right temperatures to boil oil. Oils boil at 350 degrees Fahrenheit. Meanwhile, pressure cookers only reach 248 degrees Fahrenheit at 15 PSI.
You could still fry food in the pressure cooker, but it will lack the same flavor as cooking with an air fryer or a deep fryer. While pressure frying and pressure cooking both operate using atmospheric pressures, the pressure cooker can't perform in the same way as a deep fryer.
Trying to make it do this could cause it to explode. The sealing rings can't withstand higher temperatures. We emphasize that – never attempt this because you can suffer severe injuries. 
Check the instruction manual, and you will see that the manufacturers even warn against using excessive amounts of oil.
To be clear, the pressure cooker can still sauté with small amounts of oil, but manufacturers never intended for customers to use it for large amounts of oil. You can sauté or even stir fry in the pressure cooker, but you need to use an air fryer or a deep fryer for deep frying.
Hard-Pressed for Time? Pressure Cooker Makes Sense
The ideal time when you would want to use the pressure cooker over an air fryer or a pressure fryer is when you want to cook chicken fast. You don't have the time to make it. It's the absolute best.
The pressure cooking method of preparing chicken may make sense in cases like that. It may also make sense to save on your energy bill. Pressure cookers use 50 percent less energy than traditional ovens. For all other cases, refer to the air fryer or the pressure fryer for frying. 
Important to note: Pressure fryers cook your foods in oil better than a pressure cooker in most cases, but they still can't deep fry your food. You need to buy a deep fryer or a pressure cooker with special features to deep fry foods.
Pressure frying can still cook foods fast. Colonel Sanders, the genius behind KFC, began using the pressure fryer in the 1930s when he felt frustrated at the speed of cooking fried chicken.
In the past, customers would have to wait between 30 to 45 minutes for fried chicken. The pressure fryer cooks chicken for 15 to 22 minutes while also extending the oil life.
Does Frying Your Chicken in the Pressure Cooker Make It Healthier?
Frying your chicken in the pressure cooker at under 12 PSI doesn't necessarily taste bad, but it does taste different from the fried chicken that you might be used to.
You still lock in the natural flavors of the chicken and hold in the natural nutrients like Vitamin B12 and Tryptophan. At the same time, pressure cooking seals out the excess oil. You don't cook with as much oil, making it a healthier alternative. 
Air frying is also considered healthy because it only uses 1 to 2 teaspoons of oil. Some recipes may not even call for oil, but that marks the exception rather than the majority. 
Sautéing in a Pressure Cooker
Since we previously mentioned sautéing in a pressure cooker, let's go into more detail about it. Sautéing in a pressure cooker takes around 30 minutes. You have the option to cancel at any moment. You can also keep your food warm. This speaks of the electric cookers, which have the feature built right into them.
Any time you use the sauté feature on the pressure cooker, it will serve the same role as a pot or pan. With this feature, it doesn't act like a pressure cooker. If you plan to cook meat, you will want to brown it beforehand.
Expert Tip: You can use the sauté feature to thicken your sauces, soups, and stews. Because the pressure cooker maintains moisture throughout the cooking process, you need to thicken it after. You do this with the sauté feature. Provided you toss in some cornstarch, you can thicken the sauce in 60 to 90 seconds.
After you have finished sautéing or frying your food, you will deglaze the pot. This means you pour in water and scrape away at the food stuck to the bottom. 
Should You Buy a Pressure Cooker or Air Fryer?
Air frying is a healthier way to cook your foods than deep-frying them. If you want a greater variety in the number of foods that you can cook, the pressure cooker gives you a bigger variety.
On the other hand, if you want to fry your foods deep and fry foods often, you will most likely see the air fryer as the next best thing to deep frying. 
At the same time, both are healthier than deep frying because you don't cook with as much oil with either of them.
Check out this article that deep dives into electric Multi-Purpose Cookers.
Pressure Cooker and Air Fryer Combination Cooker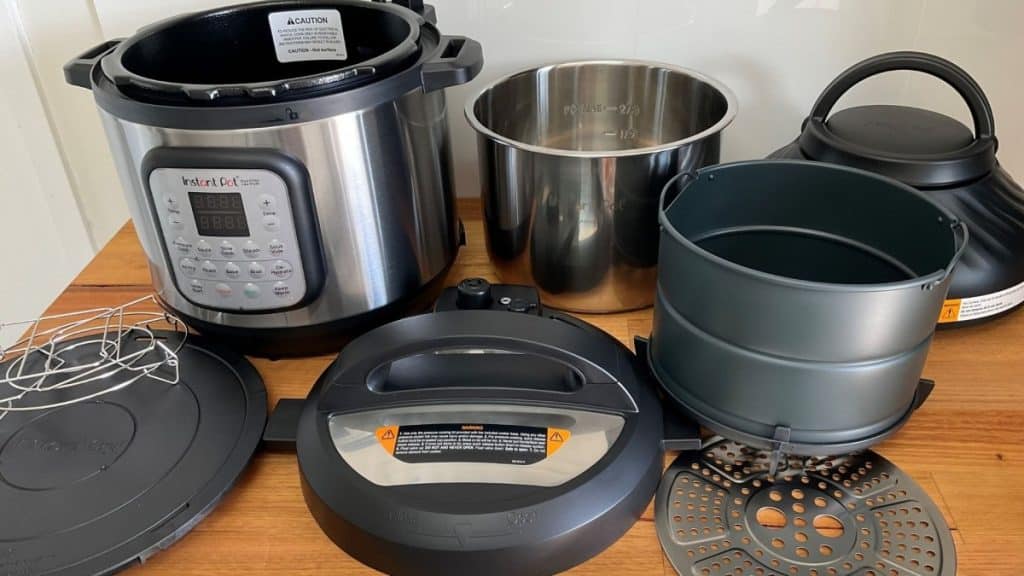 The steam pressure and air fryer debate has changed forever. Why? There is now another option available instead of having two kitchen appliances: a pressure cooker and an air fryer. The combination cooker is called the Instant Pot Duo Crisp Air Fryer.
The main difference between this cooker and the others is that this versatile appliance can do everything, from pressure cooking to air frying. With its built-in air fryer, you can crisp up your food with little to no oil, making it a healthier option than traditional fried food.
This 8-quart cooking appliance has 9-in-1 different functions to cook various foods. A compact design cooking device that can do the job of a pressure cooker, air fryer, slow cooker, dehydrator, rotisserie, and convection oven all in one. So, if you're tight on kitchen space or want one appliance that can do it all, this is the product for you.
What's great about the Instant Pot Duo Crisp Air Fryer is that it uses super hot dry air technology to cook food evenly and quickly. And because it uses less oil than traditional frying methods, your food will be healthier too.
So whether you want to make a quick and healthy meal or cook up a large batch of food for a party, the Instant Pot Duo Crisp Air Fryer is the perfect appliance for you.
>>>>>Check out the latest price and the customer reviews of the Instant Pot Duo Crisp Air Fryer
FAQS
Tips and frequently asked questions for using pressure cookers, instant pot versus air fryer.
Can you use oil in a pressure cooker?
You can use oil in a pressure cooker but don't use excessive oil. Don't expect to deep fry your food in a pressure cooker because it would even be dangerous for you to do this. Pressure cookers don't have the right sealing ring to withstand the higher temperatures needed for deep frying foods.
Can you use the pressure cooker to deep fry chicken?
You cannot use the pressure cooker to deep fry chicken, but you can cook your chicken in oil in the pressure cooker. The process is known as sautéing, which doesn't use as much oil to cook the chicken.
Remember that if you choose to cook chicken in the pressure cooker, the flavor will differ from that of regular fried chicken. It is, however, healthier. 
Is an Instant Pot an air fryer?
Instant Pots can be air fryers by using a lid attachment. Some Instant Pots are sold with this feature. It can also be attached to Instant Pots and other pressure cookers without the attachment; they need to be six or eight quarts in capacity.
Check out a range of air fryer lid attachments to turn your cooker into a multi-function air fryer.
Can my pressure cooker explode?
Your pressure cooker could explode, but most cookers today have up to 10 safety features to prevent explosions. This makes the likelihood of an explosion much lower than in the past when it was not unheard of to learn about a pressure cooker that exploded. Still, you must respect your device and never use it in ways the manufacturer doesn't recommend. 
Can you pressure fry at home?
Pressure frying at home has become more popular with time, and you can buy pressure fryers for the home. Most are larger and designed for commercial establishments, and KFC is known for pressure frying their chicken. Usually, pressure fryers will cook the food at 5 PSI.
In this article, I deep-dive into pressure cooker safety and teach you how to avoid pressure cooker accidents.
Wrapping Up: Air Fryer vs Pressure Cooker
To summarize the differences between an air fryer and an Instant Pot (pressure cooker)… You can use a pressure cooker to fry foods, but don't expect the same results as a pressure fryer. Also, never use excessive oil in the pressure cooker.
They are not meant to be used as deep fryers. Pressure cookers use the sauté feature to fry foods, but it doesn't fry the foods with pressure using this feature. Instead, it acts like any ordinary pot or pan.
Are you considering a new kitchen appliance that requires a fast cooking time, a sealed pot, and an air fryer that functions like dry heat for healthier meals? Great appliances are combination multi-purpose cookers with air fryer capabilities.
One-Pot Cooking Rocks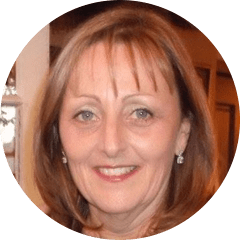 Michelle
Hi, I'm Michelle, the founder, owner, author, and editor of OvenSpot. My passion for one-pot cooking commenced when I was working to prepare cafeteria lunches for school students. I am now on a mission to assist you in choosing the cooking pot or appliance you will use daily. As well as in-depth information to assist you in using and caring for your cookware and appliances.
Questions? Reach out to Michelle at [email protected]