Pressure Cooker vs Slow Cooker: The Pros and Cons
Few meals stick to the ribs and provide almost instant comfort the way that slow-cooked one-pot meals do when the weather starts to get chilly. So what is the difference between a slow cooker and a pressure cooker?
A slow cooker is a gentle process that uses low heat and low temperature, longer cooking times to help keep your dish from being overcooked or dried out. A pressure cooker can bring the same results in less than half the time by using high temperatures, internal pressure, and hot steam with high pressure.
The main difference home cooks face is in the amount of time these kitchen tools food cook versus how much time they want to spend in the kitchen.
The only problem with a slow cooker, though, is that it takes a long time to turn often tough and otherwise inedible ingredients into the kind of food you'd find in a four-star restaurant.
You have to get up early, you have to prep your meal in advance, and then you have to hope that nothing goes sideways during your cooking times during the day to cause your slow cooker cooking time to "go on the fritz".
Of course, you could speed things up with pressure cooking – but that introduces a couple of curveballs into the mix, too.
People have been arguing both sides of the great pressure cooker vs slow cooker debate for decades now, and the odds are pretty good they're going to keep right on arguing this debate for at least another generation (or two).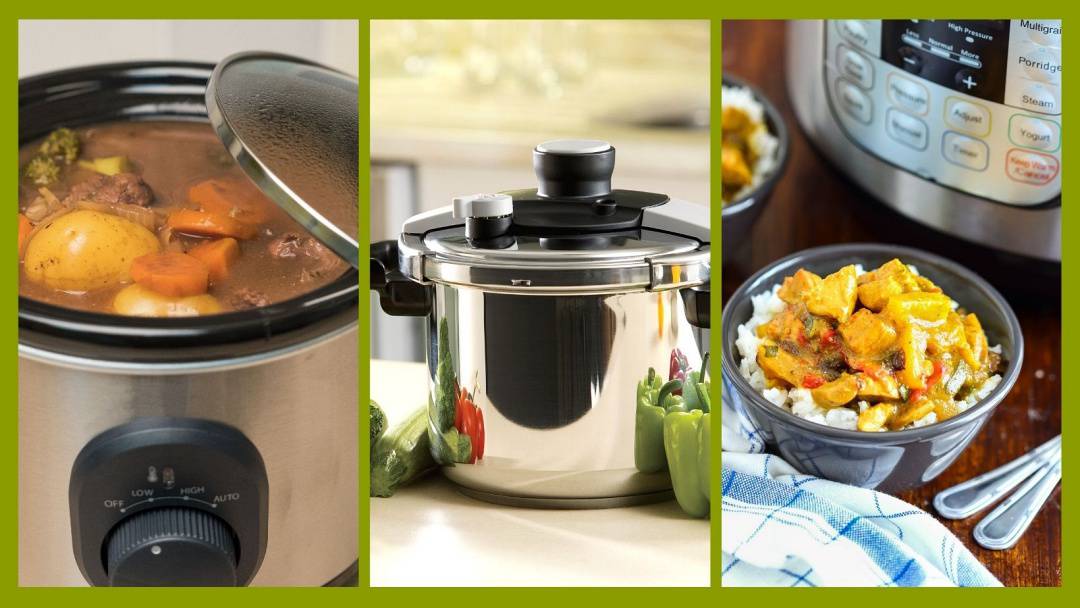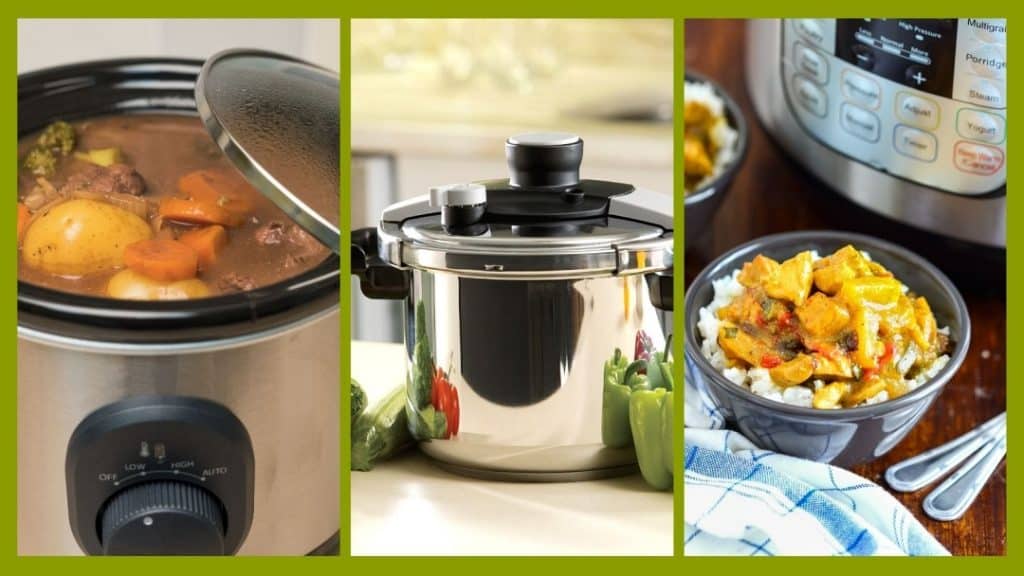 Disclaimer: I earn from qualifying purchases on my website as an Amazon Associate. If you purchase through links from this website, I may get a small share of the sale from Amazon and other similar affiliate programs.
Pressure Cooker vs Slow Cooker Comparision Chart
This quick reference comparison table will help you navigate the differences between a pressure cooker and a slow cooker or crock pot.
| | Pressure Cooker | Slow Cooker |
| --- | --- | --- |
| How they cook | Steam pressure | Low heat simmering |
| Cooking time | Quickly – 8-hour slow cooker meal can take 90 minutes in a pressure cooker | Slow cookers cook food 4 up to 8 hours or more |
| Appliance Versatility | Stovetop pressure cookers, only pressure cook and sterilize. Electric pressure cookers have multi-function capabilities | Slow cookers only slow cook on low or high. A programmable slow cooker is now available |
| Modern capabilities | Electric pressure cookers look modern and use Wi-Fi technology for convenience | Slow cookers automatically know when to turn off, but some multi-slow cooker units will have Wi-Fi compatibility |
| Size | Various sizes from 2-qt to 10-qt | Various sizes from 1-qt to 10-qt |
| Meal Preparation | Shop, chop, and pressure cook raw meat | Need to have all ingredients ready to allow for slow cooking time |
| Performance | Pressure cooking meat retains vitamins and minerals | Steam can escape through the valve in the lid of a slow cooker and with it some of the nutrients in your food |
| Economical | Pressure cooking while still producing tender meat the texture is quite different. (Cheap to run) | Use cheap cuts of meat and turn them into mouth-watering delights. (Cheap to run) |
| Safety | A stovetop and electric pressure cookers are safer than ever, always use the manufacturer's specifications | Slow cookers are safe when following manufacturers' specifications |
| Cleaning | Messier than a slow cooker, so a little harder to clean | Easy scrub cooking insert and whip downcasting |
| Storage | Can be clunky depending on the size | Can be clunky depending on the size |
| Price | More expensive | Affordable |
Pressure cookers, up until just recently, were almost exclusively thought of as equipment used for canning and storing food for the long haul or to cook things like rice quickly and evenly.
Stovetop pressure cookers used to be a real nightmare to try and control, super difficult to dial in, and generally pretty unsafe.
It wasn't at all uncommon for these kinds of appliances to "blow their top" without any warning at all not only tossing superheated hot steam out all over the place in the process but usually expelling whatever was inside the stove top pressure cooker all over your kitchen, too!
Deep dive with me into how to avoid pressure cooker accidents (11 safety tips).
Today's pressure cookers, though, are a whole lot more advanced than they ever used to be.
In fact, many of the best pressure cooker options on the market today don't ever see the top of a stove instead, they are 100% electric.
These top electric pressure cooker models have automatic shut-offs built right in. Some even have advanced computer capabilities on board (including wireless internet) to make them about as safe and as easy to use as humanly possible. Not only that, but many of today's best pressure cooker options are so much more than just a pressure cooker.
Most of them now have built in heating capabilities and are called a "multi-cooker". The pressure cooker that handles double duty (and then some) as a pressure cooker, yogurt maker, rice cooker, Sous vide, a tool for canning, a quick way to make two, and chili, a great way to make rice, and that's just the tip of the iceberg.
Slow cooker recipes like a pot roast are at home in today's electric version of most pressure cookers.
The safety features, the new locking mechanisms, and the automatic relief valves are a handful of things that today's modern pressure cooker has going for them, too.
That's not to suggest that today's pressure cookers are perfect, though.
This type of cooker can be a nightmare to clean, you still have to babysit them (at least a little bit) to make sure that things don't go sideways. The high rate of speed during the pressurized cook usually cuts out a little bit of the deeper and more nuanced flavors you get from a slow cooker.
Learn about multi cookers and they many appliances they can replace in my article what is a multi-cooker?
Pressure Cooker – Pros and Cons
Here's a quick rundown of the pros and cons of today's pressure cooker to give you a better idea of what they are bringing to the table:
Pressure Cooker – PROS
You can often cook a "slow cooker only" meal that might have taken eight hours or longer in about 90 minutes flat using higher temperatures
You don't have to worry about a pressure cooker heating up your entire kitchen the way that a slow cooker might
By cooking with steam you're able to retain a lot of the vitamins and minerals with a pressure cooker that would have been lost with other cooking methods
Most of today's modern pressure cookers are "multi-cooker" units, that include a slow cook function and do so much more than just speed up the cooking process
Many of today's best pressure cookers even include Wi-Fi capabilities so that you can control your cooker from anywhere – including the office or at school – while online
Electric pressure cookers are even more integrated offering air fryer capabilities
Combine the temperature setting capabilities the fast cooking time, airtight seal from the locking lid you are going to save a lot of time
Pressure Cooker – Cons
On the flip side, pressure cookers are always a nightmare to clean. You have to pull everything apart, clean everything carefully, and then put everything back together – every single time you cook with one
You might not need to carefully watch every second of today's modern pressure cookers, but they still have some risks and shouldn't be left completely unattended
You need to be really careful when popping the top on modern pressure cookers, as the steam pressure can scald and burn you
You do lose a little bit of those nuanced and subtle flavors when you cook this quickly under pressure
The price tag on quality pressure cookers (especially those with multi-cook functions) is almost always a lot higher than a slow cooker
You have to convert slow cooker cook times to account for the much more rapid cooking time of a pressure cooker, and you often have to do that all on your own
Can a pressure cooker be used as a Crock-Pot? Check out the article to learn how to make the most of your appliances.
The very first slow cooker (the actual slow cooker that would later become the legendary "Crock Pot") was invented all the way back in 1940.
To put it bluntly, slow cookers have been around for a while – a long while!
While some would say that this makes the slow cooker a little outdated and not quite as useful in today's fast-paced world, others would say that all this time has only made the slow cooker better. (Kind of how the slow cooker itself works.)
Read my in-depth review of the Crock Pot 6-Quart Cook & Carry Slow Cooker or learn what slow cookers can actually achieve in what are slow cookers.
Over decades the slow cooker technology has been refined, improved upon, and quite literally perfected.
In today's slow cooking technology, the heat source is basically an encased heating element, which is very similar to the slow cooker of the past. But a lot more efficient, a lot more effective, and (believe it or not) a little bit faster!
Not too fast, though, as the slow and deliberate cooking process that these appliances use perfecting low and slow is responsible for transforming otherwise rather "blah" ingredients into something really spectacular.
Sure, you need to devote a decent chunk of time to preplanning how you're going to use your slow cooker if you want to use it effectively.
And sure, you're probably going to need to throw dinner together into this countertop appliance before you leave for school or work if you want to have it ready when you get home.
But these bulky, often cheap little units are truth tanks in the kitchen. They are legitimately set-it-and-forget-it solutions that make cooking downright effortless.
If you can roughly chop ingredients (and sometimes you don't even have to go that far), dump everything into your slow cooker. Then flip the switch to the LOW setting and then leave everything for hours and hours. You're going to be able to make some amazing dishes with this simple setup.
Learn how slow cookers work!
Slow Cooker Pros and Cons
Let's break down the pros and cons of today's best slow cooker, shall we?
Slow Cooker – Pros
Aside from (very little) prep work you don't have to do much of anything to make amazing meals – delicious meals – with this pressure cooker
Slow-cooked food is capable of developing deeper, richer, more nuanced flavors than any other cooking method
You can totally transform the "cheap stuff" at the grocery store – including really inexpensive proteins (tough meat) – into a hot meal, one of the best tasting you've ever had, just with a little time and a slow cooker
Even the best slow cooker today is never going to threaten to break your bank account into tiny little pieces (they are always affordable)
Slow cookers come in a variety of sizes from a small 1-quart mini slow cooker all the way up to over 15 quarts for large families or entertaining
Shapes include the standard round model to square and of course, oval that will fit a whole chicken and large cuts of meat
A glass lid that is vented to release any excess steam even though lower temperatures are used for cooking
You don't have to worry about using a lot of electricity when you are running a slow cooker on LOW (or even on HIGH, for that matter)
Read to see if a slow cooker is really an appliance that interests you: Is a Slow Cooker Worth It: 10 Pros and 5 Cons
Slow Cooker – Cons
Cook times are L-O-N-G, oftentimes approaching eight hours or longer. You're not going to be able to throw together a slow cooker meal in a pinch, that's for sure.
Slow cookers require you to be really organized if you're going to use them effectively
Slow cookers are always a little bit bigger and a little bit bulkier than most of your other cookware and small appliance options, which can be a pain to keep on the counter or to find storage space for
Browning food with a slow cooker is next to impossible (inside the slow cooker, anyway)
There usually aren't any other options to do anything other than slow cook on LOW, MEDIUM, or HIGH
FAQs
Quick answers to commonly asked questions about these different appliances the pressure cooker and slow cooker.
Can pressure cooker replace slow cooker?
The answer is yes! Pressure cookers can actually be quicker than slow cookers since they cook food with less liquid and at a higher temperature. And, like slow cookers, they can be used to make a variety of dishes from main courses to desserts. So if you want to quickly cook food if you're short on time, a pressure cooker is definitely the way to go.
Is a slow cooker and a pressure cooker the same?
A slow cooker cooks using moist heat to slowly cook food over a period of several hours. This gentle slow cooking method is ideal for tough cuts of meat, which become tender and flavorful after spending a few hours in the slow cooker. In contrast, a pressure cooker cooks food using high pressure to cook food quickly.
This makes it perfect for quick-cooking recipes like soups and stews that you want to get on the table fast. Pressure cookers can also be used to cook tough cuts of meat, lean meats, or chicken breast, but they will come out significantly different than if they were cooked in a slow cooker.
Do pressure cookers make meat more tender than slow cookers?
In general, both slow cookers and pressure cookers meat cook to be equally as tender. The main difference between the cooked meat is that slow-cooked meat is richer and full of flavor. Pressure cookers cannot reduce the liquid from raw meat into a rich sauce as effectively as slow cookers.
Pressure Cooker vs Slow Cooker – What's the Difference?
There you have the difference between the two and at the end of the day, you really can't go wrong with either of these two amazing kitchen appliances.
You have learned that we no longer need the conventional cooking methods of a Dutch oven. Using a crock pot we were cooking over high heat for a long period of time to get our tough cuts of meat in our favorite hearty beef stew soft enough to chew.
A pressure cooker for home use is designed to get the job done in a hurry, but if you're not in a rush or if you can set things up in the morning to eat at night a slow cooker develops even tastier flavors.
Of course, a pressure cooker (especially today's pressure cooker) is generally a lot safer to use than a typical slow cooker and almost always has a lot more functionality built right in.
When you get right down to it, the best small appliance to buy is a pressure cooker that doubles as a "multi-cooker". Then you get the best of all worlds, having the opportunity to cook in slow cooker mode, pressure cooker mode, and a handful of other ways, too.
One-Pot Cooking Rocks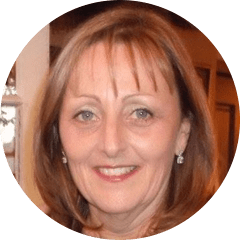 Michelle
Hi, I'm Michelle, the founder, owner, author, and editor of OvenSpot. My passion for one-pot cooking commenced when I was working to prepare cafeteria lunches for school students. I am now on a mission to assist you in choosing the cooking pot or appliance you will use daily. As well as in-depth information to assist you in using and caring for your cookware and appliances.
Questions? Reach out to Michelle at [email protected]