Rice Cooker vs Pressure Cookers or Instant Pot
Which is better for you: a rice cooker, pressure cooker, or instant pot? In this post, we'll break down the differences between each so that you can make the best decision for your needs.
A rice cooker and a pressure cooker have many differences, although they look quite similar at a glance. A rice cooker is a standalone unit that heats independently of a stove, while a pressure cooker is heated using a stove. As the name suggests, a rice cooker is used mostly for cooking rice, while a pressure cooker is more versatile.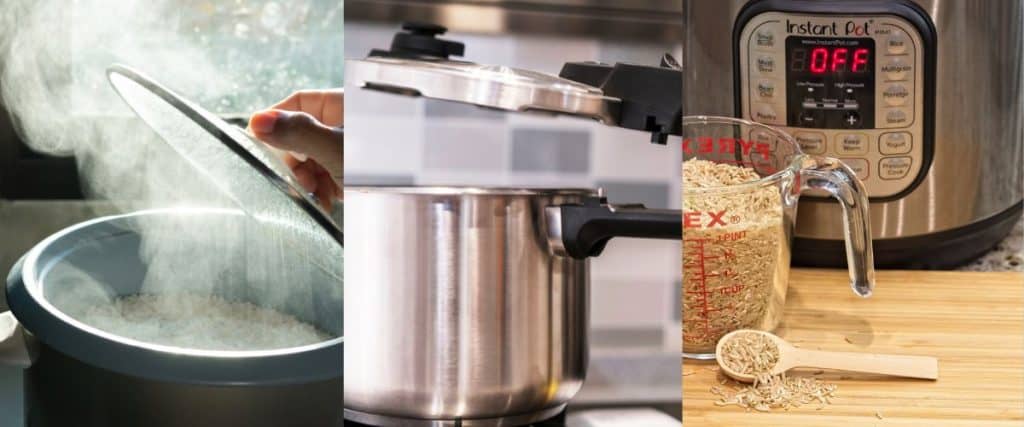 What Is a Rice Cooker?
A rice cooker is a unit that is usually plugged into a wall outlet and uses electricity for power. It is a reasonably compact light kitchen appliance. They feature an outer casing, with a heating element or pad on the inside of their base.
An inner pot activates the pressure sensors on the heating pad when the bottom of the pot sits on the pad to commence the cooking process.
The outer casing may have a hinged lid or a separate lid that sits on top of the unit.
How a Rice Cooker Works
The rice cooker works by heating up water with the rice, the water evaporates and turns to steam. Meanwhile, the rice is absorbing the water and steaming simultaneously the result is soft fluffy rice!
The user can measure out their rice and the required amount of water, and then leave it unattended until the rice cooker indicates that it is done.
It is quite common for people using rice cookers to walk away and leave the cooker on its own, and this is considered safe. You should not do this if you are using a pressure cooker on the stove.
Some rice cookers have "keep warm" settings that will let you keep your rice at a set temperature, without it getting burnt or turning soggy. They are considered highly convenient, especially as rice can be quite challenging to cook well.
However, you should be aware that rice cookers don't cook all kinds of rice, and if you want to make risotto, paella, or sometimes even brown rice, your cooker may not be a good option. It will generally work best with long-grained, unscented white rice.
Rice cookers vary in size. Some are designed to make single portions of rice, while others can be used to create family meals. Some are also capable of making things other than rice, including porridge, yogurt, or hot cereal. A few can even be used for baking bread. Overall, however, a simple rice cooker is not a particularly versatile gadget. They have one purpose, and they do it well.
High-end rice cookers have advanced features making them more than dedicated rice cookers.
Learn how rice cookers work in my article we deep dive into all you need to know about rice cookers before you start cooking.
What Is a Pressure Cooker?
A pressure cooker is a kitchen appliance that cooks food by trapping steam inside a sealed container. The trapped steam increases the internal pressure and raises the boiling point of water, allowing dishes to cook much faster than normal.
Stovetop Pressure Cooker
A pressure cooker is a pan made from either aluminum or stainless steel, and it cooks food very quickly. The lid of the pan has an airtight seal, so when you lock it into place, the space inside the pan becomes sealed.
This allows you to create steam pressure, which conducts heat significantly better than dry air does. You can also heat the steam beyond the normal boiling point because the pressure prevents it from escaping.
Meaning that the inside of the pan gets exceptionally hot. The lid of the pan locks into place, and you will have to release the pressure in order to remove the lid.
The heat source to be used with these stovetop models of pressure cookers can be gas or electric.
On the whole, pressure cookers cook food much faster than standard cooking, thanks to this clever setup. They also leave more nutrients in your food, and they can preserve the flavors more effectively. You won't need as much salt on your food when it's made in a pressure cooker.
Pressure cookers have lots of other advantages, but now let's look at them in comparison to a rice cooker.
Want to learn more about how to use a stovetop pressure cooker in my article?
Electric Pressure Cooker (Muli-Function Cooker)
As far as kitchen appliances go the main difference between electric rice cookers and electric pressure cookers is that a pressure cooker can cook different types of dishes.
Along with pressure cooking a pot roast, you can use a multi-functional pressure cooker as a slow cooker or a yogurt maker along with many other cooking functions.
Aesthetically pressure cookers looked similar to the rice cooker. For example, the Instant Pot Duo has a control panel with different settings on the outer casing to choose your cooking program. A lockable lid with a sensor and a seal fitted inside the lid keeps steam inside the pot.
How a Pressure Cooker Works
While a basic rice cooker uses high temperatures and steam to cook rice traditional pressure cookers and electric pressure cookers use heat and pressure in less time.
You need to know how pressure cookers work before you start to cook.
Which Cooks More Quickly?
Sometimes, the only thing you really care about is getting the food from the pantry to the table as fast as possible. Life is busy, and a lot of people struggle to find the time to cook.
A pressure cooker will pretty much always be faster than a rice cooker, even if you have a high-end rice cooker. In general, pressure cookers will take about 15 minutes to cook white rice, depending on how soft you like the grains to be.
By contrast, a rice cooker will usually take between 25 and 35 minutes, which adds at least 10 minutes to the cooking time. If you are trying to get dinner onto the table quickly, a pressure cooker is almost certainly the way to go.
Learn more about the cooking times of rice: How Long Does Rice Take to Cook?
Which Is More Versatile?
There's no question that pressure cookers are more versatile, and therefore more useful in the kitchen. You can cook pretty much anything in your pressure cooker.
Any food that you would normally cook in a pan can be cooked in a pressure cooker, and usually much more quickly. You can tenderize large pieces of meat, and cook whole vegetables in it. Boiling things like corn becomes much faster.
Some pressure cookers can be used like slow cookers, depending on the features, and a few may have a rice setting. You can even make bread in a pressure cooker.
If you don't want to cook at high pressure, you may be able to leave the lid off and just use the pan like an ordinary saucepan.
Rice cookers are significantly more limited, although many manufacturers have made efforts to improve the rice cooker's versatility and make sure it has a bit more to offer than just well-cooked rice.
Some rice cookers can be used to make stews and soups, as well as for steaming foods like dumplings, vegetables, fish, and eggs. Even meat can be cooked in some rice cookers, provided it is thinly sliced.
Remember that they are pretty limited cookers, and some even struggle with different kinds of rice. If you want a versatile gadget, it's not a rice cooker!
Which Is The Simplest To Use?
Because pressure cookers trap moisture in the pan, rather than letting it evaporate, they require a bit of practice when you first start using them. Rice can be particularly challenging to cook because most of the liquid will remain in the rice.
This can mess up your ratios, especially if you are used to making rice in a standard pan. It makes it hard to judge how much water you need to add and may result in you having to strain the rice before you serve it.
Additionally, pressure cookers take different amounts of time depending on your altitude, so you may have to alter your recipes. There's a risk of burning the rice if you get the pan too hot or don't add enough water, and you need to let the steam out at the end so you can take the lid off. All in all, a pressure cooker is somewhat complicated.
Rice cookers, however, are generally very easy to use. Follow the manual's instructions, and you should get perfect rice every time. They have been designed to cook rice, so everything about the cooker is geared toward making this simple.
The cooker will usually feature an auto shut-off function, or it may automatically switch to its "keep warm" mode when the rice is done. There is, therefore, no risk of burning the rice, and it shouldn't even get overcooked if you set the cooker correctly.
You really can just put a rice cooker on and forget about it until your meal is ready, which you can't do with a pressure cooker. In terms of use, therefore, a rice cooker is definitely a more straightforward option.
Which Should You Buy?
If your kitchen space is limited, a pressure cooker is likely the better option. Pressure cookers can be used to make a wide variety of foods, not just rice. They serve as an extra pan.
That means the space you are giving up to the gadget provides you with more versatile cooking options. That said, they are quite large on the whole and may take up a fair amount of space in your cupboard.
On the other hand, rice cookers are generally more compact, but they can often only be used to make rice, and they take up a lot of space for this single purpose.
Additionally, rice cookers need to be plugged into an outlet, not just placed on the stove. This may make them more annoying to use if you have limited outlets in your kitchen.
If you just want to cook a lot of rice at the push of a button and are working with a tight budget a compact lightweight rice cooker is a perfect choice.
Which Is More Expensive?
The price of both of these gadgets will vary depending on what you buy, what functions it offers, and how big it is. However, pressure cookers tend to be more expensive than rice cookers, so you'll need to budget more if you want a good pressure cooker.
Multi-functional modern rice cookers will cost more than a single-function one, but it is still generally cheaper than a pressure cooker. However, even a multi-functional rice cooker is more limited than a pressure cooker, so you'll need to decide which gives you the better value.
What Other Factors Are There?
A few other things to consider include the fact that pressure cookers are considered more dangerous than rice cookers. Because they operate with higher temperatures and high pressure, very hot steam, you need to be careful when using them. Inexperienced chefs and young cooks who are just learning may find a rice cooker easier and safer.
Additionally, pressure cookers are generally quite heavy and not convenient to lift and wash. If you suffer from any form of disability, a pressure cooker can be challenging to use.
Rice Cooker, Stovetop Pressure Cooker, Electric Pressure Cooker Comparison Table
| Different Features | Rice Cooker | Stovetop Pressure Cooker | Pressure Cooker Electric |
| --- | --- | --- | --- |
| Casing | metal with a heating element and pressure sensor | – | outer pot – metal with a heating element |
| Inner Pot | stainless steel | no | metal pot |
| Glass Lid | yes | metal same as pot | metal same as casing |
| Basic Cooking Functions | on & off | – | different features |
| Warm Functions | keep warm | – | keep warm |
| Cooking Process | higher temperatures | higher temperatures | higher temperatures |
| Performance | high heat that brings the content to a boil quickly | heats up very quickly and the heat source should be reduced as applicable | takes longer to heat up than a rice cooker and stovetop pressure cooker |
| Cook Time | 25-30 mins | 12-15 mins | 15-17 mins |
| Warm Functions | keep warm | – | keep warm |
| Size Range | domestic use 3-cups to 14 cups | 1 quart to 12 quarts plus | 1-quart to 10-quart |
| Safety Features | steam release in the lid | Safety valves, steam release valve, ring seal for the lid, locking lid | Safety valve, steam release valve, ring seal for the lid, locking lid |
| Type of Rice | white is best | different types of rice including whole grains | different types of rice including wild rice |
| Cleaning | easy clean-up | easy clean-up | more parts to clean |
| Maintenance | keep the steam valve clean and check the electrical cord for damage | keep valves clear of debris and sealing ring intact and replace as needed | keep valves clear of debris and sealing ring intact replace as needed, and check the electrical cord for damage |
| Lifespan | 4-8 years of regular to heavy use | 20 years plus | 4-8 years of regular to heavy use |
| Price | cheap to high end | affordable | cheap to high end |
Rice Cooker vs Stovetop Pressure Cooker vs Electric Pressure Cooker
FAQs
Which is better rice cooker or a pressure cooker?
Rice cookers are easy to use to cook rice and are very affordable. Pressure cookers cost more than rice cookers you can cook rice in them as well as a larger variety of dishes quickly.
Is a rice cooker the same thing as a pressure cooker?
Although both appliances cook rice. A rice cooker cooks the rice slower than a pressure cooker and can cook more dishes.
What's the difference between a cheap and an expensive rice cooker?
Cheap rice cookers are usually manual and have two settings. The cook setting and the keep warm setting switch after the rice is cooked. Expensive rice cookers can be programmable and have digital times and can cook more than just rice, predominately grains.
Wrapping Up: Rice Cooker vs Pressure Cooker
There are pros and cons to both rice cookers and pressure cookers. On the whole, pressure cookers are more versatile and can create far more recipes than rice cookers. However, they are more complicated and dangerous to use, and they cost more, so you may decide that a good rice cooker would be a better option.
One-Pot Cooking Rocks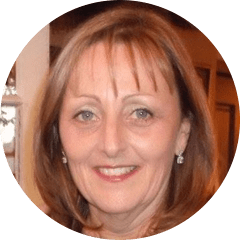 Michelle
Hi, I'm Michelle, the founder, owner, author, and editor of OvenSpot. My passion for one-pot cooking commenced when I was working to prepare cafeteria lunches for school students. I am now on a mission to assist you in choosing the cooking pot or appliance you will use daily. As well as in-depth information to assist you in using and caring for your cookware and appliances.
Questions? Reach out to Michelle at [email protected]