How to Use a Stovetop Pressure Cooker
If you have ever wanted to know how to use a pressure cooker (stovetop), you have found the perfect first-time-use guide! Whether you purchased, inherited, or were gifted an old-fashioned pressure cooker, you need to fully understand how to use it so you can use it safely and enjoy all its benefits.                   
Read the instruction manual specific to your brand and model to learn the parts of your pressure cooker and how they function. If you have an older model you can look up the user's manual online.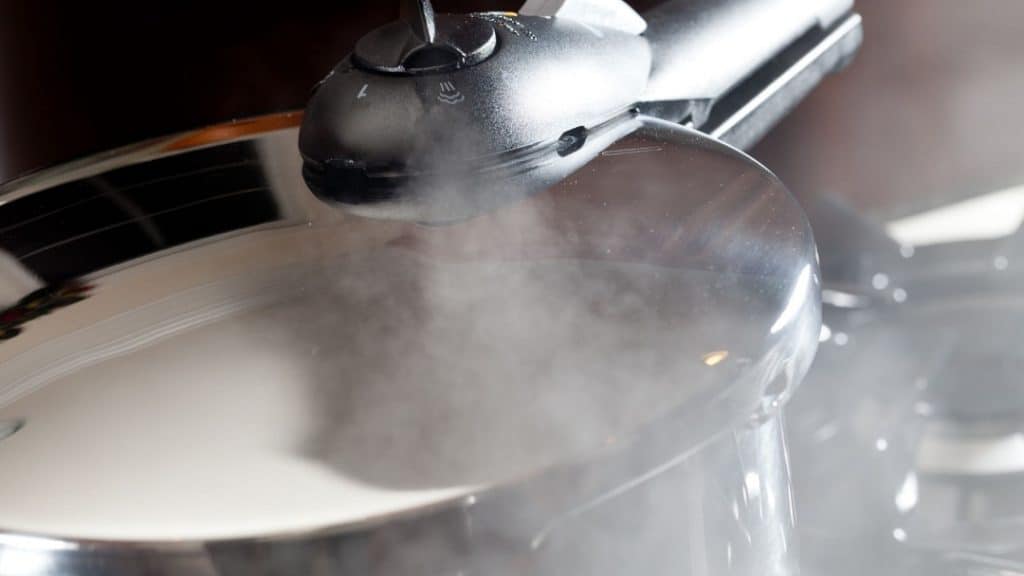 Before using the pressure cooker for the first time, check the pot and lid for dents and cracks. It won't work properly and can be very dangerous. Then you need to perform a water test.
A water test proves that your pressure cooker can build, hold and release the pressure the way it is supposed to. Here are the steps.
Put about a quart of water in your pressure cooker.
Set it to the highest cooking option and place the lid on securely.
Leave it on this setting until the indicator shows that the contents are under pressure.
Lower the pressure to a medium-low setting and leave it there for 5 minutes.
Remove the pressure cooker from the heat, and let it sit off the heat for 10 minutes.
Release the steam naturally or with the steam release function if your pressure cooker has one.
Cooking and Canning
The two main purposes of a pressure cooker are cooking meals quickly and canning food for shelf-stable, room-temperature preservation.
Cooking
Pressure cooking tenderizes the meat and cuts down on the amount of time it takes to cook every meal. It is a popular timesaving method for cooking beef, lamb, and pork cuts like a roast, which would otherwise take hours in a slow cooker.
Your pressure cooker can also produce perfectly tender chicken dishes in minutes.
In a few easy steps, you can be cooking entire meals in your pressure cooker.
Step 1: Add your food and liquid and close the lid, making sure it seals.
To pressure cook meat and vegetables, you need to add some liquid to the cooker so that the pressure creates steam. This can be water, broth, or stock. But it is not necessary to cover the meat entirely. In fact, you want to leave some space for the pressure to build.
Step 2: Choose the right pressure setting based on the food you are cooking. Set your stovetop heat to high.
Step 3: Let the pressure build until the pressure indicator shows "high."
Step 4: Turn the stovetop heat down to low and start your timer.
You'll need to select the correct time for your meal. Compared to traditional cooking methods, your pressure cooker will cook meals in a fraction of the time. Here are a few examples:
| Everyday Food | Pressure Cook Time |
| --- | --- |
| Whole chicken | 15-20 minutes |
| Roast | 40-60 minutes |
| Cubed meat | 15-20 minutes |
| White rice | 5-7 minutes |
Most vegetables can be cooked in under 10 minutes. Potatoes and other starchy vegetables take longer, while softer vegetables may only take 2-3 minutes.
Step 5: When the timer goes off, release the pressure by the recommended method.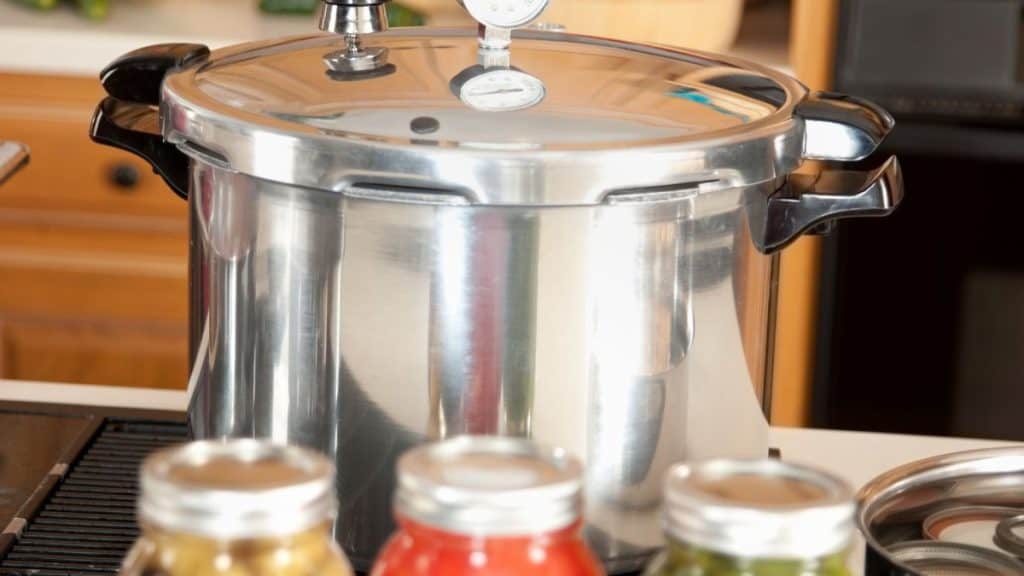 Canning
Pressure cookers have been used for hundreds of years to preserve food without refrigeration.
Some foods such as jams, jellies, tomatoes, salsa, and pickles can be preserved using the water bath method. This technique heats the jars to almost boiling, but it does not require pressure canning, so even beginners feel comfortable using their pressure cooker for water canning.
However, most vegetables, meats, and stocks need to be pressure canned.
Altitude, packing style, and jar size can all affect the time that it will take your foods to process, but process time is the most important factor you need to consider.
Canning can take anywhere from 20 to 90 minutes, depending on the food. Generally, the higher the food's acidity, the less time it needs to be under pressure. You should consult a canning chart that is calibrated for your altitude for each food that you are canning.
Related read 9 Best Pressure Cookers for Sterilization
Pressure Release
The pressure release style will depend on what you are cooking as well. Each cooking or canning recipe will specifically call for either natural or quick release.
Natural Release is the better option when the ingredients may foam and shoot out of the pressure valve. Soups, meats, and oats are likely to spew, so the natural release option should be used.
Quick Release is the other option. Foods that are easy to overcook, such as seafood, and tender green vegetables should have their pressure quickly released after cooking time is complete. To quickly release pressure, run the cooker under cold water with the lid on until you hear an audible whoosh of air. Then the pressure cooker is safe to open.
Related read How do Pressure Cookers Work?
Pressure Cooking on Different Types of Stovetops
The main goal of pressure cooking and pressure canning is to keep the food at a consistent temperature and pressure for the entirety of cooking. Therefore, the responsiveness and consistency of heat from your stovetop are the most important factors.
Let's look at some of the most common stovetops and how they compare for cooking and canning in a pressure cooker.
Glass top
If you have a glass cooktop, you should only use a stainless steel pressure cooker. Aluminum can leave a residue that is impossible to remove (due to the aluminum melting).
Glass is a poor conductor of heat, so it is harder to control the heat and pressure within a pressure cooker on a glass stovetop.
While cooking a meal in a pressure cooker will be perfectly safe, canning food is not recommended on a glass-top stove. There are two main reasons for this:
1.  Glass top stoves cycle heat, so they won't cook your food properly because the heat isn't consistent. 
2. Filled jars press down harder than food, and the concave bottoms of the jars and/or the canner itself lead to heat being distributed unevenly
Electric stovetop
Technically, glass stovetops are electric, too. But here, we are specifically referring to stoves with coils. These stoves are also electric, the precursors of glass or ceramic topped stoves.
Most brands of electric stoves are fine for water bath canning, but for pressure canning, you have to be really careful. Two things you can do to make pressure canning safe on your electric stovetop include the following:
1. You must use a flat-bottomed canner, not the kind that has a rippled or waffled pattern on the bottom.
2. Your pot can be larger than the actual coils (unlike flat cooktops), but it shouldn't be any more than 2 inches larger than the eye.
Electric stovetops (flat or coiled) don't heat consistently, but rather in a cycle, which we discussed earlier. So you won't get consistent heat from these types of stoves. While they are not ideal for canning, they should also be fine for cooking.
Gas Stove
Gas stoves were the standard for homes throughout the late 1800s and early 1900s, although today roughly 63% of American homes use electricity for cooking.
These stovetops are very responsive, which makes it easy to maintain heat and pressure levels for cooking and canning.
If you have a gas stove, rest assured that you have one of the easiest and safest stove types for pressure cookers.
Induction Cooktop
Induction hobs and stoves are very convenient and safe because they don't actually get hot. The burners distribute heat through electromagnetic waves, which results in a reliable, consistent cooking temperature perfect for cooking and pressure canning.
No preheating is necessary, so you'll shave off even more minutes of your cooking time.
Your induction cooktop will also cool down twice as fast as an electric glass top stove (which can look identical). This means you won't have to move the pressure cooker off the heat to start the pressure release process and risk burning yourself or dropping it.
Just remember that aluminum pressure cookers won't work on your induction stovetop unless they have a magnetic bottom layer added.
Pressure Cooker Safety
Regardless of the type of cooktop that you have, there are a few general guidelines that you can always follow to use your pressure cooker safely and achieve the best results.
Don't overfill it. Most pressure cookers are only meant to be filled up to 2/3 full. The extra space allows pressure to build.
Make sure there is enough liquid. At least two cups are usually required.
Always release the pressure within before removing the lid.
If you hear a loud, steady steam release, the pressure has gotten too high. The cooker may also shake or spit steam when it gets too hot. You should see this on the pressure indicator as well.
If you have heard pressure cooker horror stories, this can be very frightening, but as long as you have a high-quality cooker, these behaviors are perfectly normal. You can bring it down safely by taking the cooker off heat or by lowering the heat until you see that it is back at a normal level.
Related read How to Avoid Pressure Cooker Accidents (11 Safety Tips)
Pressure Cooker Noise
Related read Why Do Pressure Cookers Make Noise?
Benefits of Using a Pressure Cooker
Now that you know how to use your pressure cooker, you can enjoy all of the following benefits:
Doesn't get as hot as cooking in a regular pot on the stove
Cuts down cooking time by hours
Pressure forces nutrients and natural juices back into foods
Food preservation is attainable for everyone
FAQs
Quick answers to some common questions about stovetop pressure cookers.
How do you use an old-fashioned stovetop pressure cooker?
Safety is priority number one. A locking lid prevents opening under pressure, an overpressure release valve allows the steam to escape from under the locked lid before it can get into the face or eyes of an operator, and a pop-off safety valve at the top above them both. Ensure all valves are clean at all times.
When an old-fashioned stovetop pressure cooker is used frequent checking of values is advised as is not leaving the pressure cooker unattended. If you suspect that the cooker is not in great working order I would advise against using it as the chances of getting the correct replacement parts is slim.
Can a stovetop pressure cooker explode?
Faulty valves can cause a pressure cooker to explode as the built-up pressure cannot escape as it was designed to do. Valves should always be clean and the seal of the pressure cooker lid should always be intact.
Related read What Are the Parts of a Pressure Cooker – With Diagrams
Finally, How to Use a Stovetop Pressure Cooker
A stovetop pressure cooker is a great way to cook and can food. So if you're in the market for one, make sure that you understand how they work and plan accordingly. For instance: don't overfill it; use at least two cups of liquid; release the pressure before removing the lid, and never leave your stove unattended while cooking with a stovetop pressure cooker.
To learn more about specifically which types of stoves are best for these tasks, be sure to read these articles…
One-Pot Cooking Rocks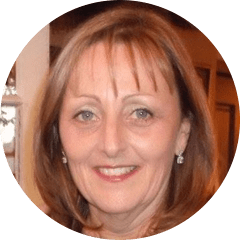 Michelle – Author
Hi, I'm Michelle the founder, owner, author, and editor of OvenSpot. My passion for one-pot cooking commenced when I was working to prepare cafeteria lunches for school students. I am now on a mission to assist you in choosing the cooking pot or appliance you will use every day. As well as in-depth information to assist you in using and caring for your cookware and appliances.
Questions? Reach out to Michelle at [email protected]