5 Cast Iron Skillet Substitutes
Many recipes may call for a cast iron skillet but if you don't have one there are other options that will still give you an excellent non-stick surface.
The best choices for cast iron skillet substitutes are tri-ply stainless-steel skillets, nickel-plated skillets, Dutch ovens, saucepans, or Pyrex casserole dishes. Your substitution will depend on the recipe you choose, the cooking method, the duration, and the temperature called for in your recipe.
Read on to see which substitute is best to get your delicious meal up and running!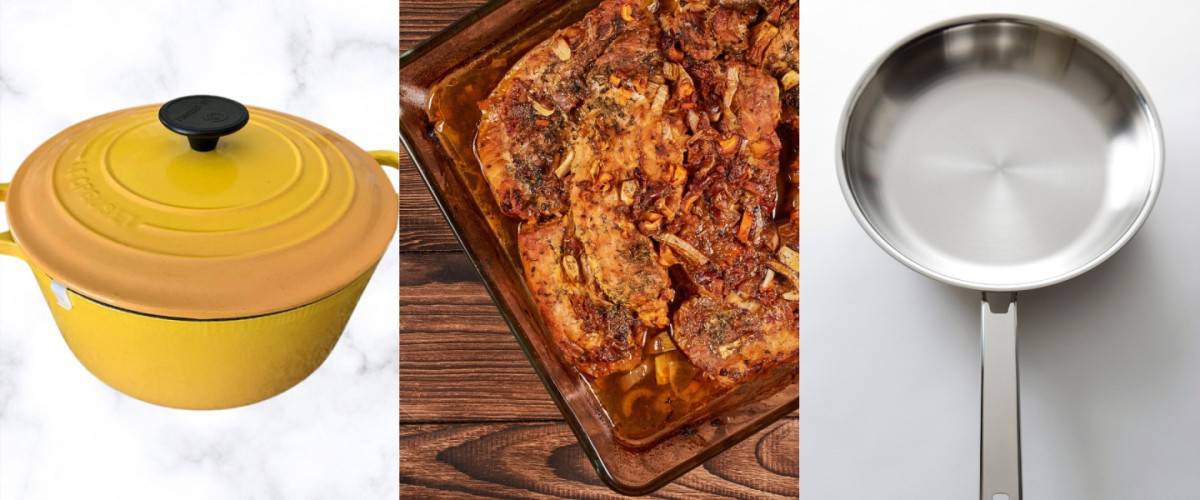 Disclaimer: As an Amazon Associate I earn from qualifying purchases on my website. If you make a purchase through links from this website, I may get a small share of the sale from Amazon and other similar affiliate programs.
Cast Iron Skillet Substitutes
Tri-ply Stainless-Steel Skillets
Cast iron skillets are called for in recipes that require an even heat distribution throughout the food in the skillet. Basic stainless steel is known for its durability but, unfortunately, it's not a good conductor of heat. Tri-play stainless-steel skillets offer an alternative, as they include both aluminum and copper bonded with stainless-steel layers.
Aluminum and copper are excellent heat distributors, with high thermal conductivity. Tri-ply skillets often reflect their name, with three layers combined to form the cookware. You may even find some variations of 5-layered combos.
Combining aluminum or copper's thermal conductivity with the durability of steel brings you tri-ply stainless-steel skillets. Most of these skillets are oven-safe up to 500°F. These skillets are also more durable than their non-stick skillet counterparts, with strongly-bonded layers that promote longevity.
Tri-ply stainless-steel skillets are great for searing meat or caramelizing dishes. They are also ideal for making pan sauces and gravy, as the pans collect the juices that release while cooking meat.
If you want to support local cookware manufacturing this list in my article Stainless Steel Cookware Made in the USA will point you in the right direction.
Nickel-Plated Skillets
Nickel-plated skillets are still a type of cast iron skillet but with improvements. You can use nickel-plated skillets for any recipe that calls for a cast-iron skillet.
Cast iron skillets require seasoning at least a few times a year and – no – this doesn't mean throwing spices on it. Seasoning is when oil is baked onto the skillet to form a cooking surface that prevents the pan from rusting.
Nickel-plated skillets do not require seasoning, as their surface is pre-coated and lasts years. This coating prevents rust and leaves the cook with less worry and clean-up. Plus, nickel-coating has long been approved by the FDA, so it's safe to cook on and eat off of.
Basic cast iron skillets require careful washing, as too much soap and scrubbing could peel off the seasoning of the cookware. Nickel-plated alternatives are much more practical, as they can be soaked and scrubbed like any other pan without causing any damage.
Almost all nickel-plated skillets are oven-proof, although their maximum temperatures will vary depending on the brand.
Learn how to choose a skillet to fit your stovetop as well as cook the amount of food you require.
Dutch ovens are excellent cast iron skillet substitutes, particularly for recipes that call for baking, braising, or cooking in the oven. As cylindrical, heavy-gauge cooking pots, they can be used in the oven or on a range in the kitchen.
Heat is distributed in a multi-directional method within the Dutch oven, providing even heat across the contents of the cookware, much like in a cast-iron skillet.
Dutch ovens come in two forms: bare cast iron or enameled. Bare cast iron or seasoned cast iron is typically preferred to enamel, as it withstands very high temperatures and functions well for more types of recipes. Enameled ovens do conduct heat just as well, though, and are easier to clean, making them more convenient.
Dutch ovens are excellent for cooking soups and stews. They can hold heat for a long time, which is excellent for long-simmering stews, soups, or even beans.
You can also use a Dutch oven to replace a cast iron skillet while roasting meats or vegetables. Dutch ovens have removable ovenproof lids which can help retain moisture over a long cooking time. This lid can also come in handy when baking bread or making casseroles in the Dutch oven.
Dutch ovens can also replace cast iron skillets if your recipe calls for deep frying. This cookware heats the oil evenly, allowing close control over the temperature of the oil for frying. Be aware that certain enameled Dutch ovens are not adequate for deep frying, so always confirm with the manufacturer or manual before use.
Yes, even the classic Dutch Oven has substitutes check out what you can use instead of a Dutch oven.
A saucepan can be a substitute for a cast iron skillet if you're making sauces, soups, stews, gravies, or soft-textured foods such as mashed potatoes or custard. It can also be used to boil different vegetables, eggs, or grains. It is not ovenproof and therefore should only be substituted for a cast iron skillet if the recipe calls for heating on a range.
Saucepans are normally circular, with high sides and an increased surface area. They can be made out of cast iron, stainless steel, nonstick, aluminum, or copper materials. Stainless steel saucepans are the most common, while nonstick saucepans are the most expensive.
Saucepans come with a plastic handle to protect your hands from heat. While this is functional over a stovetop, it will melt if placed in the oven.
Tip: You may find a brand of saucepan that is oven safe, but you should be aware that using a saucepan in an oven can be dangerous.
Learn about the differences between Dutch ovens vs stainless steel pots.
Pyrex cookware is made with borosilicate glass or high-quality ceramic, making it more durable and resistant to extreme temperature shifts. Their casserole dishes have a non-stick base for easy cooking and cleaning, plus a high heat resistance of up to 425°F for cooking in the oven.
As the name suggests, these dishes can be used to make casseroles, as well as pot roasts, stews, sauces, lasagnas, and more.
Pyrex casserole dishes are adequate substitutes for cast iron skillets if your recipe calls for oven-baking at 350°F or less. It may not be a good alternative for recipes requiring an open fire on the stovetop.
Substitution Factors to Consider
Most recipes call for a cast iron skillet because it holds heat longer and more evenly than other materials; however, in many recipes, substituting a cast iron skillet will not change the outcome of how your meal tastes.
When considering alternatives to a cast-iron skillet, take into account the recipes:
Maximum temperature: Some alternatives are only ovenproof up to 350°F or are not durable enough for deep-frying.
Method of cooking: Dutch ovens, nickel-plated skillets, tri-ply stainless-steel skillets, and Pyrex casserole dishes are adequate for both stovetop and oven-based cooking, but saucepans and other alternatives may not be ovenproof.
Ingredients: Every cookware is better suited for some foods than others. You'll want to consider whether you're cooking veggies, grains, or meats when choosing your cast iron skillet substitute.
Can a Skillet Go In the Oven
A cast-iron skillet is the best choice for cooking in an oven. Many roasts and other dishes are cooked using a cast iron pan, such as braised meat or fried chicken. A good quality stainless steel pot with oven-safe handles will also provide a good outcome.
Read about the versatility of skillets made from the right material in this article can a cast Iron skillet be used in the oven?
FAQs
Frequently asked questions about what pans and skillets are safe for oven use.
Can you substitute a pan for a skillet?
A cast-iron skillet and a frying pan are the same cooking pan. You will find "skillets" and "frying pans" in all shapes and sizes and made from various materials, for example, stainless steel.
Related read Can Stainless Steel Go in the Oven? (The Facts)
Is ceramic oven safe?
When you put ceramic dishes in the oven, it is important to make sure they are safe for cooking by checking whether or not there's a symbol with an "O" on them. These types of items will work just fine and can withstand up to 350 degrees Fahrenheit (176 Celsius).
Wrapping Up: 5 Cast Iron Skillet Substitutes
Cast iron skillet substitutes are not one-size-fits-all. Cast Iron is a popular choice for many dishes because it heats evenly and can be used on the stove or in an oven, but there are other options that may work better depending on your needs.
Whether you're looking to make soups, stews, sauces, lasagnas, pot roasts, gravies, or more – we have a cast iron replacement option for any of your cooking needs!
You should also take into account the ingredients required by each recipe before deciding which type of substitute will best suit your dish.
Cast iron skillet substitutes can vary in shape, size, and material so always double-check to make sure the cookware you're using is ovenproof and fits your recipe needs. Happy cooking!
One-Pot Cooking Rocks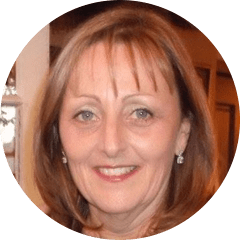 Michelle – Author
Hi, I'm Michelle the founder, owner, author, and editor of OvenSpot. My passion for one-pot cooking commenced when I was working to prepare cafeteria lunches for school students. I am now on a mission to assist you in choosing the cooking pot or appliance you will use every day. As well as in-depth information to assist you in using and caring for your cookware and appliances.
Questions? Reach out to Michelle at [email protected]