What Can I Use Instead of a Dutch Oven: 12 Alternatives
This question comes up all the time "what can I use instead of a Dutch oven?" it can be a little tricky to work out what is similar to a Dutch oven. So, what can you use instead of a Dutch oven?
An oven-safe casserole dish is a suitable substitute for Dutch ovens if the recipe does not require braising. A stockpot or ceramic pot also be used in place of a Dutch oven, preferably when making soups and stews. Slow cookers or Instant Pots are excellent substitutes as well.
Providing your appliance has a tight-fitting lid, and a heavy base can be used on direct heat as well as placed in a conventional oven. You will be able to adapt a Dutch oven or French oven, recipe and use them as a Dutch oven. Including multi-cooker, casserole, frying and roasting pans, skillet and soup, stock, metal, ceramic, & clay pots.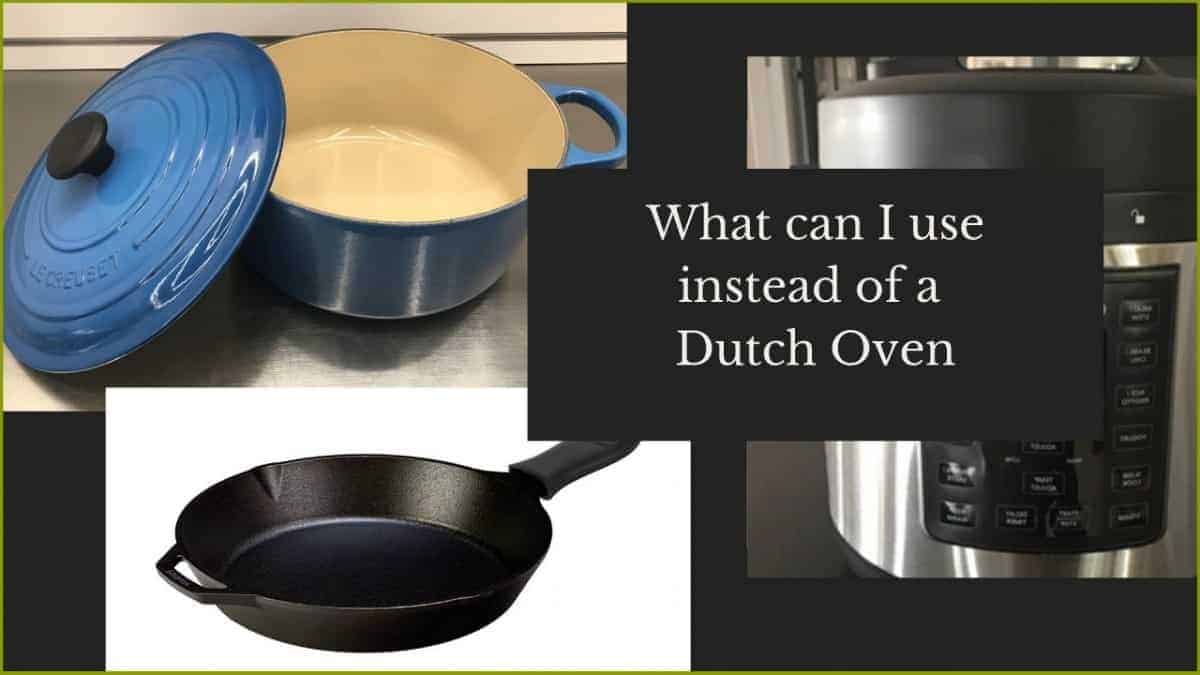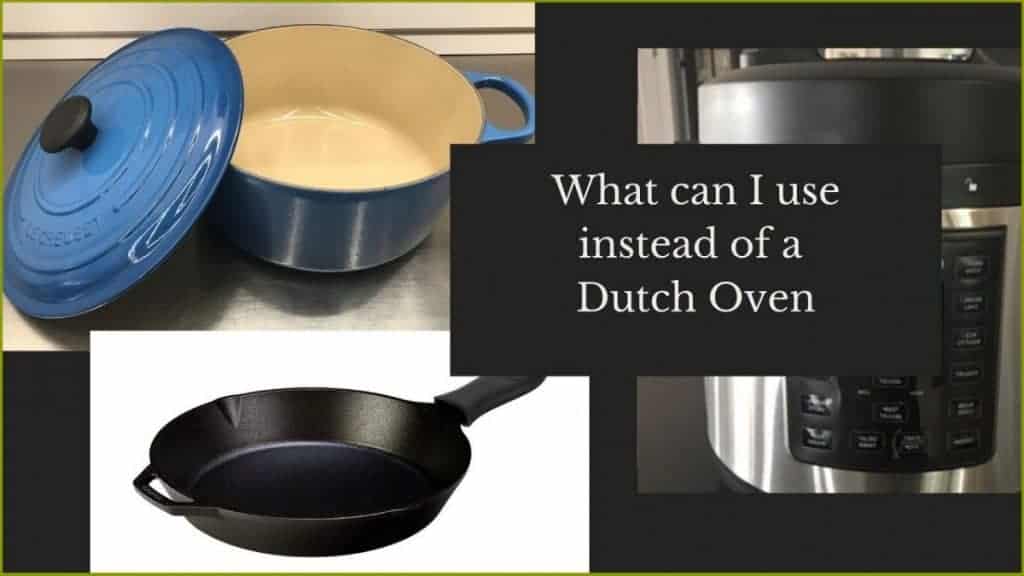 What is your situation? Are you maybe a college student, have you just left home and are getting your own home together, or do you live in a small space such as an RV or Camper? Are you looking for a Dutch oven replacement, or are you simply a downsizer?
Read on for everything you need to know about Dutch ovens, how to cook without a Dutch oven, and how to use other appliances to achieve the same delicious meals that a Dutch oven provides every time.
Disclaimer: I earn from qualifying purchases on my website as an Amazon Associate. If you purchase through links from this website, I may get a small share of the sale from Amazon and other similar affiliate programs.
Understanding How a Dutch Oven Works
What you first need to understand is how a Dutch oven is used. You will then be able to apply this information to the use of different cooking appliances to achieve the same outcome as a Dutch oven.
Iron Dutch ovens have been used for a long time and can be used for almost any cooking requirement. They are made from heavy cast iron, and after being heated, their oven temperature is retained, and spread the heat to cook the food inside evenly.
They can sear, sauté, fry, boil, bake, roast, stew, slow-cook, fast-cook, reheat leftovers, and the list goes on.
The lid of the Dutch oven is what keeps the moisture in. It is heavy and depending upon the design has small spikes on the inside of it where the condensation drips back into the meal.
This provides a self-basting action, so regardless of whether you cook at high temperatures or low temperatures, your meal is presented as moist and nutritious every time.
The idea behind a Dutch oven is slow cooking so flavors develop, and tougher cuts of meat can slowly braise and become tender. Our more modern answer to the Dutch oven is a slow cooker or crockpot.
A Dutch oven can be used on any heat source inside a conventional oven. (Enamel should not be used on open flames)
What Is the Best Substitute for a Dutch Oven?
The best substitute for a Dutch oven would have to be the slow cooker. This is because the basic cooking principles are the same. Dutch ovens are the original slow cookers – place your meat and vegetables inside for searing, add liquid and other condiments, and turn down the heat.
Electric slow cookers have come a long way from the one-off electrical kitchen appliance. Of course, you can still purchase a dedicated slow cooker – but you can also purchase an electric cooker that sautes' first, just like a Dutch oven, but then you can convert the setting to slow cook. This allows you to cook all in one pot.
Below are some of the best alternatives to a Dutch oven you can use if you do not have a Dutch oven.
As with all appliances, you should read and reference the manufacturer's instructions. These instructions usually clearly point out what you should not do with the appliance. You will then be able to rule out pretty quickly if you can prepare a Dutch oven recipe in it.
1. Multi-Cooker – Pressure Cooker – Slow Cooker
This modern appliance which has some of the same features as a Dutch oven, only run by electricity, is a multi-cooker, crockpot, air fryer, or slow cooker.
These cookers, when using the slow cooker mode, work in much the same way as Dutch ovens. They just take longer to prepare a slow-cooked dish because they operate at a much lower heat than a Dutch oven.
This means that they take a lot longer to cook the meal. The benefit of these cookers is that you can leave them unattended to do their thing. The outcome will be a tender dish.
If the appliance has the pressure cooker function, adjust recipes to suit and you will have your meal prepared faster than a Dutch oven.
You will have to spend some time adjusting your recipes to suit my number 1 Dutch oven substitute – the electric multi-cooker, pressure cooker, or slow cooker.
I have two articles here and here that explain in-depth about multi-purpose cookers here 'are multi-cookers and good' and here 'multi-purpose cookers'.
2. Casserole Dish
The casserole can work much the same as a Dutch oven provided the casserole is deep enough and the lid is tight-fitting. You will also have to sauté or sear in a frying pan before placing the ingredients inside the casserole.
This extra step and pan are required because the casserole cannot be placed on a direct heat source.
Because casseroles are manufactured in many different materials, some of which would not be suitable for cooktops or open flames.
3. Clay Pot
Clay pots work in much the same way as a Dutch oven. In a Dutch oven, the steam rises to the lid then the moisture slides back into the dish – known as self-basting.
The cone lid design of the clay pot allows the steam to rise from the dish being prepared, then the moisture goes back down into the dish after condensing. (self-basting)
Clay pots were once produced "naked," and by that, I mean exposed clay with no glazing. Much the same as the traditional cast-iron Dutch oven without enamel.
As both these cooking appliances are now available "glazed," much care needs to be taken when choosing a heat source. For example, open fire!
If all you have is a clay pot, you can use it on a direct heat source, provided you use a heat diffuser between the direct heat and the pot.
Find out Where to buy the Best Clay Pots for Cooking!
4. Metal Pot
This metal pot can be utilized, as they are all different. Reading manufacturers' instructions before preparing a meal is advisable.
5. Ceramic Pot
This pot can prepare Dutch oven recipes and go into the oven if required.
6. Stockpot
A heavy-bottomed stock pot with a tight lid is a great substitute for a Dutch oven. You can saute and sear in this pot before adding ingredients; just do it over low heat to avoid sticking.
You will have to use low heat and regularly check that the liquid level required is intact.
If using the stockpot in the oven, keeping the temperature at a low 250 to 275 degrees Fahrenheit will allow it to function as a Dutch oven. As with the cooktop preparation, you should check the liquid levels regularly and top up if required.
7. Soup Pot
Using the Soup Pot in the same way as the stockpot, you will achieve the same outcomes. Ensure that lids and handles are conventional oven-safe if that is a cooking requirement.
One of the benefits of soup pots is the various sizes and materials available. These could suit a single couple or someone unable to lift heavy cooking pots.
8. Braiser
Dutch ovens and braisers can prepare almost all the same dishes with a little adaptation. The main difference is the circumference and the high of the pots' sides. This type of cookware functions well in a home oven, and cooking time will be similar.
If you have a braiser instead of a Dutch oven, you can certainly adapt recipes to suit.
9. Skillet
This particular cast-iron skillet is good for sauteing, searing, and frying. It is suitable to cook a roast in the oven with its oven-safe handles. You would be unable to slow cook or stew as the sides are not high enough, and there is no cover.
10. Frying Pan
A frying pan requires a lid to work as effectively as a Dutch oven. As with the other appliances, this is a great substitute for a Dutch oven because you can saute and sear in the pan, add other ingredients, and simmer over low heat until cooked as desired.
Baking in a hot oven with this pan will not be possible.
11. Roasting Pan
You can use a roaster instead of a Dutch oven. The roaster pan should be used in the same way as the frying pan. Sear, add ingredients, and cook over low heat. 
12. Pyrex Glass Casserole
I have often asked myself, "Can I use a Pyrex dish instead of a Dutch oven"? The answer is yes, but temperatures, cook times, and ingredients need to be adjusted to do so.
We all know the glass brand Pyrex. The oval Pyrex baking dish pictured above will cook the same recipes a Dutch oven will, the caveat being that glass is light, and a baker like this will not withstand high heat.
The lid will not be heavy enough to keep the moisture in to slow cook the way other cooking appliances can.
This baker has its place in a kitchen because it is thermal shock resistant it can be used in the microwave to cook or reheat.
It is safe to use in the freezer and is dishwasher safe. Like most glass, it is tough, hygienic, and scratch-resistant when used and cared for in the correct way.
Other Dutch oven substitutes that are less effective than the suggestion above are;
Electric fryer – can prepare some Dutch oven recipes like a pot roast, but not all. The sides are too low for most slow-cooked dishes. The lid will not seal like Dutch oven lids to keep in the moisture required for tenderizing meat.
You could try placing aluminum foil under the lid to create a seal when preparing casserole dishes. In that case, you would have to watch that the maximum temperature from the heating element in the base of the pan does not burn or dry out the dish.
Do I Need To Buy A Dutch Oven
If you have a selection of different cooking appliances but not a Dutch oven and are satisfied with adjusting recipes to suit your cooking appliance, do not buy a Dutch oven.
If you decide to buy a Dutch oven, there are some really good affordable alternatives to the more expensive brands, such as Le Creuset, Staub even Lodge if these are out of your price range.
Dutch ovens, unless you want the very best, really do not break the bank anymore. You will find one to suit your needs, starting at around $20.00.
Take a look at my two choices below. If you want to see more options go here, where you can peruse by brand and some other alternatives.
My Top 2 Choices for an Affordable Dutch Oven
AmazonBasics Pre-Seasoned Cast Iron Dutch Oven with Dual Handles 2-Quart
This 2-quart option comes under $30 and is large enough to feed 1-3 people and bake a small loaf of no-knead bread. It is a compact, lightweight option if space is an issue.
Features of This 2-quart Dutch Oven Include
Arrives pre-seasoned, ready to start boiling, baking, braising, roasting, sauteing, slow cooking, and more…
Heavy-duty cast-iron construction for optimal heat retention and thorough, even heating…
2 loop side handles allow for a safe, steady, and secure hold…
Loop handles are generous enough to allow the use of thick oven mitts…
Oven-safe to 500 degrees Fahrenheit…
It can be used on cooking surfaces…
Hand washing only (NOT dishwasher safe)…
Backed by an AmazonBasics limited 1-year warranty…
Oven Dimensions 9.6 inches x 7.5 inches x 5.3 inches…
Oven Weighs 5.49 pounds…
This traditional exposed pre-seasoned cast iron is an excellent option as you can use it on all cooktops, including gas, electric, glass, ceramic, and induction, as well as in your conventional oven gas or electric.
The bonus is that you can use this AmazonBasics Dutch oven on a campfire, amongst briquettes or coals, hanging over open flames, or even on your grill.
AmazonBasics Enameled Cast Iron Dutch Oven – 4.5-Quart, Green
This 4.5-quart option is perfect for a couple or small family. For around $40, investing in one of these ovens would be beneficial.
Features of This 4.5-quart Dutch Oven Include
It can be used for baking, braising, roasting, and more…
Optimum heat retention…
Oven-safe to 400 degrees Fahrenheit…
It can be used on most cooking surfaces…
Large loop side handles for easy transport…
Tight-fitting and secure lid…
Hand washing only (NOT dishwasher safe)…
AmazonBasics limited 1-year warranty…
Oven Dimensions 12.4 inches x 10 inches x 6.5 inches…
Oven Weighs 11.24 pounds…
This AmazonBasics Dutch oven is a beautiful-looking Dutch oven and very multi-purpose as you can prepare your meal and place it on the table for serving straight from the oven. It will also keep leftovers warm for seconds.
There are many uses for a Dutch oven. Check out my article here, you may well then be convinced that adapting Dutch oven recipes to other cooking appliances is not worth the bother and just invest in a Dutch oven for yourself.
FAQs
Can a slow cooker be used instead of a Dutch oven?
Absolutely, electric slow cookers are based on the traditional slow cooker – that being the Dutch oven. The main difference is that one can be used over almost any heat source, and the other needs a power outlet.
Do I really need a Dutch oven?
I would say that if you have a cooking pot or electric appliance, no, you do not need a Dutch oven. But I guarantee that once you cook with a Dutch oven, you will love it.
What is a Dutch oven?
A Dutch oven is a cast-iron pot with a heavy lid that keeps in the moisture and self-basts for slow or not-so-slow cooking. Check out my article here that goes into much more detail about Dutch ovens.
Can I use a roasting pan instead of a Dutch oven?
To prepare specific recipes, you can absolutely use a roasting pan as a substitute for a Dutch oven. But the roasting pan will not be able to cook all the dishes a Dutch oven can. See my article here that explains in-depth the differences between roasting pans and Dutch ovens.
What can I use instead of a Dutch oven for bread?
Any cooking pot that is oven-safe with a tightfitting lid is a substitute for baking bread in a Dutch oven.
Sheet pans will give you crusty bread. TIP: find a suitable bread recipe for baking bread on the sheet pan.
How to use a Dutch oven
There are not many dishes you cannot prepare in a Dutch oven. The basic use is to sear your meat and onion over low heat, add any vegetables and condiments, then liquids, set the required temperature cover, and wait. You will end up with tender meat every time.
There are many recipes that can be prepared in a Dutch oven – see my article on how to use a Dutch oven while camping, which explains more about using your Dutch oven.
Final Thoughts – What Can I Use Instead of a Dutch Oven – 12 Alternatives
So now you know what cooking pot is the best substitute for a Dutch oven if your recipe calls for a Dutch oven and you do not have one.
With a little adaptation of your recipes, you can use any cooking appliance to simulate a Dutch oven. Make sure you choose one that has a tight-fitting lid that allows the self-basting action to take place.
If you do not own a Dutch oven, you may want to step out and purchase one. Simply because the Dutch oven is a master at slow cooking it allows the flavors to infuse into your food and even improve the overall taste with regular use over time.
The Dutch oven is also perfect for those cheaper, tougher cuts of meat, which, as we know, will become tender during the slow process.
Further, with this one cooking appliance, you can prepare almost any dish, whereas others can be restricted to just working on that task they were designed for.
You might purchase a Dutch oven in favor of some other appliances.
Good Luck with your decision, and happy cooking!
One-Pot Cooking Rocks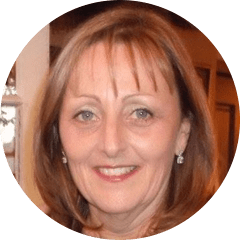 Michelle
Hi, I'm Michelle, the founder, owner, author, and editor of OvenSpot. My passion for one-pot cooking commenced when I was working to prepare cafeteria lunches for school students. I am now on a mission to assist you in choosing the cooking pot or appliance you will use daily. As well as in-depth information to assist you in using and caring for your cookware and appliances.
Questions? Reach out to Michelle at [email protected]