Dutch Oven vs Stock Pot: What's the Difference
When asked to explain the main difference between a cast iron Dutch oven and a stockpot, most people think it is simply what each type of pot is made from that differentiates them. That is, of course, not wrong, but there is a lot more to the subject than what material is used to make these items. There are some glaringly apparent differences, and then there are also slight nuances that make them similar and make one better for the job than the other.
In most instances, Dutch ovens are made from heavy-duty cast iron. Stockpots are usually made from aluminum or stainless steel. Dutch ovens are heavier but more versatile regarding cooking methods without warping. Stockpots are lighter and better suited to cooking and holding large volumes of liquid.
Is it possible to use a Dutch oven rather than a stockpot? Of course. Are they entirely interchangeable in every aspect? Not really. There are many areas where they overlap and can be used solely based on personal preference or availability. There are other areas where one outperforms the other entirely.
Disclaimer: I earn from qualifying purchases on my website as an Amazon Associate. If you purchase through links from this website, I may get a small share of the sale from Amazon and other similar affiliate programs.
What Are the Similarities Between a Cast Iron Dutch Oven and a Stainless Steel Stock Pot?
Both stockpots and Dutch ovens are used for cooking large volumes of food
Both stockpots and Dutch ovens can be used for long slow-cooking
Both stockpots and Dutch ovens are usually made from metal, albeit different types
Both stockpots and Dutch ovens are suitable for stovetop cooking
Dutch Oven vs Stock Pot Comparison Table
Quick reference comparison table for the differences between a Dutch oven and stock pots.
Dutch Oven

Stock Pot

Uses and versatility
Slow cooking (stews, casseroles, oats, chili), braising, searing, roasting, soup, stock, baking, shallow and deep-frying…
Boiling liquid, potatoes, beets, corn, dried beans, meat, chicken, bones, soup, stew, lobster, crab, mussels…

Materials

Seasoned cast iron, enameled cast iron, or aluminum
Aluminum, stainless steel, or a combination (clad)

Shape

Flat base with or without legs, low or high sides
High sides flat bottom

Size

1-quart to 16-quarts
3-quart to 50-quarts plus

Handles

Integrated if cast iron will withstand high temperatures
Attached by rivets

Lids

Heavy ideal for self-basting. With loop lifters or knobs will withstand high temperatures
Attached by rivets
Weight
(5-quart)
Heavier @ 12 lbs
Lighter @ 5 lbs

Stovetop

All
All

Induction

Must have a magnetic base to be induction-compatible
Yes, ensure knobs and handles can withstand temperatures of 500°F

Oven safe

Yes, seasoned cast iron can as they are the original campfire cooking pot (no enamel – keep that for the kitchen)
Generally not oven-safe too tall, glass lids, plastic handles, or knobs

Heat transfer

Heats up slowly
Responds quickly (approximately 30% faster)

Heat Retention

Retains heat evenly
Quicker to cool down

Campfire

No regular maintenance is required
Propane burners only open fire will damage the pot

Cleaning

Scrub the surface with water and the appropriate scourer, dry immediately, and store
Easy cleaning in soapy hot water, ensure all grease is removed, and dry immediately

Maintenance

Seasoned cast iron requires regular seasoning
It can last a lifetime

Colors

Extensive
Shades of silver or gray

Storage

Store with care in a dry place away from humidity
Stackable

Durability

Can last a lifetime
Considerably less than a lifetime

Price

More expensive
Affordable (top brands are not so affordable)
Dutch Oven vs Stock Pot Comparison Chart
What Are the Differences Between a Dutch Oven and a Stock Pot?
Although these two cooking pots are similar, the major differences in materials, shape, size, versatility, performance, and durability are significant.
Names of Dutch Ovens and Stock Pots
It should be noted that home cooks should be aware that both these pots are known by different names. Dutch ovens like a Le Creuset Dutch oven are commonly referred to as French ovens and a Staub Dutch oven is also called a cocotte.
A casserole dish is another popular name for Dutch ovens. This type of cookware is not a heavy-duty pot. Its cooking process is different, whereby it cannot be used on a stovetop, only inside an oven. It can be used as a soup pot, not on a burner or campfire.
Metal pots are known by many names, including stockpots, soup pots, casserole pots, stewpots, and even a billy.
Materials Used to Make Dutch Ovens and Stock Pots
The most commonly available Dutch ovens are cast iron, enamel-coated cast iron, or aluminum. On the other hand, stockpots are most commonly made from stainless steel, aluminum, or a combination of the two. Some stockpots also include some copper in the base disc.
The type of metal used in production adds different advantages and disadvantages to each of these types of pots. It also accounts for most of the differences in function and uses between Dutch ovens and stockpots.
Differences in the Shape of Dutch Ovens and Stock Pots
Dutch ovens and stockpots can be found in sizes ranging from 3 quarts to 50 quarts or larger. The most used pot sizes for family cooking range from 6 quarts to 12 quarts. The typical shape of a stockpot is a flat-bottomed large pot with high straight sides.
Dutch ovens can be rounded with three legs for campfire cooking or flat-bottomed. They usually have a larger base with shorter sidewalls. This shape means bigger Dutch ovens do not fit as well on stovetops as a stockpot.
Another difference in shape to consider is whether your Dutch oven has handles. Many Dutch ovens have two rounded handles, while others only have a bail handle loop. (similar to a bucket handle)
Stockpots have two handles, making for easy lifting of the pot, especially if the handles are deep. Materials used in manufacturing the handles are a consideration to be discussed a little later.
Differences in Weight of Dutch Ovens and Stock Pots
Though Dutch ovens and stockpots can be found in a similar size range, Dutch ovens are heavier. While smaller Dutch ovens are still relatively easy to lift and move, weight becomes a more significant factor when looking at larger-sized Dutch ovens. The table below illustrates this effect.
Dutch Oven
Hard-Anodized Aluminum
Dutch Oven Cast-Iron
Stock Pot
Double Capsulated Stainless steel
Pot Size
10-quarts
10-quarts
10-quarts
Pot Weight
4.6 pounds
5.8 pounds
25.5 pounds
Content Weight
20.86 pounds
20.86 pounds
20.86 pounds
Total Weight
25.46 pounds
26.66 pounds
46.36 pounds
Weight Comparison Table between Dutch Ovens and Stockpots
The lighter weight of the stockpot makes it easier to use large-volume pots filled with liquids than a cast-iron Dutch oven of the same volume. As such, a stockpot can easily hold large volumes of food or liquid.
For stovetops, the cooking weight would need to be a consideration when choosing the ideal cookware. In this example, a full stockpot weighs half as much as a cast-iron Dutch oven.
An aluminum Dutch oven has a similar weight to the stainless-steel stockpot, so there are ways to overcome this concern, as long as the aluminum Dutch oven design has two side handles rather than a bail handle. Lifting can cause the Dutch oven to tilt with a bail handle, causing spills and possible injury.
Learn the differences between aluminum and cast iron cookware with me in aluminum vs cast iron cookware.
Ways to Cook With a Dutch Oven or Stock Pot
The most significant difference between a Dutch oven and a stockpot would be the versatility in the cooking styles of a Dutch oven compared to a stockpot. While Dutch ovens and stockpots can be used interchangeably when cooking on a stovetop, a Dutch oven can be used for cooking styles that could ruin your stockpot.
Dutch ovens can cook with virtually any heat source aside from a microwave without adverse side effects. Stockpots have a few limitations in this department.
Stove Top Cooking
Dutch ovens and stockpots are on an even footing as far as stovetop cooking is concerned. The design of the pots can make one preferable over the other depending on space or size.
The type of cooking being done would dictate which would be the best pot for the task. (Searing vs. large liquid volumes etc.) There is very little difference between a Dutch Oven and a stockpot regarding performance and ability on a stovetop cooker.
Did you know you can fry in a Dutch oven? Learn how to fry and deep fry in a Dutch oven.
Oven Cooking and Baking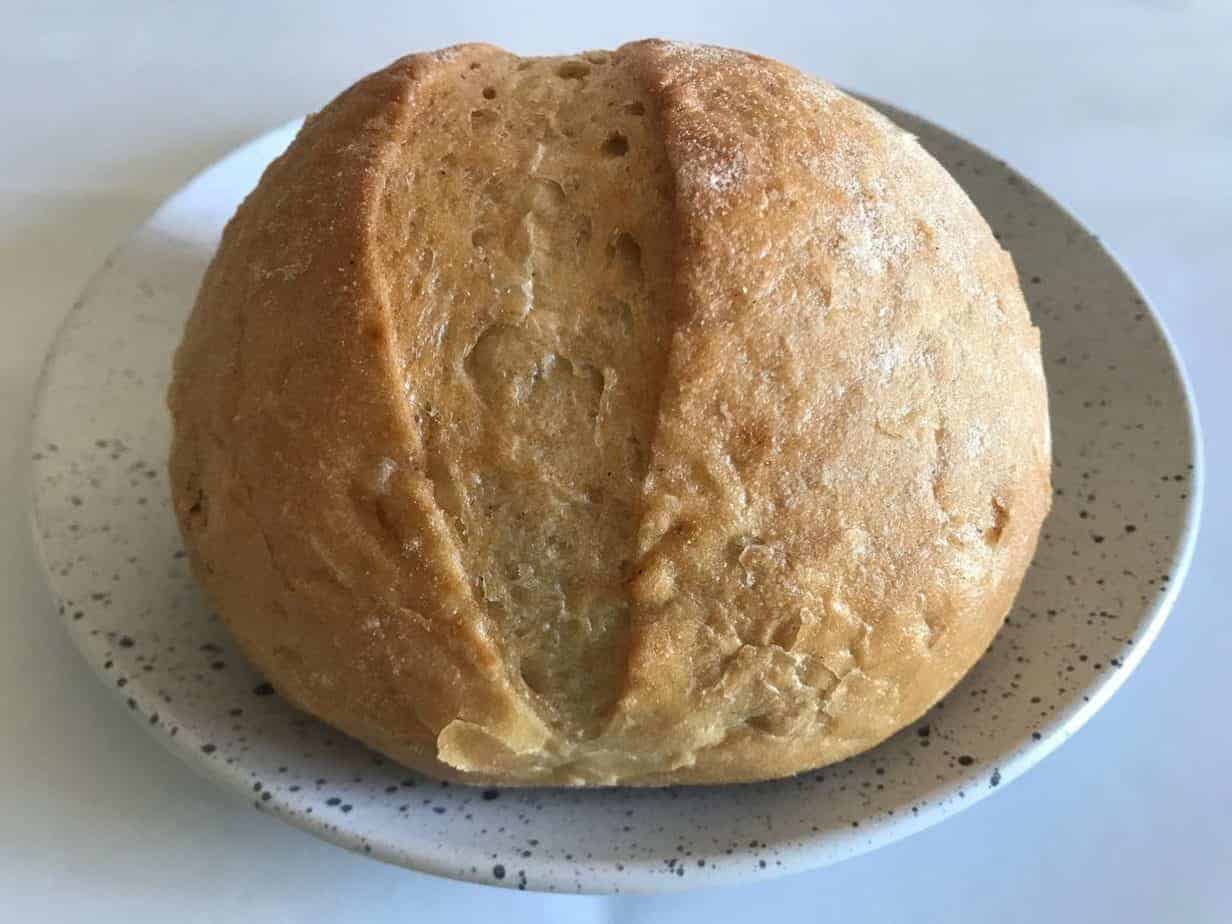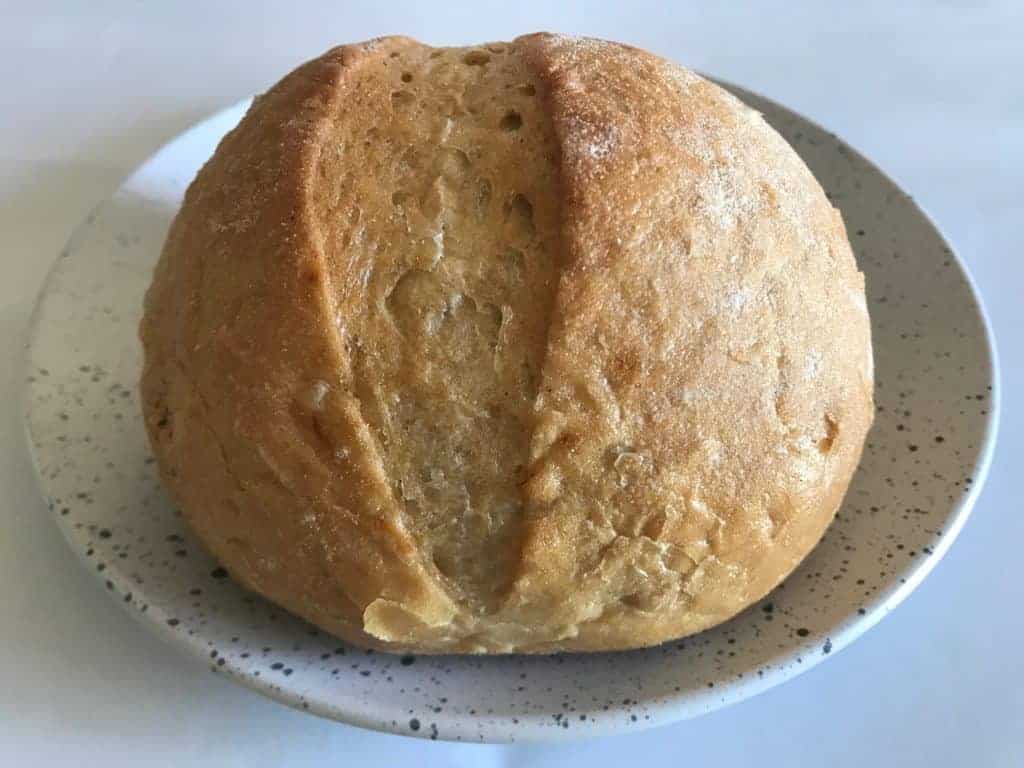 There are a couple of considerations when comparing Dutch ovens and stockpots for oven use. Not all stockpots are oven-safe or have limited heat safety. Thicker 3-ply double-clad stockpots may work well in an oven, where some disc bottom pots could warp at high heat.
Many stock pots have plastic handles, which also would not be oven-safe. If your stainless-steel stockpot has a glass lid, it may not be oven safe either. (Check the manufacturer details for certainty.)
The tall stockpot design that makes it ideal for managing large volumes on a stovetop could also count against a stockpot in the oven. If it only fits into the oven on the lowest shelf setting, the stockpot could be too close to the heat source and cause uneven cooking results.
Dutch ovens are ideal for moving from the stovetop to the oven and back if needed. They are favored equally for baking items like sourdough bread and serving a casserole for oven-baked slow-cooked meals.
While Dutch ovens are well suited to oven cooking and baking, be aware that enameled cast iron does not handle the extremely high heat that regular cast iron can.
Need some inspiration for cooking in a Dutch oven? Check out my list of the best Dutch oven cookbooks.
You can prepare almost any dish you can think of in a Dutch oven. Learn more about Dutch Oven Uses.
Outdoor and Campfire Cooking
Outdoor cooking is where Dutch ovens come into their own. Dutch ovens are designed to withstand high temperatures and can be used with open-fire cooking, using coals, on the barbeque, or with propane burners. Dutch ovens can be easily used for anything from braising and sautéing to stewing and baking.
It would be best to use non-enameled cast iron or aluminum Dutch ovens for these types of cooking, as open flames and cooking with coals can damage the appearance of your enamel coating.
For outdoor cooking, stock pots should be limited to propane burners as fire or coals could easily warp stockpots and damage handles if they are unsafe to use over open flames.
Using a Dutch oven outdoors differs greatly from using one in the kitchen. Learn about the Best Dutch Ovens for Camping.
FAQs
What's the difference between a stock pot and a Dutch oven?
A heavy-bottom, copper-based stockpot with a tight lid is a great substitute for a Dutch oven. You can saute and sear in this pot before adding ingredients; just do it over low heat to avoid sticking. You will have to use low heat and regularly check that the liquid level required is intact.
Is a stockpot or Dutch oven better for soup?
A stainless steel stockpot is versatile and has many different uses, but it is perfect for stovetop use and preparing large amounts of food as it is a tall cooking pot.
Dutch ovens lend themselves to low and slow-cooking meals, including soup. Their heavy bases, sides, and self-basting lid keep the nutrients dripping back into the dish like no other cookware can.
Although these one-pot cookers are made from different materials, the sides of Dutch ovens are shorter, so the large capacity of stockpots makes them a good choice for big batches of soup.
Can I use a stock pot instead of a Dutch oven?
Yes, a stock pot is a cookware that can hold a similar amount of food as a Dutch oven, but the steam will escape if the lid is not tightly fitted. A better alternative would be the cast iron braiser. It has the same cooking capabilities as the Dutch oven but has lower sides, so it cannot hold the same volume of food.
Check out my article "What can I use instead of a Dutch oven." You will be amazed at the Dutch oven alternatives available.
Wrapping Up: Dutch Oven vs Stock Pot
Dutch ovens and stockpots are both excellent options for cooking, but Dutch ovens have a few more advantages. Dutch ovens can be used with open-fire cooking, using coals, on the barbeque, or by propane burners.
Dutch ovens also offer versatility as an alternative to baking bread and casseroles when you need them. Dutch ovens are so iconic in their cooking methods that electric slow cookers were invented to try and emulate the self-basting techniques of a Dutch oven.
Stockpots have their place and are typically larger and lighter, so they can handle large volumes of liquid.
Do you need both a Dutch oven and a stockpot? If you have the storage room in your kitchen, if you are an avid cook, why not have both? If space is tight, the mighty Dutch oven gets my vote every time.
One-Pot Cooking Rocks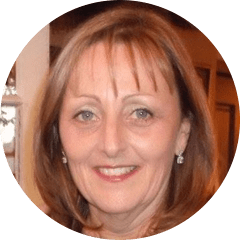 Michelle
Hi, I'm Michelle, the founder, owner, author, and editor of OvenSpot. My passion for one-pot cooking commenced when I was working to prepare cafeteria lunches for school students. I am now on a mission to assist you in choosing the cooking pot or appliance you will use daily. As well as in-depth information to assist you in using and caring for your cookware and appliances.
Questions? Reach out to Michelle at [email protected]