Top Tips on How to Store Cast Iron Dutch Ovens & Cookware
We all know cast iron Dutch ovens need special care and attention to keep them in top working condition. What about how to store cast iron Dutch ovens? I have put together some top tips on how to store cast iron Dutch ovens.
How do you store cast iron Dutch ovens and cast iron cookware?
To protect your cast iron, it should be clean, seasoned, and stone dry.
Do not store cast iron with lids on.
Some places to store your Dutch oven include in a kitchen cabinet, on the stovetop, or in your oven.
You can also hang your pots up or store them in special-purpose Dutch oven storage bags.
Disclaimer: I earn from qualifying purchases on my website as an Amazon Associate. If you purchase through links from this website, I may get a small share of the sale from Amazon and other similar affiliate programs.
>>>>>If you have landed on this page and you already know you want to check out storage options to purchase. Click here and check out an extensive range at Amazon.
How to Store Cast Iron Dutch Ovens and Cast Iron Cookware
That is to ensure the safe storage of your prized piece of cookware. It really doesn't matter if you are storing your oven in the kitchen for a couple of days or packing it away indefinitely. These tips will help. To keep your cast iron Dutch oven in top condition, you should follow these simple steps.
You will be happy you did when you pull out your cast iron for its next use and it is ready to use, not rusted or damaged. These Dutch oven storage tips also apply to enameled Dutch ovens which will definitely reap the benefits of safe storage practices.
These storage tips can also be used in the same way to store skillets and pans. After I give you my quick answer, please read on for further suggestions and other storage tips that I've come up with.
Here Are My Easy Tips to Store Cast Iron
Tip One
It is to make sure your Dutch oven is completely clean and rust-free. Need some help with this step, go ahead and check out my full tutorial about the easy steps to prevent cast iron rusting.
Tip Two
You must check that your cast iron is protected by being properly seasoned before it gets stored away.
If the cast iron is not seasoned correctly when you retrieve it for its next use you may well have to go through the cleaning, de-rusting, and re-seasoning process from scratch. Much easier to give it a quick season before storage.
If you need some help with this process please check out my full tutorial on "how to clean a Dutch oven after cooking".
Tip Three
Your cast iron cookware must be dry before storing it. If there is moisture or water left on the cast iron's surface, it will break down the seasoning, and it will rust.
Drying a cast-iron Dutch oven is easy. After washing and towel drying, you can either:-
place it on a warm stovetop until the low heat evaporates any excess moisture or;

my favorite is to place my cast iron in a warm oven for a few minutes to ensure all evidence of water has disappeared.
Tip Four
Cast iron with a lid should not be stored with it fitted on the cookware. If the lid stays on the cookware, the inside of the cookware traps moisture.
If that happens, rust may appear, and the cleaning and seasoning process would have to be carried out again before use.
With the lid off the cast iron, the air can move around the cookware, keeping it dry. If you wish to store with the lid on top of the cast iron, just put a piece of paper towel between the pot and lid. This may help with the moisture.
Tip Five
Where to store your cast iron Dutch oven?
If you want the cast iron out of sight, your kitchen cabinets are a great option.
Just remember these couple of tips before doing so:-
Firstly, the cabinet space needs to be dry and free of moisture. For example, cabinets like the one under your sink or the one next to your dishwasher would generally be considered moist areas of the kitchen. The aim is to keep the cast iron as dry and moisture-free as possible.
Secondly, the weight of your cast iron and other pans needs to be considered. If you will be stacking and storing them all together, they will be really heavy. Therefore they should be stored on the bottom shelf of kitchen cabinets, any higher cabinets could result in the shelves breaking.
Also, remember to place the paper towel between all of your stacked pots, pans, lids, and skillets, regardless of what they are made of. You will be protecting all the various coatings by doing this.
Tip Six
If you don't mind having your cast iron on show, placing it on the stovetop is a great option. Just remember to remove it from the stovetop before heating any elements.
My personal favorite is to store it in the oven, right where I store some of my other metal utensils and baking pans. Same as above, always empty your oven of unwanted cooking appliances, etc, before heating.
Another option is the drawer at the bottom of your oven if you have one. This works well to keep humidity away from the cast iron as well as allow that all-important airflow to get to your cookware.
Tip Seven
Another one of my all-time favorite ways to store cast iron cookware, or any cookware for that matter, is to hang it up in the kitchen. With all your cooking pots, pans, and skillets, as well as your Dutch ovens, out on display for you to see every day, you are more likely to use them.
As well as the benefit of airflow around the cookware, which will assist in preventing rust from attacking your cast iron, you will have more cabinet space for other items in your kitchen.
>>>>>Check out some of my favorite cast iron storage rack hanging options available at Amazon.
Tip Eight
You can purchase specially made cast iron storage bags for storing most standard-size Dutch ovens. They generally have a padded bottom, heavy-duty zippers (which you should leave slightly open to allow air to circulate), and strong polypropylene straps.
This opening would be great if you have a lot of storage space in your home, as you would not want to stack these bags on top of each other due to a lack of air circulation.
You can check some of my favorite cast iron storage bags out at Amazon.
Video – Cast Iron Storage Tips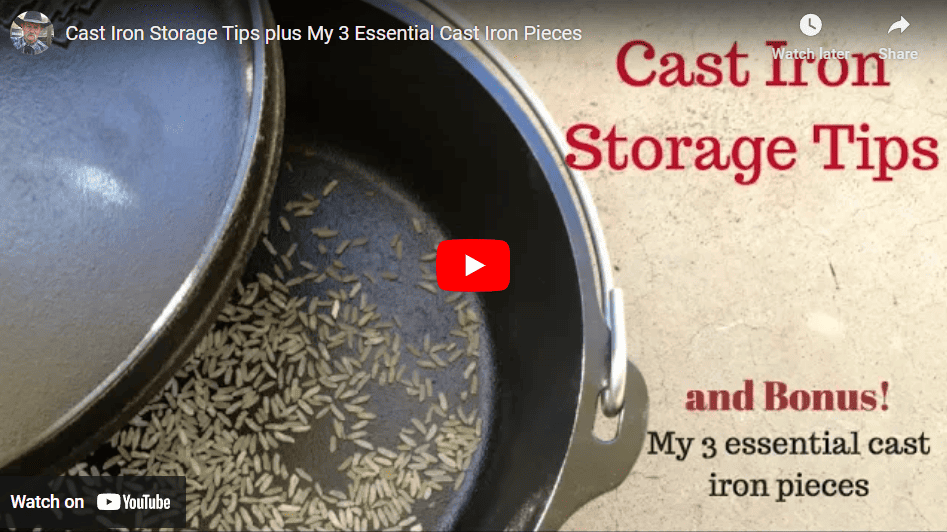 How to Store Cast Iron for Camping
Storing cast iron outside or camping is easy when following these steps.
Carry the cast iron protected in a carry bag, box, or wrapped in towels or similar. This will protect not only your cast iron but everything around it.
To store cast iron while camping after use, thoroughly clean and dry the iron. If you use cast iron regularly, you can keep it away from moisture, such as night dew and rain.
Before leaving the campsite, clean, dry, and pack away for travel again.
How to Store Cast Iron Long Term
For long-term or short-term storage of cast iron just follow the same basic principles outlined above. Season and thoroughly dried cast iron should be stored in a safe dry place preferably away from humidity.
FAQs
Where to store Dutch ovens?
There are many places where you can store Dutch ovens including pantries, kitchen cabinets, or shelves. Not a lot of space? You may even want to keep them in your garage or basement. Whichever way you choose to store your Dutch ovens, make sure that they are in a cool, dry place.
How do you store cast iron outside?
If you're planning on keeping your cast iron cookware outside, there are a few things you should keep in mind in order to protect it from the elements.
First, make sure that the cookware is clean and dry before storing it. This will help prevent rust and other damage. Second, consider using a cover or tarp to protect the cookware from the weather.
Finally, store the cookware in a cool, dry place to further prevent rust and damage. By following these tips, you can help keep your cast iron cookware in good condition for years to come
Final Word – How to Store Cast Iron Dutch Ovens
Storing cast iron is not difficult. All you really need to remember is that a clean dry piece of rust-free cookware ready for use after being stored is what you want when you take it out to use it again.
I hope that I have helped you with my tips. Applying a couple of these tips on how to store cast iron Dutch ovens and putting them to use in your own home will ensure that you achieve this outcome.
One-Pot Cooking Rocks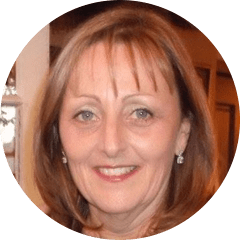 Michelle
Hi, I'm Michelle, the founder, owner, author, and editor of OvenSpot. My passion for one-pot cooking commenced when I was working to prepare cafeteria lunches for school students. I am now on a mission to assist you in choosing the cooking pot or appliance you will use daily. As well as in-depth information to assist you in using and caring for your cookware and appliances.
Questions? Reach out to Michelle at [email protected]