Can You Soak Cast Iron? (How to Clean & Season a Skillet)
You might be wondering if you can soak a cast-iron skillet in water or not.
No, you should not soak cast iron skillets, Dutch ovens, or any iron pans as rust starts to form in a very short period of time on a cast iron's surface.
Even if soaking iron does not induce rust to form it most certainly will break down the surface of the seasoned cast iron. Leaving you with a surface that is not smooth and naturally nonstick and increasing the chances of rust or corrosion forming quickly in the near future.
The main challenge that people have with cast iron cookware is that they don't know why you shouldn't soak it in water. They also don't know the correct way to clean it.
If you are struggling with your cast-iron pan, don't worry – you are not alone! Many people find it difficult to properly care for this type of cookware.
But by learning about why you shouldn't soak cast iron and the best way to clean it, you can get started on the right path to using this durable and versatile material.
So follow along as we explore all the ins and outs of cast iron cookware, and start using it with confidence!
What Is Cast Iron Cookware and Why Is It So Popular?
Cast-iron cookware is popular because it is so durable. Campers and home chefs love it because it can withstand high temperatures and is extremely versatile, allowing you to cook on a variety of different cooking surfaces.
These pans are designed for use on heat sources like open fires, hot coals, or briquettes as well as in the kitchen on induction cooktops, gas ranges, electric ranges, under broilers, and in conventional ovens.
Cast iron cookware heats up slowly but evenly and retains heat well, making it great for searing meats or slow-cooking stews and soups.
Whether you are an experienced chef or just starting out in the kitchen, cast iron cookware is a must-have for your collection. If you take care of it, it can last for years.
Can You Soak Cast Iron in Water or Not?
You should not soak cast iron cookware in water because it can rust. Cast iron is a very porous material, which means that water can easily seep into the surface and cause oxidation or rust to form. Soaking cast iron in water may weaken the structure of your cookware over time, leading to chips or cracks.
To prevent rust and other damage to your cast iron cookware, it's important to clean it regularly and make sure that there is no moisture trapped on its surface. This can be done by drying your cookware thoroughly after each use, seasoning it with oil to form a protective coating, and storing it properly in a dry location.
Does Soap and Water Ruin Cast Iron?
Harsh soap and water can also ruin cast iron cookware by removing the protective seasoning that has been applied to the surface. This seasoning is important because it helps to prevent rust and corrosion from forming. If the seasoning is removed or damaged, your cookware will be more susceptible to rusting and other damage.
To avoid damaging the seasoning on your cast iron cookware, it's important to only use mild soap or detergent when cleaning it. You should also avoid using abrasive chemicals, which can damage the surface of your cookware.
If you want to keep your cast iron cookware in good condition, it's essential to clean and care for it properly. With a little bit of effort and knowledge, you can ensure that your cast iron cookware lasts for years to come!
How to Clean Cast Iron
Here are the best ways to clean your cast iron cookware:
Start by wiping down the cookware with a dry paper towel to remove any excess food or grease.
If the pan is really dirty, you can use a stiff brush or some coarse salt to help scrub away the stuck-on food.
Next, fill the pan with warm water and add a few drops of citrus-free dish soap. Let it sit for a few minutes so the soap can break down any residue.
Finally, use a soft cloth or sponge to wipe away the suds and rinse off any remaining soap.
Repeat the process if particles remain you can even use a cast iron scrubber to help shift the residue.
Dry the pan with another paper towel and it's ready to use!
Going one step further by placing the iron in a heated oven while it cools down ensures any remaining moisture dries up.
Care and Maintenance of Cast Iron
There are a few key things you can do to care for your cast iron cookware so that it lasts for years.
These include;
use low heat for cooking to avoid burning food on the surface
always be mindful of the temperatures that your cookware is exposed to. Cast iron can withstand high heat, but it should always be handled with care to prevent overheating and warping
avoid acidic foods like tomato sauce
clean the pan regularly
use a little soap and hot water when needed
use pan scrapers, not steel wool
avoid cold water on a hot pan to avoid thermal shock (cracking the pan)
dry it thoroughly after each use
season the pan periodically to help protect its surface from rusting or corrosion
you don't need to use much oil to clean cast iron, this stops the tacky build-up on the iron's surface
If you follow these tips for caring for your cast iron cookware, you can rest assured that it will last for years to come!
How to Season Your Cast Iron Cookware
To prevent your cast iron cookware from rusting or corroding over time, it is important to carry out the seasoning process regularly.
This involves applying a thin layer of seasoning oil to the surface of the pan and heating it in the oven until the oil has completely dried.
If you are keen you can apply an additional layer of oil or grease after every few uses.
Or like most, you can do this every few months, when food starts to stick or whenever you notice any signs of rust or corrosion.
Flaxseed oil is the one I apply after regular use it maintains the surface like a non-stick pan. Here is a list of the oils for seasoning cast iron.
Learn about the best oils for seasoning cast iron before you begin your restoration.
Steps for Seasoning a Cast Iron Pan
Preheat the oven to 375 degrees and place a tray or silicon mat directly under the shelf you will be placing the pan. This collects any oil drips so they don't bake on the shelves or bottom of your oven.
Clean the Pan
Clean the iron pan before seasoning your cast iron pan, it is important to clean and dry it thoroughly. Scrub the surface of the pan using warm, soapy water and a soft cloth or sponge until all burnt food and food residue have been removed from the bottom of your pan.
Dry the Pan
Once you have cleaned the pan, make sure that it is completely dry before moving on. You can use a paper towel or clean cloth to absorb any excess moisture.
Season the Pan
Apply a thin layer of oil or grease to the surface of your cast iron pan, making sure to cover the entire surface of the pan evenly.
Bake the Pan
In the preheated oven place the pan inside upside down so any excess oil drips off the iron and doesn't make it sticky or tacky. Let the pan heat for about 60 minutes until the oil has completely dried.
Cool the Pan
Once your cast iron pan is seasoned, allow it to cool completely before removing it from the oven. You can then wipe off any excess seasoning with a clean cloth or paper towel.
Repeat this process as often as needed to help protect your cast iron cookware from rust and corrosion over time.
Do you have a new pan? Learn how to season cast iron for the first time.
FAQs
Quick answers to common questions about soaking cast iron cookware.
Can you soak cast iron in vinegar?
There is no definitive answer to this question, as some people recommend soaking cast iron in vinegar, and others caution against it.
Some factors that may affect the effectiveness of this method include the type of vinegar used, the intensity of the soak, and the time spent in the vinegar solution.
Ultimately, whether or not you can soak cast iron in vinegar will depend on your individual preferences and the instructions provided by your particular cast iron cookware.
Can you wash cast iron in Dawn?
You can use Dawn cast iron seasoned and enamel. When cleaning seasoned don't scrub too hard with soap or you will break down the nonstick surface. That is fine though all it means is that you will have to reseason the iron.
Can you use Bar Keepers Friend to clean cast iron?
Yes, you can use it Bar Keepers Friend on enamel and seasoned cast iron. Mix with water and do not use steel wool or harsh scrubbing or hard brushes.
Can you soak cast iron in Coca-Cola?
Yes if your cast iron is already rusted and you will be seasoning it before its next use.
Can you soak cast iron in lemon juice?
No only use lemon juice and baking soda together to clean the iron's surface if you will be reasoning it after you have cleaned and dried it.
Rusty cast iron skillet? Learn how to remove the rust…
Wrap-Up: Can You Soak Cast Iron
Cast iron cookware is a great investment for your kitchen. Not only does it last for years, but it can also be used to prepare a variety of dishes.
In order to get the most out of your cast iron cookware, it is important to care for it properly. This includes cleaning it regularly, using the correct utensils, and seasoning it periodically.
By following these simple tips, you can ensure that your cast iron cookware lasts for years to come!
One-Pot Cooking Rocks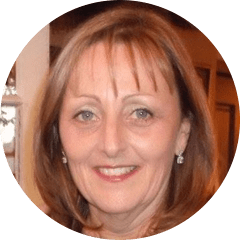 Michelle – Author
Hi, I'm Michelle the founder, owner, author, and editor of OvenSpot. My passion for one-pot cooking commenced when I was working to prepare cafeteria lunches for school students. I am now on a mission to assist you in choosing the cooking pot or appliance you will use every day. As well as in-depth information to assist you in using and caring for your cookware and appliances.
Questions? Reach out to Michelle at [email protected]