Can Enameled Cast Iron Cookware Be Used Under a Broiler?
When we talk about kitchen must-haves, enameled cast iron tops the list. This type of cookware is a useful and extremely efficient addition to your kitchen.
When it comes to whether or not enameled cast iron can go under a broiler or not, the answer is yes. Providing manufacturers instructions indicate the piece is broiler-safe or can withstand heat up to 550°F. Handles also should be able to withstand the same high temperatures.
Enameled cast-iron cookware has undergone a resurgence in recent years. Because of its ability to be used on a large variety of heat sources as well as its heat retention properties, it can prepare almost any meal. Add to that the many shapes, sizes, and unique décor enhancements to any kitchen.
Let's deep dive into this topic as this article explains the reasons enamel cast iron can be used under a broiler. I will also give you a fantastic cookware alternative if you want to use your cookware under a broiler regularly.
What Is a Broiler
Broiling food is a popular method of cooking. The high, direct heat from the oven's element cooks the food quickly and with complex flavor. Food can be placed close to the heating element so that it can char or caramelize. This technique has been used for centuries by chefs looking to make more flavorful dishes!
High Volumetric Heat and Emissivity of Cast-Iron
The most significant benefit of cast iron is that it remains at that high temperature once you initially heat up the pot, pan, skillet, or Dutch oven.
This property of being both high volumetric and having a high heat capacity makes searing meat easy because the high volume means that it will be able to absorb large amounts of energy quickly, while the high heat capacity can store this energy for long periods.
Broiling any dinner usually requires a pan that can withstand high heat. There are pans made with enameled cast iron, which is perfect for this task. Cast iron's thermal conductivity is low, but it does make up for this by being able to maintain its temperature for longer periods of time.
Furthermore, the high emissivity of these pans evenly radiates their heat energy from their surface and helps you cook your food with ease. The heat radiation coming from these pans easily heats up whatever you are cooking and makes it easier to make your favorite dishes.
Tips for Broiling with Cast Iron
Cast iron is one of the best options for broiling because it distributes heat evenly and retains that heat well.
| | |
| --- | --- |
| 1 | Preheating on a stovetop – place on the burner for 10 minutes then rotate for another 10 minutes. |
| 2 | Preheating in a conventional oven – preheat the oven to 450 degrees Fahrenheit before adding your cast iron pan or skillet. Leave it to heat up for 20 minutes. It has a 0.64 emissivity rating. |
| 3 | When adding ingredients to avoid sticking, use a little bit of cooking oil or butter before you first put food into the hot pan. A mess-free alternative would be to lay foil between the pan and the food if possible. |
| 4 | Do not use parchment paper it will burn. Also, plastic wrap is a no-no – it will melt. |
| 5 | Food will cook evenly if you can spread food to be broiled out evenly in the pot or pan. |
| 6 | Do not operate the broiler on high or place the shelf too close to the element. |
| 7 | Be careful not to move food around too much while it cooks as this can cause sticking and some parts overcooked or burnt, while other areas are undercooked. |
| 8 | When placing your enameled cast-iron pot, pan, skillet, or Dutch oven under the broiler, never leave it unattended. |
| 9 | Do not close the door (it depends upon the type of broiler) but door ajar is always recommended. |
| 10 | Remember to always use extremely thick oven mitts to move your cast iron around while pre-heating, while stovetop cooking as well as moving to and from the broiler. |
Can Le Creuset Enameled Cast-Iron Go Under the Broiler
Yes, Le Creuset enameled cast-iron cookware's recommended maximum temperature is 500°F / 260°C. Black Phenolic knobs are heat resistant up to 480ºF. Stainless steel knobs are able to resist even higher heat and are safe to use in a broiler.
Can Le Creuset Stoneware Go Under the Broiler?
Le Creuset Stoneware is not only safe for use in the microwave, freezer, refrigerator, dishwasher, oven, and broiler but also has a large temperature range that includes 500°F / 260°C. This means you can safely cook most dishes with Le Creuset without worrying about it breaking or cracking from high heat temperatures. If you're using the pan under a broiler make sure to keep at least 2 ½ inches between your stove top's rim and the bottom of the dish so as to avoid scorching your food.
Warning – Enamel-coated stoneware cannot be placed upon cooktops of any kind. They are not designed for directional heat. Always read manufacturers instructions before using any cookware…
What Pans Can Go Under the Broiler?
Whatever pan you use under a broiler you must be aware of the extreme direct heat that the cookware will be exposed to. Use the correct tools every time you undertake using your broiler. Such as very thick oven mitts, wooden cutting boards for placing hot pots and pans on, and most importantly no metal utensils inside the broiler.
Remove the pan to move food around you do not want any utensils touching any heat source inside the broiler.
Disclaimer: As an Amazon Associate I earn from qualifying purchases on my website. If you make a purchase through links from this website, I may get a small share of the sale from Amazon and other similar affiliate programs.
Seasoned Cast-Iron Cookware
An even more robust and durable cooking pot, pan, skillet, or Dutch oven the enameled cast iron is one made of seasoned cast iron. It can handle anything and is the perfect broiling-friendly substitute for enameled cast iron.
This type of cast-iron cookware has a thin layer of polymerized oil coating the inside as well as the outside of your cast iron. To season a piece of cast-iron cookware it is rubbed with oil and heated at high heat until the pan smokes.
It allows the oil to break down into a plastic-like substance that bonds to the metal surface. The process is repeated until the surface is smooth, shiny, and non-stick.
Making it not only safe for the pan to be put on high heat for broiling and other types of cooking but for the cooks. It gives your well-seasoned cast iron its non-stick characteristics. The seasoning is resilient and chemically bonded to the metal so you can freely use metal spoons and spatulas, and it won't chip in high-heat situations.
They are also incredibly durable and nearly indestructible, and it is difficult to ruin them completely. Hence the high temperature of broiling is never going to be a concern with a seasoned cast-iron pan.
Best Enameled Cast Iron Cookware This article deep dives into some of the best brands of enamel cookware.
Metal Pans and Sheet Pans
Any metal used under a broiler needs to be able to withstand heat in excess of 500 degrees – including the handles. Metal handles screwed into a pot, can warp, discolor, and sometimes break off due to the extreme heat they are placed under. Wooden handles are also not safe even wrapped in foil.
A sturdy roll-top sheet pan is also an option depending on the types of dishes you want to prepare under the broiler. Checking the manufacturer's instructions regarding its cookware is always the best practice.
Final Thoughts – Can Enameled Cast-Iron Go Under the Broiler
There you have it. Because enameled cast iron pans are made from heavy-duty materials, they can be used on the stovetop, under the broiler as well as in the oven. You have also learned that if you want to use the broiler regularly it may be beneficial to invest in seasoned cast iron cookware or a roll-top sheet pan with no handles.
One-Pot Cooking Rocks
Source: Sun Sentinel / Le Creuset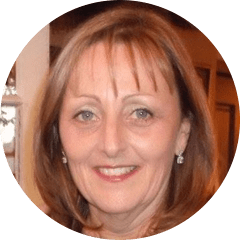 Michelle – Author
Hi, I'm Michelle the founder, owner, author, and editor of OvenSpot. My passion for one-pot cooking commenced when I was working to prepare cafeteria lunches for school students. I am now on a mission to assist you in choosing the cooking pot or appliance you will use every day. As well as in-depth information to assist you in using and caring for your cookware and appliances.
Questions? Reach out to Michelle at [email protected]