Le Creuset Signature Round Cast Iron Dutch Oven 5.5 Qt
If you know nothing at all about enameled cast iron Dutch ovens, or French ovens, the first thing you will learn is that this Brand "Le Creuset" is the "Rolls Royce" of enamel cookware.
The Le Creuset Dutch Oven 5.5 Qt is enamel-coated cast iron and is available in a number decor of colors. This Signature product is manufactured in France and is large enough to feed a couple or a small family. This Dutch oven will not disappoint.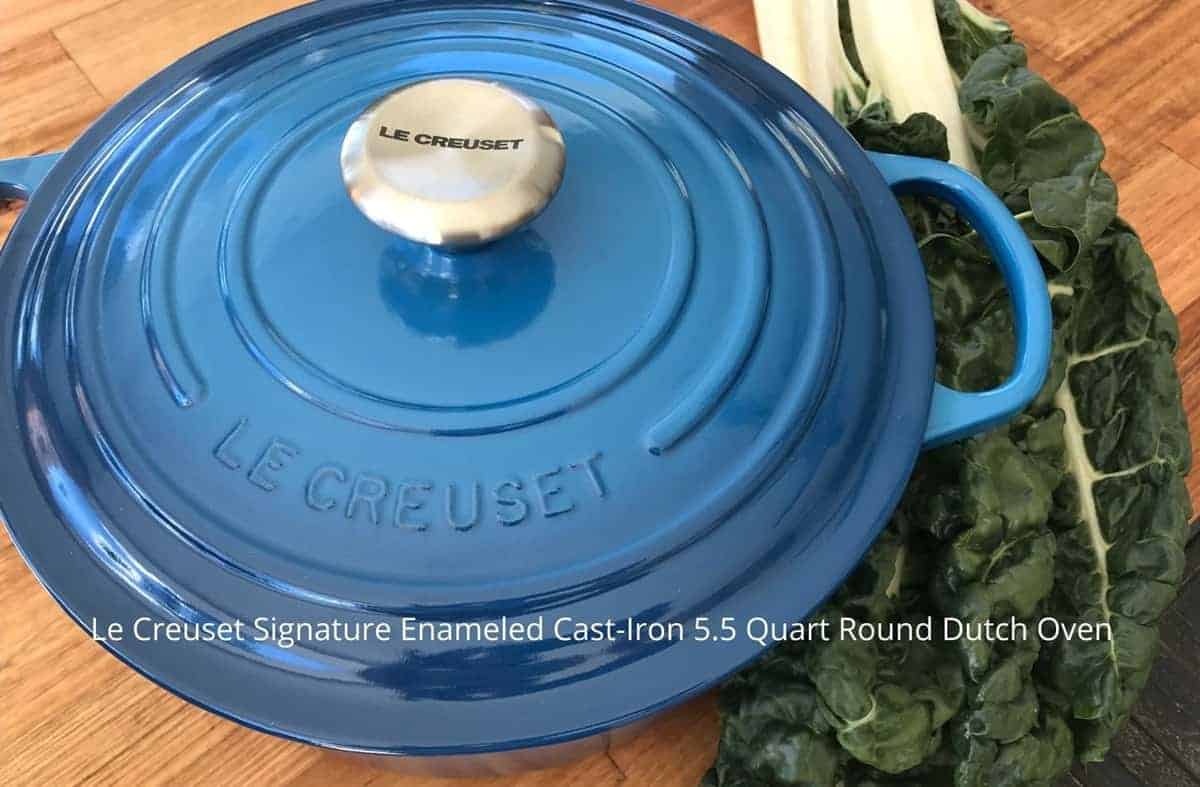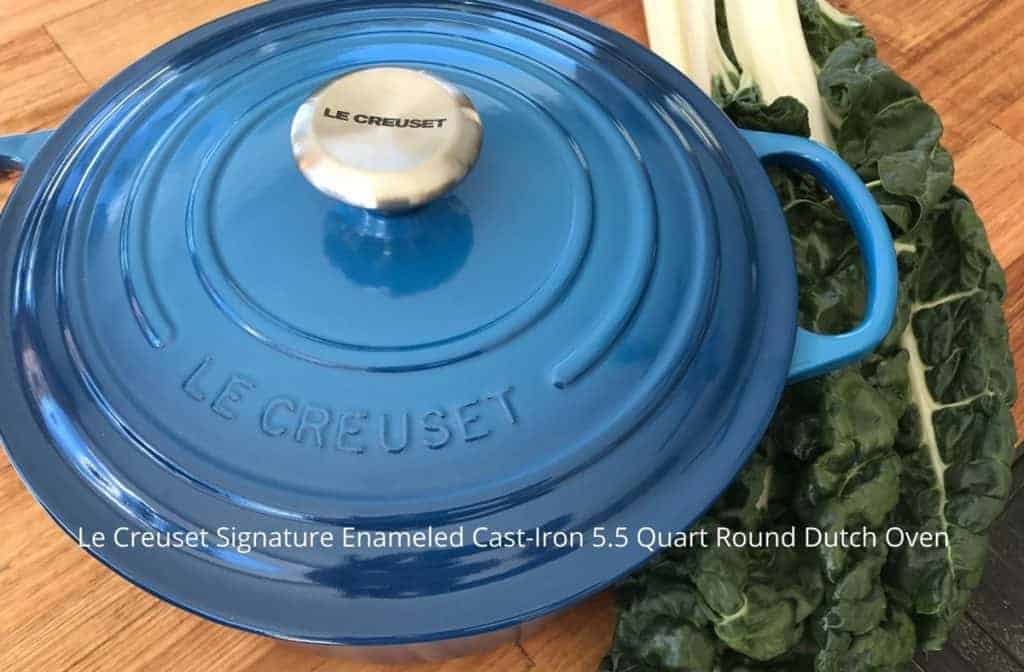 You will see for yourself why this Dutch oven can be found in the kitchens of home cooks and why professional chefs around the world label this cookware as an extremely high-quality product.
The fact that this 5.5-quart round Le Creuset Dutch oven falls into the category of the most popular size round Le Creuset Dutch oven is a testament to how happy people are to purchase this Dutch oven.
Disclaimer: As an Amazon Associate I earn from qualifying purchases on my website. If you make a purchase through links from this website, I may get a small share of the sale from Amazon and other similar affiliate programs.
We will take a good look at this oven's great features as well the pros and cons of this iconic Le Creuset Dutch oven. Along with some of the "Frequently Asked Questions" regarding Le Creuset products.
Lastly, my final thoughts are to see if this product is as good as the asking price then you can more easily decide for yourself if this Dutch oven is the best option.
If you landed on this page by accident and you already know you want to purchase a Le Creuset Dutch Oven CLICK HERE to check them and their prices out at Amazon.
Some say the price tag is hefty. This brand could be above the budget for some. If you would like to see an affordable option click here for my review of a fantastic new product well within the budget of most.
Let's go…
The Brand – Why Le Creuset is So Expensive?
Understanding why Le Creuset is so expensive first requires understanding what the brand represents. Le Creuset is synonymous with French cooking and is one of the most respected names in cookware.
The company's first enameled cast iron cookware was poured almost a century ago, after being foundered by Armand Desaegher and Octave Aubecq. The company is still supplying the world with its latest innovations today.
Le Creuset's signature external finish remains the same with rich color tones and finishes. Although colors come and go there are over 50 colors available worldwide across the Le Creuset range.
Le Creuset's cookware is made from Le Creuset's finely tuned metal mixture which is then poured into individual sand cast molds. After firing and cooling the molds are broken away making each piece individual. The pieces are then sanded and treated making them ready for 3 layers of virtuous enamel.
Each individual piece is inspected no fewer than 15 times before leaving the foundry. The glass-like enamel material is both durable and provides even heat distribution. The enamel coating also makes the cookware resistant to sticking and easy to clean.
The brand's products are also oven-safe and can be used on all types of stovetops, including induction. The brand's extensive range of enamel cast iron products is used by some of the world's best chefs.
All of these factors make Le Creuset's cookware some of the best on the market. However, all of this quality comes at a price. A simple Le Creuset Dutch oven can cost upwards of $300, which is significantly more than other brands' products.
So why is Le Creuset so expensive? The answer boils down to quality. Le Creuset's cookware is made from the best materials and is built to last a lifetime. When you buy Le Creuset, you are investing in a piece of cookware that will provide years of use and enjoyment.
The Staub Dutch oven is this brand's only real competitor as they too have the tradition of the finest culinary craftsmanship from their French artisans. They are in a similar luxury brand price range but offer different features than Le Creuset's enamel cookware.
Le Creuset 5.5 Qt Dutch Oven (Benefits)
This enameled Dutch oven is feature-rich and this is what you would expect from an appliance with a high price tag.
Manufacturing Process
Enameled cast iron pieces are still manufactured in Fresnoy-le-Grand the brand's original foundry located in France.
Le Creuset's many other products including enameled ceramic bakeware, tableware, and accessories along with stainless steel cookware are made in various parts of the world. Including the United States, China, and Portugal.
Molten iron is a mixture of minerals, pure and recycled iron (including some of their own defective pieces) that is poured into sand castings, they are baked at high heat, cooled, sanded, and hand finished.
They are then strayed with layers of virtuous enamel, no less than 3, then baked again at temperatures reaching 1400 degrees Fahrenheit and beyond.
Skilled artisans hand-inspect each of the enameled cast-iron Dutch ovens before heading for the stores and your kitchen.
Design
Cast iron cookware does heat up slower than other types of cookware but once it reaches your desired temperature it outperforms them.
Its thick base and walls along with the cast iron core provide excellent heat retention and the enamel coating provides further insulation. This helps maintain even cooking and prevents hot spots.
The handles offered are 45% larger than the previous models. These larger handles give you the secure grip with mitted hands, required when moving a very hot pot.
The Le Creuset brand is embossed on the lid. The lids are manufactured stabilizers for a snug, slip-resistant lid that is tight-fitting. This allows the moisture to be retained inside the oven when cooking. As well as not slipping when carrying the Dutch oven from the cooktop to the oven to the table for serving.
There are 2 knob types oven-safe stainless steel knob or black phenolic knob. While both can be used on cooktops safely for oven use you should use the stainless steel knob. Le Creuset knobs are interchangeable between lids read more about Le Creuset replacement knobs.
Heat Source Compatibility
All Le Creuset's packaging clearly states how the cookware can be used. In signature cast iron enamels case gas, electric, ceramic, radiant, induction, and oven.
Performance
This round enamel Dutch oven will withstand temperatures of up to 500 degrees Fahrenheit.
Has second-to-none heat distribution, consistent heat, and retention the perfected design includes self-basting lids that turn any beef stew into a masterpiece.
Is artisan Dutch oven bread what you like to make? The steam that forms inside this cast-iron pot performs just like a baker's oven and will turn out a crispy perfect loaf every time.
Versatility
Preparing soups, stews, curries, and many more recipes will allow you to feed maybe 3-4 people. If you also prepare other accompaniments such as mashed potatoes, rice, pasta, or sourdough bread.
Serving from this beautiful oven to your family or guests will put a smile on your face and theirs.
Durability
This Dutch oven has advanced sand-colored interior enamel that resists wear and chipping. It is normal to have slight discoloration of the light interior cooking surface.
The 3 layers of enameled finish that cover all cooking areas including the rims will not let even the most acidic foods harm the cooking surface.
For added surface protection use the correct kitchen tools for example silicone or wooden utensils. Le Creuset also has the perfect utensil range to support its cookware surfaces.
Cleaning and Maintenance
Le Creuset advises that their enameled cast iron Dutch oven can be cleaned in a dishwasher. They also advise that to preserve the enamel and cooking performance their cookware would be washed by hand. Dishwashing cleaners may be too abrasive for enamel surfaces.
Le Creuset makes it easy to clean cast iron enamel and has its own brand of cookware cleaning products. Find out more about them and how to clean and care for Le Creuset cookware here.
Size & Dimensions
The capacity of this 5.5-quart Dutch oven or 5.3 liters is the right size for 3-4 people depending upon the portion sizes required. For a wide range of sizes check out the size chart below.
Measures 13 3/4 inches x 10 1/4 inches x 7 inches
Dutch oven wall measurement 3.82 mm
Weighs 11.2 pounds
This oven heats evenly and has wonderful heat retention as it is made from the highest-quality cast iron which has been coated in sand-based color enamel.
The finish on this oven has the same outstanding quality as all Le Creuset Products. Chip and crack resistant and also repels food from staining its enamel coating. This enamel coating also attributes to this cookware being a lot lighter than normal pieces of the same size.
Colors
There are 27 colors in this range, so finding one to suit any decor or table setting should be easy.
*Please note that color choices vary from country to country – see the up-to-date Le Creuset Colors
They include Olive, Black, Caribbean, Cherry, Hibiscus, Dune, Flame, Marine, Marseille, Midnight Grey, Oyster, Palm, Truffle, Soliel, and White.
Warranty
A lifetime warranty is provided by Le Creuset. There are brick-and-mortar Le Creuset stores and shopping outlets around the world along with many online Le Creuset stores ready to assist.
This signature Le Creuset piece of cookware is really in a league of its own when it comes to quality, design, and versatility.
Ready to see this Dutch oven for yourself at Amazon just go HERE to be taken over to see everything this awesome Dutch oven has to offer.
Le Creuset 5.5 Qt Dutch Oven (Disadvantages)
Let's look at some of the disadvantages of Le Creuset enamel cast iron.
Heating
Dutch ovens are the original slow cooker and all cast iron takes time to heat up but the benefit is heat retention and even cooking. Although the Dutch oven gets hot and you could stir fry or fry in it the sides are cumbersome. Check out the Le Creuset Wok if stir-frying is your jam…
Cooking Surface
Le Creuset advises that slight discoloration over time may occur. Help with this in my article on how to clean an enamel cast iron Dutch oven.
Using a wooden spoon or non-metal utensils will also protect the cooking surface from scratching and chipping.
Price
First and foremost is the price it is expensive but you have read the reasons why. The person who would be more than happy to outlay the price for this cookware is one who is going to covet it and use it regularly.
If you cannot commit to a financial outlay of this size try one of the alternatives to Le Creuset and work your way up the cookware ladder. Read more about why Le Creuset is so expensive.
Weight
All cast iron is a heavy piece of cookware but Le Creuset is lighter than comparative brands at just 11.5 pounds. If you can handle fully laden extremely hot cookware you are good.
If not you should consider other types of Dutch ovens for example Le Creuset's ceramic Dutch ovens. They offer the everyday versatility of the Dutch oven and are coated in the easy-to-clean vibrant porcelain enamel of the brand's cast-iron cookware.
If you want something even more lightweight and still made from the finest quality material stainless steel Dutch ovens are a great option. Or maybe carbon steel read my article for a great comparison of cast iron vs carbon steel.
Storage
It is best practice not to stack enamel cast iron pieces upon each other to avoid chipping and cracking. Ensure you have enough room on your countertop, stovetop, or kitchen shelving to preserve your beautiful cookware surface. Learn how to store cast iron cookware in my article.
Pros and Cons Chart
| Le Creuset Round 5.5qt Dutch Oven | Pros | Cons |
| --- | --- | --- |
| Where is Le Creuset Made | Made in France from a brand that has honed its cast-iron pouring and finishing skills for almost 100 years from the highest quality materials | |
| Materials | Constructed of high-quality cast iron. Cover in 3 layers of porcelain enamel coating. | |
| Design | Thick walls, integrated cast iron side handles, flat base, glass lid | Not a non-stick surface, heaps of oil can be used to prevent sticking |
| Colors | Core and ever-changing decor color range including; Cerise, Marseille, Agave, Artichaut, Nectar, Cherry, Flame, Cobalt Blue, Matte Black, White, Caribbean, Oyster, Azure, Chambray, Indigo, Licorice, Meringue, Olive, Marble, Cayenne, Cobolt, Fig, Graphite, Stone, Turquoise, Soleil | The light interior will slightly discolor over time, completely normal |
| Performance | Le Creuset's enamel is non-reactive when used with high temperatures the enamel exterior provides exceptional heat retention | Use of metal utensils should not be used to avoid chipping and cracking of the enamels interior |
| Heat Source | Hob-to-oven versatility from the grill, electric hob, ceramic glass cooktop, gas hob, and induction hob to the oven. Oven safe up to 500°F | No outdoor use |
| Durability | Perfect for braising and slow cooking. Treated with care will last a lifetime and beyond | Heats up slowly |
| Lid | The heavy and tight-fitting lid is built with a non-slide fit suitable for stovetop and oven safe up to 500 degrees Fahrenheit. | |
| Handles | Large handles are generous enough for easy lifting with oven mitts and safe transport | |
| Knobs | Interchangeable ergonomic knobs are oven safe up to 500°F. Stainless steel replacement knobs are available | Phenolic knob withstands heat up to 350 degrees F |
| Sizes | 1-quart to 13.25-quarts | |
| Weight | 11.5 lbs | Lighter than some cast iron brands. Heavier than most cookware |
| Thickness | 3.82 mm | |
| Servings | 3 to 4 or a small family | |
| Cleaning | Easy cleanup and dishwasher safe, although hand washing with warm water and soap is recommended | Avoid the dishwasher |
| Maintenance | No seasoning is required fully coated in 3 layers of porcelain enamel including oven and lid rims | Like all cast iron enamel cookware is prone to thermal shock if faced with extreme heat variations |
| Storage | | Ensure you have enough storage space as enamel cookware should not have items stacked upon it in cupboards as it may become chipped |
| Warranty | Lifetime | |
| Price | | Expensive |
Le Creuset Signature Round 5.5-qt Dutch Oven and Cons Chart
Cooking With This Dutch Oven
You will not be disappointed if you decide to purchase and cook with this Dutch oven.
The heat distribution and retention are perfect. The ease of using utensils due to the shape of the oven is great. No food sticks or becomes lodged in an uneven or rough enamel coating.
Preparing your favorite dishes including a pot roast from the searing and sauteing process. Then add your other ingredients. Finally serving and then cleaning up is awesome.
You really should check out the user reviews over at Amazon.
Check out this article: Le Creuset's – Best Prices, Sales (when they are held), Outlets (where to buy Le Creuset for the best prices)
Le Creuset Round Dutch Oven Sizes
Le Creuset Round Dutch Oven Sizes by Letter, Number, Capacity, Weight & Servings
See the sizes of the Le Creuset oval oven here.
Le Creuset Alternatives
If you are looking for a new Dutch oven but the price of Le Creuset's oven is not in your budget then I would recommend taking a closer look at Alternatives to Le Creuset. My article covers the 3 top Le Creuset alternatives that I use every day.
You can also check out this guide with some notable mentions of cast iron manufacturing brands that are honing their skills. Brands like Great Jones and the Milo Dutch oven are all inspired by Le Creuset and Staub I am sure.
Alternative Brands to Le Creuset
(Comparative Sizes)
Approximate Prices
(Prices vary in sales and
from store to store)
Prices
Le Creuset 7.25-Quart Round Dutch Oven
$400
Latest Price
Staub 7-Quart Round Dutch Oven
$300
Latest Price
Tramontina 7 Quart Oven Dutch Oven
$170
Latest Price
Misen Dutch Oven 7 Quart Round
$165
Latest Price
Cuisinart 7-Quart Round Casserole
$150
Latest Price
Lodge Dutch oven 7-Quart Oval
$110
Latest Price
Crock-Pot 7-Quart Round Dutch Oven
$60
Latest Price
Amazon Basics 7.3-Quart Round Dutch Oven
$60
Latest Price
Alternatives to Le Creuset Brand Price Comparison Chart
Frequently Asked Questions
Are Le Creuset Dutch Ovens dishwasher safe
Do I need a Le Creuset oval Dutch oven?
An oval Dutch oven gives you the extra advantage of preparing large cuts of meat complete with the bone. You can also add vegetables if required.
For more information on a Le Creuset Signature Enameled Cast-Iron 6.75 Quart Oval French Dutch Oven head over to my article by clicking here.
What Le Creuset Dutch oven sizes are available?
Round Dutch ovens 1-qt to 13.25-qt and oval shape 1-qt to 15.5-qt.
With so many Le Creuset products and sizes available a dedicated article was required. Don't be confused about what size Dutch oven you need! Check out the two articles highlighted below.
See my article all about Le Creuset Dutch oven sizes here.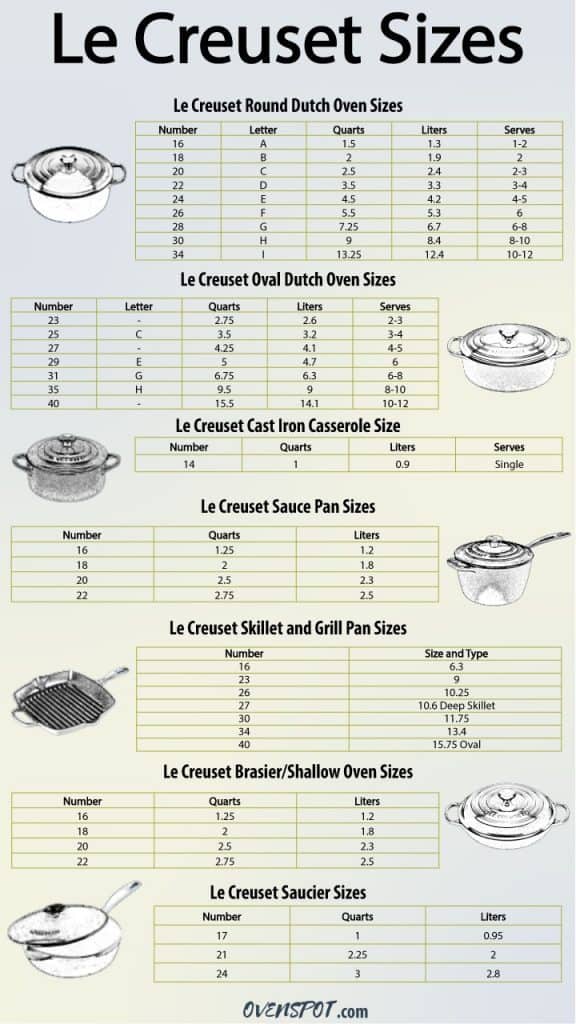 Le Creuset sizes by letter – What does that mean?
During the manufacturing process, Le Creuset embedded a letter on the cookware so you are able to match the correct lid to the right cooking pot, pan, braiser, skillet, or Dutch oven.
The idea is to be able to match your cookware with a letter on each corresponding piece of cookware and its lid of the same shape and size was effective.
You can see my article explaining embeds and more click here to view Le Creuset sizes by letter.
How to tell a fake Le Creuset?
There are definite markings on the bases and lids as well as tell-tale manufacturing inclusions in Le Creuset cookware. My article deep dives into how to tell a fake Le Creuset this is a must-read if you are a thrifty shopper. A must read if you are looking to buy vintage Le Creuset cookware.
Wrap Up – Le Creuset Dutch Oven 5.5-Qt
To conclude what you will have if you purchase the Le Creuset Signature Enameled Cast-Iron 5.5 Quart Round French Dutch Oven is a highly superior Dutch oven.
If you are looking for something special in a Dutch oven you will not be disappointed with this enameled oven.
Unfortunately with this superiority comes a hefty price tag that you will have to consider when deciding whether to purchase this Dutch oven or not.
Before purchasing this Dutch oven you should consider the following points:
This Dutch oven's features, quality workmanship, ease of use, and cleaning far out-way other brands offering a similar product with a smaller price tag.
The features and usability are of the utmost priority, it is definitely a fashion statement with its good looks. A large range of colors would match any decor.
The versatility of being able to prepare the meal on your stovetop, continue into the oven then serve straight from the Dutch oven to guests. A Le Creuset appliance is pretty as well as practical.
Thanks to the enamel coating repelling food and stains clean-up are always quick and easy. Check out the correct way to clean and care for Le Creuset Cookware.
The colors are fade and stain-resistant. This is reinforced by the fact that reported issues for this Dutch oven are minimal.
If there is any chance that you can purchase this Dutch oven you will use it and have it for a lifetime with care. It will then be a huge decision as to who inherits this wonderful cooking appliance.
Need some more inspiration? Then you really should check out the user reviews over at Amazon.
I dreamed for a long time, after many years of using moderately priced Dutch ovens, of purchasing a Le Creuset oven for myself.
When I did I purchased the Dutch oven in the feature image above. My color choices were limited so I went for Marseille and I could not be happier.
The dilemma now is that I want more Le Creuset cookware in different colors.
If you are ready to see for yourself the very best price for this Le Creuset Dutch Signature Dutch Oven at Amazon click here…
Want to check out the latest information about Dutch ovens and their brands? See them here at the best Dutch ovens available in 2023.
One-Pot Cooking Rocks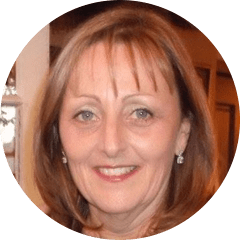 Michelle – Author
Hi, I'm Michelle the founder, owner, author, and editor of OvenSpot. My passion for one-pot cooking commenced when I was working to prepare cafeteria lunches for school students. I am now on a mission to assist you in choosing the cooking pot or appliance you will use every day. As well as in-depth information to assist you in using and caring for your cookware and appliances.
Questions? Reach out to Michelle at [email protected]