Vintage Le Creuset Cookware
There are numerous cookware brands on the market. However, very few of them are made to stand the test of time. One company, Le Creuset, is well known for its high-quality cookware and has been making Dutch ovens, brasiers, and various other kinds of cookware for almost 100 years. But how can you tell if you have an authentic or vintage Le Creuset?
If you come across a vintage Le Creuset, you'll be able to identify it via the Le Creuset logo, a double-digit number on the bottom of the pan, and it should have a 'made in France' or 'France' marking.
This article will discuss vintage cookware from the famous Le Creuset company based in France. So keep reading! We have everything you need to know about vintage Le Creuset cookware and how to identify them.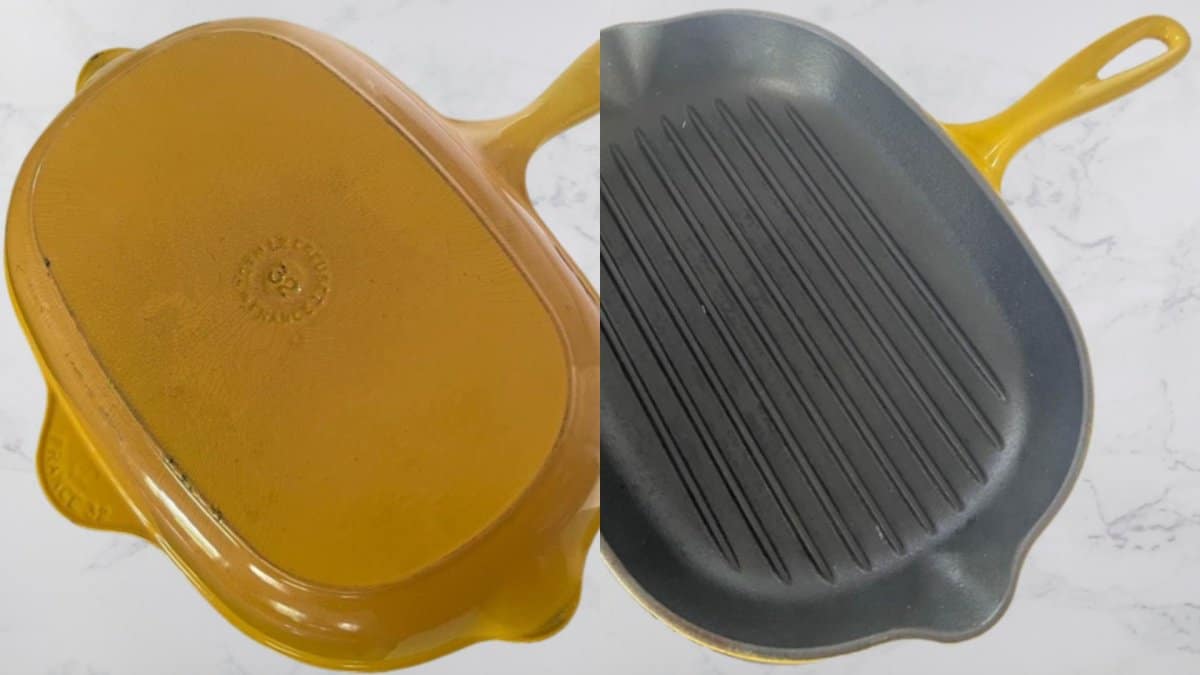 Le Creuset Cookware
Back in 1924, Armand Dasaegher and Octave Aubecq, two Belgian industrialists, met for the first time at the Brussels fair. After chatting for a while, they instantly decided they could form a company that produces high-end, enabled cookware.
So, by 1925, Le Creuset was born, and they set up their business in Northern France at a place called Fresnoy-le-Grand, in the department of Aisne. This was seen as a strategic spot for the company as it lay at crossroads of various transportation routes of the raw materials they needed, such as sand, iron, and coke.
Le Creuset cookware comes in various colors. However, one of the most sought-after is the vintage 'flame orange' or 'volcanic', which was released with their first enameled French oven back in 1925, using their now famous original foundry.
This color was designed by Le Creuset's casting specialist, Armand Desaegher, and Octave Aubecq, the enameling specialist. They were inspired by the glow of molten cast iron.
Before you purchase a new piece of this award-winning cookware for your next dinner party check out the new enamel finish colors Le Creuset has released along with my up-to-date Le Creuset Color Guide.
Why Is Vintage Le Creuset Cookware So Popular?
There are numerous reasons why Le Creuset are loved by people all over Europe and around the world, but first and foremost is the quality of the items they produce. If you were to buy a Le Creuset braiser, Dutch oven, or pot, you're ensured that this will last a lifetime and is a high-quality piece of cookware which have industrial designs.
The level of detail that goes into each piece of cookware, such as the famous Le Creuset pot, is incredible. Up to 15 people will inspect each pot before it is sent off to a distributor for sale. This has led to around 30% of the goods produced by the company being rejected due to imperfections.
Authenticity and quality are the two main aims that go into each and every product produced by Le Creuset. People see the name and know this is a brand they can trust, and this has kept them as one of the best cookware manufacturers for almost 100 years. They are also known for their ability to perform well with high heat.
Even though the brand may seem much more expensive when compared to various other brands, people do not mind paying a little extra, as they know they'll get years of enjoyment from their piece of Le Creuset cookware. Read about why Le Creuset is so expensive in my in-depth article.
Quick reference list of Le Creuset features.
Cast Iron Products
Enamel on Steel Products
Stainless Steel Products
Stoneware Products (Enamel over Ceramic)
Le Creuset Accessories, Tools, Utensils, Serving, and Tableware)
How to Tell if Your Le Creuset Is Authentic?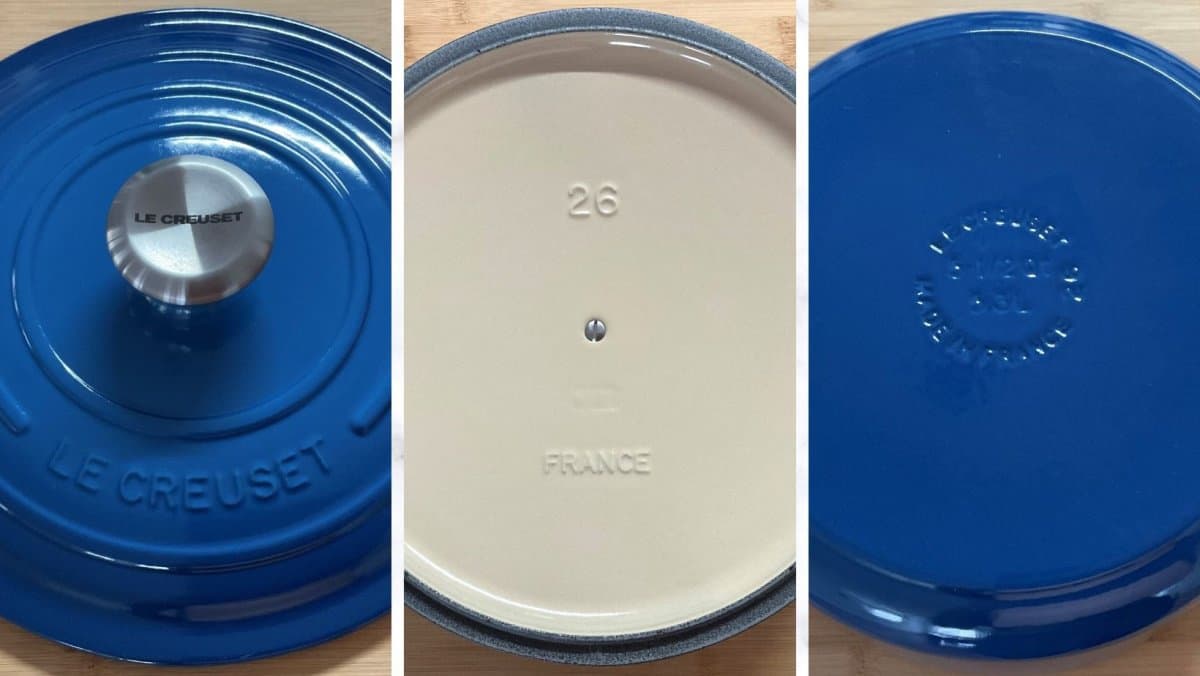 If you are one of the lucky few who believe they have come across a piece of cookware vintage Dutch oven or various other products produced by Le Creuset such as a brasier, saucepan, garlic keepers, and even a tea kettle, there are few ways to authenticate it for yourself.
Considering the high price tag of vintage Dutch ovens and other vintage Le Creuset items you need to learn how to identify classic pieces from the fakes, even if they are in good condition. My article How Can You Tell a Fake Le Creuset? will give you what you need to identify a Le Creuset cast-iron Dutch oven or cast-iron skillet.
Authenticating Vintage Pieces From Le Creuset
There are various ways in which you can authenticate your Le Creuset pot, including markings; however, there are a few tell-tale signs that can tell you whether or not you're staring at a piece of genuine Le Creuset cookware.
In recent years, there has been a large rise in imitation products; this can turn into a real problem as the fakes are typically made to a much lower standard and have poor heat performance, which can result in cracking. On top of this, they have no warranty and offer a risk of injury.
Thus, when you're in the market for a Le Creuset Dutch oven, braiser, or any other kind of cookware, you'll want to check for the markings. On top of this, you can authenticate it by looking at the lip of the pan; vintage Le Creuset is always fully enameled around this area.
If you decide to buy one online, then you'll have to look for markings that include; the name of Le Creuset will be branded on the pan somewhere quite obvious. There should be a double-digit number which is a manufacturing mark, it will have a 'made in France' or simply 'France' branding, and there should be the Le Creuset diamond marking.
The Numbers on the Bottom of the Cookware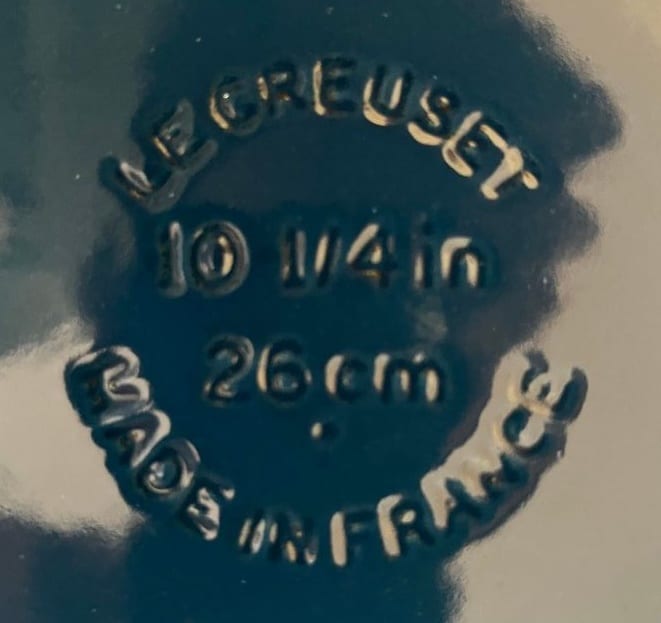 If you have ever purchased a piece of Le Creuset cookware, you may have noticed that there are letters and numbers branded into the bottom of the pan or lid. While these numbers have nothing to do with manufacturing codes, they can still be used to authenticate your pot or pan.
The two-digit numbers refer to the product's dimensions and diameter, are typically based on centimeters, and exclude the handles. This is able to authenticate your Le Creuset cookware as fake products are not made to the same sizes. However, you should be aware that not all of the vintage Le Creuset cookware you'll come across will have markings.
They can easily be compared to online tables from both Le Creuset manufacturers and various websites and blogs. This is one of the easiest ways to ensure that you have an authentic piece of Le Creuset cookware.
Another point to keep in mind is that even though you may find two separate pieces of Le Creuset cookware with the same two-digit numbers, the lids may not be interchangeable. The range changes from time to time; however, the markings stayed the same. This is why it can be a difficult task to find replacement lids.
Read more about the numbers and letters identifying Le Creuset pieces in my article Le Creuset by letter.
Where Can You Buy Vintage Le Creuset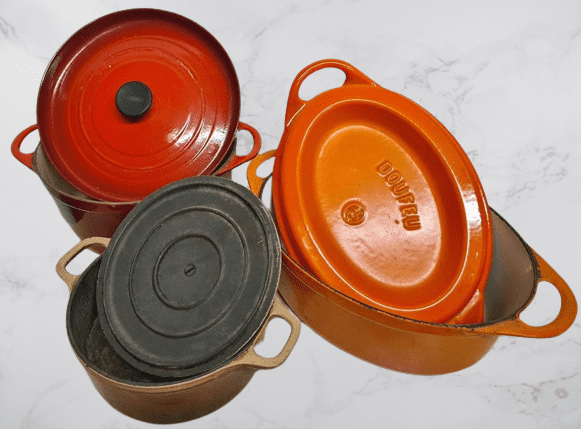 You will find well-maintained vintage Le Creuset products on Etsy, eBay, Craigslist, Antique stores, and Facebook Market Place.
You can also find a tiny Dutch oven, butter bells, a vintage set, or even a vintage Le Creuset cookbook at flea markets and yard sales.
FAQs
Quick answers to common questions asked about vintage Le Creuset.
How do I know if my Le Creuset is vintage?
The rim of the pan or lid will have an enamel coating and not be raw cast iron. Le Creuset, made in France and an identifying number or letter will be stamped on the base and the lid of the pot or pan.
How old is vintage Le Creuset?
Vintage Le Creuset can date back to 1925 when the first Dutch oven was produced at the Le Creuset foundry in Fresnoy-le-Grand.
What is the most expensive Le Creuset?
In 1999 the most expensive Le Creuset was bought for $25,300. The rare find was a set of Elysees Yellow cast iron cookware that was owned by none other than Marilyn Monroe.
How do I know if I have a signature or classic Le Creuset?
Stamped markings have been updated on the lids, handles are more generous and the black phenolic knobs have increased heat resistance. The Signature phenolic knobs are oven-safe up to 480°F, while the Classic knobs are oven-safe up to 390°F.
My articles Le Creuset Signature vs Classic and Le Creuset Knobs will help you identify your piece of Le Creuset.
Wrapping Up: Vintage Le Creuset Cookware
So, now that you know all about how to identify a vintage piece of Le Creuset cookware, you're ready to ensure that you steer well clear of the fakes at the flea market. Just remember to check the lid for enamel, look out for the markings and also check for the two-digit numbers underneath.
One-Pot Cooking Rocks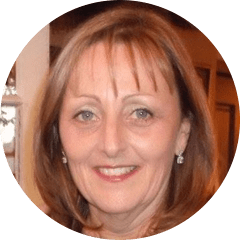 Michelle
Hi, I'm Michelle, the founder, owner, author, and editor of OvenSpot. My passion for one-pot cooking commenced when I was working to prepare cafeteria lunches for school students. I am now on a mission to assist you in choosing the cooking pot or appliance you will use daily. As well as in-depth information to assist you in using and caring for your cookware and appliances.
Questions? Reach out to Michelle at [email protected]