Le Creuset Sizes by Letter 'Cookware Size Guide'
Le Creuset sizes by letter. What does this mean? I am asked this question constantly. So, as there was no concise chart that was easy to access or read all in place I compiled a chart of the sizes by letter as well as their corresponding Le Creuset number.
What is the Letter on Le Creuset? The letter embedded on the cookware is there to match the correct lid to the right cooking pot, pan, braiser, skillet, or Dutch oven. Le Creuset size charts by letter and number are outlined below.
Read on and I will explain the letters and numbers which are stamped on the inside of the lid and on the bottom of Le Creuset Dutch ovens, pots, pans, braisers, and skillets, and their respective lids represent.
The attention to detail by the Le Creuset brand is second to none. This wonderful company has actually embedded the size of the cookware on the bottom of its various pans, pots, Dutch ovens, braisers, skillets, and the lids of these cooking appliances.
Disclaimer: As an Amazon Associate I earn from qualifying purchases on my website. If you make a purchase through links from this website, I may get a small share of the sale from Amazon and other similar affiliate programs.
>>>>If you have landed on this page by accident you can see a Le Creuset Dutch oven just like the one I own in FLAME at Le Creuset or Amazon.
What Size Is My Le Creuset?
The number on the bottom of the different types of Le Creuset cookware refers to the inside diameter of the oven/pan/braiser/skillet.
If you need to check the size of your piece of cookware turn it over and check out the size of your Dutch oven. Then all you have to do is compare it to the Dutch oven size guide below and you will have your answer.
What Is the Letter on Le Creuset?
The letter embedded in the cookware is there so you can match the correct lid to the right cooking pot, pan, braiser, skillet, or Dutch oven.
The idea is to be able to match your cookware with a letter on each corresponding piece of cookware and its lid of the same shape and size was effective. Until the company changed the sizes of ovens and pans.
Unfortunately, they still stamped the letter on the cookware which was previously used for the older pieces of cookware. Therefore, not all "B" lids will fit all the letter "B" pots.
You will note in the charts below that some of the Le Creuset pots and pans do not have a letter at all. Searching for the absolute correct corresponding markings turned up what I have charted below.
What Do the Numbers on the Bottom of Le Creuset Mean?
The number on the underside of Le Creuset pieces ovens, braisers, skillets, and pans indicates the diameter of the piece in centimeters measured on the inside, not including the handles.
Le Creuset sizes by number can be used the same as Le Creuset sizes by letter. Meaning pieces are interchangeable – you just need to match the sizes and numbers to get the correct fit. See the tables below…
Where can you find the numbers?
The numbers can be found on the base and underside of the lids of your Le Creuset cookware. Le Creuset founded its first French Oven in 1925 and over the years has had many designs and product additions.
As well as the purchase of another major competitor "Les Hauts Fourneaux de Cousances" in 1957. So it is no wonder the markings of the cookware over the past 93 years have become somewhat confusing to Le Creuset cookware owners.
What Size Is My Le Creuset
Below are the Le Creuset sizes by letter and number set out in separate tables for each type of Le Creuset's cast-iron cookware.
Le Creuset Round Dutch Oven Sizes
Le Creuset enameled cast iron is an excellent choice cast iron pan for any kitchen. It has superior heat distribution and retention, which means that even with oven mitts on your hands it will be easy to hold onto the pot.
Le Creuset uses a special, sand-colored enamel that provides even more protection against wear and tear.
Le Creuset enameled cast iron is also incredibly versatile. It can be used on any type of stovetop, including gas, electric, and induction, and it's even oven-safe up to 500 degrees Fahrenheit. So whether you're looking to fry up some chicken or bake a cake, this cookware can handle it.
If you're looking for a top-quality, long-lasting piece of cookware, then Le Creuset enameled cast iron is the way to go.
Le Creuset's signature Dutch oven is the round Dutch oven. The signature Dutch is available in most sizes and colors of their Dutch oven range. Use this Le Creuset sizes chart to choose the best size for your needs.
Le Creuset Oval Dutch Oven Sizes
Oval Dutch ovens allow for a different type of Dutch oven food preparation altogether.

You are able to cook for large numbers and also fit large cuts of meat or meat on the bone along with accompaniments easier than in a round Dutch oven.

Le Creuset steps up with a large range of oval Dutch ovens in various sizes and a great color range.
Le Creuset Deep-Covered Skillet
Which Le Creuset is the Most Versatile?
The 5 1/2 quart Round Dutch Oven and the 6 3/4 quart Oval Dutch Oven are Le Creuset's most versatile sizes as they are the perfect sizes for servings between four and eight-person meals.
What is the Best Le Creuset Size to Choose?
The best size Dutch oven to choose from will depend upon many variants. Including but not limited to the following.
How many do you want to feed?
What types of meals will you be preparing?
Handling the Dutch oven safely. Weight when fully laden needs consideration.
Basic Quick Guide – (Remember to Consider Portion Sizes – per person)
3.5-quart Dutch oven will feed 1-2 people singles or a couple.
5.5-quart Dutch oven is suitable if you are feeding 2-3 people in a small family or even empty nesters.
6-quart Dutch oven would comfortably feed 4 – with leftovers.
7.25-quart Dutch oven would do the job better as there is a bit more room to work with. This size would suit a family of 4 to 6.
I have three more articles that cover Dutch oven sizes they will give you a wealth of information. In turn, this information will assist you in selecting the perfect Dutch oven for your particular needs.
Le Creuset Cookware Sizes by Letter – Download
Vintage Le Creuset Markings
When collating the above Le Creuset letters and sizes and piecing it all together it became apparent there were no "Vintage Le Creuset Markings".
The vintage markings are the letters and numbers that are stamped on the cast iron when being made. See more about Vintage Le Creuset.
FAQs
Common questions asked about the Le Creuset Brand – The Facts…
What does Le Creuset Mean?
"Le Creuset" (French pronunciation: [lə kʁøze], meaning "the crucible") Read more at Wikipedia…
Where is Le Creuset made?
The Le Creuset brand of cookware is made in France. Since the early 1920's Le Creuset has been lovingly casting iron with the very best materials available to them. This is why they are a premium brand.
It has always been said to choose your Le Creuset carefully because, with care over the years, it will become a family heirloom. Le Creuset has diversified throughout the years by not only continuing to cast iron and enamel it but has also moved into applying its quality manufacturing techniques to other materials.
Such as silicone, stainless steel, stoneware, and ceramics. Being able to apply their quality workmanship to other materials has allowed them to produce many other cooking appliances, utensils, and many other homeware pieces to support them. These include fondue sets, tagines, plates, cups, and mugs – just to name a few.
What is the most popular size Le Creuset Dutch oven?
The 5 1/2 quart round Dutch oven and 6 3/4 quart oval Dutch oven are Le Creuset's most popular sizes. As sizes are the most flexible for almost all of us…
What is the largest Le Creuset Dutch oven?
As listed above the largest size Le Creuset Dutch oven is, in fact, an oval Dutch oven. It is identified by the number 40 and holds 15 Quarts or 14.1 Litres.
The largest size round Dutch oven is 13.25 Quart or 12.4 Litres and its Le Creuset markings are the letters I or the number 34.
See more information about the Le Creuset Signature Enameled Cast-Iron 6.75 Quart Oval French Dutch Oven. You will then be taken to my in-depth review of this beautiful Le Creuset signature Dutch oven.
How big is a large Dutch oven?
It is generally acknowledged that a Dutch oven of around 9 quarts is a large Dutch oven.
A 9-quart oven is equivalent to 8.4 liters and serves around 8-10 people.
When full this oven is heavy. This should be considered before purchasing one.
What size is Le Creuset 14?
Le Creuset size 14 is a small cast-iron casserole with a capacity of 1 US quart or 0.9 liters. Even though this small cooking pot is not a limited edition it is scarce.
It can be ordered through customer service on the Le Creuset website even though it is not displayed.
It can also be ordered exclusively through your nearest Le Creuset store.
Currently, in November 2022, the colors available are Cerise, Marseille Blue, and Satin Black.
What size is a Le Creuset 26?
A Le Creuset 26 Dutch oven is 5.5 quarts, holds 5.3 liters and serves 6 people.
What size is Le Creuset 27?
A Le Creuset size 27 is 4.25 quarts, holds 4.1 liters, and serves 4-5 people.
What size pan holds – 4 quarts?
The number 24-round Le Creuset Dutch oven is 4.5 quarts, holds 4.2 liters and serves 4-5 people.
The number 27 oval Le Creuset Dutch oven is 4.25 quarts, holds 4.1 liters, and serves 4-5 people.
Must read – best prices and where to get Le Creuset cookware and accessories.
To Finish – Le Creuset Dutch Oven Sizes By Letter
So now you know what the letters stamped on your Le Creuset Dutch ovens, pots, pans, braisers, skillets, and their lids mean.
After my research into this very interesting subject, I believe that you have a great reference here, all in one place, for all Le Creuset Dutch ovens, pots, pans, braisers, and skillets.
If you know that you want to purchase a Le Creuset Dutch Oven or just investigate purchasing check out the extensive range with the best prices.
Deep dive with me into where all Le Creuset products are made in my article Where is Le Creuset Made?
One-Pot Cooking Rocks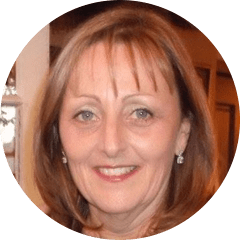 Michelle – Author
Hi, I'm Michelle the founder, owner, author, and editor of OvenSpot. My passion for one-pot cooking commenced when I was working to prepare cafeteria lunches for school students. I am now on a mission to assist you in choosing the cooking pot or appliance you will use every day. As well as in-depth information to assist you in using and caring for your cookware and appliances.
Questions? Reach out to Michelle at michelle@ovenspot.com