Le Creuset Color Guide for 2024
Le Creuset is a world-renowned French cookware company specializing in cast iron and porcelain enamel cookware. The company was founded in 1925 by Octave Mouret as a small stove foundry but has since grown to be an international brand with over 150 retail stores worldwide.
The brands core color palette is Cerise, Flame, Nector, Marseille, Caribbean, Agave, Artichaut, Deep Teal, Indigo, Oyster, Sea Salt, Meringue, White, Matte Cotton, Cool Mint, Fig, Stone, Licorice. Colors vary around the world. New colors are dropped every year and are discontinued from time to time.
Le Creuset's iconic colors have become synonymous with the high quality of their products, so it can be challenging to choose which color is best for you! To help you make this decision easier, I've compiled this handy guide on the most popular colors and the current colors for 2024.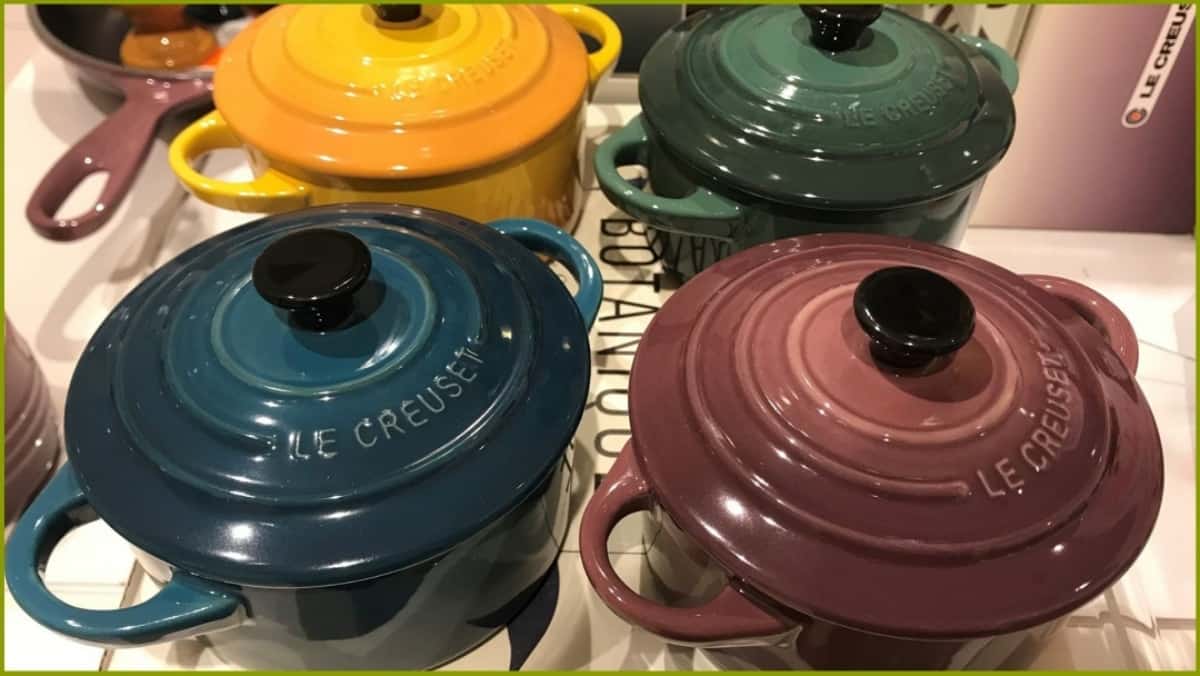 Disclaimer: I earn from qualifying purchases on my website as an Amazon Associate. If you purchase through links from this website, I may get a small share of the sale from Amazon and other similar affiliate programs.
What Are the Enameled Cast Iron Le Creuset Colors?
Le Creuset offers a range of core colors that are durable and long-lasting. To their base range, new and vibrant colors are added from time to time, like Nector, Sea Salt, and Shallot.
You will find the colors across the various materials in their ranges, including enamel on cast iron, steel with enamel finishes, stoneware, or silicon. Your kitchen decor can be fitted out with cookware, utensils, accessories, and, of course, tableware in your favorite color combinations.
Le Creuset Signature Dutch Oven New Color Releases
Le Creuset's signature Dutch oven has long been a coveted item in kitchens worldwide, known not only for its impeccable performance but also for its vibrant array of colors. Excitingly, Le Creuset unveils new color additions to this iconic range periodically. Dive in with us as we explore the latest hues that might be the perfect fresh pop of color your kitchen needs!
New Release March 2024
Le Creuset has just released its gorgeous Iridescent Knob Collection, available when you purchase a braiser or round Dutch oven in white or licorice. Iridescent knobs are sizes medium and large. You can be purchased separately to interchange with your existing cookware.
Le Creuset Matte Navy
Just dropped in February 2024! Le Creuset's newest color offering is MATTE NAVY. In keeping with the Le Creuset enamel, the hue is the darkest navy I have ever seen. It is so dark it is being described as "the new black." Now available at Le Creuset online and in its Signature Boutiques.
Just dropped November 2022! Le Creuset's newest color offering is GANACHE. In keeping with the Le Creuset enamel, the hue is the richest chocolate I have ever seen. Now available at Le Creuset online and in its Signature Boutiques.
Le Creuset color pallet differs from country to country
When searching current products and colors, you might also see discontinued colors still available for some products
Le Creuset Colors 2024 (United States)
The color pallet below is available at Le Creuset as well as at various retailers in-store and online.
Find locations of "Le Creuset Outlet Stores" here
Le Creuset Colors 2024 (Canada)
These colors can be found in Canada at Le Creuset stores and online.
Le Creuset Colors 2024 (France)
These colors can be found in France at Le Creuset stores and online.
Le Creuset Colors 2024 (United Kingdom)
These colors can be found in the United Kingdom at Le Creuset stores as well as online.
Le Creuset Colors 2024 (Australia)
These colors can be found in Australia at Le Creuset stores as well as online.
Le Creuset Colors 2024 (South Africa)
These colors can be found in South Africa at Le Creuset stores as well as online.
What Are the Most Popular Le Creuset Colors?
The iconic orange color of the Le Creuset Dutch ovens has been a part of kitchen culture for over 100 years. Volcanic (orange) is what they're famous for and Flame is their signature red and orange hue. Cerise with its classic deep and darker red tones is also up there. Let's not forget Marseille with its gorgeous blue tones that never date. If you're looking for something a little more subtle and very stylish, then there is Oyster and Meringue available in various shapes and sizes in Le Creuset's vast range.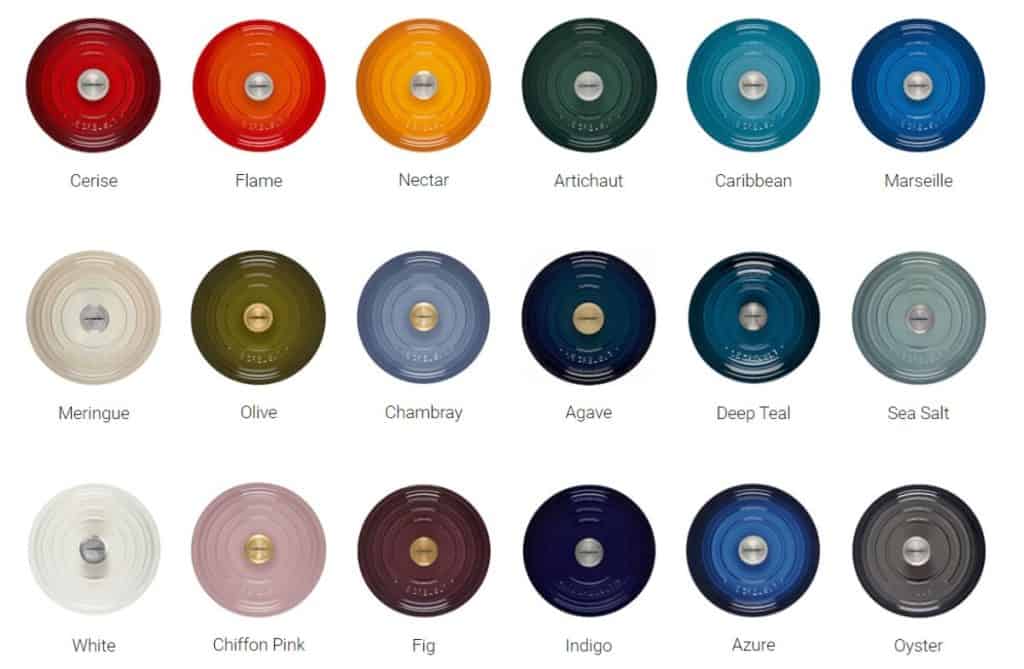 November 2021 – New Le Creuset Color
Le Creuset has just dropped a new gorgeous color CHAMBRAY in the Signature range. It is described as a soft slate blue with gray undertones and an elegant gold knob.
What Is the Best Le Creuset Color?
If you're looking for a color that screams Le Creuset without even needing to see the logo, "FLAME" is your best choice. With this beautiful orange-red hue radiating from inside of it, nothing says Le Creuset more than its original shade.
Seriously though, the best Le Creuset color for you ultimately comes down to your personal preference. However, I recommend considering the following when making your decision:
What other colors are in my kitchen?
Which types of cooking am I going to be doing most often?
Do I need a versatile color like Marseille or an iconic one that will always stand out like Volcanic?
Once you've answered these questions, then it should be much easier to find the right Le Creuset color for you!
What Were the Original Le Creuset Colors?
Le Creuset's first and classic enamel color, "Volcanique" (ORANGE). It was inspired by the intense and glowing orange hue of molten cast iron in the foundry's cauldron. As the molten cast iron cooled down and hardened, its original colors deepened to create a range of beautiful ombre hues and gradient colors that are reflected today on Le Creuset's range
Further, when Le Creuset was founded in 1925, most cookware was utilitarian in nature and dull gray or black in color. Armand Desaegher, a casting specialist, and Octave Aubecq, an enameling expert, saw an opportunity in the sea of gray.
The two French artisans perfected a glazing process that coated cast iron in a layer of premium colorful enamel. More functional, more versatile, and decidedly more beautiful, the result was an entirely new way of thinking about cookware and innovation that would come to define Le Creuset.
What Is the Newest Le Creuset Color?
It's March 2022 and Le Creuset just dropped a new color Olive a gorgeous new shade of green, it mixes and matches well with the existing color range, including Chiffon Pink.
The latest "spring" color release by Le Creuset is called Artichaut it is an earthy lush green, with all the usual Le Creuset signature subtle color hues. Artichaut is not the only new color on the block Agave Hue is a blue/green that matches perfectly with best-selling Le Creuset colors like Marseille Blue and Palm.
Agave Hue
Does Le Creuset Discontinued Colors?
Le Creuset colors have been discontinued over the years. These colors can become collector's items, and as someone is always sad to see them go, there are ways to find the pieces you want.
If you check online or in-store at various retailers you might get lucky and find discontinued colors. , however, look for your discontinued color in a pre-loved form in thrift stores, yard sales, or anywhere secondhand goods can be found.
Some old colors sometimes return looking very similar – different enamel color recipe – another name
You may still see some discontinued products for sale in-store (including Le Creuset outlet stores) or online until there are no more available
Remember, there are different ranges and colors available in different countries
For those who are committed to getting a particular discontinued color, some options are:
EBay or Online Marketplaces: These platforms often have collectors selling older models. Just ensure the authenticity of the product before purchasing.
Thrift Stores: Rare finds can be found here, but it requires a bit of hunting and luck.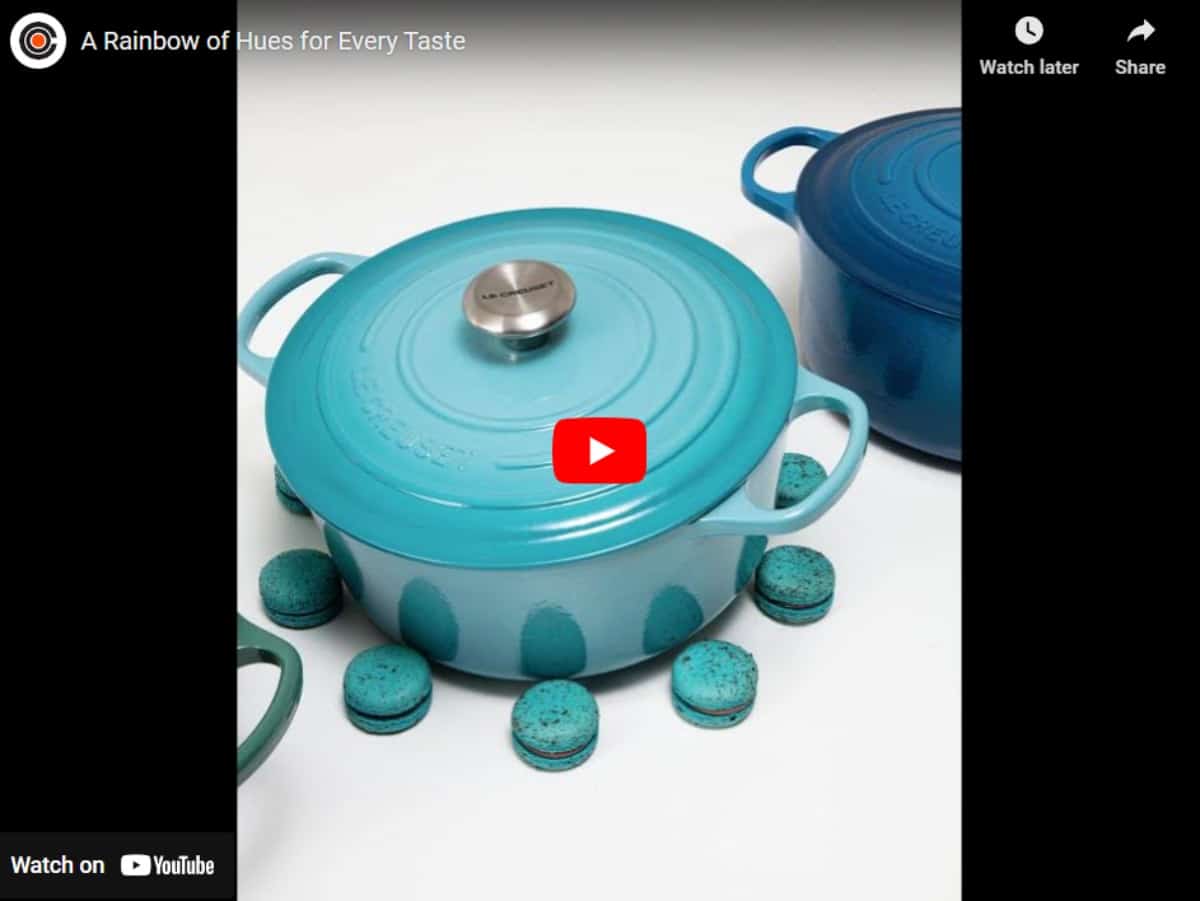 Le Creuset Colors by Year
Le Creuset's color history is colorful, to say the least, we have already learned that this innovative company loves colors. But it is the Le Creuset color combinations that make this cookware come to life and through the years they have come up with many color combinations to please us all.
Fun Fact: What is the most expensive Le Creuset? Marilyn Monroe's 12-piece set! It was auctioned in 1999 in New York for $25,330.
The following is a timeline of some of Le Creuset's color releases.
Le Creuset Color 1925 – The color that started it all was "Volcano".
Le Creuset Colors 1960s – The 1960s was an unforgettable era, especially for this French cookware company that launched Le Creuset's Elysee Yellow line of cookware that thousands have fallen in love with. In fact, Marilyn Monroe was one such person who adored this color! Marilyn's cookware was auctioned for a record price in 1999 at Christie's New York.
Le Creuset Colors 2013 – The colors that Le Creuset was giving us were Soleil, Marseille, Flame, Caribbean, Cherry, Dune, Cassis, Truffle, Fennel, White, Quince, Indigo, Ink, Ocean, and Spinach. Colors retired in 2013 Cobalt, Black Onyx, and Kiwi.
Le Creuset Colors 2020 – The core colors worldwide for 2020 were, as always, slight variations from country to country – Cerise, Flame, Volcanic, Marseille, Caribbean, Deep Teal, Oyster, Meringue, White, Cotton, Licorice, and Black.
Where to Buy Le Creuset
Le Creuset cookware can be purchased worldwide in-store, online, or from a Le Creuset outlet store. Look for the Le Creuset Factory to Table Sale!
Also, check out the many retailers that stock Le Creuset products and look out for sales year-round. My in-depth article covers the best prices you can purchase Le Creuset for. When the sales are on like the massive Le Creuset Factory to Table Sale and where you can find the products.
Are Old Le Creuset Worth it?
Here is a list of reasons why Le Creuset is worth buying and a few extra tips to consider when purchasing this gorgeous cookware.
Value
Le Creuset cookware is a luxury investment. It's known for its durable quality, which is often passed down through generations.
Maintenance
Enameled cast iron doesn't require seasoning like traditional cast iron, making it somewhat easier to maintain. It also resists staining, dulling, chipping, and cracking.
Heat Retention
Le Creuset is praised for its unparalleled heat retention and even heating. It's great for slow cooking, baking, and roasting.
Color Significance
Color can be more than just a personal preference. Some people collect Le Creuset items in a specific color because it holds sentimental value or to match their kitchen decor.
Tips for Shopping and Care
Availability
Not all colors are available in all products or regions. Before getting your heart set on a particular color, check its availability for your desired product and region.
Cleaning
To clean, avoid using metal utensils, which can scratch the enamel. Hand washing is recommended, though they are technically dishwasher safe.
Heat Settings
When cooking, avoid high heat settings to prevent damaging the enamel or burning your food. Le Creuset is excellent at retaining heat, so a low to medium setting is often enough.
Overall, whether you're a seasoned cook or a novice in the kitchen, adding a piece of Le Creuset cookware can bring joy to your culinary adventures, both in functionality and aesthetics. Happy cooking!
To Finish – Le Creuset Color Guide
Wow, over one hundred years of Le Creuset's colors. Current colors from around the world as well as discontinued or retired colors. Never fear Le Creuset inspires us by adding new colored pieces intermittently. Always a wonderful surprise…
If you're stuck on what color choice to make for your next Le Creuset purchase, this guide has hopefully helped. It's important that the colors resonate with who is buying it.
I don't have a favorite Le Creuset color I love them all! The brand's most popular colors change with every new release!
There can be many reasons why someone would choose a particular one of these hues. If at the end of the day, the choice is difficult, I recommend choosing something simple in neutral tones or similar colors so that everything works well together!
Check out Le Creuset's only rival in the enamel cast iron cookware space in this showdown article Staub vs Le Creuset.
One-Pot Cooking Rocks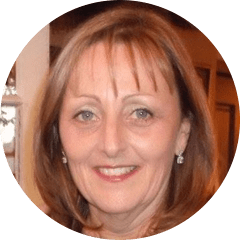 Michelle
Hi, I'm Michelle, the founder, owner, author, and editor of OvenSpot. My passion for one-pot cooking commenced when I was working to prepare cafeteria lunches for school students. I am now on a mission to assist you in choosing the cooking pot or appliance you will use daily. As well as in-depth information to assist you in using and caring for your cookware and appliances.
Questions? Reach out to Michelle at [email protected]