Is Le Creuset Enamel Toxic or Safe in 2023?
Many experienced chefs and experts have said correctly: cooking is a science! With any type of science, you will want to be aware of the possibility of toxins. This is especially true when it comes to the tools you will be using to cook your food, leading you to ask the question: is Le Creuset Enamel Toxic?
Though some cookware materials used can introduce small amounts of toxins into your diet over time, Le Creuset's Enamel actually acts as a barrier. The enamel withstands high cooking temperatures, protecting your food from toxic leeching and protecting your cast iron cookware from rust.
In this article, we will go over whether or not Le Creuset enamel is toxic, what makes it safe to cook with, and how it is unique among other coating options. To wrap it all up, we will go over several frequently asked questions related to the topic so home cooks understand everything you need to know about Le Creuset Enamel toxicity!
Disclaimer: As an Amazon Associate I earn from qualifying purchases on my website. If you make a purchase through links from this website, I may get a small share of the sale from Amazon and other similar affiliate programs.
Is Le Creuset Enamel Toxic?
So, although Le Creuset enamel, which is used on many nonstick pans as an enamel coating, is an incredibly popular product, the question remains: is it safe? It is no wonder this question has come up with media scares about chemicals leeching into our food.
Some pans, like the carbon steel variety, are considered safe because they do not come with any coating, and are only made with non-toxic materials. However, does this mean we have to give up non-stick coatings like enamel altogether?
The truth is, Le Creuset enamel does not pose much of a threat of toxicity to human beings. To really satisfy your peace of mind about this, it is important to understand toxicity as it relates to the cookware we use, as well as what Le Creuset enamel actually is. We'll take a closer look at these topics below!
What is Le Creuset?
If we are going to be absolutely sure that products using Le Creuset porcelain enamel are not harmful to us, it can be helpful to know what Le Creuset actually is and what it is made of.
Le Creuset is a France-based company that has been operating since 1925. An ironmonger named Armand Desaegher and his friend, Octave Aubecq, created the brand. They still operate out of the foundry in Melville, France.
Le Creuset offers nonstick metal bakeware, signature stainless steel cookware, stoneware, and yes, enameled cast iron! These are popular not only for their nonstick coating but because they come in such beautifully crafted, with over 20 bright colors to choose from.
They are not only high-quality in terms of nonstick cookware and bakeware, but they can be put out on any counter and actually add to the overall décor of most kitchens!
What Are Le Creuset Products Made Out Of?
One of their claims to fame is that their products are created from natural, earth-obtained materials and are largely toxin-free (although it is normal to detect very small, trace elements of toxins in any product that is made with metal, like iron.)
Enamel, itself, is actually a coating of powder that has been melted onto the metal of cookware that stays bonded to the actual pan in a seamless coat. Three layers of enamel are applied to the regular cast iron core this means that all of the particles of metallic oxide making up the pot or pan are sealed into a matrix of glass.
Not even acidic foods can eat through this coating! making this enameled cast iron cookware one of the safer options to cook with.
During this entire process, no chemicals are utilized in the making of the product. That means, essentially, that when the pot or pan is heated in an oven or over a stovetop during your cooking adventures, it will not release any toxic chemicals or toxic fumes.
Le Creuset enamels their cast iron pans because it helps them to remain durable after long periods of use. Not only that, but the fine glass coating of Le Creuset enamel can also stop trace amounts of iron from leaching into the food that is created with the cookware!
Finally, one of the best things about Le Creuset enamel is that it protects your cast iron cookware from the damage of rust. This thick coating has three protective layers between the metal and lingering water molecules.
Altogether, Le Creuset enamel is a non-toxic coating that does more to prevent your cast iron cookware from harming you than it does to cause any toxicity, itself!
A Le Creuset enamel product is safe to use on a glass cooktop or an oven, and can even be washed in the dishwasher without increasing any risk of toxicity.
How Can Cookware Be Toxic?
As previously stated, it is not crazy to worry about toxicity in your cookware, even if Le Creuset enamel is free from danger. The main problem is that with some protective layering of materials, like non-stick coatings, the high temperatures used in cooking can cause that protection to break down over time.
Once this happens, there is very little to stop toxins from leeching out of the heavy metals that cookware is made out of and entering your food. This, in turn, will cause you to ingest those toxins, which could lead to health problems.
Let's go over a few of the harmful chemicals that can be leeched into your food from cookware so that you can be aware of the amount Le Creuset enamel contains…if any!
Perfluorooctanoic Acid
One of the leading chemicals used to create that nonstick surface of the ceramic cookware we all love, PFOA has actually turned out to be a harmful toxin when enough of it is added to our chemical makeup by leeching into foods from our cookware. PFOA can lead to diabetes, increased cancer risk, allergies, and other issues.
Cadmium
Cadmium is a particular concern when considering the coating that is used on Le Creuset's products. Cadmium can lead to faster loss of sight due to aging, diabetes, and inflammation among other risks. Le Creuset, however, does not use enough Cadmium in its enamel coating to cause these harmful symptoms.
Aluminum
All human beings can handle a small exposure to aluminum, but too much of it coming from an aluminum pot or other type of cookware can cause higher risks of microcytic anemia, allergic reactions, and osteomalacia. Luckily, Le Creuset's cast iron products, containing their enamel coating, do not include aluminum!
Polytetrafluorethylene
This chemical is commonly found on non-stick pans and pots. It is typically released in toxic fumes when a piece of cookware coated in it is exposed to a cooking temperature higher than 370 degrees. It can lead to polymer fume fever, but luckily, Le Creuset does not include any traces of this chemical in its enamel coating!
Lead
This element is particularly important to discuss since lead is used in some enamel cookware. It is great for increasing the durability of this type of cookware, but unfortunately lead can cause renal failure, colic, muscle soreness, and even peripheral neuropathy!
Ultimately, trace amounts of these toxins can get into your food when introduced to high temperatures without proper protective coatings as a result of toxic fumes. When the toxins are in our food, it won't be long until they enter our bodies.
Luckily, however, Le Creuset Enamel has been tested and proven to contain no lead or cadmium by the California Proposition 65 Standards, which we'll go over below. In addition, the Le Creuset company assures customers that there are no Perfluorooctanoic acids or polytetrafluorethylene chemicals in their enamel coatings.
When we hear or read the words nonstick ceramic coating, aluminum cookware, aluminum core, health concerns, and birth defects it really is in our best interest to investigate the health risks. With that in mind check out the types of cookware that are the safest options in my article What Is The Safest Cookware?
What is the California Proposition 65 Standard?
The California Proposition 65 Standard is a type of test used to measure the toxicity found in everything from a cast iron pan to a dutch oven. It is sometimes shortened to be called "Prop 65." It technically does not apply to other states outside of California, but it is a great standard to reference for any type of cookware!
The California Proposition 65 Standard checks whether or not a product has lead or cadmium and if so, it measures how much of each component is a part of the product. For example, Prop 65 allows for a percentage that is less than 0.1 micrograms per milliliter that can be leached into an acetic acid solution of 4%.
On the other hand, only 0.0049 micrograms in a milliliter of cadmium are allowed to be leached into a 4% acetic acid solution. If this amount is exceeded in either case, California Proposition 65 will issue a warning that is required, by law, to be on the product's packaging.
The fact that Le Creuset's cookware has a California Proposition 65 standard means that, as stated above, it does not contain any of the toxins that are harmful to people, nor will it infect your food with unhealthy chemicals!
Is There Anything Unsafe About Le Creuset Enamel?
So we have established firmly that between the California Proposition 65 Standard they achieve and the benefits of the enamel coating on the heavy metals of the cookware, there is little to no risk of toxins leaching into your food when you use a Le Creuset enamel product.
However, that begs the question: even if toxins cannot get into your food, is there anything unsafe about Le Creuset Enamel?
The only possible danger you can find when cooking with Le Creuset enamel cookware will not come from toxins, but from flaking enamel. Flaking enamel only occurs when a Le Creuset product has been damaged. If you drop, scrape, or scratch your Le Creuset pot or fry pan, it may result in the enamel coating breaking in certain areas.
When this happens, the enamel's structural integrity has been compromised, and it may begin flaking more of the once-whole liquid glass sealant into your food. This may cause you to actually ingest the enamel, yourself.
As long as you do not notice any chipping or scratches as a result of a damaged piece of Le Creuset cookware, you likely do not have to worry about accidentally eating that helpful enamel coating! There are also a few ways to reduce the risk of chipping and flaking:
Clean Correctly
A cast iron piece of cookware should be cleaned with a soft sponge, or even a cloth, rather than harsh tools that run the risk of breaking that enamel seal and leading to chipping.
Le Creuset's very own cleaning solution makes cleaning easy. For tougher cleaning check out my article on how to clean and care for Le Creuset cast iron cookware.
Do Not Store Food Inside
It is tempting after a satisfying meal to simply stick the same pot you used to cook the food with into the refrigerator overnight. This is not recommended, however, because the moisture in a refrigerator as well as the moisture accumulated from cooling food can eventually lower the lifespan of your enamel coating.
Avoid High Heat
This may sound like it defeats the purpose of using Le Creuset's products at all, but remember, the cookware can still be used to bake or simmer products.
Simply avoid boiling or steaming anything over the highest heat settings on your stovetop because it can also begin to wear your enamel coating away prematurely. You will achieve the same outcome using medium heat you will also avoid food sticking to the enamel surface.
Resource: Deep dive with me into the overall safety of enameled cookware in my article Is Enameled Cast Iron Cookware Safe to Use?
FAQs
If you still find yourself wondering about enamel, toxicity, and your Le Creuset options, no worries! We have answered a few of the most frequently asked questions about these topics below.
What is Le Creuset Enamel made of?
Le Creuset's brightly colored cast iron cookware is covered in its own mixture of enamel as a coating. Enamel, itself, is also known as "porcelain enamel." It not only gives each piece of cookware it coats a nice gloss, but it helps the product resist shock when it is dropped or struck, and also acts as a protective layer against rust or metal toxin leaching.
Le Creuset's enamel coating is made up of glass that has been powdered into an incredibly fine grain. This powder is then fired at a temperature that can get as high as 850 degrees Celsius! When this has been accomplished, the powder melts down into a type of liquid.
This liquid form allows it to coat something like a pot or pan smoothly, evenly, and most importantly, in a continuous seal! Le Creuset's enamel, made of a fine, non-toxic glass liquid, is extremely beneficial in keeping rust off your product and toxins out of the food you cook!
Is Le Creuset really nontoxic?
It may be hard to believe, especially when noticing the Le Creuset company's trademark of brightly colored pots and pans, but Le Creuset's products are actually non-toxic! This can be proven by the fact that they meet the California Proposition 65 Standard.
As stated above, earning this standard means that the manufacturers do not include harmful chemicals that can leach into food: specifically, lead and cadmium. Additionally, Le Creuset has assured customers from their website that their products do not contain other commonly-used compounds found in non-stick cookware, like Polytetrafluorethylene or Perfluorooctanoic Acid.
Do Le Creuset pans contain lead?
In addition to their lead-free cast iron cookware and lead-free stainless steel products, the pans created by Le Creuset are also completely free of lead. This can be proven by the previously mentioned California Proposition 65 Standard, specifically meant to test for harmful lead content. Each Le Creuset pan meets this standard, meaning they do not contain lead!
Does Le Creuset have heavy metals?
Le Creuset does contain very small, trace amounts of heavy metals, which is the case with all cookware made from iron. These heavy metals do include nickel, lead, cadmium, and chromium. However, as previously stated in our article, this does not mean that Le Creuset pots and pans are toxic.
Actually, the amount of these metals which are detected in Le Creuset products is so small that even over extended periods of use, they do not pose any threat to the health of human owners. In addition, products that are covered in a Le Creuset enamel coating can actually reduce the risk of iron and other heavy metals leaching into your food.
Is scratched enamel cookware safe?
Enamel is made up of very fine glass turned into a liquid and spread as an even seal over heavy metal products. As such, it is possibly the least toxic, safest way to purchase cast iron cookware like Le Creuset's products. However, as previously stated, Le Creuset does have one weakness, and that is chipping or flaking!
Chipping and flaking can occur if your enamel cookware is damaged. That damage can occur when the enamel is weakened by being exposed to high heat, low colds, or too much condensation and steam from inappropriately stored hot foods. This kind of thing weakens the enamel coating to the point where it is easily scratched.
The enamel can also start flaking after being scratched during the cooking process. Once any scratching occurs, a break in the enamel coating's seal happens, and it can begin to flake, leaving particles in your food. This is unsafe and could lead to health hazards. Refer to the above care tips for the best ways to avoid this!
Learn about enamel cast iron cookware in my article Can You Re Enamel Cast Iron Cookware? especially re-enameling Le Creuset cookware.
Wrapping Up: Is Le Creuset Enamel Toxic
In conclusion, Le Creuset enamel is not toxic on its own. In fact, it works as a sealant keeping iron and other harmful materials, like lead, from leaching into food.
Le Creuset Enamel is free of harmful levels of chemicals both because of how it is made and because it reaches the California Proposition 65 Standard.
Altogether, Le Creuset enamel is a great way to protect the integrity of your food and your cast iron skillets and stainless steel pots!
One-Pot Cooking Rocks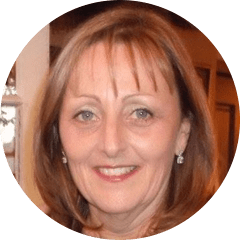 Michelle – Author
Hi, I'm Michelle the founder, owner, author, and editor of OvenSpot. My passion for one-pot cooking commenced when I was working to prepare cafeteria lunches for school students. I am now on a mission to assist you in choosing the cooking pot or appliance you will use every day. As well as in-depth information to assist you in using and caring for your cookware and appliances.
Questions? Reach out to Michelle at [email protected]