How to Clean and Care for Le Creuset Cast Iron Cookware
Le Creuset cookware is renowned for its durability, versatility, and beauty. For these reasons, it's perfect for any kitchen. However, the enameled cast iron does require some care to maintain its beautiful finish and functionality.
So, how do you clean Le Creuset pots and pans inside and outside? Wash with soapy water and a nylon scourer, rinse and dry your cookware in the usual way. If you have burnt-on grease or food residue that won't come off with normal cleaning methods, be careful not to damage the pot's surface. Use a soft nylon brush and regular use of the Le Creuset Pots and Pans cleaner.
Le Creuset cookware is a popular choice among foodies. Most people love their Le Creuset pans. However, some have trouble cleaning the stains or burnt particles off the inside and outside parts of the pan. Sometimes, you want to clean it, and all you can see are stains that don't come off easily.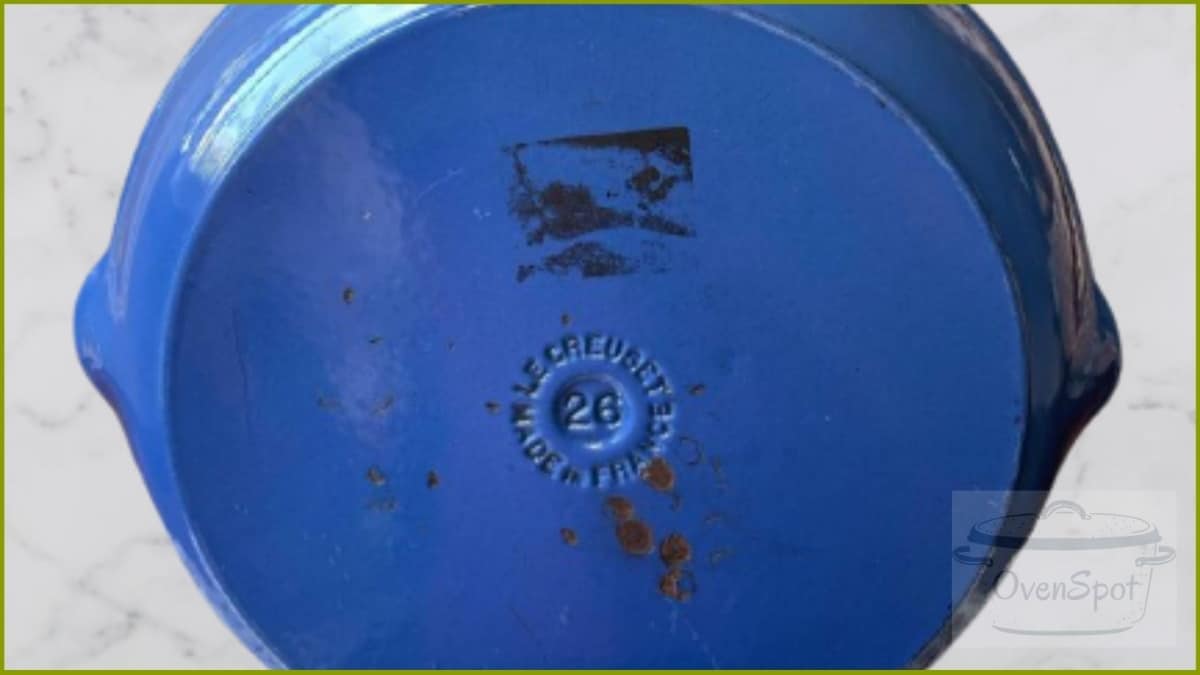 In this article, we will discuss how to clean Le Creuset enameled cast iron skillets and cookware inside and outside, as well as care for your cookware so that you can get the most out of your investment!
How to Avoid Ruining Enameled Le Creuset Cookware
Le Creuset cookware is colorful, beautiful, and designed to last a lifetime. But it's not indestructible. Improper care can cause the enamel coating on your pots and pans to chip or peel off, making them unusable.
To maintain the beauty of your le Creuset for years to come, one of the best ways to maintain your cookware is by following some basic guidelines.
Always check out and follow manufacturers' instructions for the correct heat sources to use your Le Creuset Dutch Oven or Le Creuset pan over.
Clean Cookware Before First Use
The first thing you need to do before using a new piece for cooking is to wash it with hot water and dish soap.
Avoid Thermal Shock
Thermal shock can happen when a hot pan is hit with something cold, such as water. This shock can also happen in the reverse, for instance, when you have an icy cold glass and insert it into hot water.
Avoid cooking over high heat or boiling liquids inside an enameled cast-iron pot without liquid (such as pasta). Damage can be caused due to extreme heat meeting cold substances.
Great tip: Avoid the risk of overheating or burning your food in an empty pan by preheating it on low heat for 5 minutes before adding any ingredients that can get too hot quickly (such as butter).
Choose the Correct Utensils
The most important thing to remember when cooking with any cast iron cookware is never to use metal utensils on the surface. Metal utensils can scratch and damage the enamel, which will ruin your pan and release hazardous chemicals into the food.
Wooden or plastic utensils, like nylon spatulas and silicone scrapers, are safe for cast-iron cookware.
Wooden or plastic utensils, like nylon spatulas and silicone scrapers, are safe for cast-iron enameled cookware.
This article lists a range of tools safe to use on the enameled surface of cast iron pans.
Wait Until Your Pan Has Cooled Before Washing It
The worst thing you can do when your pan cools down is put it in cold water. Even if the Le Creuset enamelware was designed to be durable, heat shock may still cause cracks or loss of that surface coating.
Heat shock, known as thermal shock, causes the metal on your pans to contract and create very small cracks inside them.
This, in turn, makes them more prone to breakage from intense heat in the future.
Do Not Let Food Dry on Surfaces
If you are cooking with cast iron, don't let your food dry on the pan. It's much more difficult to clean baked-on proteins and starch once they have dried into a crust than when left in liquid form.
Please do not leave any of your cooked foods sitting in or around the skillet for too long after removing them from heat because if that happens, then there will be an accumulation of debris at the bottom, which is going to make cleaning this utensil very challenging indeed!
Remove Baked-On Food Particles
To clean food residue off a pan, put warm water on the bottom and sit for about 20 minutes.
Then, scrub the residue off with a sponge or dish brush.
When you cook meat or vegetables on a grill, food can get stuck in between the ribs of the grates. A brush is great for removing any small pieces that land there and making your cooking surface less clean than it should be.
Le Creuset Cleaning
When it comes to the cooking surface of your enameled cast-iron cookware, don't use abrasive cleaners and scourers.
When you clean your cookware, rubbing, scraping, and scrubbing with an abrasive cleaner or a metal scraper will damage the smooth finish.
Enamel cooking surfaces cannot stand up to harsh chemicals.
Tip – clean your Le Creuset correctly after every use and you will not end up with a ruined piece of enameled cast-iron cookware.
How to Clean Le Creuset Enameled Cast Iron the Correct Way
The true beauty of Le Creuset enameled cast iron is that it does not need to be seasoned or pre-seasoned. It's ready for whatever you cook on the stovetop, oven, or grill – in a few minutes!
The surface will darken with use and develop an even more nonstick finish as time goes by, so don't worry if your pans are brand new and start out looking like they're too dark in color.
What Cleaners Should You Use on Your Enamel Cast-Iron
You can't just use any old soap or scrubber on these beauties! I recommend using warm, soapy water. Choose a mild dishwashing liquid like Dawn or Palmolive, warm water, and a soft sponge.
Don't forget to clean all cast iron parts, including handles, knobs, and lids.
Scrub away any stuck-on food particles until they're gone before rinsing thoroughly with hot water. If there are still stubborn stains or bits of food left behind after washing, then it is recommended to soak in soapy water for 10 minutes before repeating the cleaning process. Then again, with a little elbow grease if necessary.
The results will speak for themselves – this cookware will look brand new once you're done! And don't worry about ruining your cookware by hand washing it either – these pots have been designed to withstand years of rigorous use without cracking or chipping thanks to their durable enamel coating, which protects against scratches, too!
How to Clean the Outside of Le Creuset Cookware
The ceramic coating of enamel coasting is just as delicate on the outside as on the inside. You must never use scourers or abrasive cleaners because they will damage their surface and make stains even more difficult to remove in future cleaning sessions. So, you should always be gentle with your pots and pans while washing them!
Suppose there are burnt-on food deposits that have built up from cooking over time and cannot be cleaned off easily by regular scrubbing using a nylon pad. In that case, you can try rubbing some Le Creuset cast-iron cleaner onto these hard-to-shift marks before giving everything else another wash with soapy water.
What Cleaners Should You Not Use on Your Le Creuset
Liquid (hydrogen peroxide or oven cleaner), paste, or powder cleaners (laundry detergent) that are abrasive, as well as steel wool, metal scourers, and metal scrapers.
Use only Le Creuset's approved cleaners, cloths, and scourers (nylon).
Dishwasher and Cast-Iron Cookware
Le Creuset cookware is dishwasher safe except for those pots that have wooden handles. Over time, their enamel will dull from being washed in a dishwasher with the detergent. This can be avoided by hand washing instead.
Dry Thoroughly to Prevent Rust
Make sure the cooking surface of cast-iron pots is completely dry before storing them to avoid rusting in contact with moisture from air humidity when they're stored away.
Learn about how to Prevent Rust from forming on cast iron
Storing Le Creuset Cookware
Store enameled cast iron cookware items separately so they do not scratch one another during storage. If you need to stack your pots and pans due to lack of space, you can use pot protectors. They are inserted between pots and assist in stopping damage during storage.
Don't forget to use your pot protectors between lids and pots – these usually arrive in the box with your new cookware.
Learn about how to store cast-iron the correct way.
Disclaimer: I earn from qualifying purchases on my website as an Amazon Associate. If you purchase through links from this website, I may get a small share of the sale from Amazon and other similar affiliate programs.
Le Creuset's Cookware Care & Maintenance Accessories
The Le Creuset cookware cleaner is a 2-piece cleaning set with a nylon brush and Cerise with enameled cast-iron cookware cleaner. The nylon brush is perfect for cleaning in between ridges of grill pans as well as the interior of matte black cookware.
The cookware cleaner works on sand interior and matte black interiors to clean away food residue and tough stains without scratching or damaging your cookware's surface. Le Creuset care is made easy with this enamel cleaner.
Place them between pots, pans, dishes, or glass bowls. They provide a thin layer of gentle cushioning to diminish the chances of unwanted markings and cracks. They keep items from locking together when stored for long periods. Set of 3. 10″ in size, they are machine washable.
How Long Does Le Creuset Cookware Last?
Le Creuset guarantees it will last a lifetime. If you care for and maintain your Le Creuset pieces, they will become heirloom pieces that your loved ones will enjoy long after you no longer use them. Le Creuset lasting forever? Nothing lasts forever; the more care and attention a Le Creuset receives, the longer it will last.
Le Creuset Cookware – Warranty
Did you purchase Le Creuset cookware based on its great warranty? If so, it is in your best interest to follow Le Creuset's care and maintenance guidelines, or else your warranty may be void.
See in-depth information regarding Le Creuset's warranty policies.
In this article, learn how to remove stains from enameled cast iron.
Le Creuset in Dishwasher
Le Creuset says that you can clean Le Creuset cookware in the dishwasher. They also say hand washing is recommended in hot, soapy water, thorough rinsing, and drying.
It should be noted that after years of use, the light enamel surface may appear discolored or have brown stains. This is normal when using any cookware for a long time.
FAQs
Quick answers to common questions about Le Creuset and enameled cast iron cookware.
How do I clean and restore my Le Creuset?
Le Creuset advises cleaning food particles or a burned hard surface is as easy as adding baking soda to the Le Creuset item and then boiling water to a simmer for 10 minutes.
Let the hot pot cool and empty the soda solution. Clean the interior with soap and water as usual. Light stains may remain, and this is normal.
How do you deep clean enameled cast iron?
First, rinse it with warm water and mild soap. Then, use a non-abrasive sponge or wooden spoon to remove any remaining dirt or residue.
If your cast iron is particularly dirty, you may need to use the soda method. For best results, heat water and baking soda over medium heat and let simmer for 10 minutes.
Finally, rinse the piece again with warm water and dry it thoroughly with a soft cloth in the usual way.
Can you use soap on enameled cast iron?
Yes, warm water, dishwashing soap, paper towels, or non-abrasive pads are recommended. Non-citrus-based dishwashing soap should be used to maintain the enamel gloss finish.
How do you need to oil enamel cast iron?
You don't need to oil enamel cast iron if the enamel coats the raw cast iron. Rims with exposed raw cast iron of pots, pans, Dutch ovens, and lids should be seasoned to stop rust and corrosion.
Why does food stick to my enamel cast iron?
The reason your enamel cast iron is sticky or has food sticking to the inside of the enamel is that it is not a non-stick cooking surface.
Combining a non-stick cooking surface with the exceptional heat output from cast iron and not enough oil or other liquid is what makes it sticky over time.
Find out the best practices for stopping enameled cast iron from sticking.
Is Le Creuset enamel toxic?
No Le Creuset enamel is not toxic, providing its enamel surface is not damaged. The interior of Le Creuset enamel pieces is lead and cadmium-free. The exterior enamel may have low levels of lead. During manufacture, Le Creuset enamel is fired more than 790 degrees Celsius to withstand typical kitchen heat sources. Read more about Le Creuset cookware safety.
To Finish – How to Clean and Care for Le Creuset
I want you to enjoy cooking in style with your Le Creuset cookware for many years, and cleaning your Le Creuset enameled cast-iron cookware is not a difficult process. Just use the correct cleaners as well as regular time and dedication.
With patience and the right techniques, you'll be able to clean your cookware inside and outside while maintaining its luxurious finish so that you will have a lifetime of use for your gorgeous cookware!
Baking bread in a Dutch oven is an old-fashioned method that many home chefs prefer over the modern way of baking.
If you have any questions about the proper usage of this product, please go to the Le Creuset website.
One-Pot Cooking Rocks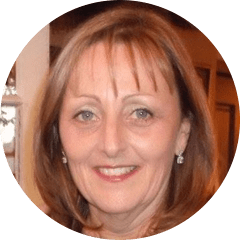 Michelle
Hi, I'm Michelle, the founder, owner, author, and editor of OvenSpot. My passion for one-pot cooking commenced when I was working to prepare cafeteria lunches for school students. I am now on a mission to assist you in choosing the cooking pot or appliance you will use daily. As well as in-depth information to assist you in using and caring for your cookware and appliances.
Questions? Reach out to Michelle at [email protected]