Le Creuset Cast Iron Skillet vs Lodge Skillet
Le Creuset and Lodge cast-iron cookware exist at opposite ends of the price spectrum. Aside from price, though, how do Le Creuset cast-iron skillets and Lodge cast-iron skillets compare against one another?
On the one hand, you have Le Creuset cast-iron skillets that can cost hundreds of dollars. These skillets are impeccably well-made in a French foundry started almost a century ago, finished in beautiful and thick enamel, and have a near-legendary reputation in the global cooking community.
On the other hand, you have Lodge cast-iron skillets that will cost about $20 or so. Made in the United States (many of them coming out of the original foundry in Tennessee that started more than 100 years ago), this cast iron is well made, rough, and rugged with a lot of American personalities that make them beloved, too.
Aside from price, though, how do Le Creuset cast-iron skillets and Lodge cast-iron skillets compare against one another?
That's what we tackle in this in-depth comparison to help you find the best cast iron skillet.
Disclaimer: I earn from qualifying purchases on my website as an Amazon Associate. If you purchase through links from this website, I may get a small share of the sale from Amazon and other similar affiliate programs.
A Tale of Two Irons – Le Creuset vs Lodge
Both companies have been in business for decades and have earned a reputation for producing high-quality products. So, how do their skillets stack up against each other?
In this quick comparison table, we'll take a look at the Le Creuset Signature Cast Iron Enamel Skillet and the Lodge Seasoned Skillet to see how they compare in terms of price, features, and performance.
Pro Tip: The features outlined below also apply iron Dutch ovens including a Lodge Dutch oven and Le Creuset Dutch ovens.
Features
Le Creuset Signature Skillet
Lodge Seasoned Skillet
Where is it Made
Made in France from a brand that has honed its cast-iron pouring and finishing skills for almost 100 years from the highest quality materials
After more than 100 years Lodge seasoned skillets are still made in Pittsburgh Tennessee.

Lodge enamel coated skillets are made in China.
Materials
Enameled cast iron
Seasoned cast iron and enameled cast iron
Design
Thick walls, integrated cast iron side handles, flat base, glass lid
Not a non-stick surface, oil can be used to prevent sticking
Non-Stick
Although better than cheaper enamel it is not a non-stick surface, oil can be used to prevent sticking
Bare cast iron is nonstick if a seasoned surface is maintained
Colors
17
Grey iron color becomes darker with use. 2 enamel colors red and blue
Performance
Le Creuset's enamel is non-reactive when used at high temperatures the enamel exterior provides excellent heat distribution and heat retention
When exposed to the same high heat as the Le Creuset the seasoned Lodge skillet heats up faster. Then still provides the same heat distribution and heat retention as an enameled skillet
Heat Source
Hob-to-oven versatility from the grill, electric hob, ceramic glass cooktop, gas hob, and induction hob to the oven.
From open fire or grill into the kitchen for use electric hob, ceramic glass cooktop, gas hob, and induction hob to the oven.
Induction Ready
Yes
Yes
Oven Safe
Oven safe up to 500°F
Oven safe up to 500°F
Pour Spouts
Two spouts, larger than Lodge
Two spouts, smaller than Le Creuset
Handles
Smaller than Lodge
Larger than Le Creuset
Helper Handle
Yes, flat and loop are available
Yes, looped so you can slip a mitted hand inside
Sizes
6.33-inch, 9-inch, 10.25-inch, 11.75-inch
3.5-inch, 6.5-inch, 8-inch, 9-inch, 10.25-inch, 12-inch, 13.25-inch, 15-inch
Weight
Heavy, but lighter weight than the Lodge skillet 3.2 pounds for 6.33-inch and 6.8 pounds for the 11.75-inch (see weight table below for all sizes)
Heavy from 0.63 pounds for the 3.5-inch skillet to 12.36 pounds for the 15-inch skillet (see weight table below for all sizes)
Iron Thickness (12-inch skillet)
3.78 mm
3.88 mm
Durability
The high quality enamel lasts longer than any other. But over time depending on the types of dishes you cook the light interior may discolor. Avoiding tomato sauce and acidic foods will help retain the clean light surface enamel
With proper care and seasoning, the Lodge uncoated cast iron skillet is more durable than enamel. When exposed to the same high heat as the Le Creuset the seasoned Lodge skillet heats up faster. Then still provides the same heat distribution and heat retention as an enameled skillet
Cleaning
Clean-up is easy, and dishwasher safe, although hand washing is recommended
Requires hand washing and drying immediately
Maintenance
No seasoning is required, a patina will build up over time on the matte black interior of the skillet
Bare cast iron needs seasoning, a light seasoning after every use or when the surface becomes dull and food starts to stick to the surface
Product Complaints
Expensive, heavy, can discolor over time, slower to heat up than bare cast iron
Heavy, needs seasoning. Enamel cast iron made in China takes longer to heat up than bare cast iron, enamel chips
Warranty
Limited Lifetime
Limited Lifetime
Price
Premium price @ approximately $220.00 for a 10-inch skillet
Affordable @ approximately $30.00 for a 10-inch skillet
Le Creuset Signature Skillet and Lodge Skillet Comparison Table
Le Creuset Overview
Le Creuset was first started in a small French village called Fresnoy-le-Grand by two Belgians, men named Armand De Saegher and Octave Aubecq.
Saegher specialized in iron casting while Aubecq focused on the enameling. They chose to build their new foundry and factory in Fresnoy-le-Grand because of its then-centralized location for the iron, coke, and sand industries of France.
The first products that came out of this new operation were "French Ovens" – called Cocottes – that was immediately embraced by the professional French cooking industry. Soon after French homes started to fill with these beautiful and functional pieces of cast iron.
Not long after Le Creuset started producing other pieces of cookware, including the now world-famous enameled skillets.
Currently available in four different sizes – 6 1/3 inches, 9 inches, 10 ¼ inches, and 11 3/4 inches – they are not the least expensive skillets on the market today. See the latest Le Creuset Skillet Sizes.
Prices range from anywhere between $130 for the smallest cast-iron skillet from Le Creuset to $240 for the largest. Exclusive colors, limited edition colors, and "signature series" skillets can be even more expensive than that.
All Le Creuset products come with a lifetime warranty, though. If anything is wrong with your cast iron – tomorrow or 50 years in the future – you'll be able to lean on this warranty and have your cookware replaced.
Lodge Overview
Lodge Manufacturing is a slightly older company than Le Creuset, having been started in the United States back in 1896 by a man named Joseph Lodge.
At the time Joseph opened up his company for business, there was a lot of competition in the cast-iron industry. America was rapidly expanding after the Civil War, pushing westward. And Americans needed cookware that was tough, reliable, and durable. These customers also needed cookware that could work on a variety of different stove tops (or even campfires).
Lodge really pushed the industry forward by standardizing the production process of his cast-iron skillets.
Only a handful of uniform sizes were made available and the skillets were very "no-frills". The cast iron was well-made from the Tennessee foundry, but it was up to the new owners of this cookware to season and care for each piece that they purchased.
Because of the high quality of the Lodge pieces and the affordability of these skillets, thanks to standardization word spread quickly. Check out the latest Lodge Sizes.
Lodge gained market share almost overnight and the beginnings of a now legendary American manufacturer were established.
Today's Lodge cast-iron skillets remain pretty no-frills.
The cast iron itself is solid, reliable, and carefully inspected to be free from defects before it makes its way to the hands of customers.
All Made in the USA Lodge skillets are produced near where the original Lodge foundry (first known as Blacklock) was located in South Pittsburgh, Tennessee.
The actual foundry burned in May 1910, but a new foundry was constructed in August 1910 and it remains a key part of this company's heritage.
Modernizations have been made over the years to improve upon the original cast-iron process used by Joseph Lodge.
In the 1950s, the hand pour operation was automated. In the 1960s, a Danish "molding machine" was imported for use on the Lodge line – the first time an American company leveraged this technology.
In 2002, Lodge decided to take an even bigger step and started pre-seasoning all of their cast-iron cookware. This was the first time something like this was even attempted in the industry.
Lodge cast-iron skillets might not be as elegant as French enameled Le Creuset skillets are. But they have a romantic and rugged aesthetic that sets them apart, too.
Le Creuset and Lodge Head-to-Head
Design and Materials
The look and feel of Lodge and Le Creuset skillets couldn't be further apart.
Design-wise, Lodge skillets are a lot like an army jeep.
Rough around the edges, these skillets are utilitarian pieces of cookware. They need to be seasoned to become nonstick but they don't have to be treated like fine china. These skillets are just as comfortable on a gas stove top as they are over an open flame on a fishing trip.
Le Creuset skillets are part cookware, part functional art. The enamel is gorgeous, thick, and rich. The colors are always bold and filled with personality. See the latest colors in my Le Creuset Color Guide.
The cookware is almost as nonstick as modern synthetic nonstick options, with all the other cooking benefits of using cast iron mixed in.
Le Creuset only offers four different sizes of skillet right now, whereas Lodge offers a variety of different options from 3 inches in diameter up to 16 inches in diameter (with a couple of pieces even larger than that).
As far as the actual cast iron used in this cookware is concerned, though, they are pretty comparable.
Both of these companies take casting iron very seriously.
Both of them have introduced a number of innovations now used throughout the industry.
Both of these companies have built a reputation for producing high-quality pieces of cookware that will last a lifetime because of the caliber of their cast iron.
| | Ceramic | Stainless Steel |
| --- | --- | --- |
| Construction | Hard anodized aluminum | Aluminum, stainless steel, hard-anodized aluminum |
| Design | Round Dutch ovens and oval Dutch ovens, French ovens, Cocotte, skillets, griddles, Braisers, and bakeware. A wide choice of sizes and shapes in all types of enameled cast iron cookware | Round Dutch ovens and oval Dutch ovens, French ovens, Cocotte, skillets, griddles, Braisers, and bakeware. A large choice of sizes and shapes in all types of enameled cast iron cookware |
| Finish | Dark gray/black gets darker with more use. Bare cast iron has a rougher surface | Exterior shiny in a wide variety of colors, interior light or dark |
| Heat Source | Suitable for all heat sources indoor and outdoor | No open fires, naturally induction ready, ceramic, glass stovetop, gas, electric, oven |
| Temperature | Will withstand temperatures in excess of 500 °F | Temperatures up to 500 °F depending upon the cookware quality and design (knobs and handles should be oven safe) |
| Heat Retention | High | High |
| Performance | Nothing compares to the ability to sear steaks on a well-seasoned cast-iron skillet. If the surface is maintained non-stick properties are excellent | Not non-stick when searing oils or liquid required. Comparing slow cooking, roasting, and baking both perform well |
| Durability | Maintenance will last a long time with care your lifetime and beyond | With care, iron can last a lifetime although the enamel will deteriorate long before the cast iron |
| Clean Up | No dishwasher, no soaking, no soap, scourers & hot water, dry immediately | No dishwasher, warm soapy water, soaking then nylon scourers, dry thoroughly |
| Maintenance | Pre-seasoned cast iron should still be seasoned before first use, bare cast iron needs seasoning regularly | Seasoning the enamel is not required, you can season bare cast iron rims on pots and lids to prevent rusting |
| Iron Release | Yes, less with regular seasoning | No, if the enamel is intact |
| Price | Less expensive | More expensive than regular cast iron |
COMPARISON TABLE – The differences between seasoned cast iron and enameled cast iron
Build Quality
The build quality on Le Creuset is second to none.
Every piece of cookware produced in this French foundry is handled by 15+ sets of hands as it goes through the manufacturing process. Each professional inspects the piece for flaws, confirming that it is flawless before it moves down the assembly line.
Along the way, bits of cast iron are shaped and smooth. Some pieces are sanded and sent back for further finishing before the enameling process begins.
The end result is a true "hand fit" production process that isn't a whole lot different than it was when Le Creuset started nearly 100 years ago.
Lodge also enjoys a reputation for solid build quality, even if the production process here results in deliberately "rough around the edges" pieces of cast iron.
Lodge skillets are (seasoned cast iron cookware) made in Tennessee, using some of the most advanced cast-iron production processes in the industry.
Underneath all of those automated solutions, though, is the heartbeat of the original Lodge foundry in South Pittsburgh. The sand casting process used more than 100 years ago to make Lodge skillets is followed pretty closely still today.
Since 2002, Lodge skillets come out of the foundry with an initial pre-seasoning already taken care of. This shortcuts the seasoning process for new owners significantly.
Looking for cast iron manufactured in America? See my list of cast iron cookware that is currently made in the USA.
Cooking Capabilities
There isn't a lot of difference between the cooking capabilities of Le Creuset skillets and the skillets made by Lodge.
Yes, skillets from these companies have wildly different price tags and very different approaches to finishing their cast iron surface. Both have superior heat retention over any other type of cookware material.
That said, the cast iron at the heart of these pieces of cookware is almost identical and can withstand high temperatures apart from the aesthetic appeal of the Le Creuset.
Skillets from Lodge and Le Creuset are going to heat up slowly but consistently. There aren't going to be hotspots and cold spots across the cooking surface like there are with stainless steel or aluminum cookware.
My Lodges season cast iron is able to absorb the heat more quickly so it gets hotter fast, my Le Creuset skillet needs to heat two materials before it reaches my required temperature.
Pro Tip: I always heat up my Le Creuset enamel skillet with lower heat than when I use my Lodge regular cast iron skillet over my gas cooktop. Avoiding a higher temperature absolutely helps prevent food from sticking to the enamel surface. See how I achieve this in my article on enamel cast iron sticking.
These pans are also going to radiate stored heat evenly and deliberately. You'll be able to get these pans to specific temperatures and hold them there, offering you a lot more control over your cooking.
The Le Creuset skillets are a little easier to cook with "out-of-the-box", but that's just because the enameled surface is ready to cook upon. It should be noted that no cast iron enamel product is not nonstick oil or other liquid required for cooking as everything will stick to the smooth surface.
Lodge skillets require a little more seasoning beyond the pre-seasoning they receive at the foundry before you'll get those nonstick properties.
It is very important to season cast iron before it's first use my article season cast iron cookware for the first time will teach you with easy to follow steps how to do it.
Versatility
Lodge may appear to have a slight edge over Le Creuset in the utility department. But only because most people are a lot more comfortable using a Lodge skillet in a variety of different applications instead of reaching for their expensive Le Creuset.
Few people will have a problem cooking a campfire meal in a Lodge skillet. You'd be hard-pressed to find anyone comfortable with taking their Le Creuset outside of the house!
That said, the Le Creuset skillet is just as capable as a Lodge skillet – and maybe even more so.
The triple enamel that goes on to a Le Creuset skillet protects against rust but also produces a very nonstick surface. Caramelize onions in a Le Creuset skillet and then caramelize onions in a Lodge skillet and you'll see the difference straight away.
The onions in the Le Creuset skillet will release with just a bit of fond left on the enameled surface while the onions in the Lodge will stick and burn if you aren't careful.
That's something to consider.
Learn about the advantages and disadvantages of cast iron cookware if you are just starting your cast iron journey.
Ease of Cleanup
The experts at Le Creuset claim that their skillets can be put into a modern dishwasher (with the rest of your dishes and cookware) and washed just like anything else.
There aren't a lot of cast-iron manufacturers out there willing to promise the same thing. Lodge included.
At the same time, you have to have a pretty robust dishwasher to stick a Le Creuset skillet into. You also have to have a lot of trust in that enamel finish to keep your cookware from rusting.
Lodge is a more time-consuming skillet to clean up.
You'll need to let your cast iron cool down after cooking. Then you'll want to use a bit of warm water and a gentle scrubbing brush to get anything stuck on the surface off.
Be careful not to ruin your layers of seasoning with a scrubber that is too abrasive!
After that, you'll need to dry your Lodge skillet completely and apply a little bit of vegetable oil across the entire surface. If you don't, you'll find rust spots by the time you wake up the next morning.
Ease of cleanup goes to the Le Creuset skillets.
Learn more about cleaning enamel cookware in my article how to clean and care for Le Creuset
Value
There's a lot of value in both of these brands of cast-iron skillets.
Le Creuset skillets are significantly more expensive upfront than a piece of Lodge cast iron the same size. There's no argument there.
At the same time, though, you're paying for impeccable quality, durable semi-nonstick enamel, and the heritage of this legendary piece of cookware. These are beautiful pieces of cookware that your family will treasure – and get a lot of use out of – forever.
Lodge (on the surface) looks like an almost disposable or budget cast-iron skillet option. At the same time, the skillets are very well-made and come from an older American company with even more history under its belt.
These pieces of cast-iron cookware are solid, dependable, and consistent in the kitchen. With a little bit of care, they can last forever and be just as treasured by your family.
Price
I have skimmed over the prices of these two brands and you can reference the size, weight, and price table below to compare them for yourself.
The main difference between these two brands is that they are produced for completely different markets.
Le Creuset is a high-end luxury brand that has spent a hundred years honing its casting and enameling skills for its kitchen cookware. They have not entered the seasoned cast iron market to date.
Find out why Le Creuset is worth the price in my in-depth article why is Le Creuset so expensive?
Lodge Manufacturing on the other hand is an iconic American company that has been forging and honing its bare cast iron casting skills for over 100 years. Its target buyers started with those on the land using cookware outdoors and then utilizing them in the kitchen.
Check out my review of Lodge Cast Iron, both seasoned and enamel, its history, manufacturing processes, its large array of products, and more.
Le Creuset and Lodge Size, Weight, and Price Comparison Table
| | | | |
| --- | --- | --- | --- |
| Brand | Dimensions | Weight | Latest Price |
| Le Creuset 6.33″ | 11.9 x 10.4 x 2.3 inches | 3.20 lbs | PRICE |
| Le Creuset 9″ | 15.31 x 10.51 x 1.57 inches | 4.25 lbs | PRICE |
| Le Creuset 10.25″ | 13 x 14.8 x 3 inches | 6.00 lbs | PRICE |
| Le Creuset 11.75″ | 13.5 x 18.8 x 1.9 inches | 6.80 lbs | PRICE |
| Lodge 3.5″ Skillet | 6 x 3.93 x 0.93 inches | 0.63 lbs | PRICE |
| Lodge 6.5″ Skillet | 10.18 x 6.68 x 1.37 inches | 1.90 lbs | PRICE |
| Lodge 8″ Skillet | 12.8 x 8.7 x 1.9 inches | 2.20 lbs | PRICE |
| Lodge 9″ Skillet | 13.75 x 9.68 x 1.87 inches | 4.17 lbs | PRICE |
| Lodge 10.25″ Skillet | 16.12 x 10.68 x 2 inches | 5.00 lbs | PRICE |
| Lodge 12″ Skillet | 18 x 12.56 x 2.25 inches | 7.9 lbs | PRICE |
| Lodge 13.25″ Skillet | 20.8 x 13.8 x 2.8 inches | 10.33 lbs | PRICE |
| Lodge 15″ Skillet | 22.2 x 15 x 2.9 inches | 12.36 lbs | PRICE |
Le Creuset and Lodge Size, Weight, and Price Comparison Table
Find out about where the best Le Creuset prices locations, sales, and clearances can be found.
FAQs
Is Lodge cast iron as good as Le Creuset?
The lodge is an affordable alternative to Le Creuset. Le Creuset cast iron cookware is in a class of its own. Learn more about great alternatives to Le Creuset.
Is Lodge made in China?
Lodge enamel cast iron is made in China. Lodge-seasoned cast iron and seasoned carbon steel are made in the USA. Complete guide of where Lodge products are made.
Can Lodge cast iron rust?
Yes, when seasoning is not intact and cast iron is exposed to excess moisture surface rust will appear and then turn into corrosion if not refinished. Do not soak cast iron clean then dry immediately.
Why does everything stick to my Le Creuset skillet?
Enameled cast iron cookware is NOT nonstick. To avoid food sticking to the surface oil the pan and heat up over medium heat before adding ingredients.
Which Should You Buy, Le Creuset Skillet or Lodge Skillet?
Choosing between a Le Creuset cast-iron skillet and a Lodge cast-iron skillet really comes down to your budget and what you value most.
Le Creuset is very much the luxury brand in this head-to-head comparison.
These pieces of cast iron are beautiful and functional. They enjoy an elite status in the world of cookware and are prized by home cooks as well as professional chefs the world over.
Thanks to the careful (and thick) enameling they are resistant to rusting and nonstick right away.
Lodge cast iron is the more utilitarian of the two brands.
Nearly indestructible, there's a lot to be said about a piece of cookware that can go from the stove to the oven to the campfire and then back to the stove without missing a beat.
You could also get your hands on half a dozen different-sized Lodge cast-iron skillets and still have money left over compared to what a single Le Creuset will cost you.
Skillet sizes are confusing: in my article, I teach you how to choose the best cast iron skillet size for your needs.
At the end of the day, you might want to consider owning both, as I do!
Need more information about purchasing a skillet? Learn about what skillet a professional chef prefers an enameled cast iron skillet or traditional cast iron cookware in my article do professional chefs use cast iron cookware?
One-Pot Cooking Rocks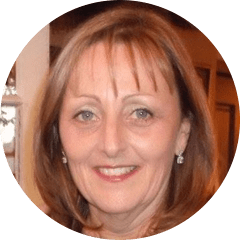 Michelle
Hi, I'm Michelle, the founder, owner, author, and editor of OvenSpot. My passion for one-pot cooking commenced when I was working to prepare cafeteria lunches for school students. I am now on a mission to assist you in choosing the cooking pot or appliance you will use daily. As well as in-depth information to assist you in using and caring for your cookware and appliances.
Questions? Reach out to Michelle at [email protected]