How Long Does Le Creuset Last? Complete Warranty Guide
Le Creuset is known for its colorful quality enameled cast iron and stoneware cookware and is a household name worldwide.
Home cooks and professional chefs have been coveting Le Creuset for nearly a century. But with such an investment in quality cookware, it's natural to wonder: how long does Le Creuset last?
Le Creuset Dutch ovens and cookware are known as heirlooms and last decades after being handed down through generations. Vintage cookware is still in use today, proving its longevity.
Let's take a look at what contributes to the lifespan of Le Creusets products and how to care for your cookware to ensure it lasts as long as possible.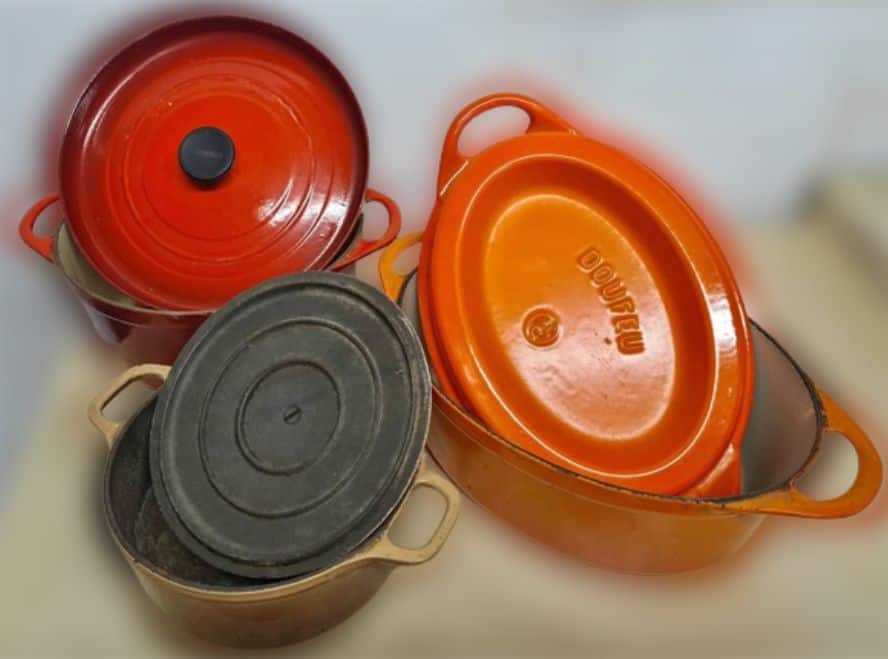 Disclaimer: As an Amazon Associate I earn from qualifying purchases on my website. If you make a purchase through links from this website, I may get a small share of the sale from Amazon and other similar affiliate programs.
Le Creuset's History
Le Creuset is a company that has been producing high-quality cookware for almost 100 years. The company was founded in 1925 in France by Armand Desaegher and Octave Aubecq, two industrialists who were looking to create a new type of cookware.
Their vision was to create cookware that was both functional and beautiful. They decided to use cast iron as the material for their cookware, as it was durable and could distribute heat evenly.
They also added an enamel coating to the cast iron products, which not only made the cookware more aesthetically pleasing but also made it easier to clean.
The first Le Creuset Dutch ovens were manufactured in 1925 in Fresnoy le Grand, Northern France and they quickly gained popularity throughout Europe.
In the 1930s, Le Creuset began exporting their products to the United States they quickly gained popularity in American kitchens.
Today, the brand's commitment to hand-finished quality and innovation continues to make it a leader in cookware manufacturing.
Factors That Affect the Cookwares Lifespan
The longevity of a Le Creuset piece depends on several factors, including:
Material
Cast iron is not the only cookware Le Creuset offers. The range includes cookware made from different materials, bakeware, stainless steel, and ceramic non-stick materials.
Add to that the expansion into cooking tools, accessories, tableware, and care products. The colors of the accessories match the colors of the products.
This feature alone makes kitchens and dining tables when serving directly from the pot look fantastic.
Enameled cast iron and pottery are known for their durability and longevity that to the layers of high-quality glass enamel.
Usage
The frequency and intensity of use can also affect the lifespan of your Le Creuset cookware. Regular use can actually improve the performance of enameled cast iron and stoneware by building up a natural non-stick coating, but excessive use or misuse can cause wear and tear.
Tools
Use the right tools. When cooking with your Le Creuset cookware, use non-metal utensils to avoid scratching the enamel coating. Wooden or silicone utensils are a good choice.
Temperature Changes
While Le Creuset cookware is designed to withstand high temperatures, extreme temperature changes can cause damage.
To avoid extreme temperature changes, known as thermal shock, do not put a hot pan directly into cold water or place cold cookware onto a hot stove. Allow your cookware to cool down or warm up gradually to avoid any issues.
Care and Maintenance
Proper care and maintenance are essential for maximizing the lifespan of your Le Creuset pans. Avoid using utensils that can scratch the enamel or stoneware surface, and be sure to follow the manufacturer's instructions for cleaning and maintaining your cookware.
Storage
Storing your cookware properly can also help prolong its lifespan. Don't stack heavy items on top of each other surface should be treated like glass, as damage can occur. Use pot protectors, invert lids, and store them in a dry, cool place.
Check out my hack for keeping humidity at bay when storing cast iron cookware.
Your cookware will remain in excellent condition for years to come if you treat it with a little love.
With proper care, your investment in Le Creuset cookware will continue to pay off in delicious meals and a beautiful talking piece in your kitchen.
The Lifespan Le Creuset Pans & Products
The lifespan of a Le Creuset product can vary depending on the factors mentioned above. Here are some general guidelines for how long different products like bakeware and cookware made from other materials might last:
Enameled Cast Iron Dutch Ovens and Braisers
Le Creuset's signature enameled cast iron Dutch oven (French Oven) and braisers are designed to last a lifetime, and many people pass them down as family heirlooms.
With care and maintenance, these products have been proven to last for decades.
Cast Iron Skillets and Grills
Le Creuset cast iron skillets, grills are not the only cast iron pieces. The range includes a gorgeous Saute pan, Woks, frying pans, everyday pans, and more that are also designed to last for many years.
Treat them the same way you would treat your prized Dutch oven, they will last.
Stoneware Baking Dishes and Casseroles
Le Creuset stoneware is known for its durability and resistance to chipping and cracking. Treating the enamel stoneware as though it is glass will ensure it lasts longer than other brands.
Non-Stick Cookware
Le Creuset non-stick cookware is designed to last for several years with proper care and maintenance. The caveat is "it depends on how the cookware is cared for" if the nonstick coating is damaged it may need to be replaced after several years of regular use.
Stainless Steel Cookware
Stainless steel cookware made from high-quality materials used during manufacturing lasts for many years. It is important to regularly clean and maintain the cooking surface to avoid sticky spots and burnt food areas. A light coat of vegetable oil occasionally protects the enamel surface from damage.
Does Le Creuset Have a Lifetime Warranty
Le Creuset is known for producing high-quality, long-lasting cookware products that can withstand years of use.
As we know, even the best products can sometimes develop issues or defects. That's why Le Creuset offers a limited lifetime warranty on all of its products.
What Exactly Does Le Creuset's Warranty Cover?
A Le Creuset warranty begins on the date, for the original owner, and it covers defects in materials and workmanship when used in normal, domestic conditions for the lifetime of the product.
This means that if a product is found to be defective due to workmanship or material, it will either be repaired or replaced free of charge (at Le Creuset's discretion).
Its lifetime limited warranty does not apply when;
damage caused by accidents,
misuse,
normal wear and tear cosmetic damage
color of the enamel over time
abnormal were
commercial use
The best way to contact the company is via its customer service department, on the Le Creuset website.
"No warranty" covers normal household use, this warranty does provide protection against defects in materials and workmanship for the lifetime of the product.
Can Le Creuset Enamel Be Repaired or Re-Enameled
Yes, Le Creuset enamel can be repaired or re-enameled. If the enamel is chipped or cracked, it can be repaired by a professional enamel repair company.
If the enamel is severely damaged or worn, it may need to be re-enameled entirely. This process involves stripping off the old enamel and applying a new coat of enamel. This process should only be done by a professional as it requires specialized equipment and expertise.
You should also note that this process is not cheap and the re-enameling will not be the same quality as genuine Le Creuset enamel.
I have researched re-enameling cookware extensively. Learn about what I have found out about repairing and enameling cast iron cookware.
Vintage Le Creuset Cookware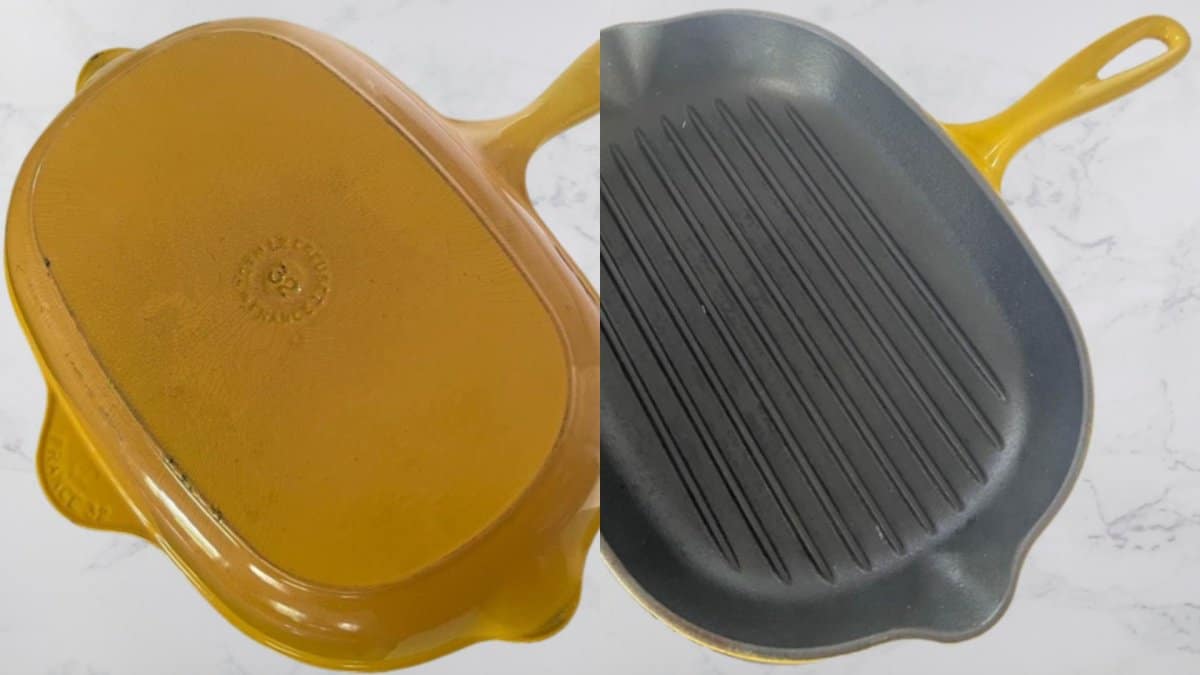 Le Creuset has been producing high-quality cookware for over 100 years, and many of its vintage pieces are still in use today. A Vintage Le Creuset piece is highly valued for its durability, with many pieces being passed down through generations of families.
The older pieces were made with thicker cast iron and enamel coatings, making them just as durable and long-lasting as the newer products.
In addition to their durability, vintage Le Creuset is also prized for its unique colors and designs.
The company has produced a wide range of colors over the years, from classic primary colors to more unusual shades like avocado green and flame orange.
If you're lucky enough to inherit a piece of vintage Le Creuset, it's important to care for it properly to ensure that it lasts as long as possible.
Follow the same care and maintenance instructions as you would for newer products, such as hand-washing and avoiding sharp utensils.
With proper care, vintage Le Creuset cookware can continue to be a beloved part of your kitchen for many years to come.
I have explored this passion topic thoroughly you can read more about Vintage Le Creuset in my article.
How to Clean and Maintain Le Creuset
Le Creuset is an investment in your kitchen, and with proper care, it can last for generations. Removing food residue, and burnt food from your cookware pieces immediately is the best way to avoid needing abrasive cleaners.
Here are some tips for caring for your Le Creuset:
Hand wash Le Creuset pots and pans. While it may be tempting to throw your pot in the dishwasher, it's best to hand wash them.
Use mild dish soap and a soft sponge or brush to clean the surface of the cookware. Avoid using abrasive scrubbers or harsh chemicals, which can damage the enamel coating.
Dry your pots thoroughly after washing make sure to dry them thoroughly before storing them.
You can use a clean towel or allow it to air dry. Moisture can cause rust or corrosion to the cast iron if there are any fractures in the coating. so it's important to ensure that your cookware is completely dry before putting it away.
Store your cookware properly. When storing your, avoid stacking heavy pieces on top of each other. This can cause damage to the enamel coating and the cast iron. Instead, store each piece separately in a dry, cool place.
This tutorial will teach you how to clean and care for all enamel cookware including Le Creuset.
FAQs
Quick answers to common questions asked about Le Creuset products.
How do I know when it's time to replace my Le Creuset cookware?
Replace your cookware that is chipped, cracked, or warped. If the non-stick coating on your Le Creuset ceramic non-stick cookware is peeling or scratched, it should be replaced.
Can I use metal utensils on my Le Creuset cookware?
It's not recommended to use metal tools and utensils on enameled surfaces or stoneware products, as they can scratch the surface. Instead, opt for wooden, silicone, or nylon utensils. Learn more about the best utensils for use with cast iron cookware.
Can I use my Le Creuset cookware on an induction cooktop?
Yes, many Le Creuset products are compatible with induction cooktops. However, check the manufacturer's instructions for your specific product to ensure compatibility.
Can I put my Le Creuset cookware in the dishwasher?
While Le Creuset is technically dishwasher-safe, hand washing is recommended to prolong the product's lifespan. The high heat and harsh detergents used in dishwashers cause the enamel to fade or crack over time.
Is it OK to use chipped Le Creuset?
Yes, it is generally safe to use chipped or cracked Le Creuset cookware. If the chips or cracks are deep and jagged, it's best to discard the product as there may be a risk of chips from the cookware surface being added to your food or worse injury.
Tip: The best places and times to buy Le Creuset
Wrapping Up: How Long Does Le Creuset Last
Le Creuset is a high-quality, durable brand of cookware that is designed to last for many years with proper care and maintenance. The lifespan of Le Creuset products depends on several factors, including material, usage, care and maintenance, and storage.
While enameled cast iron and stoneware products are designed to last forever, non-stick cookware may need to be replaced more frequently.
By following the manufacturer's instructions for care and maintenance, you can ensure that your Le Creuset lasts as long as possible and provides you with delicious meals for years to come.
One-Pot Cooking Rocks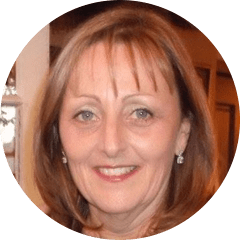 Michelle – Author
Hi, I'm Michelle the founder, owner, author, and editor of OvenSpot. My passion for one-pot cooking commenced when I was working to prepare cafeteria lunches for school students. I am now on a mission to assist you in choosing the cooking pot or appliance you will use every day. As well as in-depth information to assist you in using and caring for your cookware and appliances.
Questions? Reach out to Michelle at [email protected]