Easy Hack for Preventing Rust from Forming on Cast-Iron
Cast iron cookware is a favorite of many in the kitchen as well as the campfire because it can go from stove to oven and vice versa without changing temperature. It's also known for being durable, which is why so many people keep their cast iron pots and pans even after they've been passed down through generations!
Don't worry we have you covered with this one hack that will help prevent any more damage from happening to your prized possessions.
Silica gel packets. These should be placed in and around cast-iron skillets, pots, pans, and Dutch ovens. Silica gel can adsorb up to 40% of its weight in moisture and take relative humidity levels down to around 10%. Silica gel packets are the easiest set and forget way to help prevent rust spots on cast iron.
Rust spots are not limited to seasoned cast-iron, enameled cast-iron can develop rust around the rim of the pot and its lids. Not to mention the rust that can develop around hairline cracks or chips in the enamel.
Disclaimer: I earn from qualifying purchases on my website as an Amazon Associate. If you purchase through links from this website, I may get a small share of the sale from Amazon and other similar affiliate programs.
What is Silica Gel?
Silica gel is a desiccant that has been used for decades to keep moisture from ruining things like shoes, purses, and other fragile items. It's also useful for keeping rust off cast-iron pans because the porous material naturally absorbs liquid and keeps it away from your cookware.
As you might imagine, humidity can be detrimental to the seasoning on your pan so store them in an airtight container when not in use or just take advantage of its natural absorption properties by using silica gel pads! They're very inexpensive and will do wonders if left unchecked with excess cooking oil over time.
Silica Gel Pads to Prevent Seasoned and Enameled Cast Iron Rusting
Cast iron seasoning is a protective layer that forms on the outside of your cast-iron cookware after applying oil and heat to it. Unfortunately keeping the "Shiny Patina" on the surface of cast iron cookware is sometimes not. Other factors come into play such as humidity, moisture, and how the cast iron is stored.
I have found that the easiest way to keep this from happening is by using silica gel pads which are meant for absorbing moisture in things like dried food products, electronics, leather, shoes, or purses, but can also absorb excess liquid so you don't have any more rust spots!
Simply replace the old ones with new ones when they become saturated, every few months. Also, store your pans away from humidity.
For optimum results when using Silica Gel packets place the cast-iron cookware inside something that will help keep it away from humidity and moisture. Cardboard packaging, wooden boxes, storage cupboards even cast-iron storage bags.
Check out these cast iron storage bags available in all shapes and sizes. They will help keep your pan will be as good as new even if there's been some natural wear and tear over time.
Must Read – How to Store Cast Iron – The Right Way
Storing Silica Gel Packets
Store unused gel packs in an air-tight container until required for use.
Where Can You Get Silica Gel Packs?
Free
Well of course you can get them for "FREE" if you save them for just about every packaged item you buy. From food to shoes and clothing you will see those little silica gel packets everywhere when you look for them.
Purchase
Gel packets are not expensive and you can use them everywhere not just to stop your cast iron from rusting.
Why Does Cast Iron Rust?
Cast iron pans are susceptible to rust without the protective layer of carbonized oil called seasoning. Even a well-seasoned pan can become rusty if it is left in water, put in the dishwasher, or stored with moisture.
Keeping your cast iron clean and dry is the best way to prevent rust. The seasoning will protect against minor scratches, but if it's left with a build-up of any food or oil residue that isn't properly cleaned off then it can start to break down over time.
It might also be caused by hard water stains which are a bit more difficult to remove without soap (as you don't want them spreading). Try scrubbing the pan with dish detergent before adding some vinegar for good measure; this should help wash away anything stuck on!
Is Rust on Cast Iron Dangerous?
Cast iron is a great material for cooking. The downside of cast iron pans, however, can be that they are prone to rust if not cleaned and dried after each use or when placed in storage between uses.
Is this a problem?
It is possible to use cast iron cookware that has rust on it. It's important to be aware, however, of the conditions which may cause this damage and what you can do in order not to have your food taste like metal or leave stains behind while cooking.
The statement "it is possible" should always carry with it a certain degree of caution for users who are considering purchasing old used pieces at an estate sale before they realize how much work might go into fixing them up firsthand.
Rust can pose threats in some more than others because it has the ability to cause health problems by ingestion as well as corrosion on other items stored near them.
The simple fix is to restore the cast-iron surface to its former glory cleaning and seasoning its beautiful non-stick surface.
How Do I Clean Rust off Seasoned Cast Iron?
Oftentimes, water is the culprit of rust stains on a cast iron pan. This can be one of two things: hard water or something that was put into the pan and then allowed to sit for some time before being washed away.
Either way, it's important to know how to clean these stains off in order not only to keep your cookware but also to avoid health issues from developing!
There are many ways you can go about this- find what works best for you through experimentation!
Removing Rust From Cast Iron
The process is simple and can be done in under five minutes for most cases of light corrosion.
Soap and Water
Most people are going to use this method to clean their pots and pans even though the soap will break down the seasoning and water is not good for cast iron.
You need to use a bowl of water and dish soap. Pour the soapy water over your cast iron pan, then scrub with steel wool, a wire brush, or an abrasive sponge until all that remains is clean metal.
YOU MUST – DRY that cast iron as soon as possible do not let it drip dry. The best method is to place the cast iron on low heat to dry or inside an oven set to low. Heat will dry it quickly.
Salt
Salt is a natural cleanser that can be used to remove rust from metal. It is recommended to use coarse grain salt or sea salt when cleaning the cast.
Salt is especially good if you have scratches (from cooking with metal utensils).
While cast iron is still warm (not hot), sprinkle coarse salt over the scratched area and scrub gently with a scouring pad, a piece of potato, or even a piece of leather.
Rinse after each time as needed to ensure you have removed all traces of rust or corrosion.
Vinegar and Salt
Another way to try is to clean rust off cast iron is with a bit of vinegar and salt.
Many people believe that the process removes all traces of oil as well, but this isn't true because it doesn't actually dissolve grease! The vinegar reacts chemically with metals like copper or zinc which give the metal its color – giving you an artistic patina if desired.
Must read – How to Clean Rust off Cast Iron
Seasoning Restored Cast-Iron Cookware
Take a sheet of aluminum foil and place it on the lower oven rack to catch any drips. Make sure your skillet is greased well with either shortening or oil, then turn it upside down over the upper-middle oven rack (at 375 degrees). Bake for an hour and let cool in its own heat before removing it from the oven. Repeat if necessary.
Must read – Best Oil to Season Cast Iron
Drying Cast Iron to Prevent Rust
After all the water, soap, salt, vinegar, and scrubbing it is imperative to dry the cast iron as quickly and thoroughly as possible.
A dry cloth is fine but one step further is to heat that pan up and dry every single pore of the iron. Then store in a clean dry place until required again.
To Finish – Hack to Prevent Cast Iron from Rusting
So if you have an old cast-iron skillet or frying pan you already know it can be tough to clean and maintain these items because they are so heavy. You also know that you have to maintain their surface not non-stick by seasoning, which left unchecked can be difficult.
So when your cast iron is in top shape with a shiny black non-stick use this one simple trick that will make your life easier!
One-Pot Cooking Rocks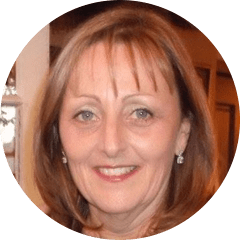 Michelle
Hi, I'm Michelle, the founder, owner, author, and editor of OvenSpot. My passion for one-pot cooking commenced when I was working to prepare cafeteria lunches for school students. I am now on a mission to assist you in choosing the cooking pot or appliance you will use daily. As well as in-depth information to assist you in using and caring for your cookware and appliances.
Questions? Reach out to Michelle at [email protected]