Can You Ruin a Cast-Iron Pan? 5 Tips to Save It
Cast-iron pans have been around for hundreds of years. They're incredibly durable and can last for decades if you take proper care of them. However, this doesn't mean that cast-iron pans are indestructible. It only takes one mistake to ruin a cast iron pan forever! So how can you ruin a cast-iron pan?
Dutch ovens are meant to be used, that's why they have such a high-quality finish on the inside. This finish can be damaged by heat, scraping with the wrong utensils, incorrect cleaning practices, and general misuse. These will only damage the finish and make it hard for your food to cook evenly.
To prevent this from happening, this article contains all the tips you need to give your cast-iron cookware its longest and best-performing life possible.
Aren't Cast-Iron Pans Indestructible?
Cast iron pans are often a favorite of experienced cooks and professional chefs. In fact, you may have your own cast-iron pan and use it regularly for cooking your favorite meals. However, while they are durable and can be used to cook a wide range of dishes, they aren't indestructible. Cast-iron pans should be treated with care since there is a chance that you could damage them permanently if you don't take the right precautions.
How to Avoid Ruining a Cast-Iron Pan
Cast iron pans can be considered a classic in the kitchen. They are cheap, easy to use, and maintain while being durable and versatile. Although they have been around for hundreds of years since their invention by Peter Sorel back in 1822, not everyone is aware of how to properly take care of them.
Cast iron pans can crack, warp and rust easily when not maintained correctly that's why it's important to follow these steps:
1. Avoid Extreme Temperatures
Cracking
Cast-Iron Pans have a history of being "hard to maintain" because they can be easily cracked. It is not that easy to know what causes a crack in the iron. There are some instances like when suddenly you have changed the temperature of the water and put it back on the stove. Or you have run cold water over a pan after removing it from direct heat.
This is called thermal shock. It can occur due to a sudden change in temperature, which makes the pan expand too quickly as it heats up from cold water or cools down too fast after being baked with heated air.
Related read avoid cast-iron cracking here
Warping
"It's not a question of if it will warp, but when."
The cast-iron pan will be bent or get out of shape when it comes into contact with super high heat. It's not a question of if it will warp, but when.
Holes
Cast-iron pieces are durable and long-lasting but they're not indestructible. As a matter of fact, it's quite easy to get a hole right through the bottom if you let it rust without taking care of it properly! If you notice holes in your pan there is repairing it. Best to go ahead and invest in a new one instead of waiting around too long before replacing your trusty old piece of cast iron.
2. Seasoning
Seasoning is a continuous process. If you frequently use your cast-iron pan, you will notice that the food will start sticking to your pan if you don't season it correctly.
Seasoning your cast iron before its very first use is probably the best advice I can offer you. This is because pre-seasoned cast iron arrives with only a very thin layer of seasoning on it. Just enough to protect the iron from moisture and rust during storage and transit.
Recommended Reading

Read more about pre-seasoned cast-iron here. Also, you can see an in-depth guide to seasoning cast-iron cookware before its very first use here.

Further reading about re-seasoned much-loved cast-iron here.
How Often Should I Season my Cast-Iron Pan
You will know when your cast-iron pan needs seasoning because your food will not release easily and it will start to stick and burn the pan.
When this occurs re-season before rust starts to appear on the pan.
3. Watch the Food You Cook With
Cooking with acidic foods like tomatoes can have a major impact on the pan by breaking down the seasoning. Adding plenty of oil before adding ingredients is key to preventing the pan from being broken down by acidity.
4. Don't Save Leftover Food in the Pan
You might think it is easy to let the pan cool and put it straight in the refrigerator but it is not advised. Some foods may cause acidity, and it will lead your pan to speed up the breakdown of the iron's seasoning.
Further, if the cast-irons seasoning is not up to scratch added moisture over an extended period of time will also induce rust.
5. Care, Cleaning, and Maintenance
You should avoid using sharp utensils for cooking and scraping food off the iron as they will compromise your seasoning as well as scratch the surface of your cast-iron pan.
Do not rinse your cooking pan right after cooking. Let it cool naturally before washing – thus avoiding thermal shock and its repercussions.
Never soak your cast-iron pan in water or put it in the dishwasher because it will lead to rust.
It is advisable not to use soap to clean a cast-iron pan. This is because soap will strip the seasoning and cause your food to stick. Use hot water and a stiff brush, or a ScotchBrite pad or steel wool.
Sometimes you need a little more than hot water and a scrubbing brush – check out this article that will help you remove suborn particles.
See an awesome list of cast-iron safe accessories here that will absolutely keep your cast-iron cookware in top condition.
Dry that pan! It is so important not to let your cast-iron dry naturally after cleaning. Dry thoroughly after washing and for added insurance, you can put the pan over low heat to really dry it or insert it into a conventional oven to complete the drying process.
Storing cast iron – the only real thing you need to know about storing cast iron is that it needs to be completely dry and preferably kept in a place that is not moist. Inside a conventional oven is perfect.
More tips for storing cast iron can be found here
Final Thoughts – Can You Ruin a Cast-Iron Pan?
As you can see cast iron is not indestructible. Just like any other metal pan, cast-iron pans can be broken.
If you do need to replace your old pot or skillet for some reason, there's no need to panic. Knowing the second time around what kind of problems you might encounter and how best to avoid them in the future it should not happen again.
I hope that this article will help you keep your old or new cast-iron pan in good condition for many years to come!
Related read what to do with old frying pans
One-Pot Cooking Rocks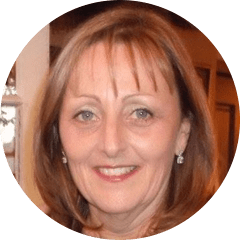 Michelle
Hi, I'm Michelle, the founder, owner, author, and editor of OvenSpot. My passion for one-pot cooking commenced when I was working to prepare cafeteria lunches for school students. I am now on a mission to assist you in choosing the cooking pot or appliance you will use daily. As well as in-depth information to assist you in using and caring for your cookware and appliances.
Questions? Reach out to Michelle at [email protected]