What to Do With Old Frying Pans No Trash Can Required
Do you have old pieces of kitchen cookware that are no longer in working order or you just do not use them anymore but still taking up space? Have you ever wondered what to do with old frying pans? As it turns out, there are a few resourceful ways to get rid of or dispose of old frying pans. And you can even do so in a sustainable manner.
Recycling metal pans along with being environmentally friendly is the quickest and easiest choice for most, especially knowing that your cookware will be useful another day in another form. Other ways to dispose of a pan no longer useful to you is to upcycle it, hand it down or you can donate it to the arts.
In this article, we'll explore different ways to dispose of old frying pans. But first, we'll start by noting when an old frying pan is showing signs that it's ready to go.
When Should You Dispose of an Old Frying Pan?
The expiration date, so to speak, for a frying pan will depend on what type of frying pan it is. There isn't an exact age range you can point to for the lifespan of a good pan, especially since no one cooks at the same frequency. Whether you have a Teflon pan, cast iron skillet, or other frying pans, let's explore when they meet their end days.
Non-Stick Frying Pans
A non-stick frying pan has usually met its demise when it starts to exhibit several appearance-based changes. Non-stick frying pans contain a material called Teflon – this is what gives them their non-stick quality.
But when the Teflon starts to wear off, you're going to run into some problems. Namely, if you have scratches on the cooking surface of your non-stick Teflon pan, you probably want to get rid of it. This is especially the case if you bought the pan before 2013 when Teflon cookware was still made with cancer-causing chemicals (PFOAs).
You should also pitch the pan if it's warped or discolored. Generally, a warped pan doesn't cook food evenly, which can be dangerous with certain foods, like meat. And discoloration is more of an aesthetic concern, but it's probably a sign that the Teflon is wearing off and your food will stick.
Related read Cast Iron Vs Ceramic
Cast Iron Skillets
Cast iron, on the other hand, is a different story. This type of frying pan usually lasts a long time if you take care of it well. However, if it starts becoming cracked or wobbly, it's probably time to stop using it for cooking purposes. (Can you ruin a cast iron pan?)
Related read How to clean rust off cast iron cookware
Furthermore, cast iron skillets may collect rust, even on the cooking surface. If this happens, you don't necessarily need to get rid of them, but you should take proper care to clean off the rust so you don't risk ingesting it.
Related read How to know when to replace a cast iron pan
Ways to Get Rid of Old Frying Pans
Now that you're aware of when a frying pan needs to go, let's explore some sustainable and resourceful ways you can dispose of them before getting replacements.
Recycle!
This is the go-to choice for most people who want to be eco-friendly in their kitchen efforts. It's hard to just throw away a pan made of nice metal. So, why not take it to a scrap metal recycling center or scrap metal facility?
At the very least, someone else can acquire your pan and use it for their own needs, giving it a new life, away from the landfill.
If you do choose to recycle an old frying pan, make sure that you follow local protocol for recycling metal materials. You first need to figure out whether you can recycle a pan made out of the material you have.
Reuse or Rehome Your Pans
If you would rather send your old pans somewhere that you know they will get used, try donating them. You can sell goods for cheap prices on sites like Craigslist and Facebook Marketplace. Or, you can advertise them for free – especially if they're not in terrible condition – and someone is sure to snatch them up who can't afford to buy one.
Another donation option is to take your cookware to a thrift store, such as Salvation Army or Goodwill. There, your old pans can get sold for affordable prices to someone else who might need them.
You are also supporting a good cause by donating to stores like Goodwill since the company has initiatives to help people in your community find jobs.
Use It for Hand-Me-Downs
This is similar to donating, but hand-me-downs let you gift your used goods to a friend or family member who could benefit from them. By giving old pans to someone you know personally, you can guarantee that they will get put to use and not thrown away.
Give Them to an Artist or "The Arts"
Another way to dispose of old frying pans that aren't directly thrown in the trash is to give them to an artist. If you have an artistic friend or a friend who sculpts, they might value recycled metal goods.
To you, an old Teflon frying pan might seem like trash. But to a sculptor, it might be just the thing they need to create a piece of artwork out of materials they find.
You could also donate old pans to artists you don't know on a personal level. For example, donate them to school art teachers or art student programs at universities that are in search of metal materials to work with.
Another form of art is of course "The Arts" there are theatre groups all over the globe that bootstrap performances every day. These groups rely heavily on donations for their props, what a fantastic way to participate in a positive way to the art without actually performing.
Upcycle Your Pans
Finally, one surefire way to be sustainable about moving on from old frying pans is to upcycle them. Upcycling is the process of using creative means to transform waste or "unwanted" materials into new products that have a new value.
While your old Teflon frying pan might no longer be suitable for frying, it could have a potential new life as something else.
For example, you might remove the handle, then take on a DIY art project, decorating the inside of the pan. You could hot glue in fake flowers, mosaic tiles, or another material, and then mount the pan on your wall as a piece of art.
Final Thoughts
Old frying pans, and used cookware in general, don't have to head straight to a landfill once you're done with them. There are plenty of ways to sustainably send your old pans into the world, such as recycling, donating, and upcycling processes.
Related read How can you tell if a pan is made from cast iron
One-Pot Cooking Rocks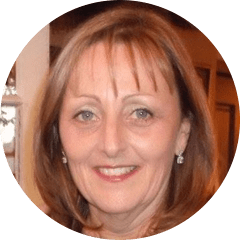 Michelle – Author
Hi, I'm Michelle the founder, owner, author, and editor of OvenSpot. My passion for one-pot cooking commenced when I was working to prepare cafeteria lunches for school students. I am now on a mission to assist you in choosing the cooking pot or appliance you will use every day. As well as in-depth information to assist you in using and caring for your cookware and appliances.
Questions? Reach out to Michelle at [email protected]