When to Replace Non-Stick Pans: How Long Does Non-Stick Last
It's not always obvious when to replace non-stick pans, there are a few key signs you should watch for.
These indicators include a warped pan, visible scratch lines, and a damaged non-stick coating. Generally, non-stick pans and ceramic cookware should be replaced every 2-5 years or when you notice any of these signs.
Traditional non-stick pans are a popular choice among home cooks due to their convenience and ease of use. It is essential to know when it's time to replace non-stick pans to maintain their effectiveness and protect your health.
By regularly assessing the condition of your non-stick cookware, you can ensure optimal performance and safety in your kitchen. A damaged or worn-out nonstick pan can compromise your food quality and even pose potential hazards if its coating flakes off into your meals.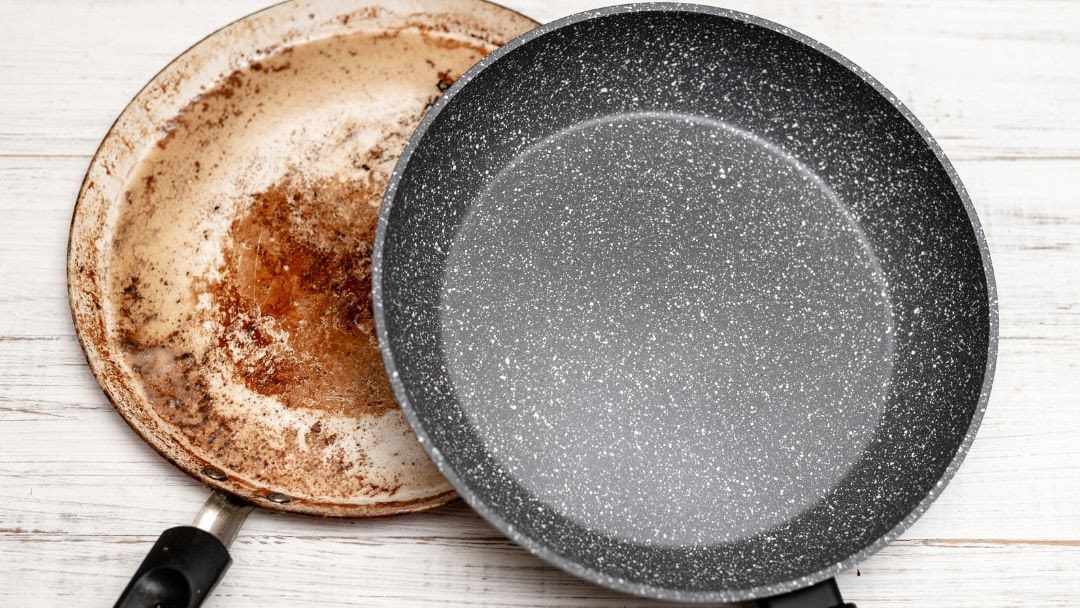 Understanding Non-Stick Pan Lifespan
When it comes to non-stick pans, their lifespan can vary depending on factors such as the type of non-stick coating, usage, and maintenance. This section will provide insights into factors affecting non-stick pan durability and the expected lifespan of different non-stick materials.
Factors Affecting Durability
Several factors can influence the longevity of your non-stick pan. Here are some crucial factors to consider:
Usage: The frequency and intensity of use can affect how long the non-stick coating lasts. Heavier usage can lead to faster degradation of the coating.

Maintenance: Proper cleaning, checking to see if it is dishwasher safe, and storing the pan can extend its life. Avoid using abrasive cleaning tools and always hand-wash the pan, if possible.

Utensils: Using metal utensils on non-stick pans can scratch and damage the coating. Opt for wooden, silicone, or plastic utensils to maintain the pan's surface.

Temperature: Consistently using high heat on non-stick pans can break down the coating faster. Always use medium or low heat settings.
Expected Lifespan of Different Non-Stick Materials
Non-stick pans come in various types of coatings, and each offers a different lifespan.
| Non-Stick Material | Average Lifespan |
| --- | --- |
| PTFE (Teflon) Coating | At least 3 years |
| Ceramic-Coated Non-Stick | Average of 2 years |
| Multi-layer PTFE Coating | Longest-lasting (up to 5 years) |
| | |
While these are average lifetimes, remember that proper care and usage can greatly impact your non-stick pan's lifespan.
Signs It's Time to Replace Non-Stick Pans
Scratches and Flaking
One sign that your non-stick pan needs to be replaced is the presence of scratches and flaking on the surface. Scratches can appear as white and dry lines on the pan, usually caused by using stainless steel utensils or other sharp objects.
This indicates that the thin layer of the coating has worn down in those areas, making the pan less effective and potentially exposing you to harmful chemicals from the coating.
Loss of Non-Stick Ability
If you notice that food starts sticking to the pan more than it used to, this is another indication that the non-stick coating has become compromised.
Before deciding to replace the pan, try gently heating it and applying a small amount of neutral oil to the surface. If this doesn't remedy the issue, it's time for a replacement.
Warping and Uneven Pan Surface
Warping, or bending of the pan, can also signal that it's time for a new non-stick pan. When the surface of the naturally nonstick pan becomes uneven, it affects the quality of your cooking as the food won't cook uniformly. In this case, it's better to err on the side of caution and replace the pan to ensure your meals are cooked evenly and safely.
Proper Usage and Care to Prolong Nonstick Pan Life
Quick tips checklist:
Higher quality non-stick cookware is more durable

No sprays on the cooking surface

A thin layer of oil or butter only for a slick surface

Choose easy on a delicate surface utensils

No cutting with knives while cooking

No high-heat cooking (maximum is 500°F)

Use medium heat

No quick temperature changes

Nonstick cookware is not broiler safe

Ensure the product is oven safe

Hand wash and dry by hand

Always check the manufacturer's instructions before use
Cooking Techniques
To ensure the longevity of your non-stick pans, there are a few cooking techniques to keep in mind. First, avoid preheating an empty pan, as it can potentially produce unhealthy fumes and cause the cooking surface to turn sticky.
Instead, use a small amount of oil to improve the non-stick effects. Additionally, cook on low or medium heat, as high heat can damage the non-stick coating.
When using utensils with your non-stick pan, opt for wooden, plastic, or silicone tools, as other utensils can scratch and damage the non-stick surface.
Cleaning and Maintenance
Proper cleaning is essential for preserving the lifespan of a non-stick pan. Always wait for the pan to cool down before washing it. Use a soft sponge and a small amount of dishwashing liquid in warm water to remove residue and avoid abrasive cleaning materials that could damage the nonstick coating further. Pay attention to areas near rivets, as grime can accumulate there.
Before using the pan for the first time, handwash it with hot soapy water to remove any residues, oils, or dirt from manufacturing and shipping. Rinse it well and dry it completely. There is no need to season or cure ceramic pans or a non-stick pan; it is ready to use after its initial washing.
Storage Practices
Proper storage of non-stick pans can also help prolong their lifespan. Store them in a cool, dry place, and avoid stacking them directly on top of each other to minimize surface contact and potential scratching. If you need to stack your pans, place a soft cloth, paper towel, or pan protector between them to prevent damage to the non-stick coating.
Eco-Friendly Disposal and Recycling Options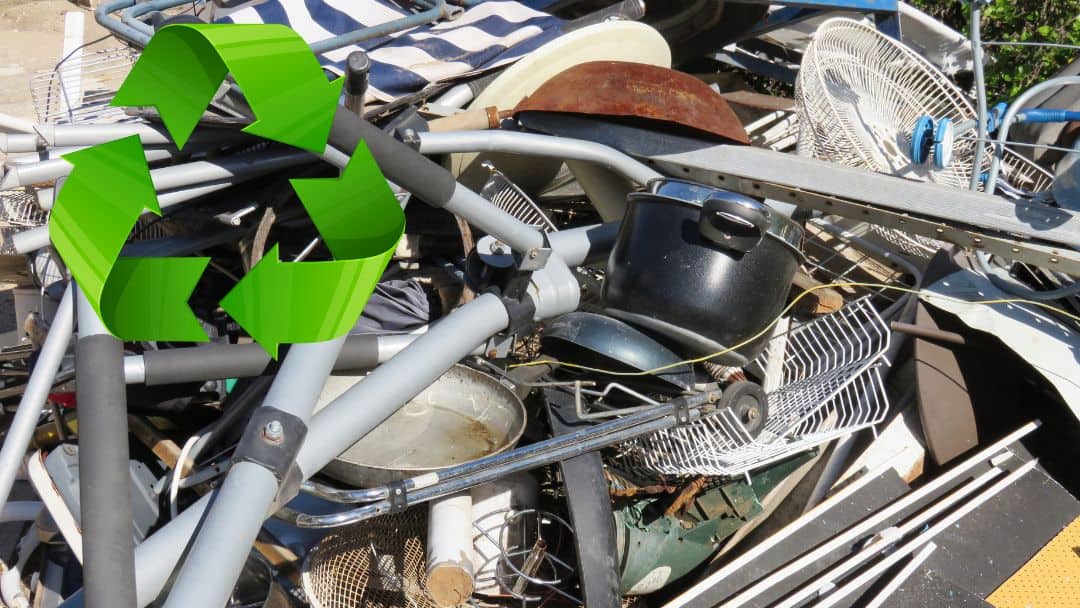 When it's time to replace your non-stick pans, proper disposal and recycling methods are important for minimizing your environmental impact. There are several eco-friendly options available to ensure your old, nonstick pans are disposed of responsibly.
One option is to check with your local gas and electric companies for appliance recycling programs. Many utility companies offer rebate options for recycling old appliances, which can help you contribute to energy reduction efforts while getting paid for your environmental efforts.
Learn more about recycling your cooking with informed information from your local waste services center. Find your local recycling center that should offer a guide just like this informative one from Napa Recycling.
Alternatively, you can participate in community recycling events, where local organizations organize collection drives, making it easier for citizens to properly dispose of their old non-stick pans ceramic cookware and other appliances.
You can also search for nearby recycling facilities that accept non-stick cookware, ensuring that the materials are processed and repurposed correctly.
If you're looking to pass your old pan along to someone else, consider options like donation, rehoming, or selling. Some local charities and organizations accept gently used cookware and would be grateful for your donation.
If your pan still has some life left in it, you could sell it on platforms like Craig's List or Facebook, or give it to a friend, family member, or coworker in need.
Finally, reuse is a vital component of eco-friendly disposal. Before tossing your old non-stick pan, consider if any parts can be repurposed for different use.
Handles can often be detached and utilized for various DIY projects or crafts, providing a unique and sustainable way to extend the life of your old cookware.
Have a cast iron skillet that is beyond repair? Find out how to uniquely dispose of it in my article on how to know when to replace your cast iron pan.
Pro Tip: For your health and safety use a variety of cookware to prepare a large variety of dishes. Protein is best seared on a hot cast iron pan, while a lightweight carbon steel naturally nonstick pan like a wok is perfect for fresh healthy stir-fries. Ceramic cookware has its place for delicate dishes fish, pancakes, and egg delights. Investigate 100% ceramic pans.
Cast Iron Pans and Carbon Steel Non-Stick Cookware
If you are really serious about adding to your cookware collection check out some of these great comparison articles I have written for you. You will quickly learn the differences between various cookware materials.
Final Thoughts & Recap: Replace Nonstick Pans
When it comes to non-stick pans, their longevity depends on various factors such as quality, usage, and care. On average, non-stick pans can last between one and five years, with high-quality ceramic non-stick bottom pans potentially lasting up to five years with proper care.
To maximize the lifespan of your non-stick pans and ensure they maintain their non-stick properties, be mindful of the following indicators that it's time to replace them:
Scratches or visible damage to the non-stick coating, often caused by using metal utensils or sharp objects, resulting in white and dry lines in the pan.

Peeling or flaking of the non-stick coating can be a sign of a factory defect or the result of damage caused by scratching.

Uneven heating or warping of the pan, can compromise its non-stick abilities and result in uneven cooking.
In order to prevent damage and prolong the life of your non-stick pans, consider adopting the following best practices:
Use non-abrasive utensils, such as silicone or wooden tools, to avoid scratching the coating.

Avoid placing the pan in a dishwasher, as the high heat and detergents can potentially damage the non-stick surface.

Store your non-stick pans carefully, avoiding stacking them directly on top of one another or using pan protectors to prevent scratches.
By keeping an eye on the condition of your non-stick pans and practicing proper care, you can extend their lifespan and enjoy consistent, quality performance in your cooking.
One-Pot Cooking Rocks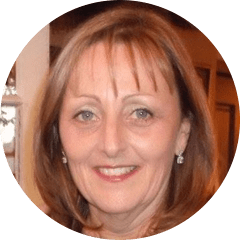 Michelle
Hi, I'm Michelle, the founder, owner, author, and editor of OvenSpot. My passion for one-pot cooking commenced when I was working to prepare cafeteria lunches for school students. I am now on a mission to assist you in choosing the cooking pot or appliance you will use daily. As well as in-depth information to assist you in using and caring for your cookware and appliances.
Questions? Reach out to Michelle at [email protected]