Cast Iron Skillet vs Nonstick Pan: Which is Best for You?
A skillet is the most versatile piece of cookware you will ever own.
A pan that can be used for everything from scrambling eggs to finishing off a steak to whipping up a batch of fried rice (and everything in between), this is a workhorse piece of cookware.
Finding the right skillet is a little more challenging than most realize, though.
On the one hand, you have cast-iron skillets. Perfect for high-heat temperature dishes (you can get a great sear on a steak with cast iron), these pans are also very heavy and maintain hot to the touch much longer than nonstick skillets will.
On the other hand, non-stick pans are very lightweight, easy to "flip" dishes with (making omelets and pancakes effortless), and have a slick nonstick surface right from the factory. They aren't intended to be used with the same kind of high heat that cast iron can handle, though.
Disclaimer: As an Amazon Associate I earn from qualifying purchases on my website. If you make a purchase through links from this website, I may get a small share of the sale from Amazon and other similar affiliate programs.
How do you choose the right new pan for your needs?
We answer that below.
Cast Iron vs Nonstick Comparison Table
Feature
Cast Iron
Nonstick
Construction

Raw cast iron: 98% iron, 2% carbon
Aluminum with non-stick coating
Design
Skillets, grill pans, Dutch ovens, braisers, Woks
Frying pans, Dutch ovens, sauté pans, saucepans, baking pans
Colors
Black or gray
Various colors and textures
Weight: 12″ Skillet
8 pounds
3 pounds
Uses
Searing steak, pork, chicken, roasting, pizza, baking bread
Best for fish, pancakes, eggs
Browning/Searing
Excellent
Not designed for searing
Non-Stick Properties
Good, use medium heat, avoid acidic foods
If high-heat cooking the use of oil or butter is required
Performance
Heat conductivity – slow
Heat retention – excellent
Heat conductivity – responsive
Heat retention – poor
Induction Compatible
Yes
No
Broiler Safe
Yes
No
Oven Safe
Yes, 600°F and beyond
Yes, up to 600°F
Dishwasher Safe
No
No
Cleaning
Hand Wash
Hand Wash
Maintenance
Seasoning require
Nil
Storage
Heavy, store away from humidity
Easy to maneuver and stack
Lifespan
Lifetime
3 years
Price Range
Brand Prices Amazon
Brand Prices Amazon
Cast Iron Skillet vs Nonstick Pan – Choosing the Right Pan
When choosing between a cast-iron skillet and a nonstick pan, it's important to think about:
How do you intend to use this pan (on average)
How important high heat cooking (to brown, for searing stakes, pan roasting, etc.)
How important is the nonstick surface (do you have time to build seasoning with a cast iron pan or do you need a nonstick option right away?)
Do you require a smooth surface that can withstand delicate food preparation like eggs and fish?
As well as things like how easy a pan is to hold and use, how easy a pan is to clean, and how much value a pan offers for the money.
Keep these things in mind as you go through the rest of the guide below and you'll have no trouble finding the right cast-iron or nonstick pan.
Cast Iron Skillets Overview
Cast-iron skillets and pans are some of the oldest pieces of cookware.
Cultures all over the world have been using cast iron to cook for centuries. In fact, the earliest known example of cast iron being used to cook goes all the way back to ancient China in 220 AD.
Cast iron in those days was very rare and almost exclusively in possession of the wealthy and powerful's kitchen staff.
It took until the early 1700s for cast iron cookware to become a staple part of most people's homes, though. This was when Abraham Derby (an Englishman) introduced a new way of casting iron that made thin skillets and pots much easier to produce.
Today's cast iron skillets are almost identical to those early skillets. Strong, durable, and capable of taking high heat – on the stove or over a live fire – these skillets are made to last generations with just a little care.
The cast iron surface itself isn't as nonstick as modern nonstick options but can be made nonstick through a process called seasoning.
To season cast iron, start with a skillet you've scrubbed and washed with warm soapy water. This is done to get rid of any protection coatings from the manufacturer.
Dry the pan completely using a paper towel so that rust won't develop.
After that, spread a bit of vegetable oil or shortening, or even tallow, on the entire pan (top, bottom, insides, even the handle). You want it glistening, but not pooling up.
Resource: I used and reviewed 23 oils that should and shouldn't be used to season cast iron in Best Oils for Seasoning Cast Iron.
Place the pan upside down in an oven that's been preheated to 375°F You can place some tin foil below if you want, just to catch any oil that might drip off during the seasoning process.
Bake the pan for an hour or more. Turn off the oven but then let it cool naturally, without opening the door. After a couple of hours, your cast iron will be cool to the touch.
Repeat the process as much as you'd like to continue building up a polymerized layer of fat and oil that creates a slick cooking surface!
The breakdown of the seasoning on cast-iron cookware can be avoided by not cooking acidic foods. Acidic ingredients include tomato sauce and citrus fruit.
Another way to retain the nonstick properties of this type of cookware is to iron utensils such as a metal spatula with care. What do I mean? Use the flat face of the utensil correctly do not gouge or scrap across the bottom of the pan.
Pros and Cons: Cast Iron Cookware
Pros
Cast iron heats steadily, and evenly, and can withstand extreme temperatures
Can be made (relatively) nonstick with just a bit of maintenance and time
Very durable, cast iron can last a lifetime (and then some)
Inexpensive, many cast-iron skillets usually won't cost more than $20
Cast iron works on electric ranges, gas stoves, and with induction cooktops, too
Cons
Very, very heavy
Requires more hand washing and care than modern nonstick
Handles on cast iron skillets get (and stay) very hot
Seasoning can break down over time and need to be redone
Rust is always a threat without proper care
Nonstick Cookware Overview
Nonstick skillets are the number one choice for most home cooks (and even many professionals) today. In fact, research shows that 75% of all skillets sold are of the nonstick variety.
Unlike cast iron skillets (where all options are basically the same), you'll have a couple of different base materials and nonstick coatings to choose from.
As far as base materials go, stainless steel, carbon steel, and copper sandwiched aluminum are pretty popular.
For coatings, PTFE (Teflon coating), ceramic, enamel, and even a hybrid "honeycomb" of stainless steel and PTFE work well to keep pans slick.
Just be sure not to use your nonstick pans – no matter the base material or the coating – at temperatures approaching 500 degrees or hotter. The coatings can break down, flake, and release toxins into your food when that happens.
Aside from the nonstick surface, these pans are popular because they are:
Lightweight and easy to control
Affordable and simple to clean and maintain
Versatile, capable of handling different dishes and cooking techniques
Available in multiple sizes, from tiny (single egg sized) to large enough to prepare one pan meal for a family
Pros and Cons
Pros
Available in a variety of shapes, sizes, and materials to fit the kind of cooking you do most
Easy to clean, with most modern nonstick pans being 100% dishwasher safe
The nonstick surface works "right out of the box" and will continue to work for years with almost no special maintenance
Inexpensive and easy to replace when the nonstick surface breaks down
Cons
There may be long-term health risks associated with cooking on nonstick pans, particularly at temperatures at or above 500°F
Nonstick surfaces eventually degrade over time, with the whole pan having to be replaced
The majority of nonstick skillets are not oven safe, but instead for stovetop usage only, take care not to overheat
Cast Iron Skillet vs Nonstick Pan – Head to Head
Material and Design
Cast-iron skillets are heavy, durable, and reliable.
These pans have excellent heat retention and even distribution properties. It's also nice to be able to use cast-iron pans on the stovetop, in the oven, or even over a live fire thanks to the cast-iron material and high skillet wall design.
Nonstick skillets are available in a variety of different materials, including stainless steel, carbon steel, aluminum, and even cast iron. Nonstick coatings can be made from Teflon materials, ceramic coatings, enameled coatings, and hybrid coatings.
Heat distribution with nonstick skillets can be a little uneven, particularly when adding large amounts of colder ingredients to an already warm pan because of the thin materials used.
Versatility
Nonstick pans are incredibly versatile.
You can use the exact same pan to cook scrambled eggs, sauté onions and peppers, pan sear vegetables like asparagus, and more. There's a lot of versatility here.
At the same time, though, nonstick pans cannot be used above the 500°F threshold. That's when the nonstick coating starts to fail, degrade, and even leach potentially toxic chemicals into your cooking. These pans should not be used in the oven.
Cast-iron pans may not look as versatile as nonstick on the surface. When you look closer, though, you'll find that these pans are very flexible and how they can be used.
A well seasoned cast-iron skillet can be used "low and slow" to gently braise pork and can be used over higher temperatures to sear a piece of beef. You can use these skillets with a variety of different cooking surfaces (including open flame).
Weight and Control
Nonstick pans are always going to be significantly lighter than cast-iron skillets, including those that have the same amount of cooking surface available to work with.
Nonstick pans are made from ultralight materials. Aluminum, stainless steel, sandwiched copper, etc.
Cast-iron skillets are made from cast-iron – a heavy material that can be difficult for some cooks to wield comfortably. Learn how much cast iron cookware weighs.
This makes nonstick pans a lot easier to control. They are much less daunting for newer cooks.
Alternative to cast iron: Are stainless steel pans a type of non-stick cookware?
Heat Retention
Cast-iron pans have significantly better heat retention properties than any thin nonstick option available now.
The density, construction properties, and materials of cast-iron capture heat efficiently, radiate it evenly, and retain it far longer.
Size Options
You'll have no trouble finding cast-iron skillets and nonstick skillets in the exact size you're looking for.
Tiny cast-iron and nonstick skillets work well for small dishes and people cooking for one or two. Larger skillets can accommodate more ingredients and have a little more flexibility in how they can be used, but are heavier and more expensive.
At the end of the day, finding the right-sized pan for your needs – no matter which material you choose – is easy.
Utensils
If you're cooking with seasoned cast iron pans, it's important to use utensils that won't damage the seasoning. To avoid scratching the pan's surface, stick to non-abrasive materials like wood, silicone, or nylon. Be careful not to use sharp utensils such as knives or forks, which can also damage the seasoning.
For non-stick cookware, it's best to use utensils made of soft materials like silicone, nylon, or wood. Avoid using metal utensils or those with sharp edges as they can scratch the non-stick coating and ruin the surface of the cookware. When stirring or flipping food, make sure to use utensils that are the right size to avoid scratching the cookware.
Using the correct utensils on a cookware's surface prevents food from sticking, keeps the non-stick surface intact, and makes the pans easier to clean.
Cleanup and Maintenance
A non-stick pan can be cleaned with dish soap gently rinsed in the sink after use and then put into a dishwasher for deeper cleaning.
That's not something you'll be able to do, with a dishwasher, with (most) modern cast iron.
Instead, cast iron needs to be hand washed and then carefully dried. This is only something you'll want to do after you've given the pan enough time to cool down, too.
The last thing you want to do is put extremely hot cast iron under cold water. You risk the pan here irreparably breaking and fracturing.
Cast iron, though, will last a lifetime with proper care, elbow grease, and maintenance. Nonstick pans, however, are made to be eventually disposed of and replaced. You'll usually be able to get five years of reliable use out of modern nonstick pans.
Value
Nonstick pans are inexpensive. A good, reliable nonstick pan will cost anywhere between $25 and maybe $50.
These pans work exactly as you'd expect them to (with a slick, nonstick surface) as soon as you get them home. They aren't hard to care for and they aren't hard to clean.
That's a lot of value for the money.
On the other hand, though, these pans are inevitably going to need to be replaced. The cooking surface breaks down over time, the performance starts to drop, and all of a sudden your dishes start to stick.
You'll always be buying new nonstick pans.
Cast iron is both inexpensive and so durable that a lot of pieces are handed down from one generation to the next.
Cast iron does require a little work upfront to season the pan. Learn how to season a new cast iron pan.
It also requires a little work every time you use it to clean, dry, and then add seasoning to the skillet.
For that little bit of extra effort, though, you get a skillet that can outlast you.
It's hard to put a number on that kind of value. Learn what you should know about How to Choose a Cast Iron Skillet.
Resource an interesting read: What cookware do professional chefs use?
See an awesome steak cookoff between a cast iron skillet and a nonstick pan on YouTube.
FAQs
When should I throw away a nonstick pan?
You should replace a nonstick pan when you notice signs of wear and tear, such as a deteriorating or scratched nonstick coating or flaking. These are indicators that the pan may no longer be safe to use and may not provide the same level of nonstick performance.
Are non-stick pans safe?
For the most part, non-stick pans are considered safe as long as they're used properly and not overheated. However, there have been some concerns about the potential health risks associated with the chemicals used to create the non-stick coating.
What's the best cast iron skillet?
Lodge-seasoned cast iron skillets are always at the top of every reviewer's list along with the Le Creuset enamel cast iron skillet. US manufacturers like Lancaster Cast Iron, Smithey Ironware, Field Company, Borough Furnace, and Butter Pan Industries are producing cast iron skillets. Offering many innovative handmade boutique versions of the trusty skillet.
Check out the list of manufacturers making cast iron locally in What Cast Iron is Made in the USA?
Final Verdict: Cast Iron vs Nonstick
Cooks looking for something lightweight, reliable, and versatile enough to use in (almost) all cooking applications will naturally gravitate to modern nonstick pans.
Be sure to choose a pan with plenty of cooking surfaces to work with. Research different base and nonstick material combinations to find one that you can feel comfortable with.
And make sure to keep the heat low!
Cooks looking for a "buy it for life" skillet with the ability to withstand high temperatures, incredible heat distribution, and retention properties will want to focus on cast-iron skillets.
Research top brands, and invest in a skillet you can use for a multitude of different dishes. Also, get comfortable with the steps required for building up the non-stick coating on the cast-iron pan with a layer of seasoning.
All this involves is adding a thin layer of oil to the surface of the pan and baking it in a hot oven.
Good luck going forward!
FURTHER RESOURCES ON THE SITE
One-Pot Cooking Rocks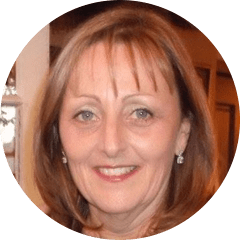 Michelle – Author
Hi, I'm Michelle the founder, owner, author, and editor of OvenSpot. My passion for one-pot cooking commenced when I was working to prepare cafeteria lunches for school students. I am now on a mission to assist you in choosing the cooking pot or appliance you will use every day. As well as in-depth information to assist you in using and caring for your cookware and appliances.
Questions? Reach out to Michelle at [email protected]