Cast Iron Skillet Sizes: What's Your Perfect Size
Cast iron skillets are versatile cookware that can be used on any stovetop or over open fires such as grills, campfires, or woodburning stoves. Skillets come in different shapes and sizes that are designed to meet the needs of every cooking preference. What sizes do cast iron skillets come in?
Cast iron skillet sizes range from 3.5 inches to 17 inches. Skillets are available in various shapes with lower and higher sides meaning that the quarts size for skillets also varies.
Whether you're interested in a traditional skillet or something with a flared edge for improved searing, you will find the best size cast iron skillet here!
Disclaimer: As an Amazon Associate I earn from qualifying purchases on my website. If you make a purchase through links from this website, I may get a small share of the sale from Amazon and other similar affiliate programs.
How Are Cast Iron Skillets Measured?
Skillets' sizes are determined by measuring from side to side across the top of the pan from outside rim to outside rim. Skillets come in widths ranging from 3 inches up to 13 inches or more.
A cast-iron skillet's cooking surface is harder to gauge due to the sloping sides of the cookware base to its sides but typically starts with measuring the diameter of the base from side to side.
In plain English, for example, the Calphalon 12-inch skillet measures 12 inches from one side of the top of the rim to the other. While the base or cooking surface measures 10 inches across the base.
How to Measure a Cast Iron Skillet
Below are the measurements for the most popular cast iron skillet size which is the 12-inch skillet. The brand is Lodge Cast Iron!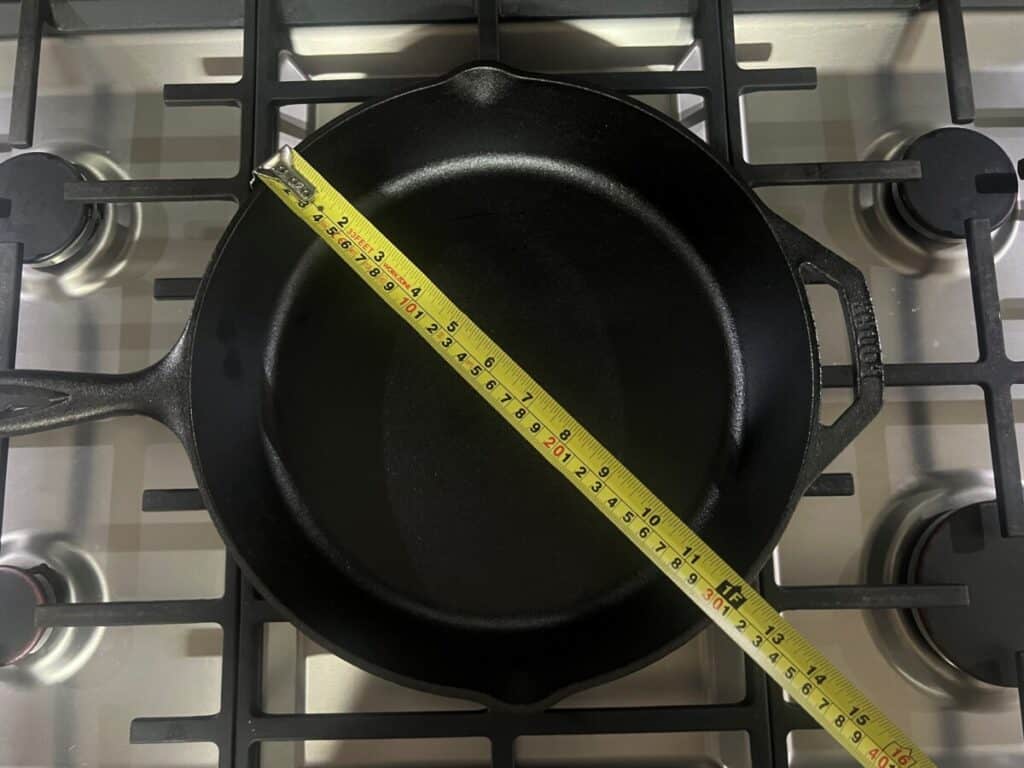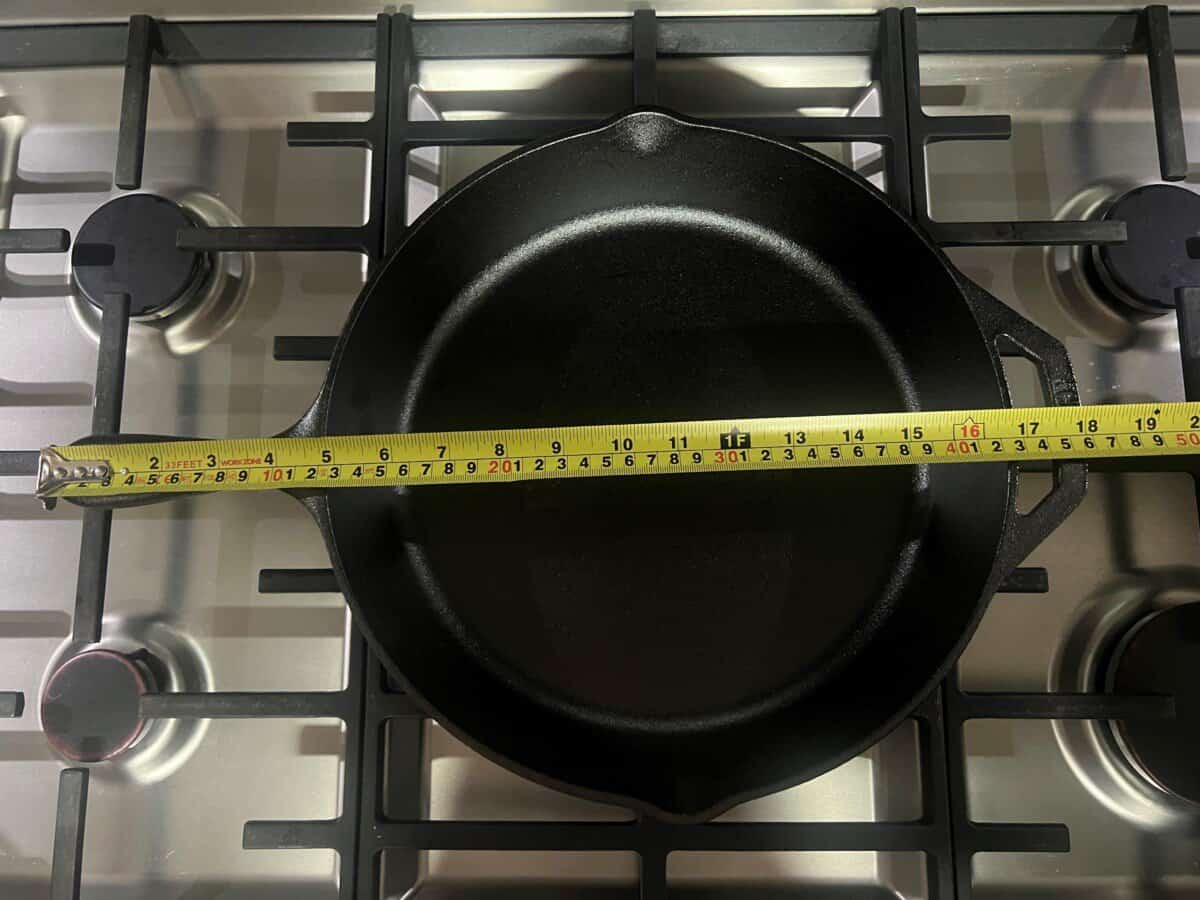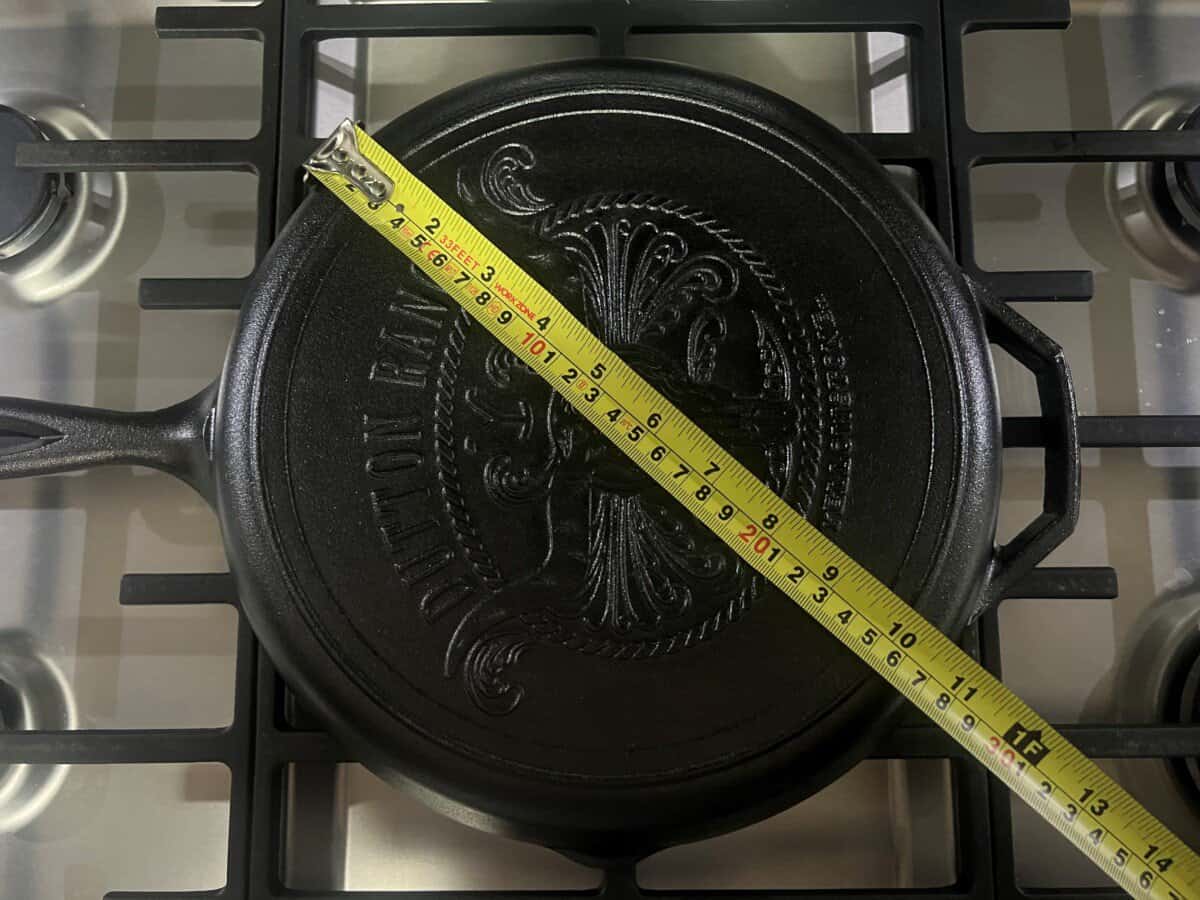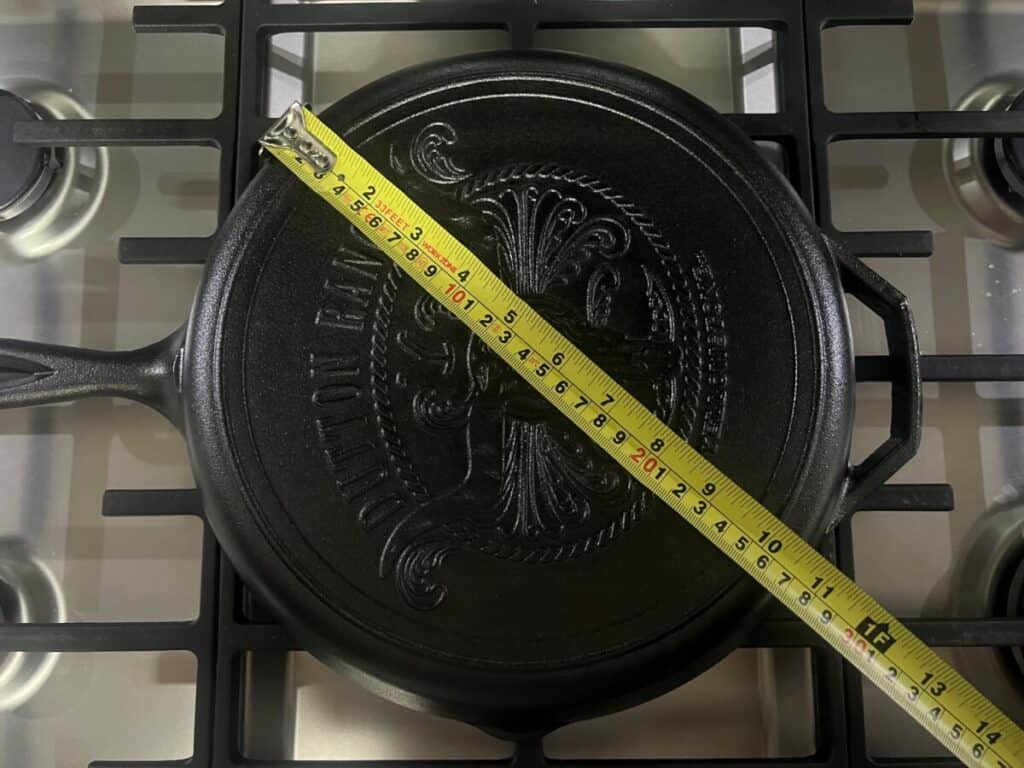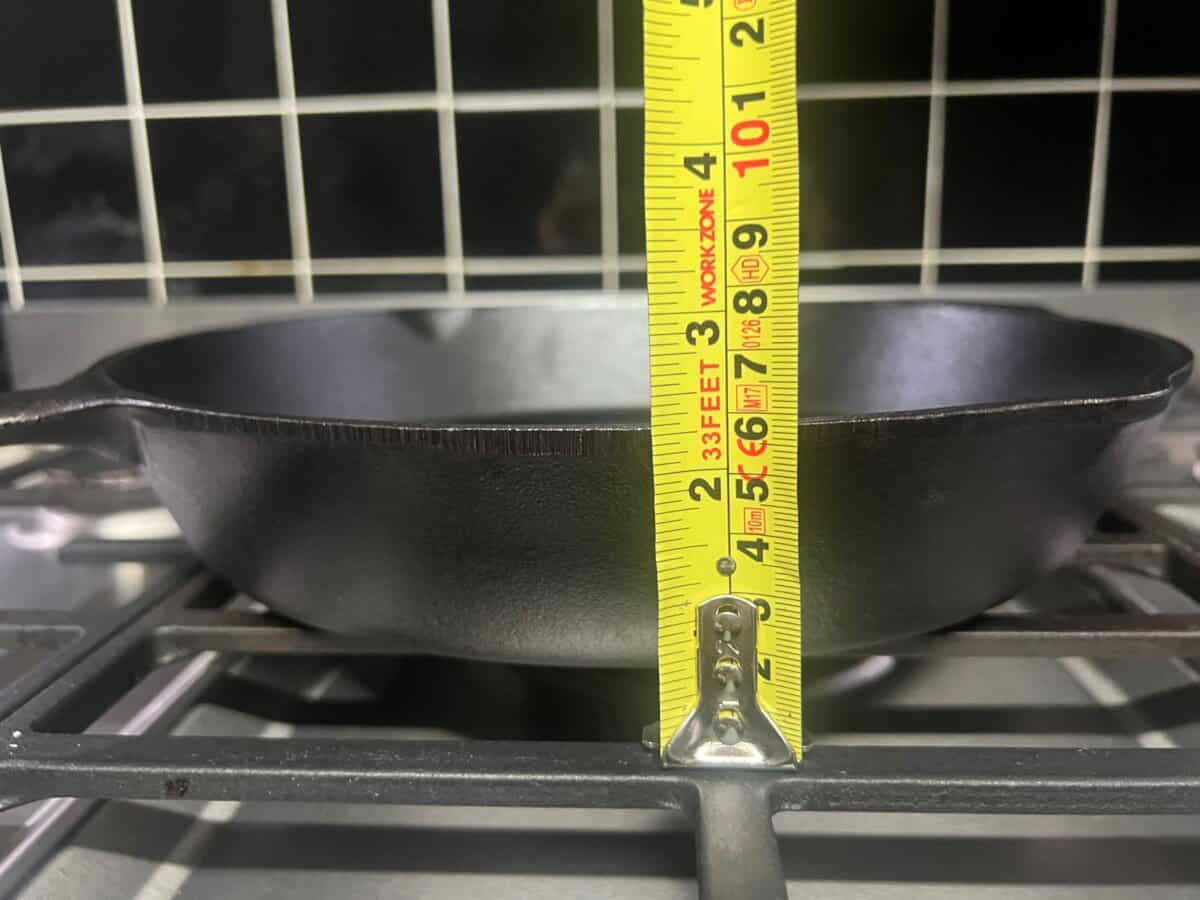 What Size Cast Iron Skillet Should I Get?
Every size cast iron skillet has its purpose. The most popular size cast iron skillet is the 10-inch it will cook two steaks or a steak and eggs comfortably.
Generally, 8-inch, 10-inch, and 12-inch are the average size skillets found in households as they fit on standard size ranges and suit singles, couples, and families.
A 6-inch skillet is considered a small skillet and is suitable for single-serve dishes
An 8-inch skillet is considered medium and is suitable for one
a 10-inch skillet cooks meals for two people and is the most versatile size of all skillet sizes.
A 12-inch, which is considered a large skillet, will prepare meals for up to four people comfortably.
Cast iron pans are an important part of any kitchen, although they can be difficult to measure. The bottom diameter is often smaller than the outer measurement because most have a slant towards their sides.
A pan may have 8″ across its surface area but only a 6" base where you put your ingredients while making breakfast eggs!
How to Choose a Skillet
When picking out skillet sizes to add to your kitchen be sure to take into consideration:
Number of Servings
Consider how many people you typically cook for.
Cooking for one to two people an 8-inch or 9-inch skillet will be large enough. Cooking for four or more people a 12-inch skillet will be more than large enough.
You might even consider having a couple of skillet sizes handy for a variety of different dishes.
Burner or Stovetop Size
When selecting a skillet, the size of the burner or stovetop should be a primary consideration. If the skillet is too large for the surface, it won't heat as quickly and will require longer cooking times.
The average kitchen burn will hold up to a 12-inch skillet comfortably. Skillets larger than this should be used on a grill or outdoor fire.
Choose a skillet that sits inside the burner with about half an inch to spare so the skillet heats up evenly.
Broiler and Oven Use
For regular use in over or broiler consider handles on each side for safe transport for hot cast iron. There is a large skillet range with a helper handle in addition to the long regular skillet handle.
Types of Food to be Cooked
What you will be cooking regularly? Frying food like eggs and burgers will require a skillet large enough food to cook without touching and allow you to flip pieces easily.
If you want to shallow fry, make quiche, frittata, biscuits, scones, or a small roast consider a skillet with higher sides.
Weight
Cast iron skillets may be a bit on the heavier side due to cast iron being one of the densest metals around, but this also serves as an advantage. Cast iron skillets boast excellent heat retention and are ideal for cooking.
During use can be cumbersome however, it is worth the effort in order to reap the many cooking benefits cast iron offers!
The skillet size chart below is a rough guide to a well-known brand's skillet sizes, outer dimensions, weight, and serving size. * Note that the weight of skillets will vary between brands.
Skillet
Outer
Dimension
(Approx)
Weight
(Approx)
Servings
Eggs
Base Diameter Cooks
3.5″
3.93″
0.62 lbs
1
1
Individual serves egg dishes, desserts
5″
5.13″
1.15 lbs
1
1
Single-serve breakfast or dessert
6.5″
6.68″
1.94 lbs
1
2
A fish fillet
8″
8.68″
3.4 lbs
1-2
3
1 chop, 1 chicken breast
9″
9.68″
4.17 lbs
1-2
4
2 chops, 2 chicken breasts
10.25″
10.68″
5.35 lbs
2-3
5
2 pork chops, 2 steaks, and 4 chicken breasts
12″
12.56″
7.89 lbs
3-4
6
Family recipes
13.25″
13.75″
10.5 lbs
4-5
7
A family plus
15″
15″
12.36 lbs
5-6
8
A large family
17″
17″
13.53 lbs
6-7
9
An extra-large family
Skillet Size, Weight, Servings Chart
Supporting local businesses is important for every country and here in the US, we are no different. Check out my article listing "Cast Iron Cookware Made in the USA"
Price
The quality and expertise of the manufacturer should be a consideration when it comes to price. The good news is that seasoned cast iron skillets and cookware are among the cheapest cookware available.
| Brand | Approximate Price | See Latest Price |
| --- | --- | --- |
| Utopia Kitchen 12 Inch Cast Iron Skillet | $25 | Amazon |
| Mueller 12 Inch Cast Iron Skillet | $30 | Amazon |
| Backcountry 12 Inch Cast Iron Skillet | $45 | Amazon |
| Calphalon 12 Inch Cast Iron Skillet | $50 | Amazon |
| Bruntmor 12 Inch Cast Iron Skillet | $50 | Amazon |
| Lodge 12 Inch Cast Iron Skillet | $50 | Amazon |
Skillet Price Brand Comparison Table
How to Store Cast Iron Cookware
One way to store cast iron cookware is to hang it from a pot rack. This will ensure that cast iron cookware items do not touch one another and will help air circulate around each item.
An alternative option is to use cast iron holders, which allow cast iron pieces to be stacked on top of one another without touching. Be sure to place cast iron holders in a dry area as cast irons can rust when exposed to moisture.
Learn How to store cast iron cookware to avoid damage.
What Is A Cast Iron Skillet and How Does It Work
Cast iron skillets are cooking vessels, round, rectangle, or square, and made of iron that is cast in a sand casting. They have integrated handles that are often long on one side, and sometimes a helper handle on the opposite side, for use in ovens, under broilers, or over open fires such as campfires or woodburning stoves.
The cast-iron skillet is also the most common type of cast-iron cookware that is used for stovetop cooking. Some skillets are designed for an electric stove while others are designed for use on a gas stove. Cast iron cookware by its metal material is naturally induction-ready cookware.
It's also an excellent choice for those who want to cook with less oil or fat because cast iron naturally stops ingredients from sticking to their surface. This in turn means it requires much less cooking spray than other pans do.
Learn about why cast iron cookware works on induction better than any other.
How to Care For Cast Iron Skillets
Caring for cast iron can be easy. Just follow these steps:
Wash cast iron with hot water and some dish soap, then dry it completely.
Grease cast iron before cooking. This prevents cast iron from sticking to food.
When you're done cooking with cast iron for the day, remove all leftover fats and oils from the cast iron by wiping out oven oil inside of the cast iron using paper towels. A paper towel also absorbs any fat that remains on the surface of the skillet.
Avoid washing cast iron in the dishwasher or soaking cast iron in water because exposure will make cast iron porous, rust, and make food stick to it more easily.
After cooking or prepping food with cast iron, immediately wash cast iron with hot water and some dish soap then dry completely.
If cast iron needs to be scrubbed, scrub cast iron with a stiff brush and use salt as an abrasive
Never let cast iron air dry because it rusts quickly. Never leave cast iron in the sink after washing, especially overnight. If cast iron does get rusty, clean and re-season the cast iron before using it again.
If cast iron has been seasoned for a while, food debris can build up on the cast iron surface. To remove these particles, scrub cast oil with kosher salt or baking soda and warm water to loosen up food debris so you can easily wipe it clean with a paper towel.
Sometimes cast iron pans develop a sticky residue. This is because the surface of the pan has accumulated too much oil that goes tacky when not cleaned off properly.
When cast iron cookware is not in use, it's important to coat the cast iron with cooking oil or shortening. This will prevent rusting and will preserve the cast iron skillet. It will also help your cast iron skillet to look new after years of use.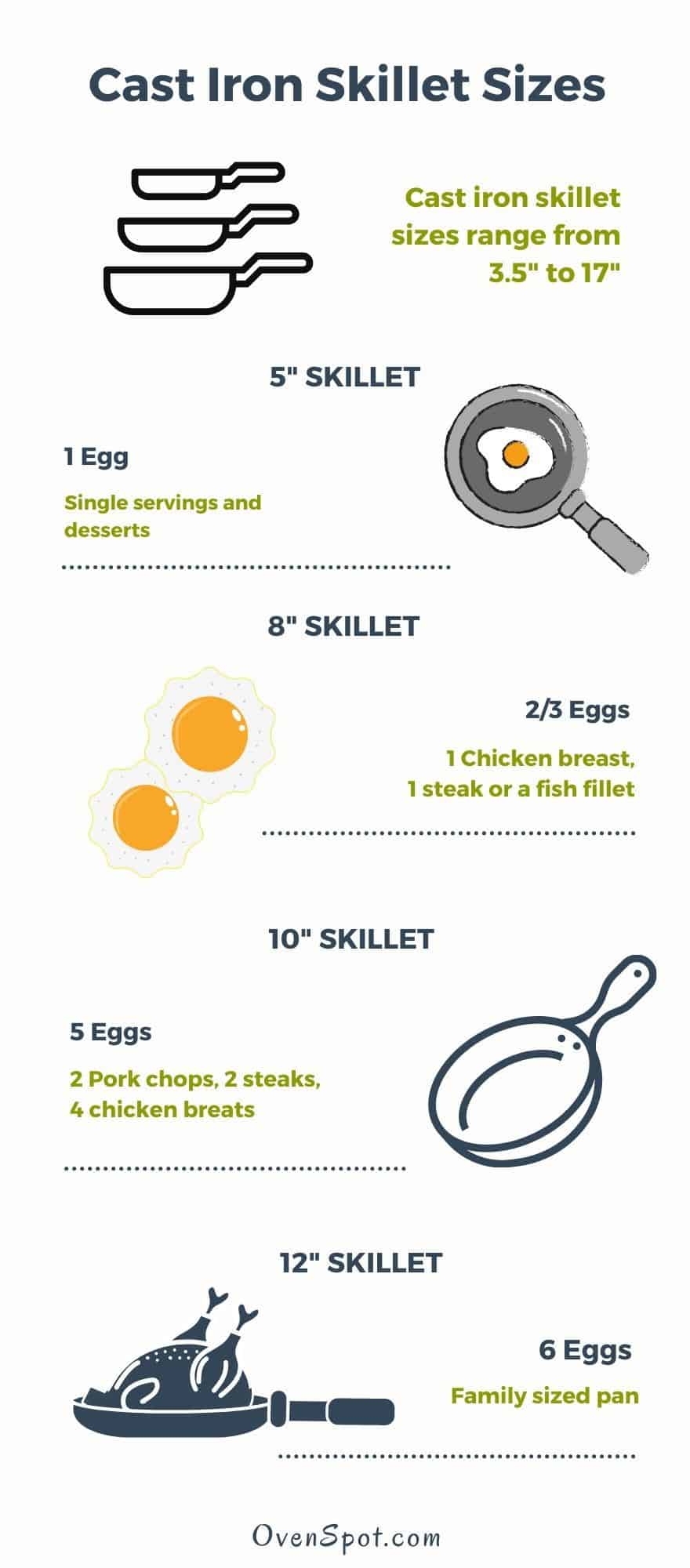 FAQ's
Quick answers to some of the most frequently asked questions about skillet sizes.
Is a 12-inch skillet too big?
The diameter of a 12-inch skillet will generally fit on the average cooktop, remember that the cooking surface or base sitting on the hob will be in the vicinity of 10 to 11 inches.
How do I know what size cast iron I have?
Cast iron pans are measured from side to side across the top rim of a pan. Any numbers or letters on the skillet or pan refer to the diameter of the base, which is actually the cooking surface.
What frying pans do chefs use?
Professional chefs believe that all types of cookware have their place in a kitchen. Cast iron cookware along with aluminum and stainless steel are among their favorites. Read more about professional chefs and why they use cast iron cookware.
Final Thoughts: Skillet Sizes
If cast iron is your go-to cooking vessel there are cast iron skillets in a variety of sizes, perfect for any home kitchen or outdoors on the grill. They can also go from the oven or stovetop right to the table for serving. The skillets come with different shapes and edges that have been designed to meet your cooking needs.
When picking out iron skillet sizes to add to your kitchen be sure to take into consideration:
The size of your heat source burners
What you will be cooking regularly
How many people do you typically cook for
For regular use in over or broiler consider handles on each side for safe transport for hot cast iron
Cast iron is heavy so the weight of the skillet should be a consideration
Storage should be a factor as cast iron needs to stay dry to avoid rusting
Whether you're interested in something traditional or want an improved sear cast iron skillet to make pancakes. With so many cast-iron skillet sizes available, there's no reason why every home kitchen should not have at least one cast-iron skillet. There's one here just waiting for you!
One-Pot Cooking Rocks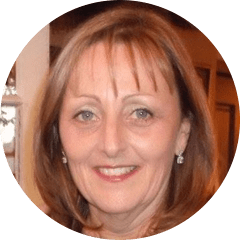 Michelle – Author
Hi, I'm Michelle the founder, owner, author, and editor of OvenSpot. My passion for one-pot cooking commenced when I was working to prepare cafeteria lunches for school students. I am now on a mission to assist you in choosing the cooking pot or appliance you will use every day. As well as in-depth information to assist you in using and caring for your cookware and appliances.
Questions? Reach out to Michelle at [email protected]